mushroom tikka recipe | how to make mushroom tikka on tawa with detailed photo and video recipe. an easy and economical recipe for preparing the restaurant style tandoori mushroom tikka recipe. traditionally the tikka recipes are prepared in tandoor and hence it is mentioned as tandoori tikka recipes. however in this recipe, the tikka is prepared on tawa / grill which should have the same result, flavour and taste.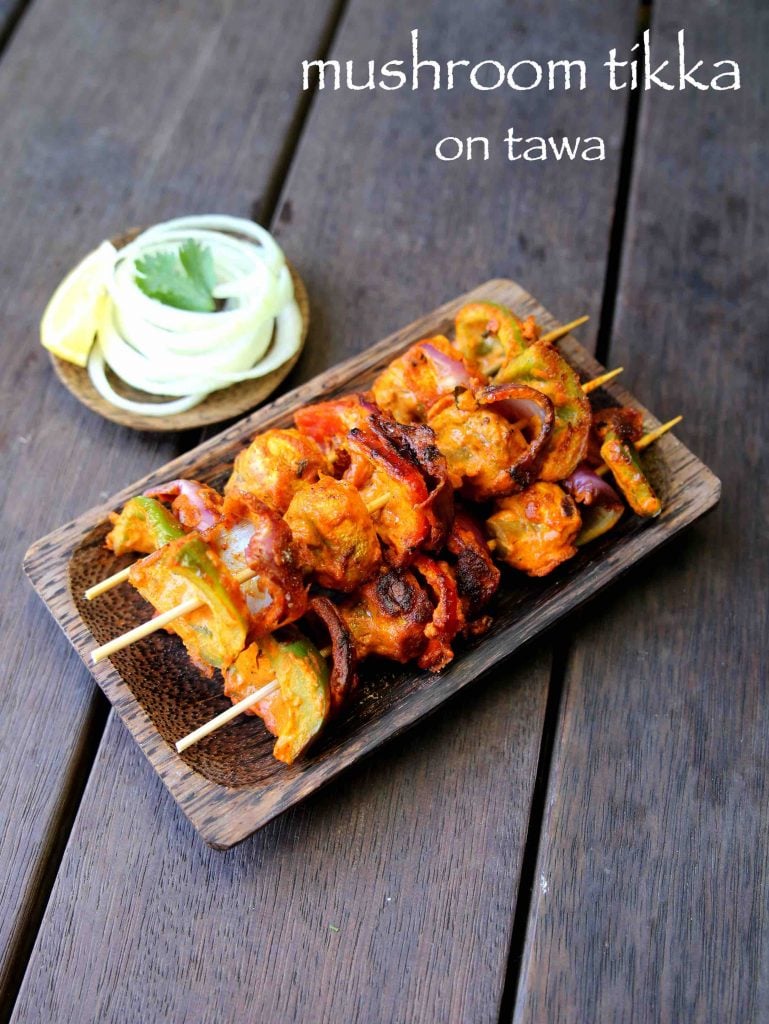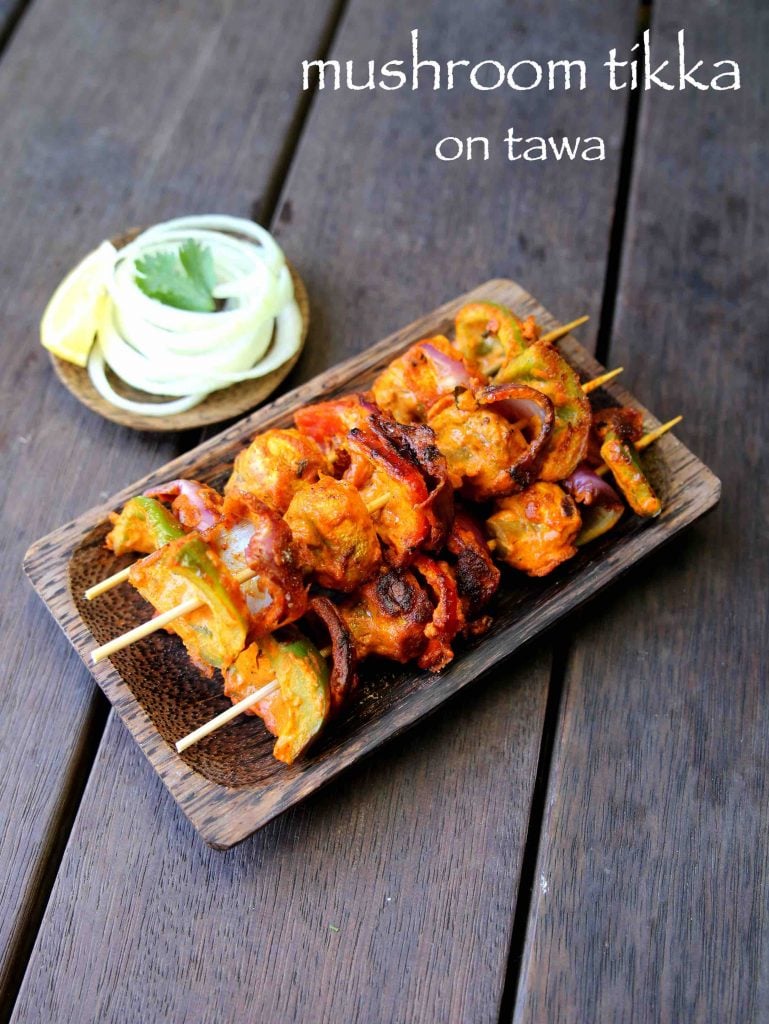 mushroom tikka recipe | how to make mushroom tikka on tawa with step by step photo and video recipe. tikka recipes are always ideal party starters or entree appetisers recipes for any occasions. mushrrom tikka is one such recipe, prepared with marinated button mushrooms with other diced vegetables like capsicum and onions. it is best served with dahi mint chutney or green chutney but can also be eaten without any dips.
i have always been a huge fan of paneer recipes and i personally love paneer tikka recipe. but my husband has a different taste preference and he like tandoori mushroom tikka recipe for his starters. so whenever we plan our outdoor dinners, tikka recipes are always on the order menu. so basically if we order mushroom tikka recipe as starter then, we end up having paneer tikka masala recipe for mains. similarly the other way if we are in mood to have paneer in starters and mushroom in mains. we have been following this practice for a quite a long time now and to be honest i have started liking mushroom tikka as well. especially the combination of tender spiced mushrooms with mint chutney is just heaven.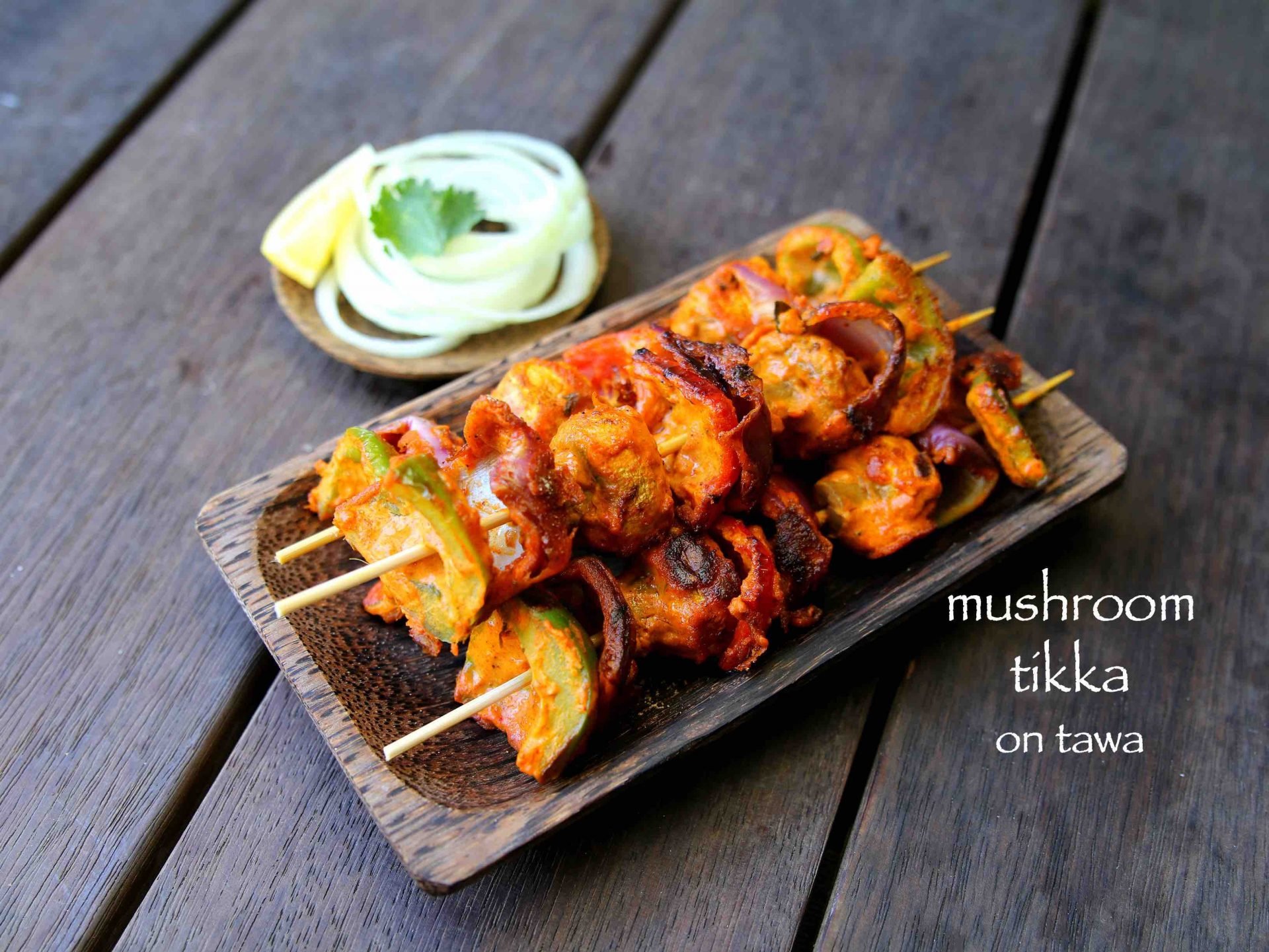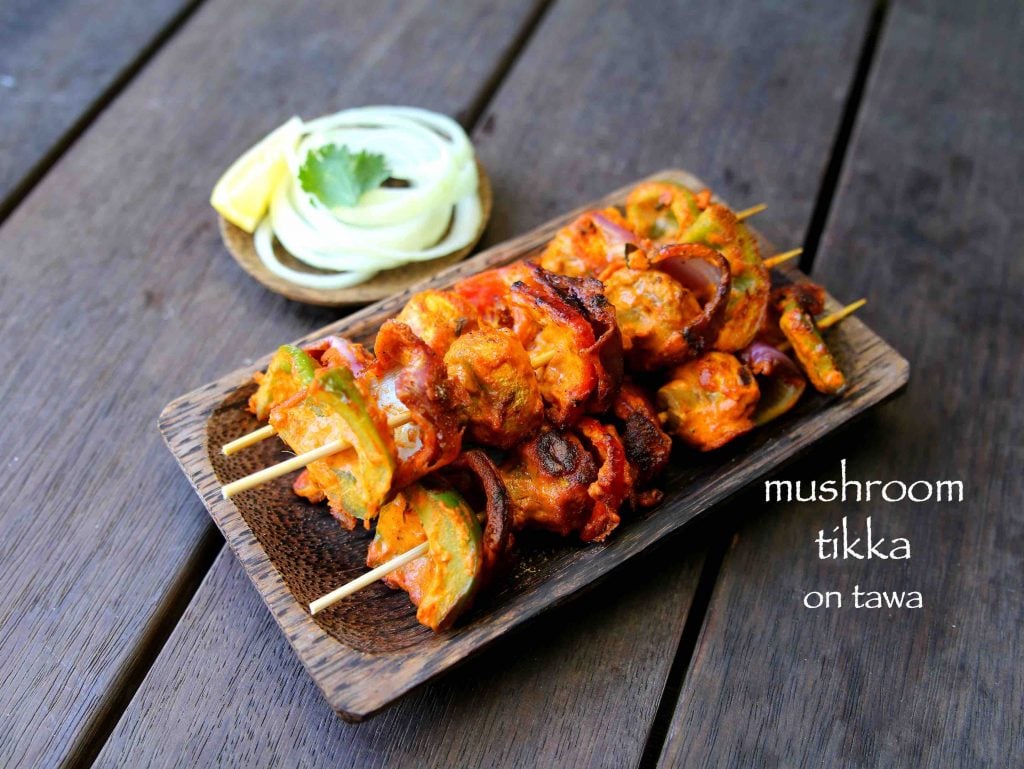 some important tips, variations and recommendations for a perfect moist and tender mushroom tikka recipe. firstly, the marination process is very critical and i would heavily recommend to marinate minimum of 30 mins to 60 mins for best result. also you can mix and match with both mushroom and paneer to prepare a combination of starters. secondly, use small button mushrooms as compared to large shaped mushrooms. small one should be easy while frying / grilling on tawa / grill. lastly, you can also bake the mushroom skewers on a traditional baking oven to have the similar taste and flavour from tandoori oven. you should be good to bake it for 45-50 minutes in a preheated oven. make sure to turn the skewers on a regular interval so that it bakes evenly.
finally i would like to highlight my other street food recipes collection with this post of mushroom tikka recipe. it includes recipes like, hariyali paneer tikka, stuffed mushroom, mushroom masala, mushroom soup, mushroom pulav, paneer tikka pizza, paneer tikka roll and achari paneer tikka recipe. in addition i request you to visit my other similar recipes collection like,
mushroom tikka video recipe:


recipe card for mushroom tikka recipe:
how to make mushroom tikka with step by step photo:
firstly, in a large mixing bowl take all the ingredients listed under for marination.

mix well to form a smooth and thick mixture.

add in 10 small mushrooms, ½ onion, ½ green capsicum.

mix gently coating the marination sauce.


cover and refrigerate for 30 minutes or overnight.

after marination, insert the marinated mushroom, capsicum and onions into wooden skewers.

further, roast it on a hot tawa or grill in oven or tandoor.


also spread a tsp of oil over the tikka.

roast on medium flame and keep rotating in between.

roast all sides, making sure it doesn't burnt.

finally, sprinkle some chaat masala and serve mushroom tikka immediately.

notes:
firstly, make sure to marinate at-least 30 minutes or extend till overnight, for perfect restaurant style tikka taste.
also, adding a drop of red food colour, gives bright red colour.
additionally, add vegetables of your choice like paneer, broccoli, baby corn or potato.
finally, serve mushroom tikka immediately, else it doesn't taste great.