paneer pizza recipe | paneer tikka pizza | homemade pizza with paneer with detailed photo and video recipe. basically an indian variation to the popular italian pizza recipe flavoured with marinated tikka sauce and paneer. the recipe is very similar to the one served in indian pizza hut centre with thick crust. also the same recipe can also be prepared with wheat flour as compared to the maida or all purpose flour.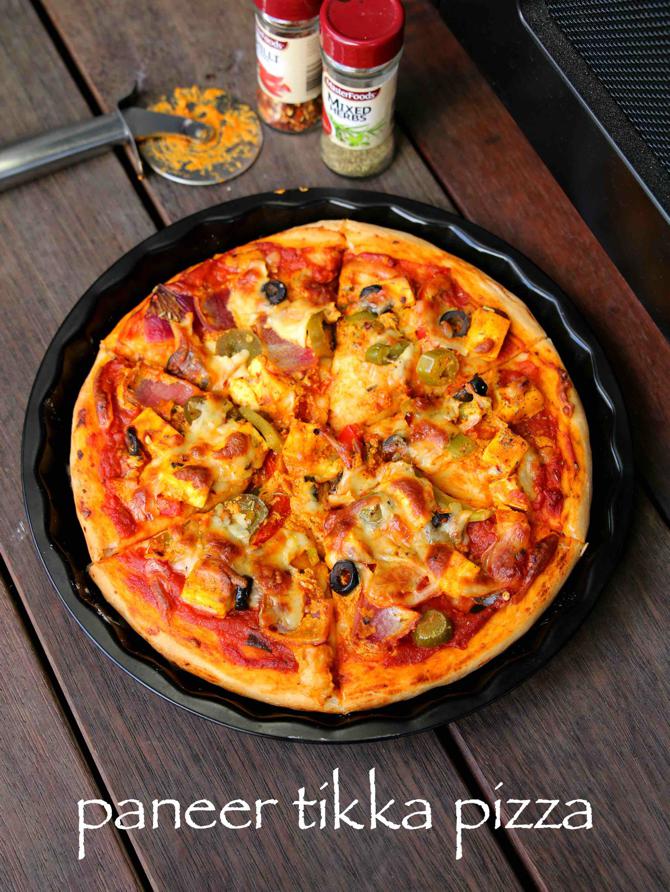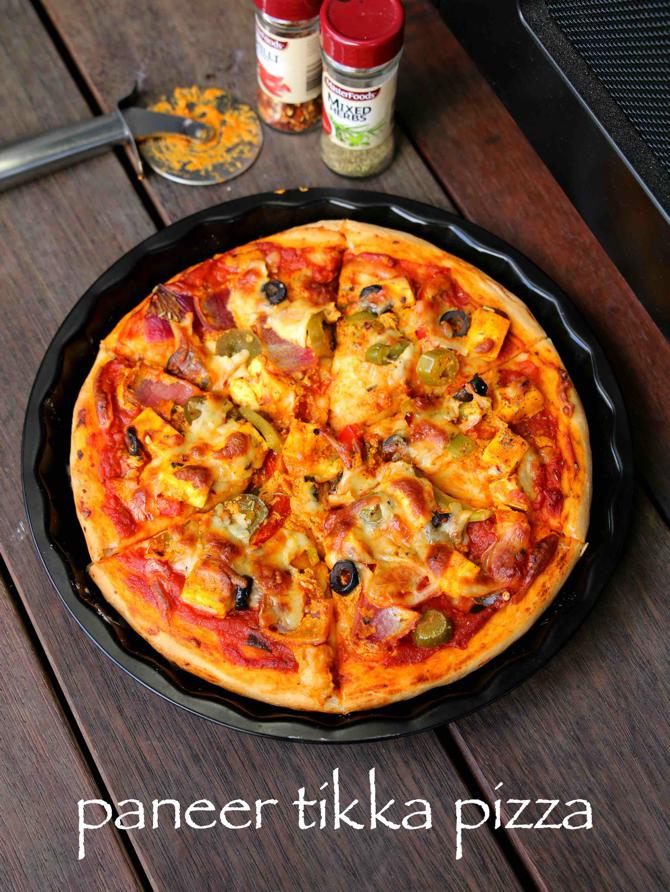 paneer pizza recipe | paneer tikka pizza | homemade pizza with paneer with step by step photo and video recipe. perhaps one of the most popular indian version of pizza recipe served with paneer tikka. the credit goes to the indian pizza hut menu which introduced it with the pizza hut inception in india. the other paneer variation in the pizza hut menu is peppy paneer pizza which is also hugely popular.
tikka pizza recipe has become a common recipe in india and overseas. hence there are several flavours and variations to this fusion pizza recipe. with paneer tikka pizza you can find mushroom tikka pizza, chicken tikka pizza and even aloo tikka pizza recipe. basically the recipe follows the same procedure as any traditional pizza recipe but the toppings is different. the marinated paneer cubes with diced onions and capsicum is placed on pizza. once the paneer cubes are added, pizza base is topped with generous amount of mozzarella cheese and paneer pizza is ready.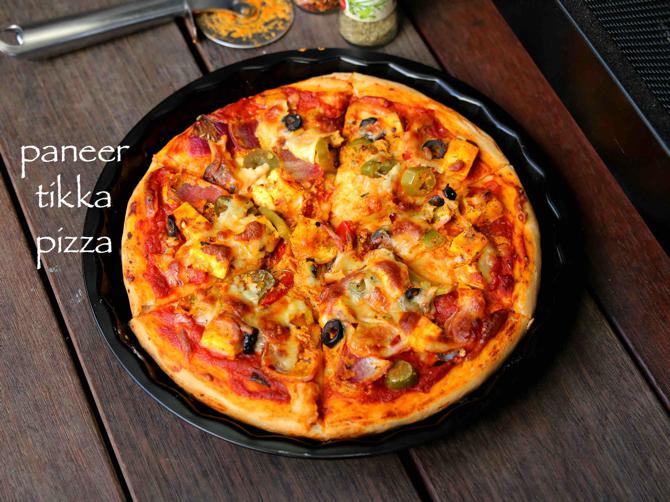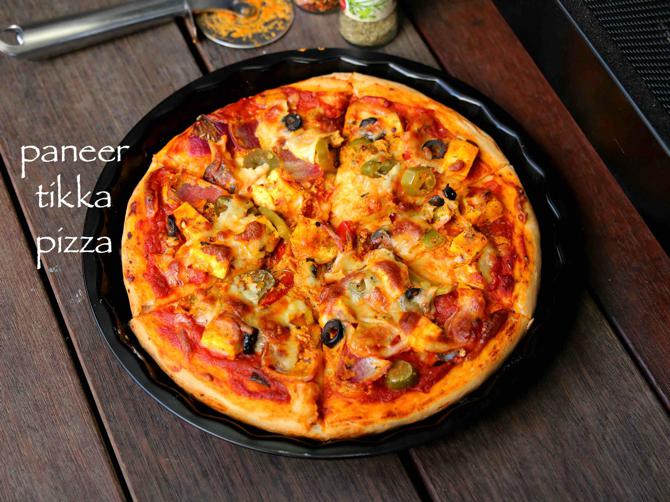 furthermore some important tips and suggestions for a perfect paneer pizza recipe. firstly, in the marination process i have added only paneer cubes in this recipe. but this recipe can be easily extended and mushroom and aloo can also be added to the marination process. secondly, the pizza base is typically prepared with maida flour. but if you have any gluten allergy than prepared the same with wheat flour base. lastly, i have baked the pizza in traditional oven, however the paneer tikka pizza can also be prepared with tawa too. check my tawa pizza for more information.
finally i would like to highlight my other international recipes collection with this post of paneer tikka recipe. this includes, veg pizza, pizza bombs, potato wedges, donut recipe, potato smiley, pizza mc puff, cheesy garlic bread, homemade garlic bread, falafel and hummus recipe. in addition do visit my other recipes collection like,
paneer tikka pizza video recipe:
recipe card for paneer tikka pizza:
how to make paneer pizza with step by step photo:
pizza dough preparation recipe:
firstly, in a large mixing bowl mix ½ cup warm water, 1 tsp sugar and 1 tsp dry yeast.

rest and allow the yeast to activate.

now add 2 cup maida, 2 tbsp olive oil and ½ tsp salt.

combine all the ingredients well.


add more water as required and knead dough.

knead to smooth and soft dough.

tuck the dough and form to a ball. place in a large mixing bowl.


also grease the bowl from sides with olive oil to prevent dough from sticking to bowl.

now cover the bowl tightly with cling wrap or plastic wrap and rest for about 2 hours.

paneer tikka marination:
firstly, in a large mixing bowl take ½ cup curd.

also add ½ tsp chilli powder, ¼ tsp turmeric, ½ tsp coriander powder, ¼ tsp cumin powder, ¼ tsp garam masala, ½ tsp ginger garlic paste, 1 tsp lemon juice and ¼ tsp salt.

combine well with the help of whisk.

now add vegetables like ½ capsicum (red & green), ½ onion, 15 cubes paneer.

add 1 tsp olive oil, ½ tsp kasuri methi and mix well.

cover and refrigerate for 2 hours making sure paneer gets marinated well.

paneer tikka pizza recipe:
after 2 hours, dough has raised and doubled in size indicating well fermented.

punch the dough with fist to release down the air.

divide the dough into 2 balls and tuck them.

place the dough on dusted pizza plate or tray. alternatively use cornmeal for more crunchy texture.

flatten the dough by stretching with both hands.

further, leaving a cm or more and create a dent. this helps the crust to fluff slightly.

then prick with centre of dough with the help of fork to prevent pizza base from fluffing up like chapati.

furthermore, spread pizza sauce generously leaving the sides slightly.

top up with prepared paneer tikka marination leaving behind the mixture.

also place few jalapeno, olives. and sprinkle ¼ tsp chilli flakes, ¼ tsp mixed herbs.

then spread ½ cup of grated mozzarella cheese over the base.

brush olive oil over the sides of pizza crust to make pizza crust more crispy and golden brown.

further, bake in a preheated oven at 500 degrees fahrenheit or 200 to 250 degree celsius for about 15-20 minutes.

finally, slice the paneer tikka pizza and top with chilli flakes and oregano.
notes:
firstly, to bake pizza on tawa refer how to make pizza on tawa recipe.
additionally, add mushrooms or vegetables of your choice in marination.
freeze leftover dough in a airtight container or zip lock bag greasing with oil. dough stays fresh for atleast a month.
also knead the dough well, else pizza will be chewy.
finally, bake the homemade paneer tikka pizza in very hot preheated oven else, the base of pizza will be raw.