narali bhat recipe | narali bhaat | maharashtrian sweet coconut rice recipe with detailed photo and video recipe. an interesting and flavored rice recipe made with coconut and jaggery. the recipe is typically made in maharashtra during the celebration of narali poornima or the full moon day. it is extremely simple and easy to make, and may not necessarily be made during the full moon and can be served for any other occasions.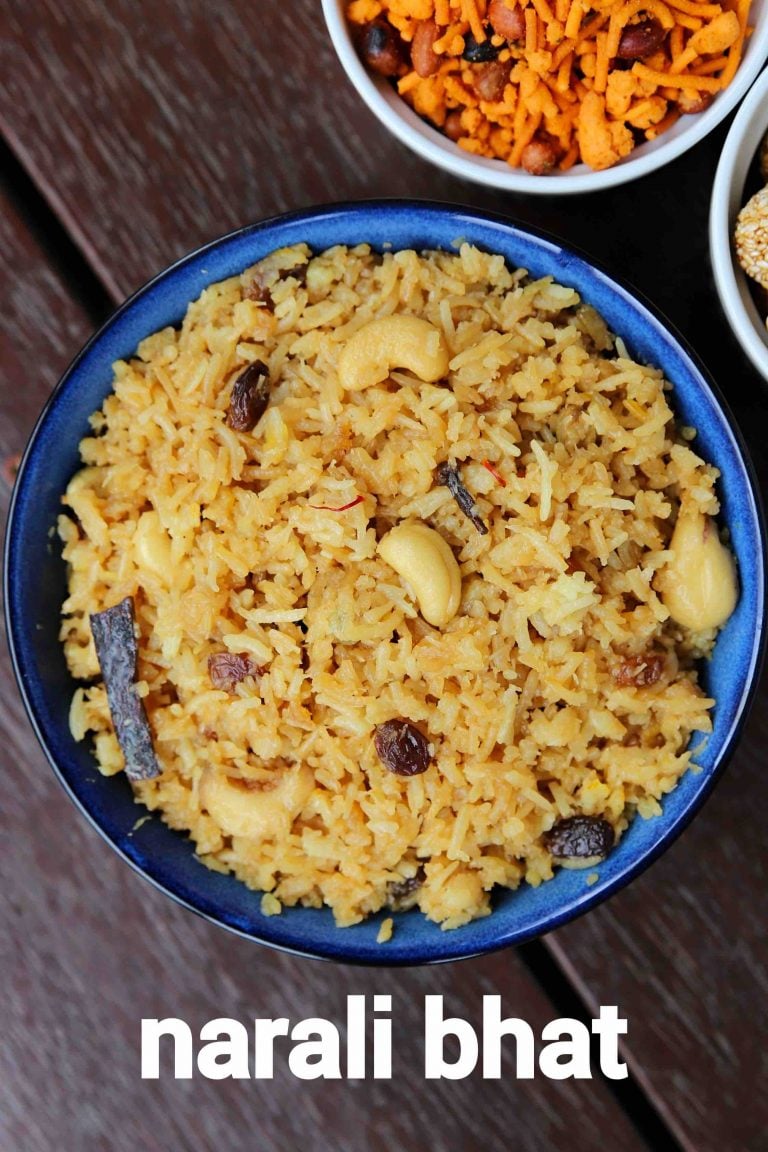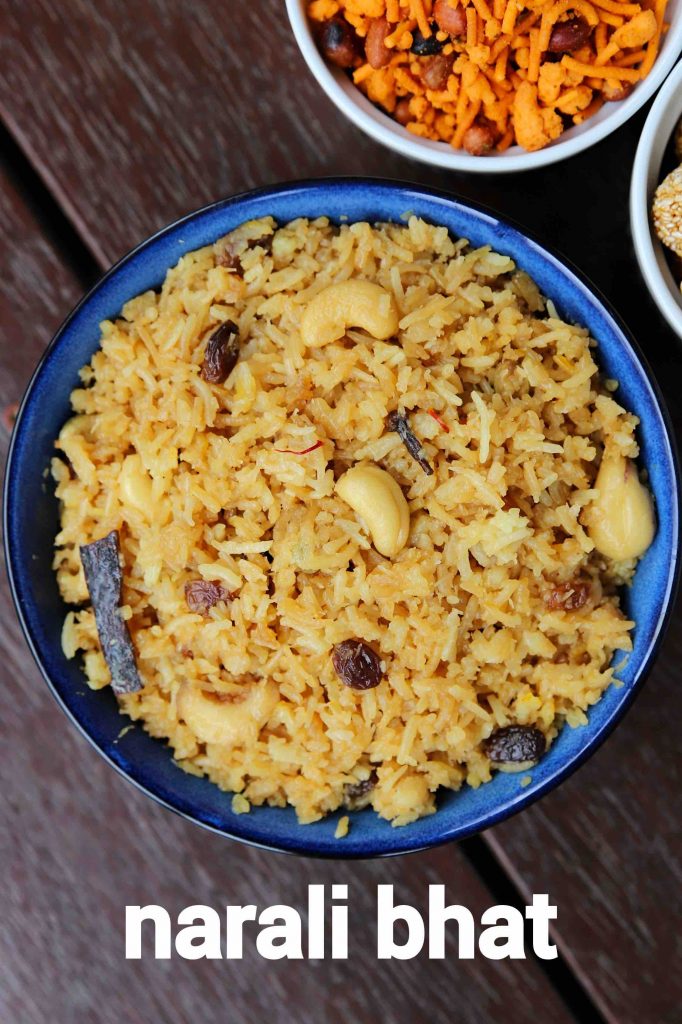 narali bhat recipe | narali bhaat | maharashtrian sweet coconut rice recipe with step by step photo and video recipe. bhaat recipes are very common across western and northern karnataka regions. it is generally made for various reasons like festivals, occasions in both savoury and sweetened form. one such simple and the easy rice-based sweet recipe is the marathi cuisine narali bhat recipe, known for its texture and taste.
i have lived in northern karnataka and i did my schooling over there before i moved to the coastal town of karnataka. therefore, my family has a strong influence on marathi or northern karnataka cuisine on my day to day meals. i often prepare curries like stuffed brinjal, jowar roti or more and more recipes out peanuts. similarly, i have also adopted myriad sweet recipes from the marathi cuisine and narali bhat recipe is one such recipe. having said that i do not make it for any particular reason and i make it whenever i like it for my weekend lunch or dinner. moreover, the sweet coconut rice can be consumed as it is like a snack due to the low sweetness level. in addition, it can also be shared with savoury rice which should complement each other.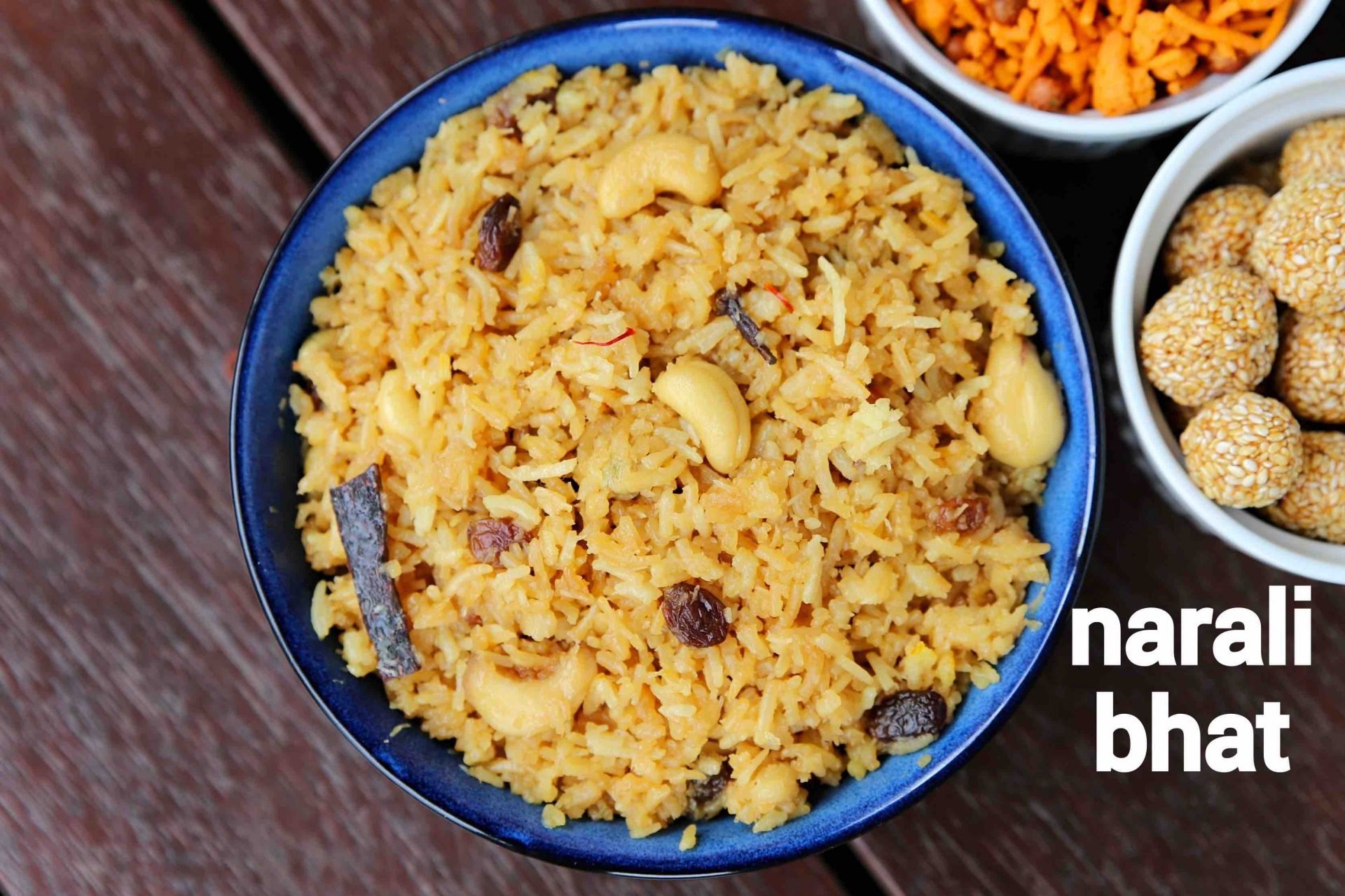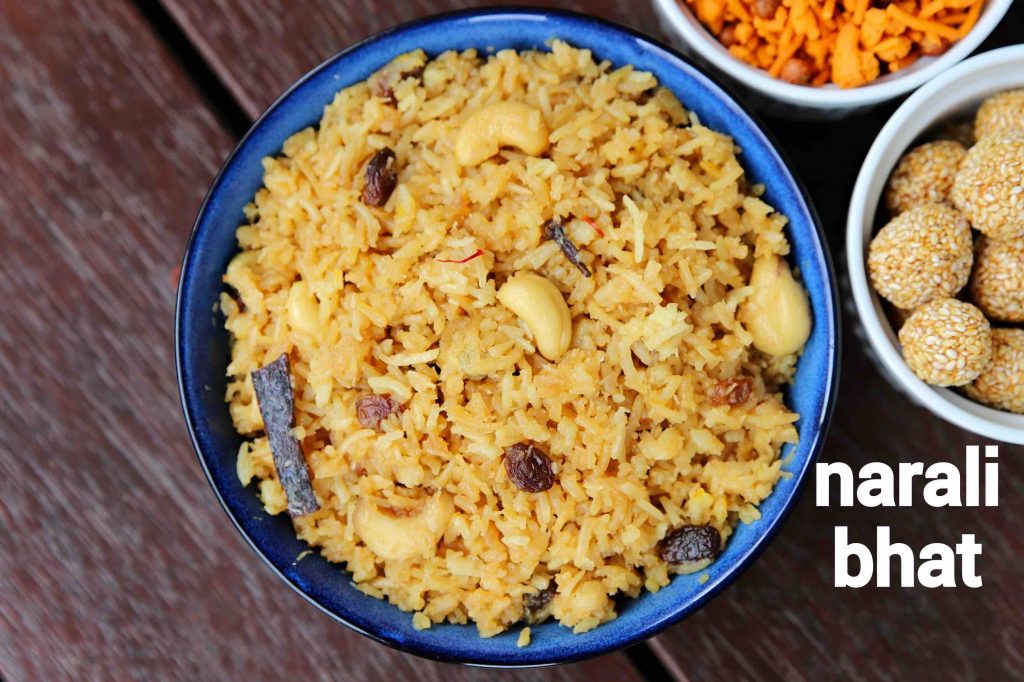 anyway, before i conclude, i would like to highlight some tips, suggestions, variations for narali bhat recipe. firstly, the recipe can be made with almost any type of rice variants. yet it has to be non-sticky and easily separable without not being mushy. hence it is better if it is made with basmati or sona masuri rice. secondly, the recipe tastes ideal when made with the combination of coconut and jaggery. yet you can experiment with sugar as a replacement to jaggery. lastly, you can serve it as a dessert or a snack. i personally recommend serving it chilled as dessert and hot as a snack.
finally, i request you to check my other detailed rice recipes collection with this post of narali bhat recipe. it mainly includes recipes collection like, rice bath, ghee rice, bisi bele bath, vangi bath, masale bhat, corn fried rice, corn pulao, sweet pongal, coconut rice, tomato chitranna. further to these i would also like to highlight my other detailed recipes collection like,
narali bhat video recipe:
recipe card for narali bhaat recipe:
how to make narali bhat with step by step photo:
firstly, in a large kadai heat 2 tbsp ghee and saute 3 pods cardamom, 3 cloves, 1 inch cinnamon until it turns aromatic.

now add ½ cup basmati rice (soaked for 20 minutes) and saute for a minute.

add 1 cup water, few saffron and ¼ tsp salt.

mix well, cover and simmer for 10 minutes or until rice is cooked well.


in another pan heat 1 tbsp ghee and roast 10 cashew and 2 tbsp raisins until it turns golden brown.

further add ½ cup jaggery and ½ cup coconut.

saute on low flame until jaggery melts and combined well.


make sure the coconut jaggery mixture have turned aromatic.

further transfer the coconut jaggery mixture into cooked rice and mix gently.

cover and simmer for 5 minutes or until flavours are absorbed well.

finally, add ¼ tsp cardamom powder and enjoy narali bhat.

notes:
firstly, traditionally ambemohar rice is used inplace of basmati rice.
also, make sure to roast the nuts and rice in ghee to get flavours.
additionally, once the narali bhat is cooled completely it tastes great.
finally, narali bhat recipe tastes great when prepared with fresh coconut.