paneer ghee roast recipe | veg ghee roast recipe | how to make paneer roast with detailed photo and video recipe. a spicy and tasty starter recipe made with paneer cubes, red chillies and clarified butter. it is an interesting snack which is known for its spice level, ghee flavour and softness of paneer. the recipe is an ideal party starter or as an appetiser, but can also be served as side dish to dosa and roti.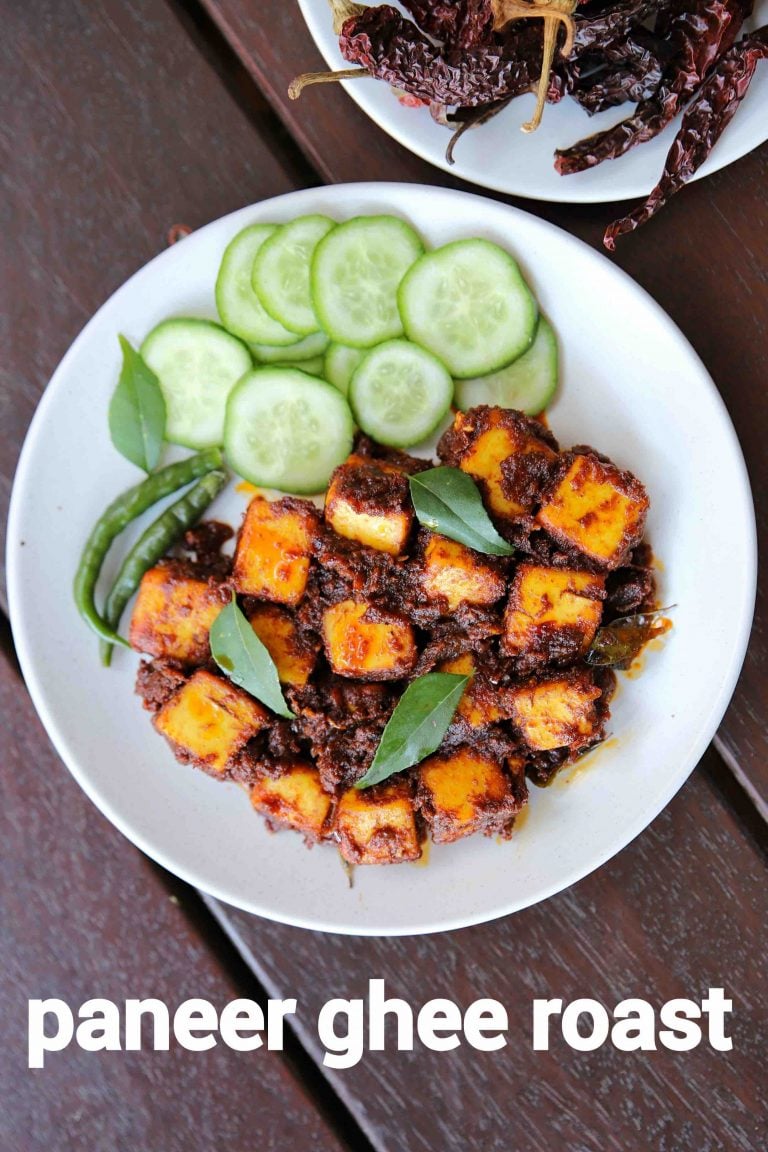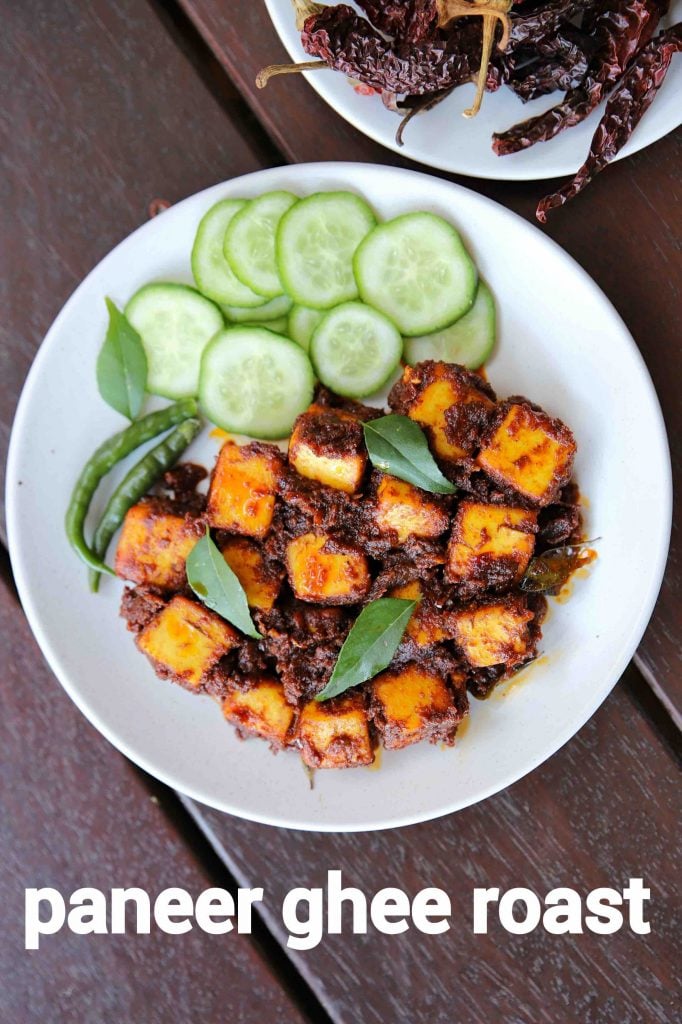 paneer ghee roast recipe | veg ghee roast recipe | how to make paneer roast with step by step photo and video recipe. ghee roast recipes are very common across india and are served typically as side dish snack. generally it is made with meat options particularly with chicken or mutton meat. but this recipe is dedicated to non-meat eaters and made with cottage cheese which is popularly known as paneer ghee roast.
well, to be honest, i am not a huge fan of this recipe and i personally do not prefer due to the number of red chillies used in this recipe. basically i cannot consume so much heat and i usually prefer medium spice level in my meal. as a matter of fact, due to the use of ghee, you may not feel the spice level when you consume it. yet it does not negate the fact that it contains the generous amount of red chillies. hence you may have to be very careful when serving to your kids. having said that, the combination of spice with ghee makes it an amazing side dish snack. you can prepare it and serve it in a roll/wrap or you can also serve it as a side dish to roti, chapthi or even for indo chinese rice recipes.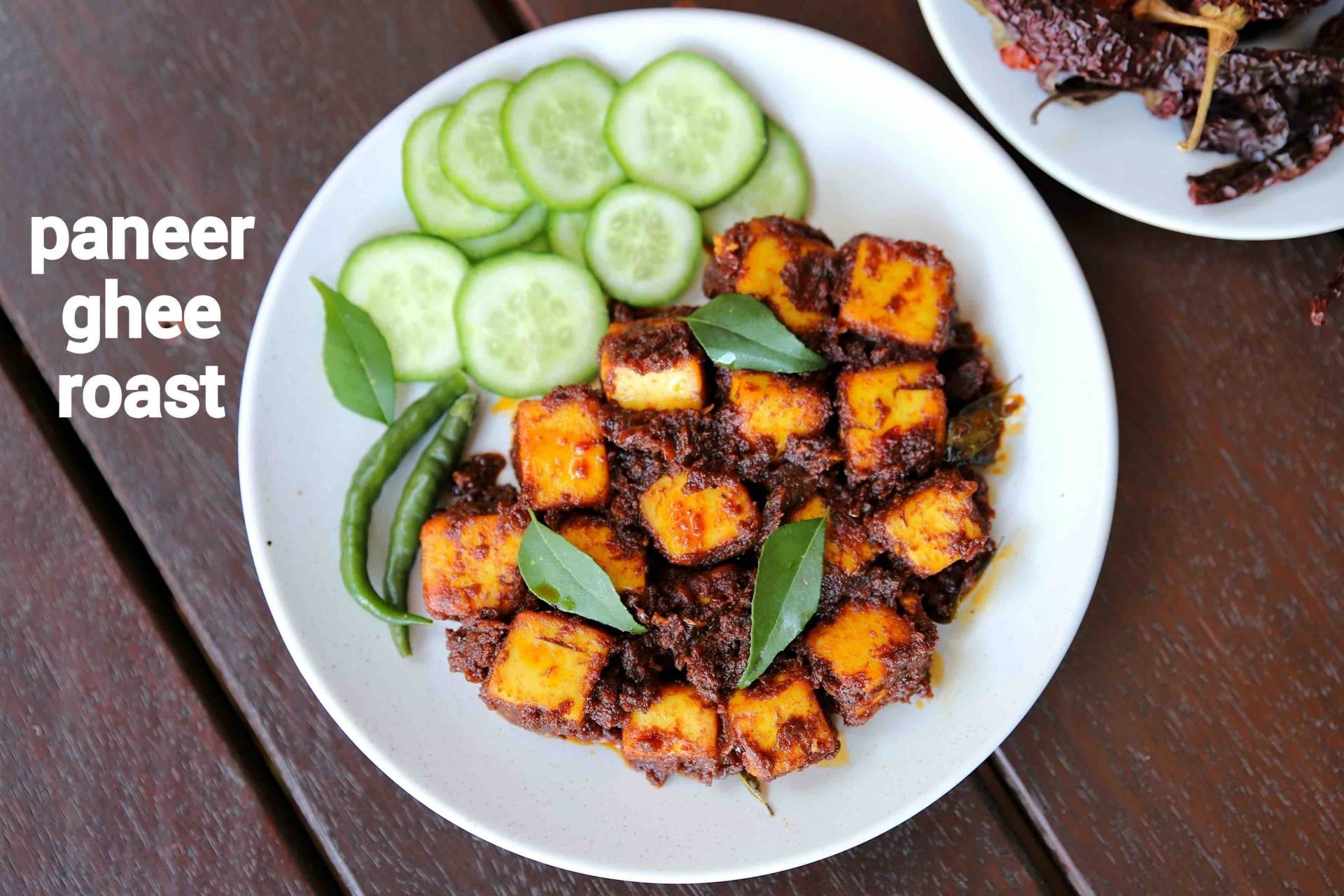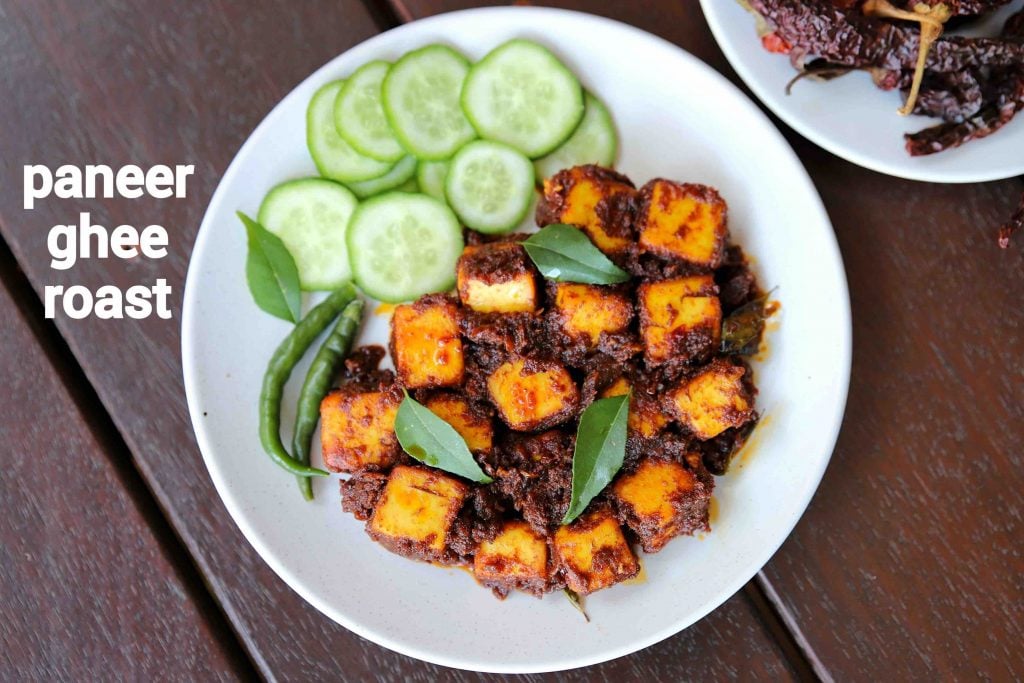 anyway, before concluding i would like to highlight some tips, suggestions, variations for a perfect paneer ghee roast recipe. firstly, i always recommended using homemade paneer and also homemade ghee for this recipe. if you do not have access to both, try to find something fresh and flavoured with your local grocery shop. secondly, the dish has to be served immediately once it is tossed and prepared. due to the nature of the dish, ghee should be in a liquid state and should not solidify. lastly, you can follow the same procedure and step with other ingredients. you can choose mushroom, potatoes and even meat like chicken and mutton.
finally, i would like to highlight my other paneer recipes collection with this post of paneer ghee roast recipe. it mainly includes recipes like paneer fried rice, paneer biryani, paneer butter masala, paneer frankie, matar paneer, paneer tikka masala, paneer chilla, paneer momos, tawa paneer, paneer ghee roast. further, to these i would also like highlight my other detailed recipes collection like,
paneer ghee roast video recipe:
recipe card for paneer ghee roast recipe:
how to make veg ghee roast with step by step photo:
firstly, to prepare masala paste heat 1 tsp ghee and roast 5 dried red chill, 1 tbsp coriander seeds, 1 tsp cumin, ¼ tsp methi, ½ tsp fennel and ½ tsp pepper.

roast on low flame until the spices turn aromatic.

further, add 4 clove garlic and saute slightly without burning.

transfer the spices into a blender and allow to cool completely.


also add 2 tbsp tamarind extract and ¼ cup water.

blend to smooth paste. masala paste is ready, keep aside.

in another pan heat 1 tsp ghee and roast 15 cubes paneer.


roast on low to medium flame or until it turns golden brown. keep aside.

in a large kadai heat 2 tbsp ghee and add ½ onion and few curry leaves.

saute until onions shrink slightly.

further add ¼ tsp turmeric and saute well.

now add in the prepared masala paste and cook well.

saute and cook well for at least 10-15 minutes or until ghee separates.

add in 2 tbsp curd and saute well until well combined.

furthermore, add ½ tsp salt and ½ tsp jaggery. mix well.

now add in roasted paneer and cook for a minute.

finally, garnish with few curry leaves and enjoy paneer ghee roast with roti or dosa.

notes:
firstly, adding jaggery will balance the sourness and spiciness.
also, you can prepare masala before in hand and saute with paneer just before serving.
additionally, remove the seeds to reduce the spiciness of ghee roast.
finally, fresh homemade ghee tastes great while preparing paneer ghee roast.