veg malai sandwich recipe | bread malai sandwich | veg cream sandwich with a detailed photo and video recipe. perhaps one of the easy and simple sandwich recipe made with cooking cream and choice of veggies. it is an ideal morning breakfast recipe which is not only filling because of myriad choice of veggies but also can be prepared in minutes. typically these kinds of sandwich recipes are made with plain white bread, but can also be done with other types of bread.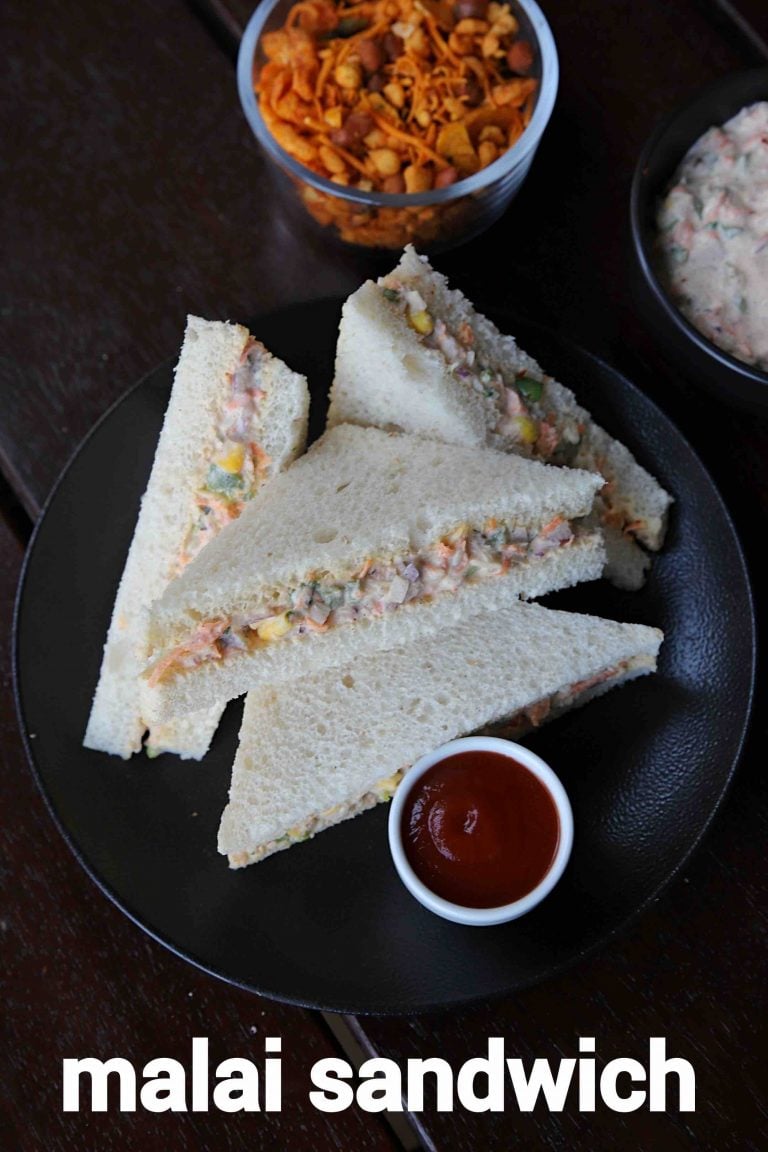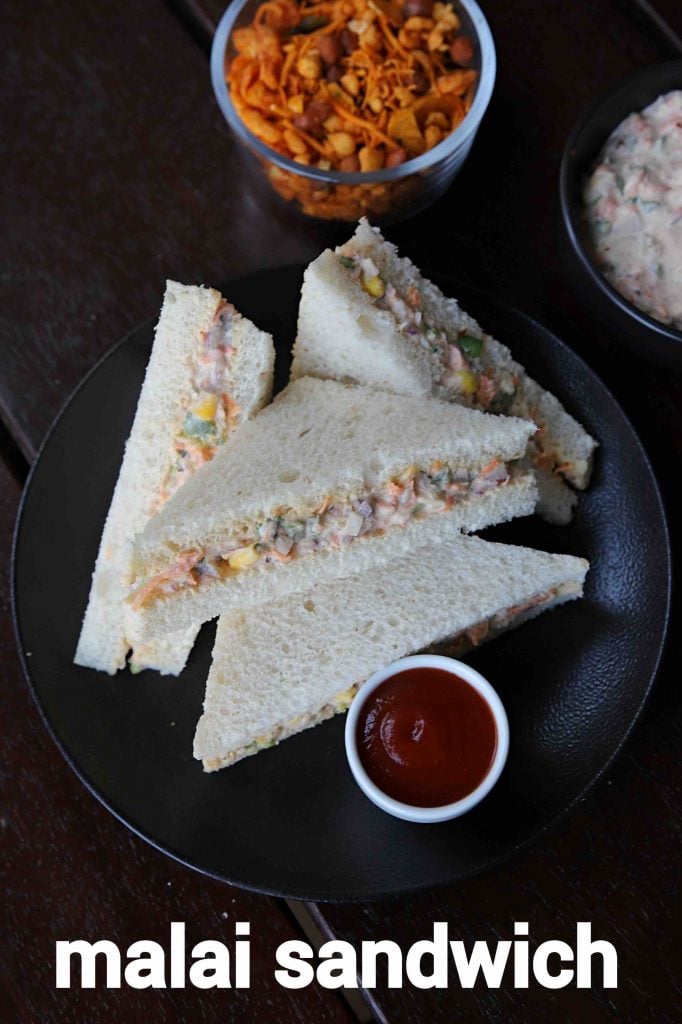 veg malai sandwich recipe | bread malai sandwich | veg cream sandwich with step by step photo and video recipe. sandwich recipes are very common across india since its inception from its neighbouring cuisine. typically it is made with some spicy stuffing with meat and vegetable filling. having said that it can also be made with other options and malai or cream is one such simple sandwich recipe.
i have posted a very similar sandwich recipe known as curd or dahi sandwich recipe. the major difference between these 2 recipes is the use of curd vs cream in this recipe. both these 2 ingredients act as a lubricating agent and help to keep the finely chopped veggies together in the sandwich filling. having said that in dahi sandwich you cannot use the curd as it is. you may have to strain the water from the curd or in other words, you have to prepare hung curd. this may be time-consuming and hence this recipe of bread malai sandwich is a better option compared to curd one. also, there isn't any risk of curd getting sour as you can just use any store-bought cooking cream and start preparing the sandwich filling.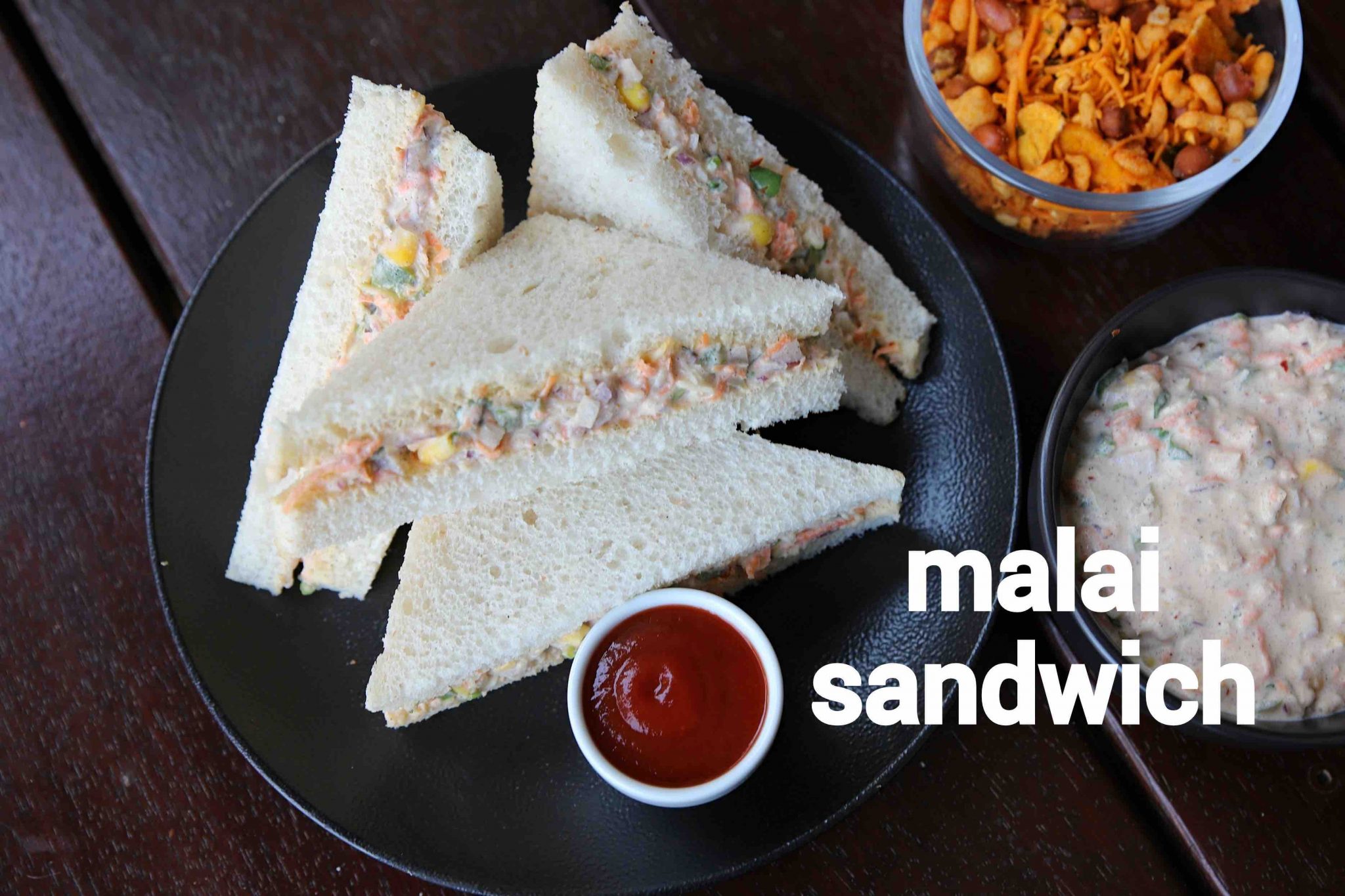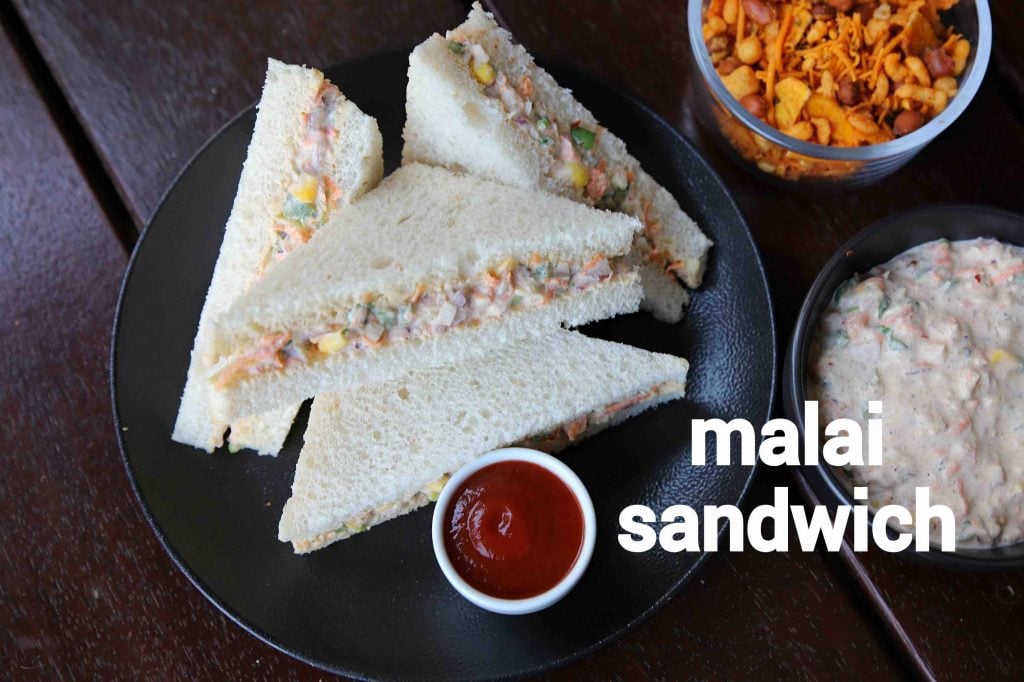 anyway, before jumping into the actual recipe, i would like to add some more tips, suggestions and variations to veg malai sandwich recipe. firstly, i would like to recommend to use plain or white sandwich bread slices for this recipe. i personally like all my sandwich recipes with white bread, but you may use wheat bread, multigrain or wholemeal bread. secondly, in terms of veggies, it is completely open-ended. hence you may use as per your preference, but i would insist in chopping these veggies finely. lastly, the sandwich can be served either warm or cold. if you like it cold way, you have to just fill the stuffing. but if you like it warm, you may either grill on tawa or use toasted bread to make the sandwich.
finally, i request you to check my other detailed sandwich recipes collection with this post of veg malai sandwich recipe. it mainly includes recipes like club sandwich, veggie burger, mayonnaise cheese sandwich, aloo toast, chocolate sandwich, aloo masala grilled sandwich, chilli cheese sandwich, finger sandwiches, tomato cheese sandwich, spinach corn sandwich. further to these i would also like to mention my other related recipes categories like,
veg malai sandwich video recipe:
recipe card for bread malai sandwich recipe:
how to make veg malai sandwich with step by step photo:
firstly, in a large bowl take ½ carrot, 3 tbsp cabbage, ½ capsicum, ½ onion, 3 tbsp sweet corn and 2 tbsp coriander.

add ½ cup cream, ½ tsp pepper powder, ½ tsp chilli flakes and ½ tsp mixed herbs.

mix well making sure everything is well combined.

now take a bread slice and spread 2 tbsp of prepared vegetable malai mixture.


cover with another bread slice and press gently.

trim off the sides. you can keep the sides if you prefer.

finally, enjoy veg malai sandwich with tomato sauce.

notes:
firstly, add vegetables of your choice to make sandwich healthy.
also, along with cream, you can also add eggless mayonnaise to make it rich.
additionally, if you do not prefer a cold sandwich then you can toast with butter before serving.
finally, veg malai sandwich recipe tastes great when prepared with fresh cream.