baby corn fry recipe | baby corn 65 recipe | baby corn golden fry with detailed photo and video recipe. a crisp and easy golden coloured snack recipe prepared with tender and young baby corn. the recipe is prepared very similar to gobi 65 or cauliflower 65 – a popular street food recipe of india. the recipe is basically eaten as a evening snack or perhaps as a side dish for lunch or dinner.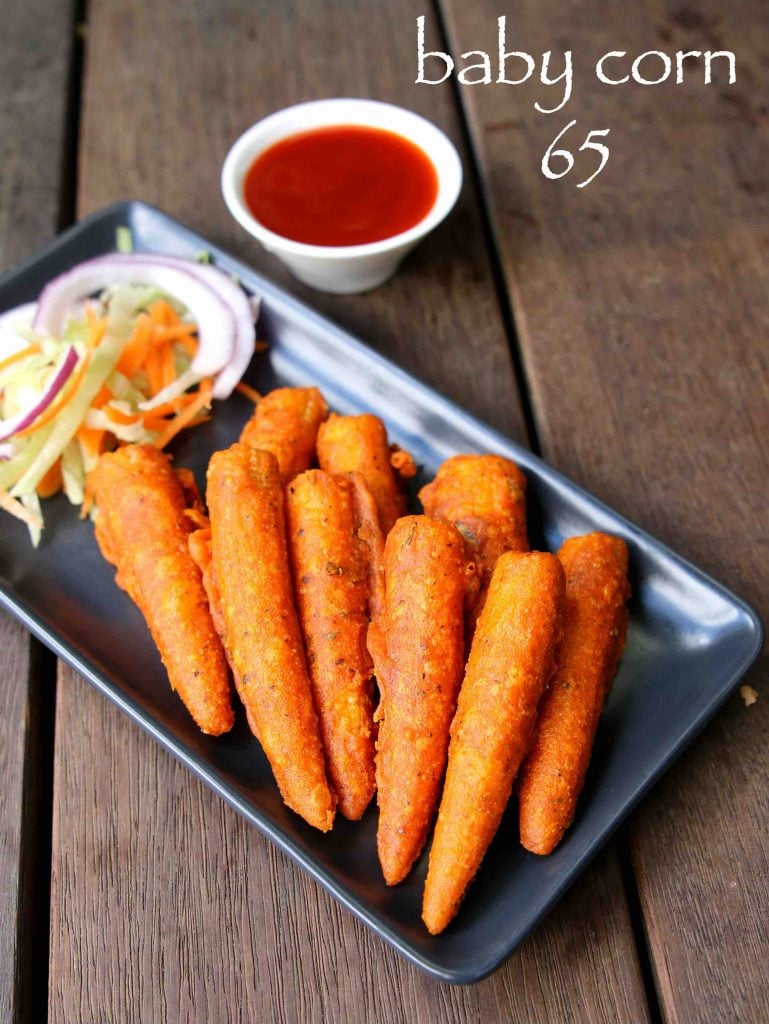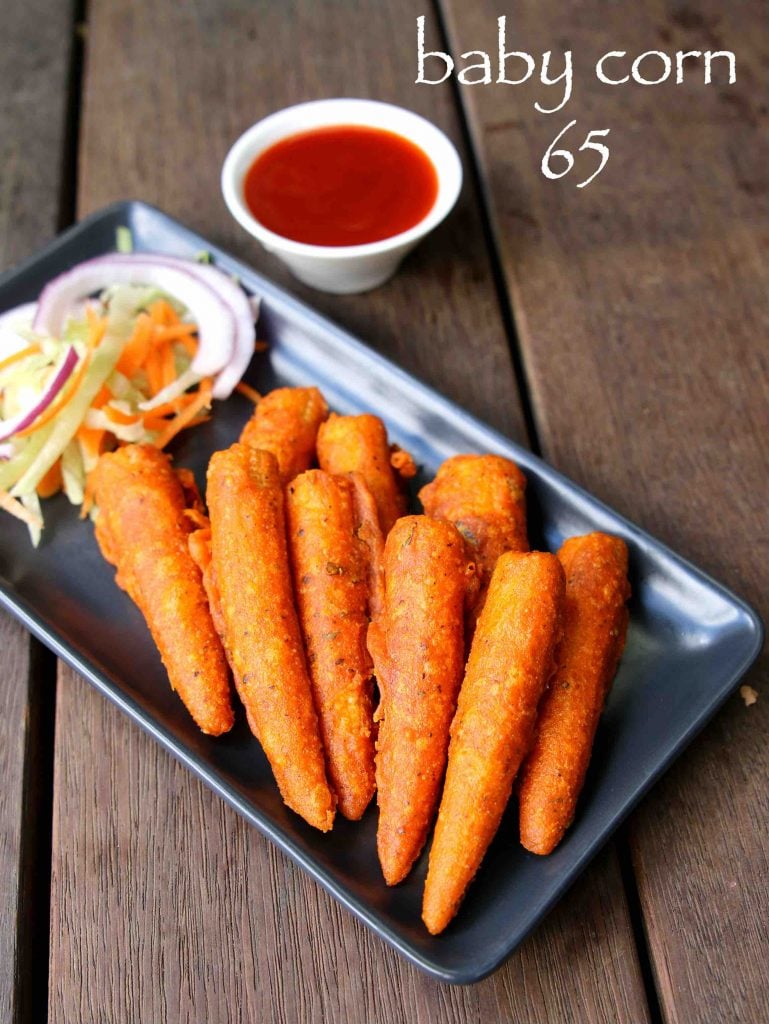 baby corn fry recipe | baby corn 65 recipe | baby corn golden fry with step by step photo and video recipe. most commonly, the recipe can be confused with pakoda or pakora but it is slightly different from it. also has a major difference with the taste with more spices and sauces both with the batter and while serving.
there are several street food recipes especially in the indo chinese cuisine prepared mainly with gobi, paneer, mushroom and with baby corn. the 65 recipes are very common and can be prepared with all the above ingredients. but the gobi and baby corn 65 recipe is very common and popular street food recipes. i have already shared the gobi 65 recipe but i always wanted to share the baby corn fry or baby corn golden fry recipe. also in this recipe i have prepared it slightly different as compared to gobi 65 but it should equally taste good. basically in gobi 65 i have prepared a sauce which i added at the end. if you like you can add the same to this recipe but i personally do not like to have it on this recipe.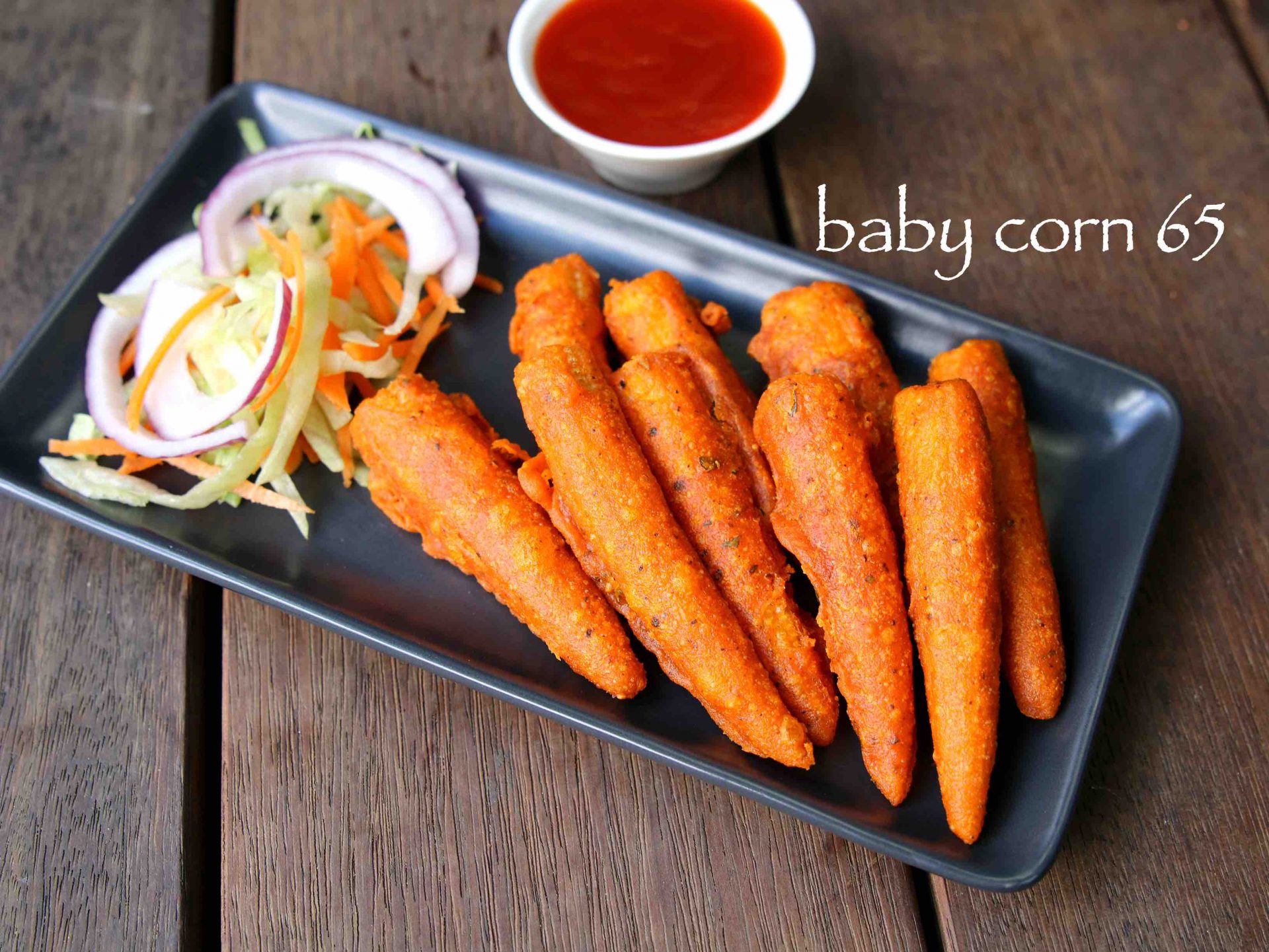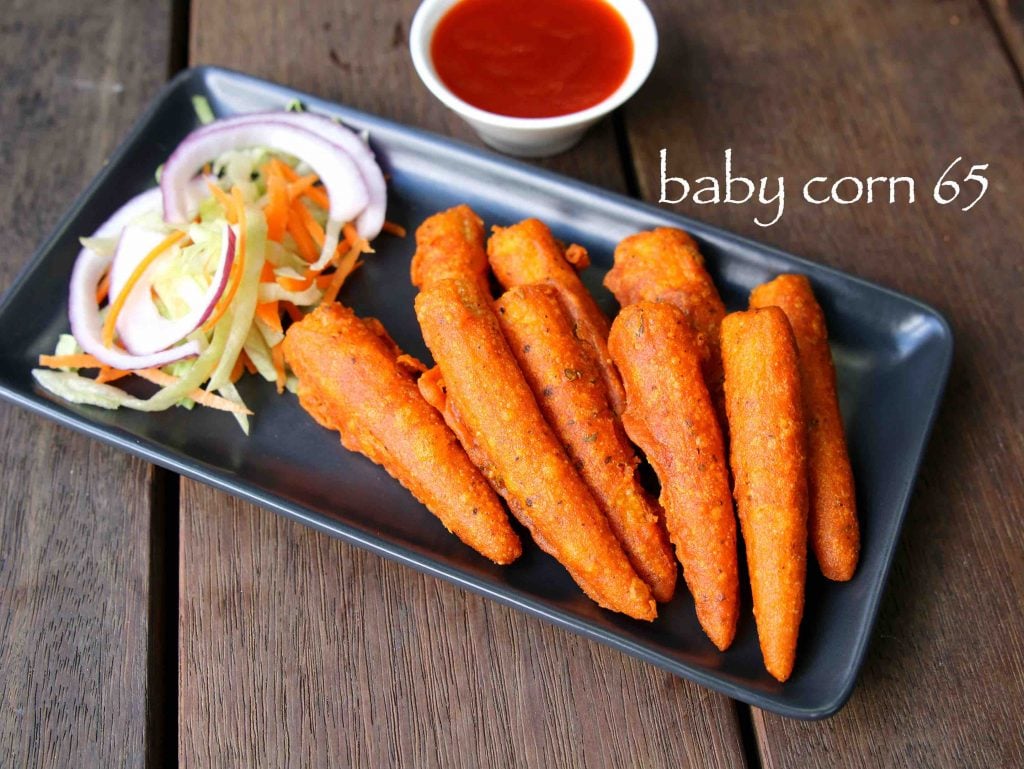 while the recipe of baby corn fry recipe is extremely simple, yet i would like to include some variations, tips and serving suggestions. firstly, i always recommend to use young and tender baby corn to this recipe. it should be crisp and you should be able to break it easily without changing its shape. secondly, if your baby corn's are bigger in size than you can break them to half and then use it. in this recipe i have not chopped it to half as i found it of optimal length. lastly, you can extend the same recipe to prepare the baby corn manchurian or baby corn chilli recipe by preparing the corresponding sauces. you can refer my gobi manchurian or gobi chilli recipe respectively for the same.
finally i request you to check my other street food recipes collection with this recipe post of baby corn fry recipe. it includes recipes like, chana chilli, mushroom tikka, honey chilli, potato wedges, soya manchurian, veg lollipop, and paneer nuggets recipe. in addition do visit my other similar recipes collection like,
baby corn fry video recipe:
recipe card for baby corn fry recipe:
how to make baby corn 65 with step by step photo:
firstly, boil 9 baby corn for 2 minutes or till they turn slightly soft.

further in a bowl, take ¼ cup maida, ¼ cup corn flour, ¼ tsp turmeric, 1 tsp red chilli powder, ½ tsp garam masala, ¼ tsp pepper, ½ tsp ginger garlic paste, few curry leaves, ¼ tsp salt and 2 tsp oil.

mix well with ½ cup water to form a smooth paste.

now dip the boiled baby corn into corn – maida paste coating all sides.


deep fry in hot oil stirring occasionally till the baby corn turns golden and crisp.

finally, serve baby corn fry with tomato sauce or green chutney.

notes:
firstly, adding corn flour to the batter makes baby corn fry more crispy and tasty.

also, fry the baby corn on medium flame else the baby corn will remain raw.
additionally, add red food colour for more bright red colour.
finally,  baby corn fry recipe taste great when served hot.