chocolate swiss roll recipe on pan | christmas swiss roll | choc swiss roll with detailed photo and video recipe. an easy and simple dessert recipe made with the whipped cream and chocolate roll. typically it is made with a thin slice of chocolate roll which is baked and rolled, but this recipe is made using a pan. the recipe is an ideal christmas dessert which can be easily served with friends and family to celebrate the occasion.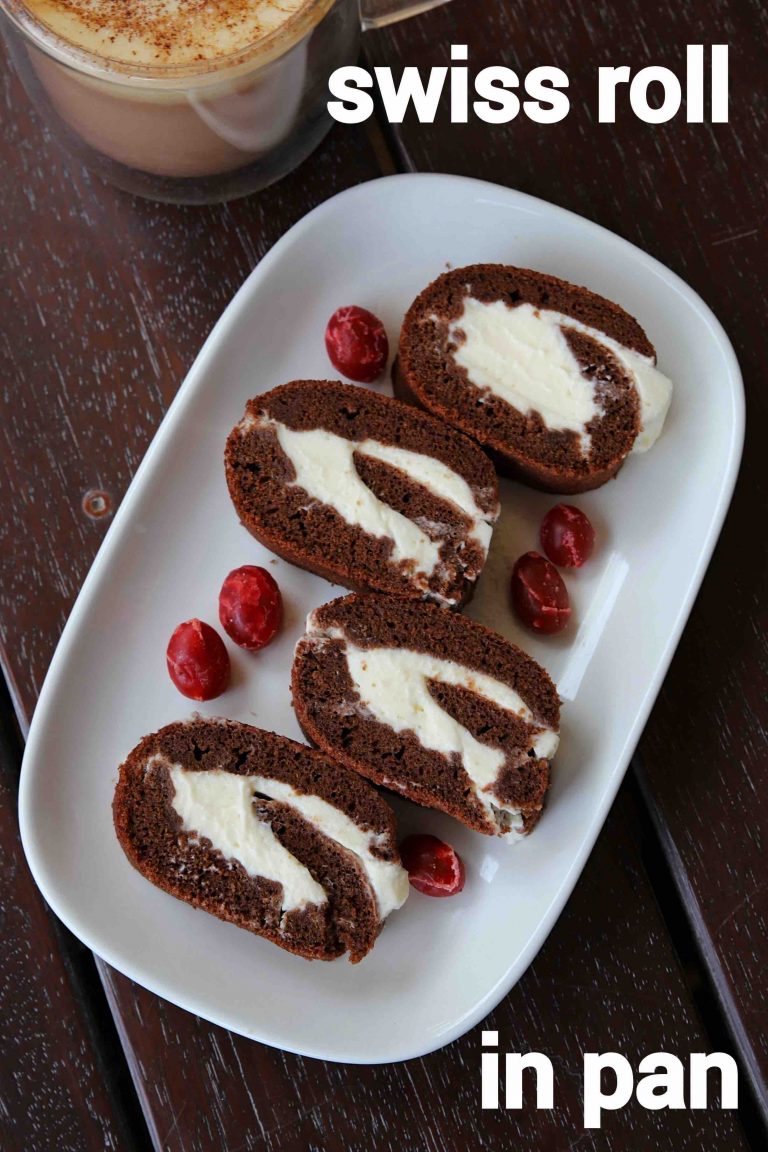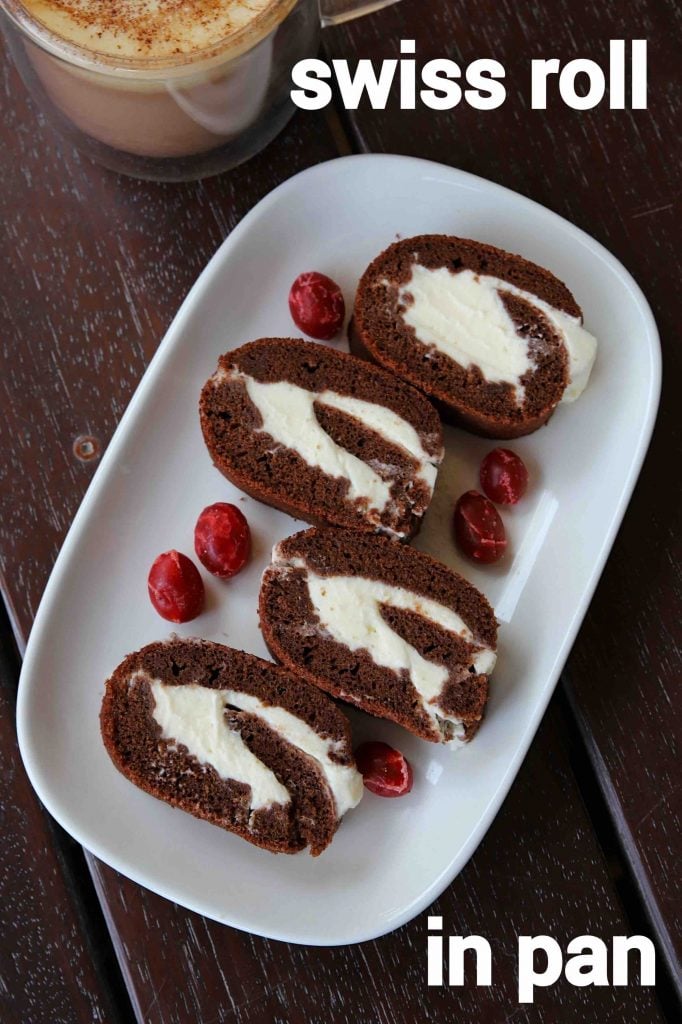 chocolate swiss roll recipe on pan | christmas swiss roll | choc swiss roll with step by step photo and video recipe. christmas is widely celebrated across india and is not limited to any particular religion. it is widely celebrated by preparing and baking desserts like plum cakes, cupcakes and other baking dessert recipes. one such easy and simple pan and cooktop based dessert recipe is chocolate swiss roll recipe known for its moist and tasty.
well many would believe the recipe for chocolate swiss roll is a complicated recipe and require any sophisticated ingredients. contrary to that i have shown a simple and easy recipe without baking oven. i have used a flat medium-sized pan to make the base for this recipe. it follows very similar to the crepe process and thus making it an easy recipe. typically the base is baked in a baking oven in a cake tray and sliced to the desired thickness. whereas in this recipe post, i have skipped that process to make it simple and easy. also once the whipped cream is made using a hand blender, the only remaining step is to top it and roll till it forms a swiss roll.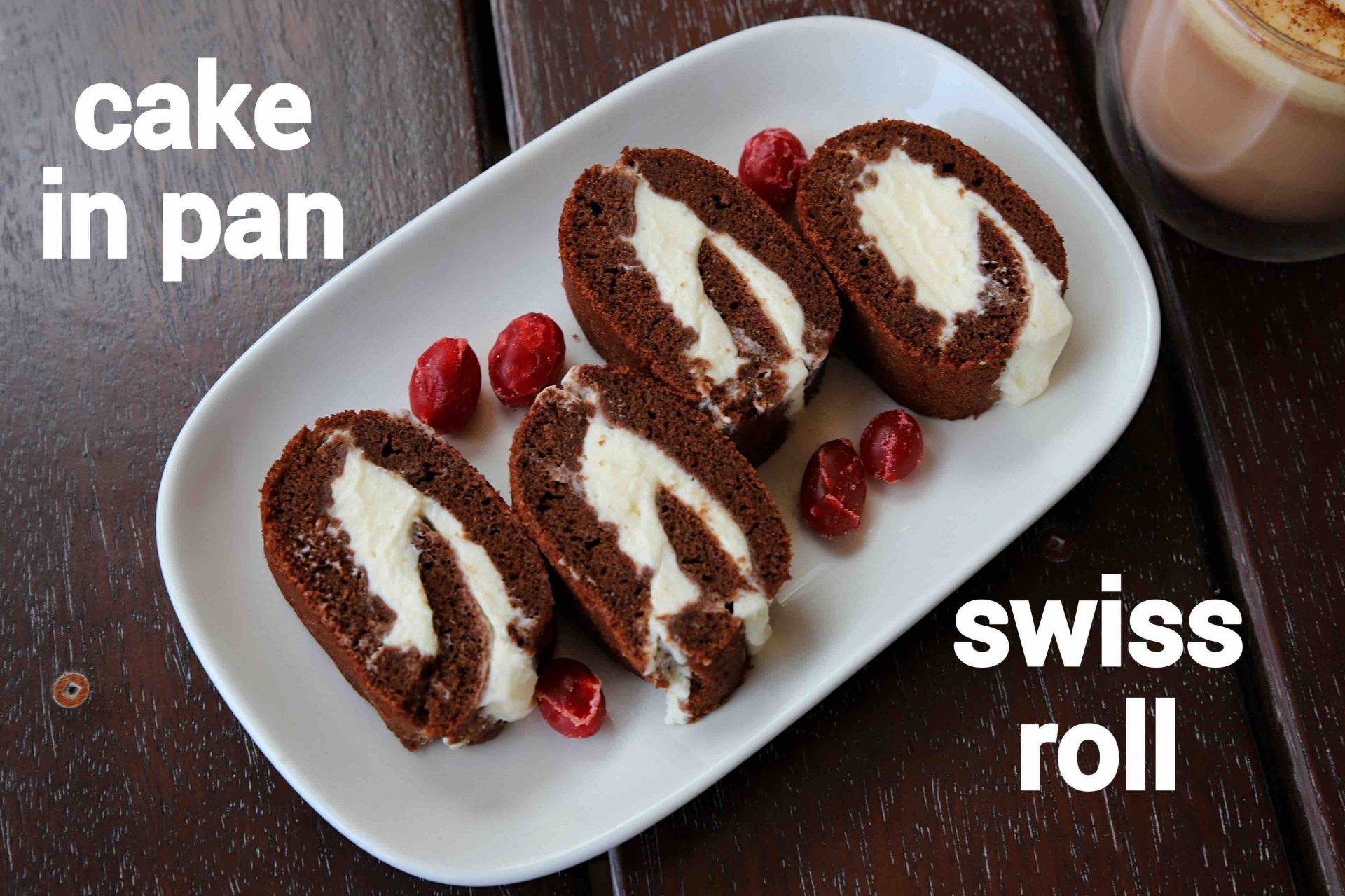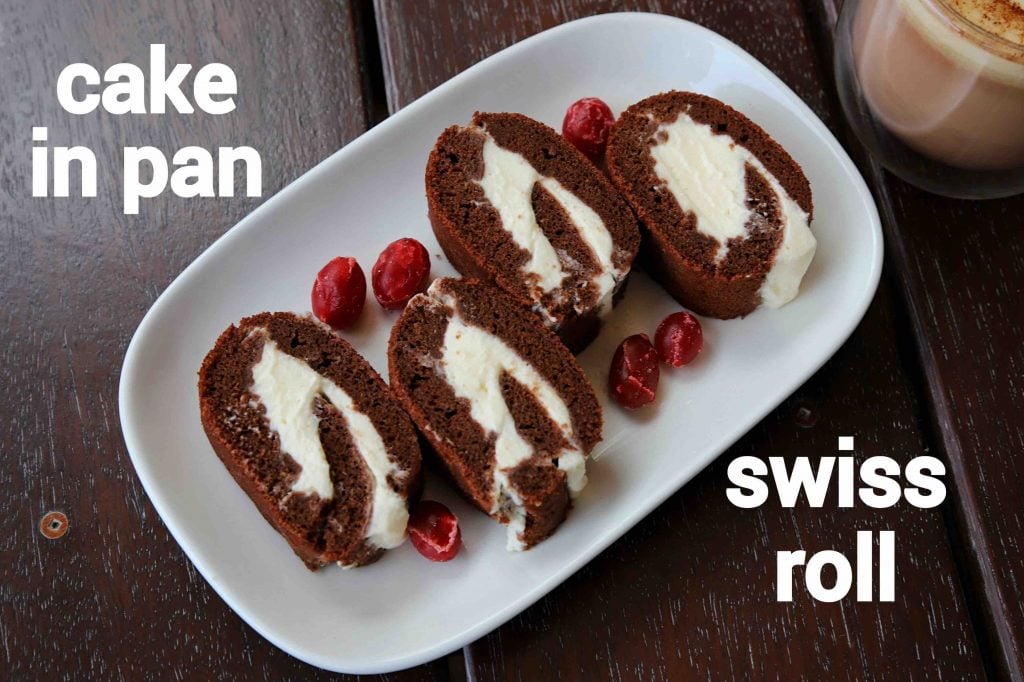 furthermore, some easy and important tips, suggestions and variations for a most and creamy chocolate swiss roll recipe. firstly, in this recipe, i have used a simple and white coloured, vanilla flavoured frosting. this can experiment and you can use choice of flavour, like chocolate, orange and any choice of cream flavour. secondly, the base or chocolate cake has to be moist and flexible so that it can be rolled. hence do not roast it and ensure to keep the moisture. lastly, the frosting has to be semi-solid in its consistency and avoid making it watery or hard in texture. you may not be able to roll it if you make the consistency otherwise.
finally, i request you to check my other detailed eggless cakes recipes collection with this post of chocolate swiss roll recipe. it mainly includes recipes like chocolate banana cake, bread cake, marble cake, cupcakes, chocolate mug cake, atta cake, banana cake, custard cake, banana bread, rava cake. further to these i would also like to highlight my other detailed recipes collection like,
chocolate swiss roll on pan video recipe:
recipe card for chocolate swiss roll on pan recipe:
how to make christmas swiss roll with step by step photo:
firstly, in a large bowl take ½ cup milk, ¼ cup oil, 1 tsp vinegar and 1 tsp vanilla extract.

whisk well until everything is well combined.

now place a sieve and add ¾ cup maida, ¼ cup cocoa powder, ½ cup powdered sugar, ½ tsp baking powder, ¼ tsp baking soda and ¼ tsp salt.

sieve well making sure there are no lumps.


mix gently using cut and fold method until the batter is well combined.

add 2 tbsp milk if required and mix gently.

prepare a smooth cake batter.


grease the frying pan with oil to prevent from sticking.

pour 2 ladle full of cake batter over pan and spread uniformly.

place on the gas stove and cover with a lid.

simmer and cook on low flame for 8 minutes.

or cook until toothpick inserted comes out clean.
transfer the cake over butter paper. be careful as the cake may break.

dust with powdered sugar to prevent from sticking.

roll gently when the cake is warm and rest for 30 minutes. this helps the cake to bend easily and not break.

meanwhile, prepare frosting by taking 1 cup chilled whipping cream.

also, add 2 tbsp powdered sugar and 1 tsp vanilla extract.

beat on low speed until the cream thickens.

after 5 minutes, the cream turns stiff peaks.

open the rolled cake without breaking.

spread a generous amount of prepared whipping cream.

roll gently, and wrap with cling wrap.

refrigerate for 30 minutes or until it sets completely.

finally, cut into thick slice and enjoy chocolate swill roll with a cherry.

notes:
firstly, make sure to cool the cake completely before frosting as the frosting will melt if it is warm.
also, rolling cake when its warm helps to prevent from breaking.
additionally, you can prepare frosting of your choice.
finally, chocolate swiss roll recipe tastes great when served chilled.