chocolate banana cake recipe | banana and chocolate cake | banana chocolate chip cake with detailed photo and video recipe. a classic rich and creamy chocolaty cake recipe made with banana and cocoa powder. the recipe is very similar to the popular banana and walnut flavoured banana bread with chocolate flavour. this cake can be served as a dessert with a choice of frosting, but also can be shared as a snack with a cup of tea or coffee.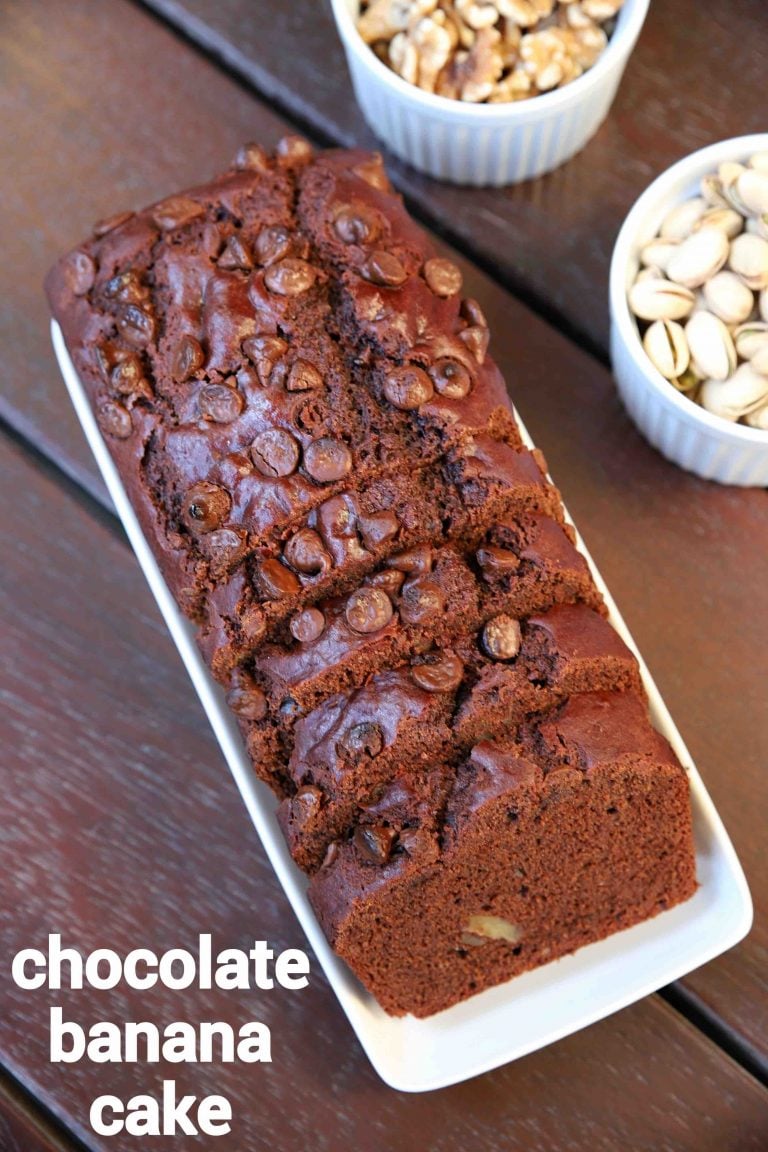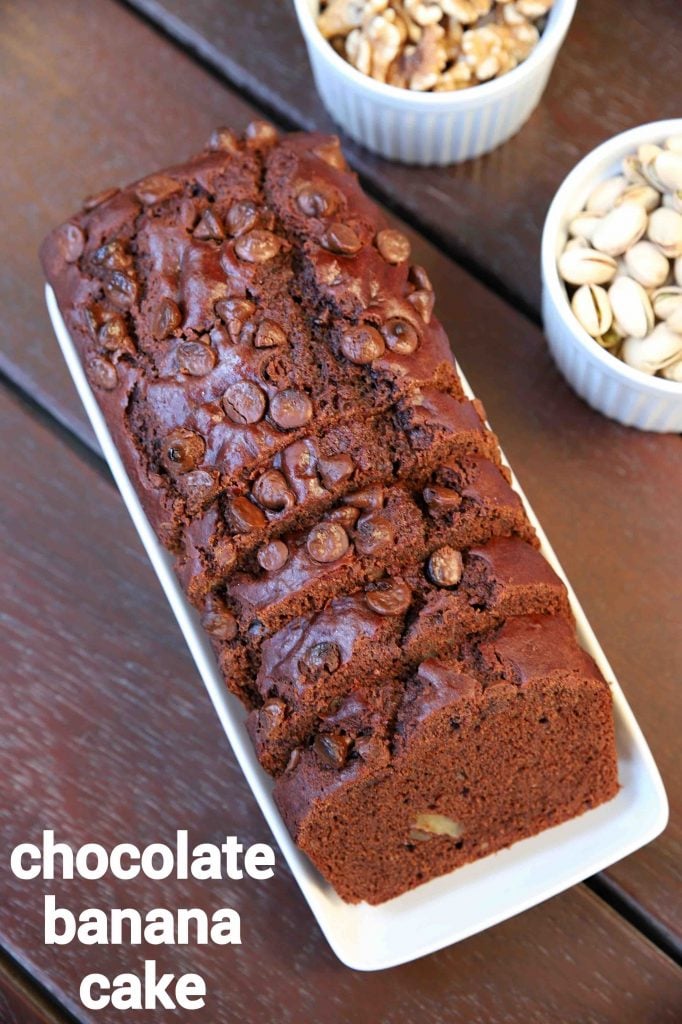 chocolate banana cake recipe | banana and chocolate cake | banana chocolate chip cake with step by step photo and video recipe. cake recipes are a common choice during the month of december. these are generally made for the celebrations and shared with friends and family which can be made with and without egg. one such simple and easy cake recipe is chocolate banana cake recipe known for its moistness and chocolaty flavour.
i am not a huge fan of cakes recipes as it takes a lot of time to prepare and bake it. also, the other big problem with the cake recipes is the success rate of it. you need to have an extra precautionary step to make it perfect, moist and also spongy in texture. my main issue with baking is, i do not make it often. hence i may end up making mistakes while baking it particularly. yet i am a big fan of this chocolate banana cake recipe, for 2 main reasons. the primary reason is the texture, flavour and taste combination of chocolate and banana infused in this banana chocolate chip cake. the other main reason being the simplicity with the cake preparations. there is less chance of going wrong with this recipe as it does not have many fancy steps.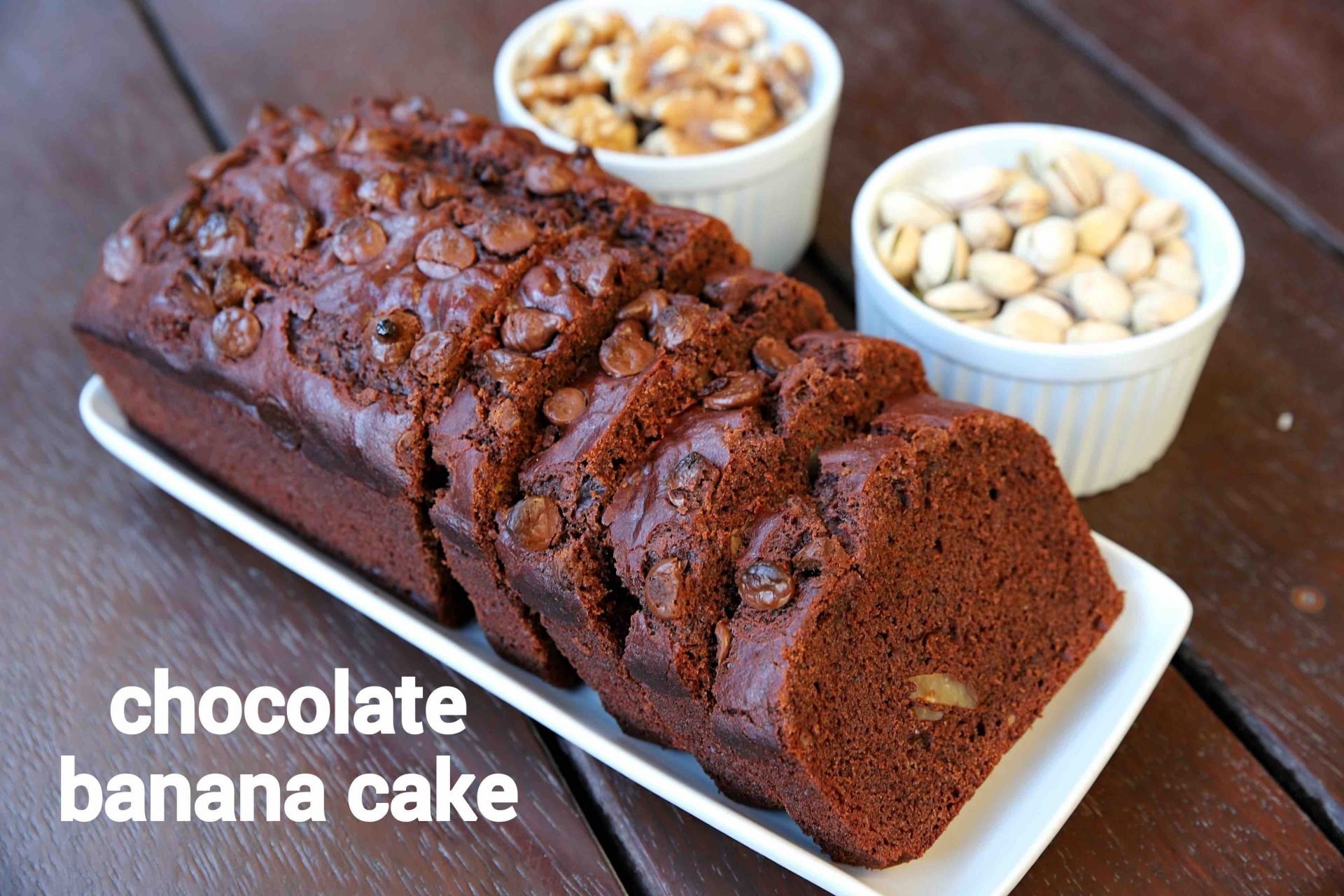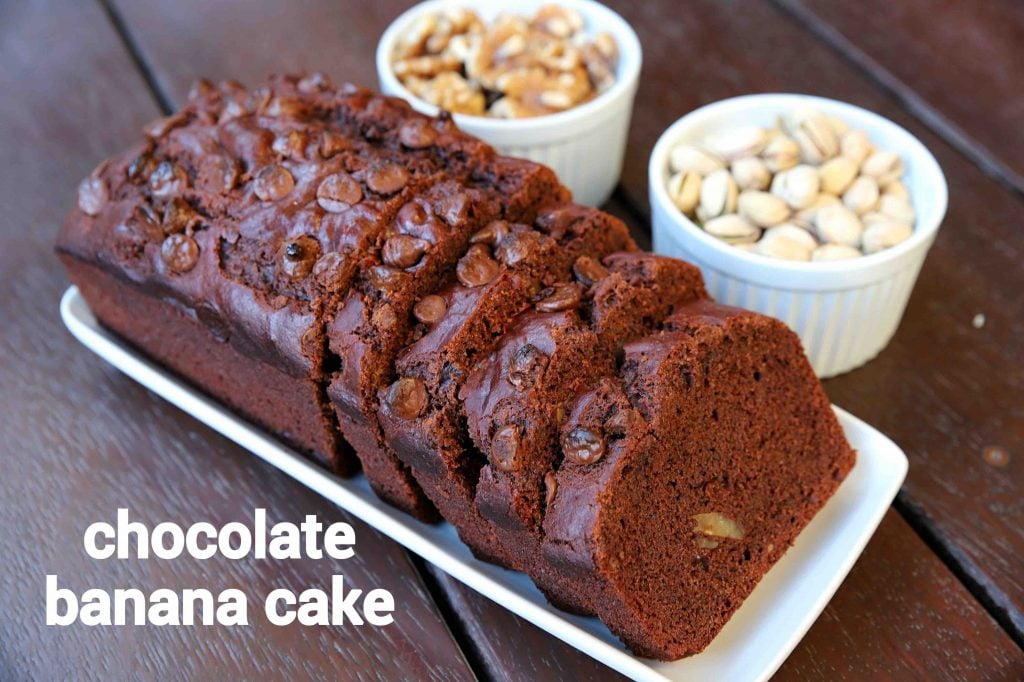 anyway, the recipe is extremely simple, yet some tips, suggestions and variations to banana chocolate chip cake. firstly, as i mentioned earlier, you can serve the cake as a snack as it has less sweetness compared to traditional sweets. yet you can increase the sugar level to make it a classic dessert recipe. secondly, in this recipe, i have added walnuts. well, adding walnuts, cashew or almonds nuts would certainly improve the cake serving experience. lastly, the recipe is an eggless option and i have used vinegar as an alternative. if you are comfortable with egg yolk, you should be good using it as one of the key wet ingredients.
finally, i request you to check my other detailed eggless cakes recipes collection with this post of chocolate banana cake recipe. it mainly includes recipes like marble cake, chocolate mug cake, eggless chocolate cake, brownie, chocolate cup cake, chocolate lava cake, biscuit cake, cooker cake, steam cake, banana cake. further, to these i would also like to highlight my other detailed recipes collection like,
chocolate banana cake video recipe:
recipe card for banana and chocolate cake recipe:
how to make chocolate banana cake with step by step photo:
firstly, in a blender take 2 banana and ¾ cup sugar.

blend to smooth puree without adding any water.

transfer the banana puree into a large bowl.

add ½ cup oil, 1 tsp vanilla extract and 1 tsp vinegar.


whisk well until everything is well combined.

place a sieve and add 1½ cup maida, ½ cup cocoa powder, 1 tsp baking powder, ¼ tsp baking soda and ¼ tsp salt.

sieve the flour making sure there are no lumps.


mix well using cut and fold method.

further, add ½ cup water and mix well.

mix to a thick cake batter consistency.

also, add ¼ cup walnut and mix gently.

transfer the cake batter to a cake tin. make sure to grease the mould and place a butter paper at the bottom to avoid sticking. i have used bread loaf pan from smith+nobel – 21x11cm.

top with 3 tbsp chocolate chip over it.

place the cake tray into the preheated oven. bake the cake at 180 degree celsius or 356 degrees fahrenheit for 40 minutes.

or bake till the toothpick inserted comes out clean.

further, allow the cake to cool completely and later cut into thick slices and serve.

finally, serve the eggless chocolate banana cake or store in an airtight container.

notes:
firstly, if you are not vegan then use milk in place of water.
also, do not over mix the cake batter as the cake turns chewy.
additionally, the cake can be topped with frosting once the cake is cooled completely.
finally, eggless chocolate banana cake recipe tastes great when prepared with well-ripened banana.