dry fruit chikki recipe | kaju badam chikki | mixed nuts chikki with detailed photo and video recipe. a popular and tasty dry fruit-based indian fudge made with cashews, almonds and pistachios. the traditional chikki recipe made just with peanuts and jaggery syrup, whereas this recipe is an extension to it with choice of mixed nuts. it is generally made as a sweet snack to be consumed with a cup of tea, but can also be served as dessert after or during the meal.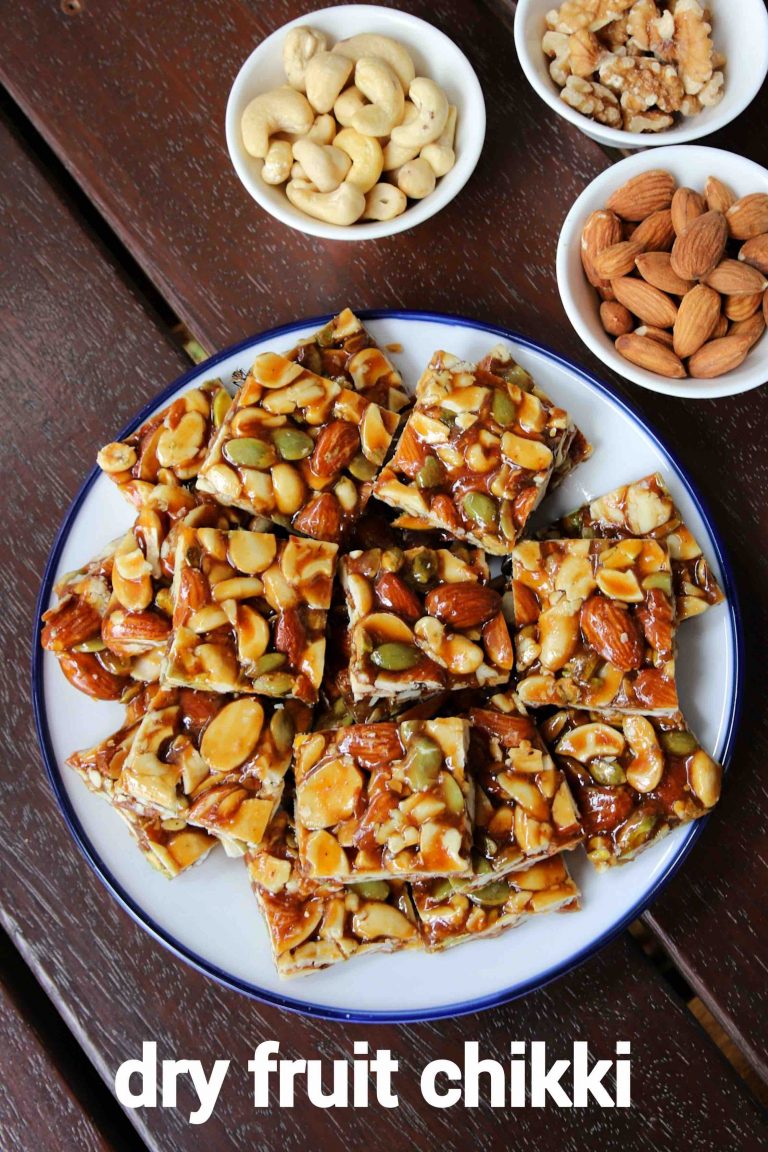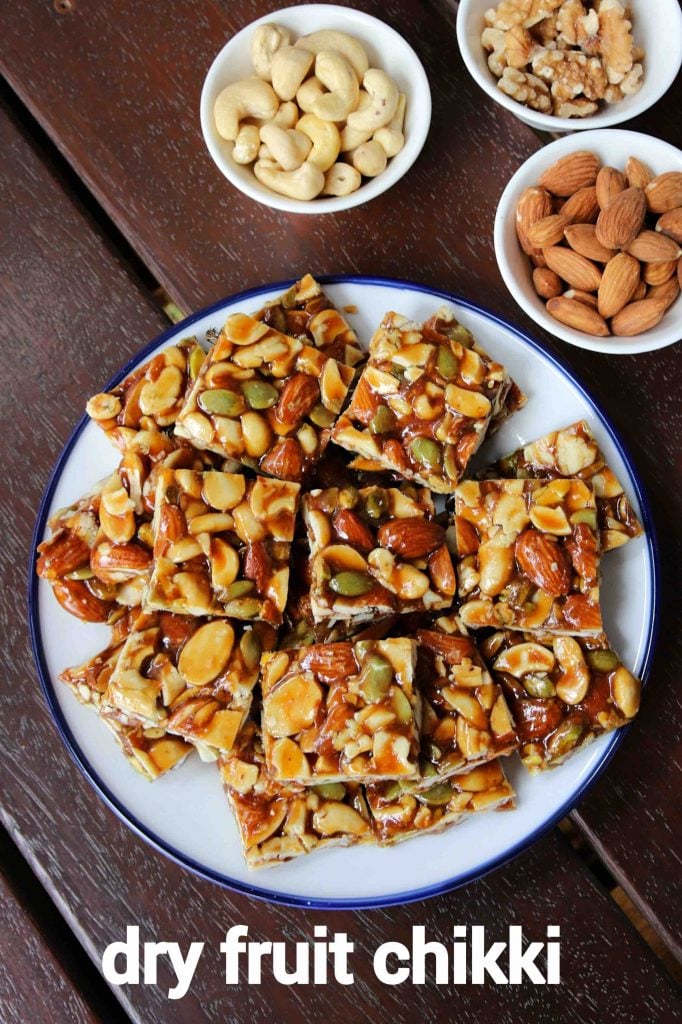 dry fruit chikki recipe | kaju badam chikki | mixed nuts chikki with step by step photo and video recipe. chikki recipes are popular nut-based sweet snack from the popular south indian or western indian cuisine. the most famous or the traditional one is to make with groundnuts in a jaggery syrup, but lately, there have been many variations to it and has onboarded many other nuts. one such popular variation is dry fruit chikki recipe, made with a myriad choice of dry fruits.
i am a huge fan of traditional chikki recipes which is made just with peanuts and jaggery. i personally do not like the other variations like sesame. sunflower seeds or any other seeds based chikki. having said that i have a lot of respect for this premium mixed nuts chikki. the main reason being the use of mixed premium nuts in it. as a matter of fact, i make this often and consume it as a protein bar or energy bar and not as a chikki. the commercially available energy bars are no different than this recipe. perhaps they may have more choice of the nut with chocolate or coconut flavour in it to make it more attractive. nevertheless, kaju badam chikki is still a wonderful snack and can be served for myriad occasions.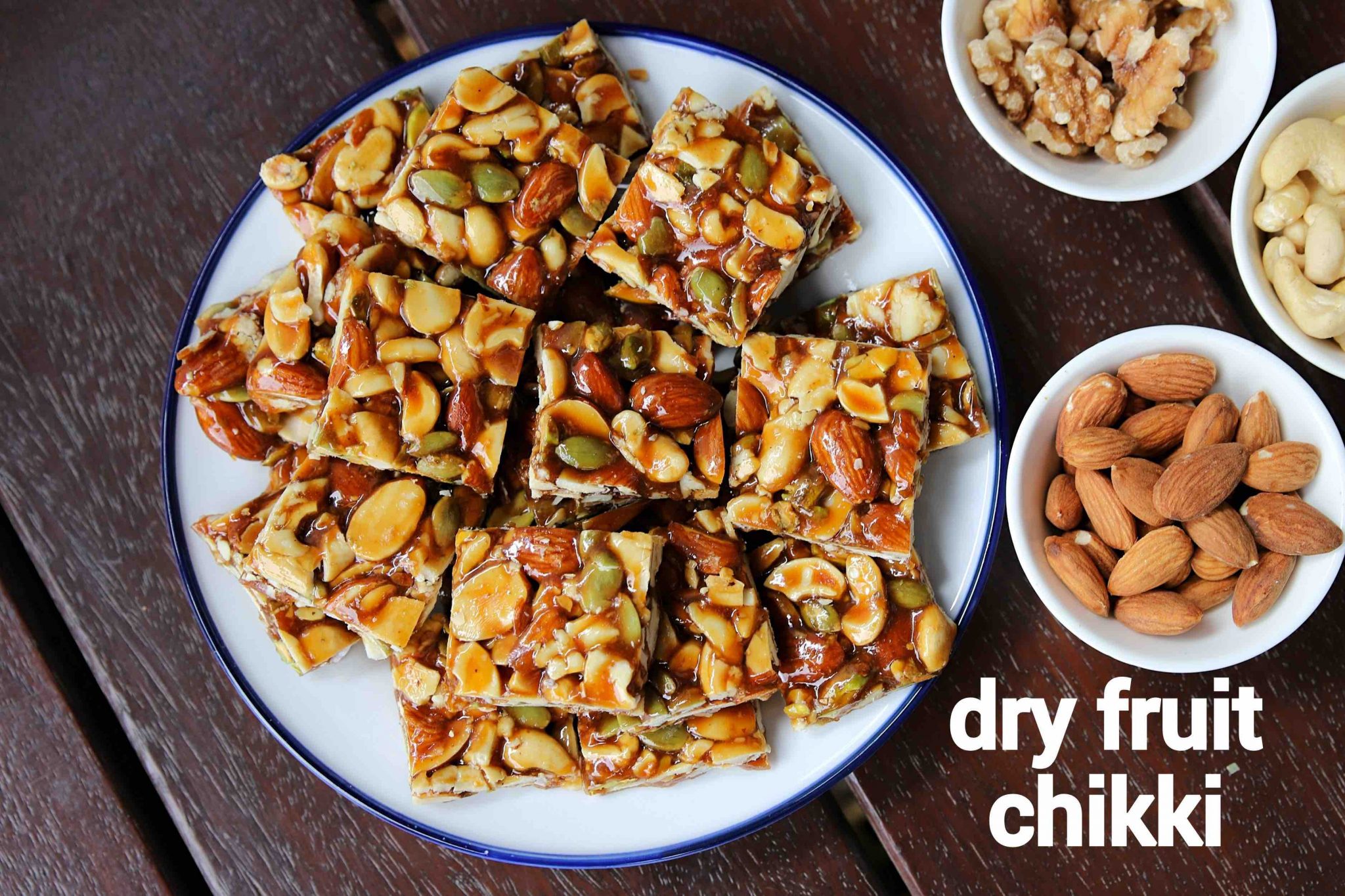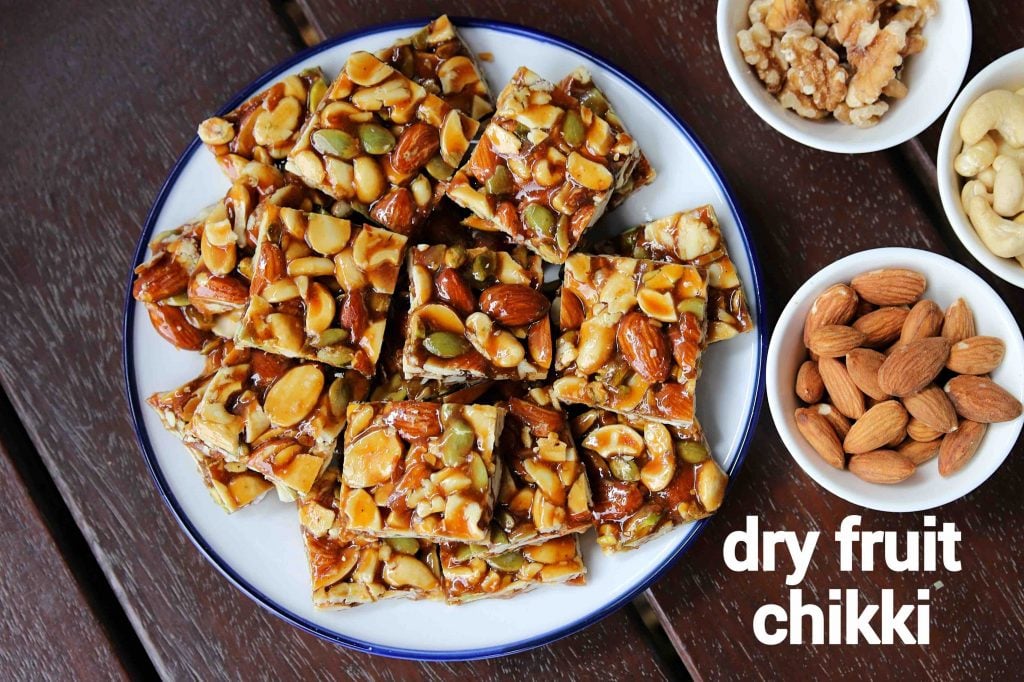 furthermore, before wrapping up the recipe, some tips, suggestions and variations for dry fruit chikki recipe. firstly, i would heavily recommend you to have equal proportions of nuts for this recipe. yet to make it thrifty and economical, you can reduce the quantity of premium nuts and add peanuts. secondly, do not forget to add clarified butter or ghee while cooking jaggery syrup. it helps to have the glossy look and also makes it less brittle. lastly, these chikki easily last long for 2-3 weeks when stored in an airtight container. also while shaping and cutting the chikki, make sure to have small square-shaped chikkis.
finally, i request you to check my other detailed indian sweets recipes collection with this post of dry fruit chikki recipe. it mainly includes recipe like, gulgula, besan ladoo, horlicks mysore pak, kobbari laddu, badam ladoo, narali bhat, mathura peda, ashoka halwa, mtr gulab jamun, 7 cup barfi. further to these i would also like to mention my other recipe categories like,
dry fruit chikki video recipe:
recipe card for kaju badam chikki recipe:
how to make dry fruit chikki with step by step photo:
firstly, in a pan take ¾ cup almonds, ¾ cup cashew, 2 tbsp pistachios and 2 tbsp pumpkin seeds.

dry roast on low flame for 10 minutes or until the nuts turn crunchy. keep aside.

in a large kadai take 1 tsp ghee, 1 cup jaggery and ¼ cup water.

mix well until the jaggery dissolves completely.


boil for 6-7 minutes or until the syrup turns frothy.

now check the consistency, by dropping syrup into a bowl of water, it should form hardball and cut with a snap sound. else boil for another minute and check.

keeping the flame on low add roasted nuts and ¼ tsp cardamom powder.


mix well making sure jaggery syrup coats well.

immediately transfer the mixture on to a greased butter paper or onto steel plate greased with ghee. be quick else the mixture turns hard and will be difficult to set.

cover with another greased butter paper and roll with the help of a rolling pin.

roll for uniform thickens.

allow to cool for a minute, and when it is still warm cut into pieces.

finally, serve dry fruit chikki once cooled completely, or store in an airtight container and serve for a month.

notes:
firstly, make sure to roast the nuts on low flame else they may not turn crunchy.
also, the consistency of jaggery syrup plays a crucial role to get a crunchy bite.
additionally, adding ghee to jaggery syrup helps to give a shine.
finally, dry fruit chikki tastes great when a variety of nuts are used.