7 cup barfi recipe | 7 cup cake | seven cup burfi | seven cup burfi with detailed photo and video recipe. a classic south indian dessert recipe made with 7 cups of ingredients. it is a popular south indian dessert recipe which is generally made during the festival season to share with family and friends. the texture and colour are very similar to mysore pak or milk cake, yet it has its own unique taste and flavour.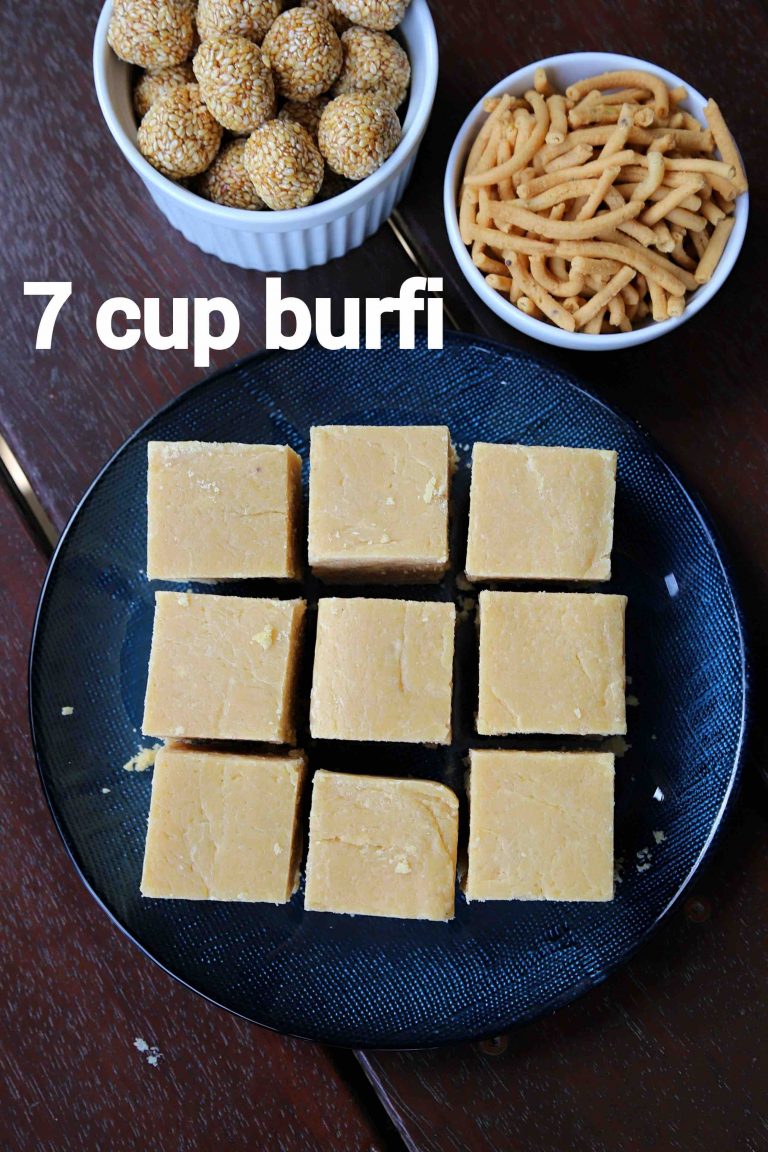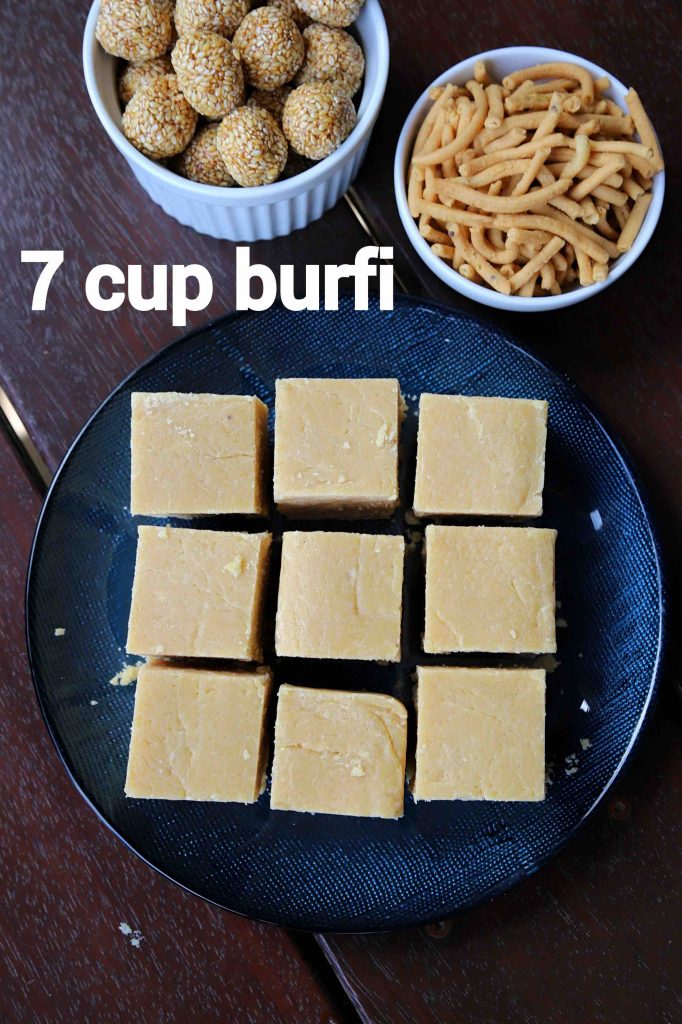 7 cup barfi recipe | 7 cup cake | seven cup burfi | seven cup burfi with step by step photo and video recipe. barfi aka indian fudge is a popular indian sweets variety known for its texture and shape. generally it is made with one single hero ingredient with other supporting ingredients to shape and its flavour. however there is this recipe known as 7 cup barfi recipe from south india made with 7 different hero ingredients.
i had posted this recipe during my early stage of blogging. but as part of my revisiting my old recipe, i am posting the better version of 7 cup barfi recipe. the main difference as such is the texture of the barfi. in my previous version, i had posted the 7 cup burfi with harder version. i got much feedback about the same and i thought of sharing a moist version. having said that i have not increased or decreased any ingredient quantity. but i have introduced 2 changes. first one is the stirring. i have continuously stirred the mixture throughout the recipe and the other one is cooking time. i have reduced the cooking time in this process which should help to retain the moist level.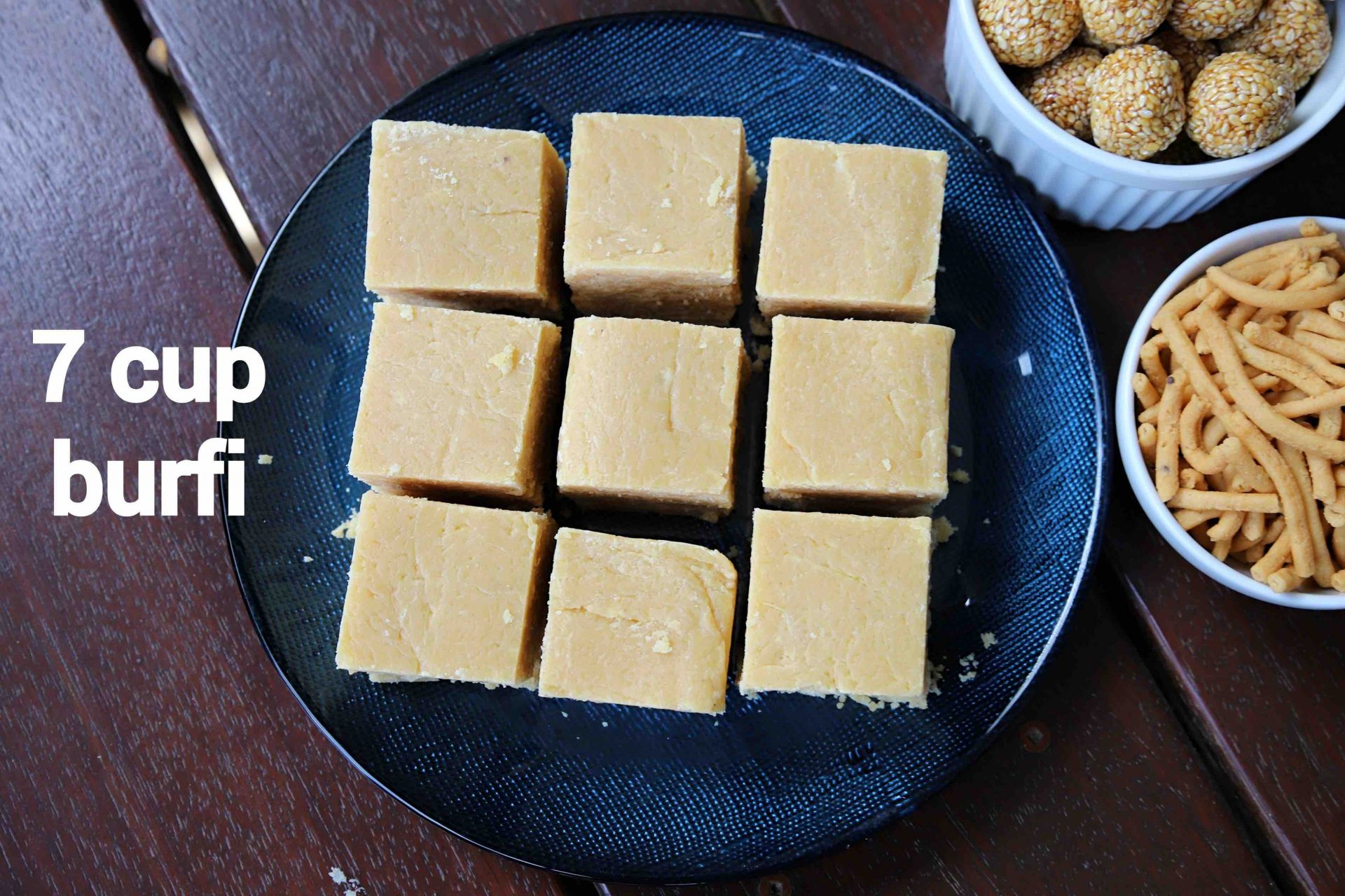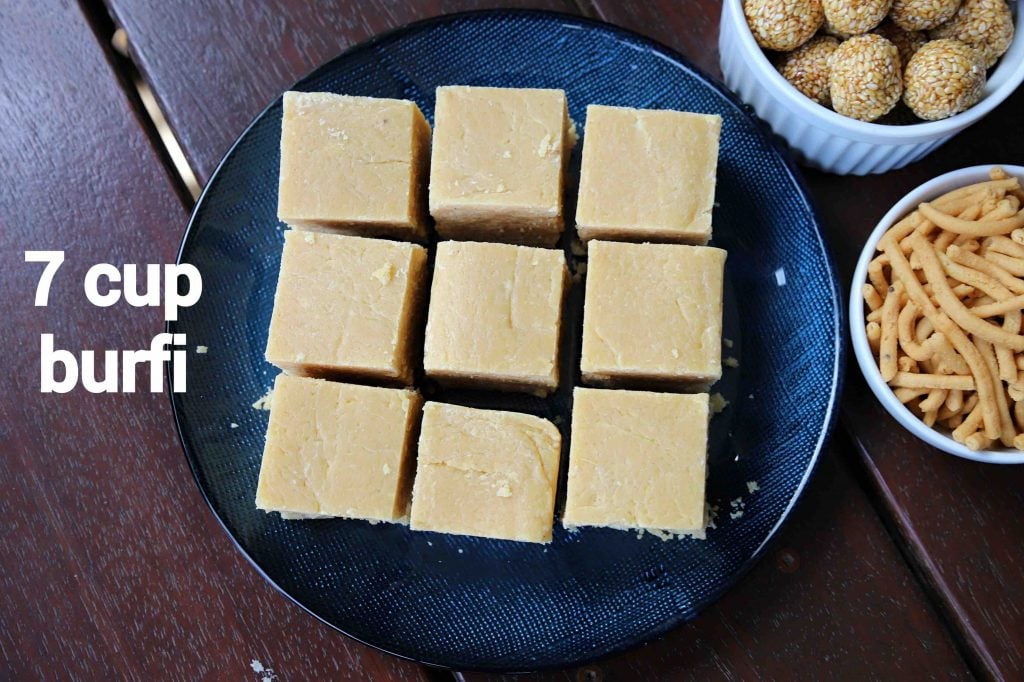 anyway, i would like to highlight some tips, suggestions and variations for a moist 7 cup barfi recipe. firstly, you may think that you have to use 7 full cup of each ingredient to make this dessert. it is recommended to use a full cup, but you can also reduce the quantity, for instance, half cup each. secondly, it might be overwhelming to continuously stir it, till it reaches desired consistency. but it is unavoidable and you need to be patient about it. lastly, the shelf life of this sweet is moderate and it last longs for a week. having said that it would dry it and it may lose its moistness.
finally, i request you to check my other detailed indian sweets recipes collection with this post of 7 cup barfi recipe. it mainly includes recipes like 7 cup burfi, mawa barfi, karadantu, malai barfi, aate ki barfi, mango burfi, kesar burfi, kaju katli, coconut burfi, pista badam barfi. in addition, to these, i would also like to highlight my other detailed recipes collection like,
7 cup barfi video recipe:
recipe card for 7 cup barfi recipe:
how to make 7 cup burfi with step by step photo:
firstly, in a large kadai take 1 cup besan and 1 cup ghee.

mix well making sure the besan is well combined with ghee.

now add 1 cup cashew powder, 1 cup coconut, 2 cup sugar and 1 cup milk.

mix well-combining everything well.


continue to cook on medium flame, making sure it does not burn.

keep stirring until the mixture thickens and starts to separate from the pan. it takes approx 45 minutes.

also add ¼ tsp cardamom powder and mix well.


transfer the prepared mixture into a greased mould lined with baking paper (size: 6 inch x 3 inch). set well forming a block.

allow setting for 20 minutes.

now unmould and cut into pieces.

finally, serve 7 cup burfi or store in an airtight container for 2 weeks in the refrigerator.

notes:
firstly, make sure to cook on low to medium flame to prevent from burning.
also, a total of 7 cups of ingredients is added however you can increase or reduce the quantity to your choice.
additionally, if you are looking for soft burfi then transfer to mould in a slightly early stage.
finally, 7 cup burfi recipe tastes great when coconut, cashew and besan are added.