horlicks mysore pak recipe | horlicks burfi | horlicks milk powder barfi with detailed photo and video recipe. a south indian fusion recipe to the classical mysore pak made with horlicks and besan. the recipe has a similar texture and colour to the soft or ghee mysore pak but has different taste due to horlicks powder. it is easy and simple to make similar to any traditional barfi recipes and can be served for any occasion.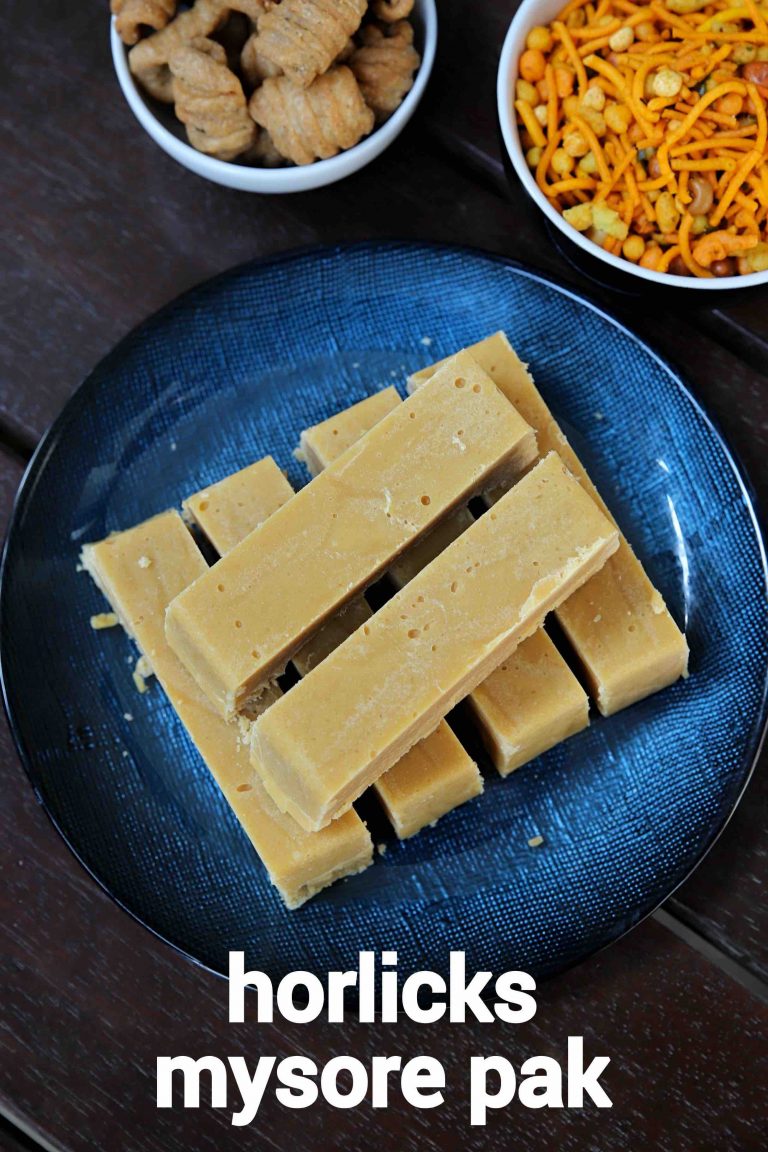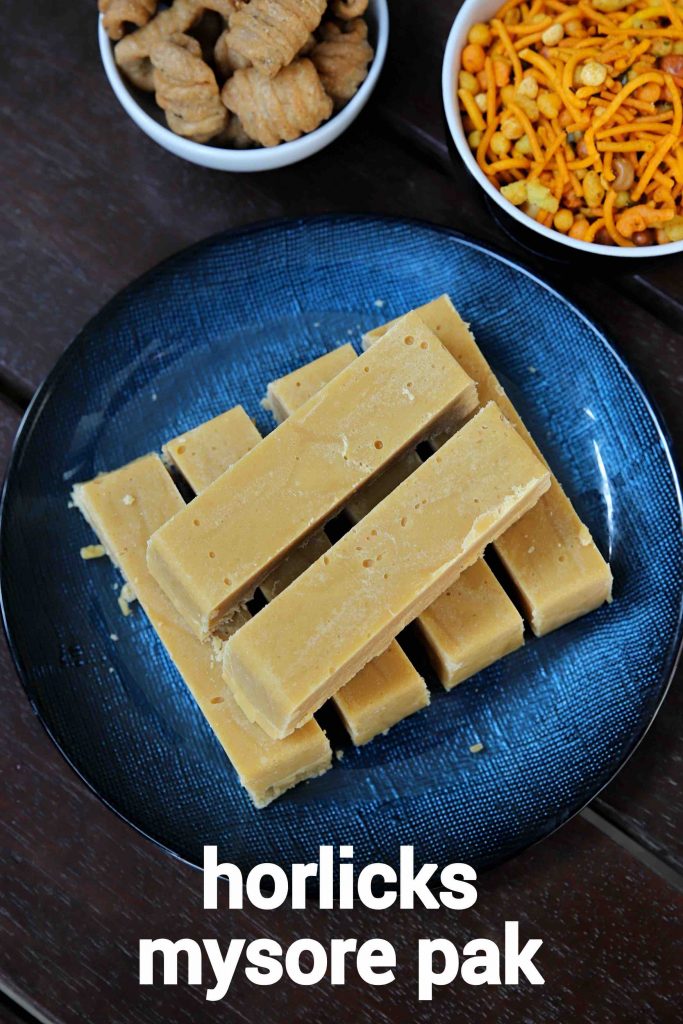 horlicks mysore pak recipe | horlicks burfi | horlicks milk powder barfi with step by step photo and video recipe. south indian sweets are known for its mouth-melting flavour it has to offer. typically it is due to the combination of sugar and clarified butter used in most of the traditional recipes. to these traditional sweets, there is some adulteration to make it even better, and horlicks mysore pak is one such easy dessert recipe.
as i mentioned earlier, the texture and colour are very similar to the soft or ghee mysore pak. this is due to the process involved in making this recipe which is similar to the ghee mysore pak recipe. yet if you closely observe, there is a minor difference between with its colour. the ghee mysore pak has more of golden brown colour and the horlicks counterpart is more of dull coloured. this is for the fact that horlicks is a wheat-based product and when wheat mixed with chickpea flour, it would yield a unique colour. moreover, there is a significant difference between the taste has to offer. the besan based sweets would just melt in your mouth. whereas the horlicks burfi would retain its shape and gradually melts. in addition, the besan based sweets are dense to eat compared to horlicks based ones.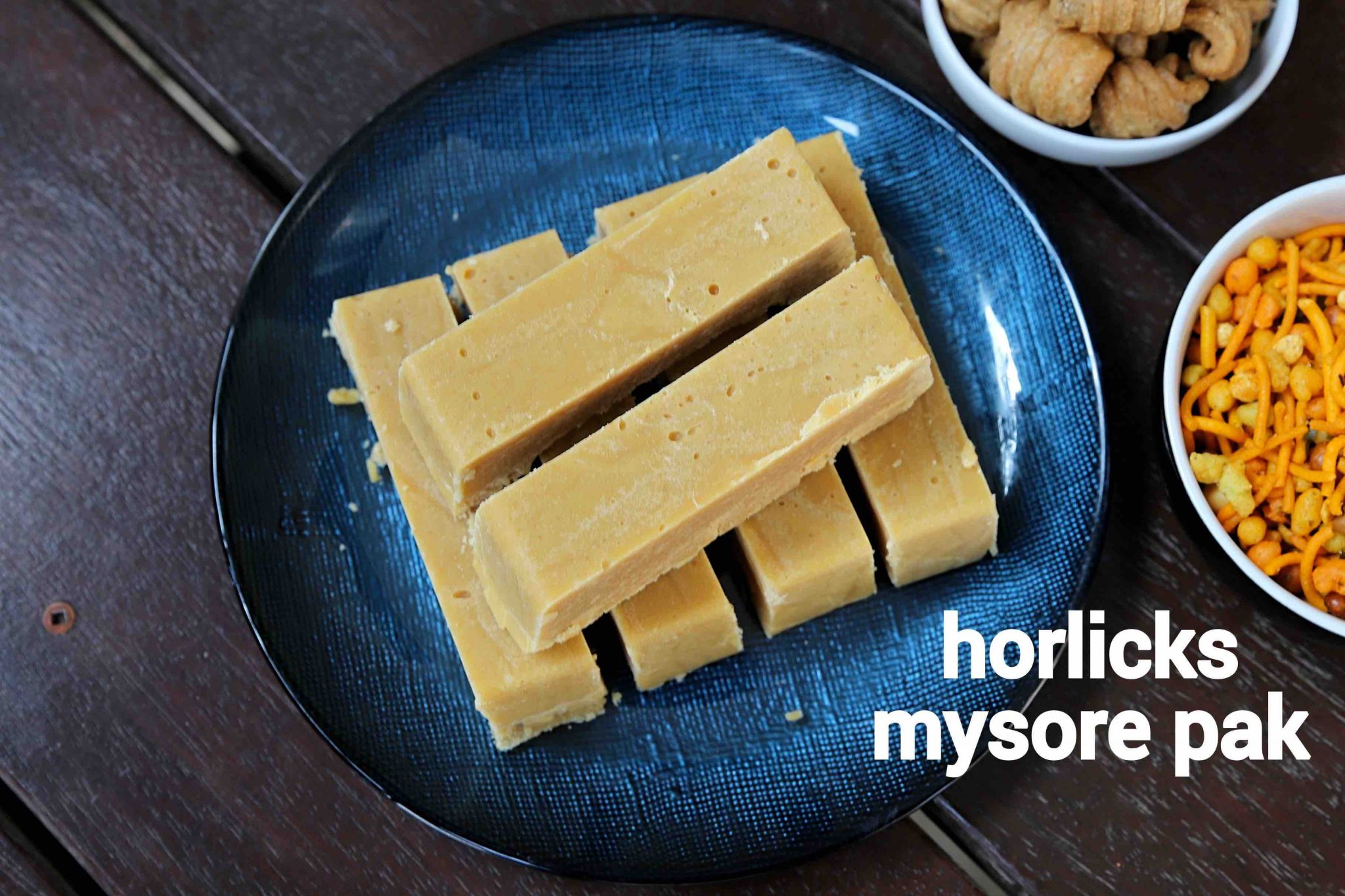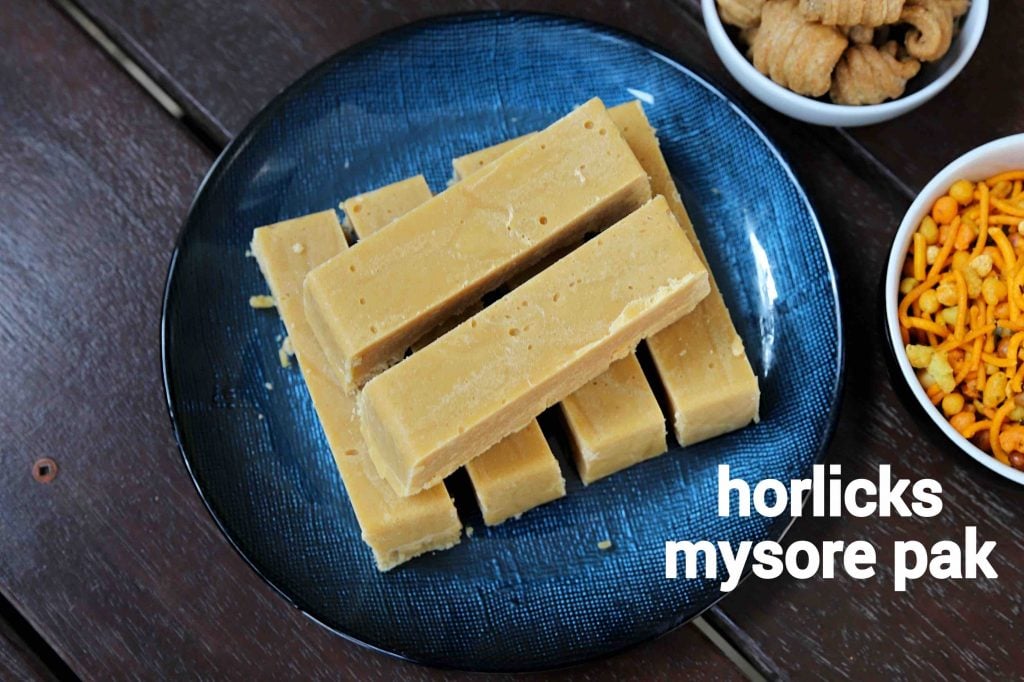 furthermore, some important and critical tips, suggestions and variations to horlicks mysore pak recipe. firstly, i have followed a 3:1 ratio of besan and horlicks powder. this would ensure to have semi-solid kind of a sweet. yet you can increase the horlicks ratio to 3:2, but it means it would make the sweet more solid. secondly, once the sweet mixture is transferred to mould, ensure to tap it thoroughly so that there aren't any air bubbles trapped. lastly, once the sweet loses it heat, the ghee would start to solidify. hence it is recommended to heat it or microwave it for 30 seconds to make it moist.
finally, i request you to check my other detailed indian sweets recipes collection with this post of horlicks mysore pak recipe. it mainly includes recipes like kobbari laddu, badam ladoo, narali bhat, mathura peda, ashoka halwa, mtr gulab jamun, 7 cup barfi, mawa barfi, biscuit ladoo, sheera. further, to these, i would also like to highlight my other detailed recipes collection like,
horlicks mysore pak video recipe:
recipe card for horlicks mysore pak recipe:
how to make horlicks burfi with step by step photo:
firstly, in a pan take ¾ cup besan and roast on low flame.

roast until the besan turns aromatic without burning.

sieve the roasted besan making sure there are no lumps.

add in ¼ cup horlicks. you can alternatively use boost or any malt powder of your choice.


also, add ½ cup ghee and mix well.

whisk and mix making sure there are no lumps. keep aside.

in a large kadai take 1 cup sugar and ¼ cup water.


stir and dissolve sugar on medium flame.

boil for 2 minutes or until sugar syrup attains one string consistency.

add in prepared besan horlicks ghee mixture stirring continuously.

stir until the mixture is well absorbed with besan horlicks ghee mixture.

now add a half cup of ghee in batches and mix well.

mix until the ghee is completely absorbed.

further, add more ghee in batches and keep mixing.

repeat adding ghee and mix until the mixture starts to separate from the pan and turns frothy (takes approx. 15 minutes)

transfer the cooked mixture to a tray lined with butter paper.

level up and allow to rest for 20 minutes.

now carefully unmould the horlicks mysore pak without breaking.

cut into desired size and shape once the horlicks mysore pak is set well.

finally, enjoy horlicks mysore pak for 2 weeks by refrigerating in an airtight container.

notes:
firstly, make sure to roast besan on low flame to prevent raw flavour.
also, use fresh homemade ghee for richer mouth-melting flavour.
additionally, adding ghee in batches helps to make soft mysore pak.
finally, for horlicks mysore pak recipe you can increase the amount of sugar if required.