french fries recipe | finger chips | how to make homemade french fries with detailed photo and video recipe. a hugely popular deep-fried snack recipe made with less starch potatoes. the concept of french fries was popularised by the fast-food chain mcdonalds and served as sides with burger or sandwich meal. store-bought comes with artificial preservatives for the extra stiffness, but the same can be achieved in homemade without any preservatives.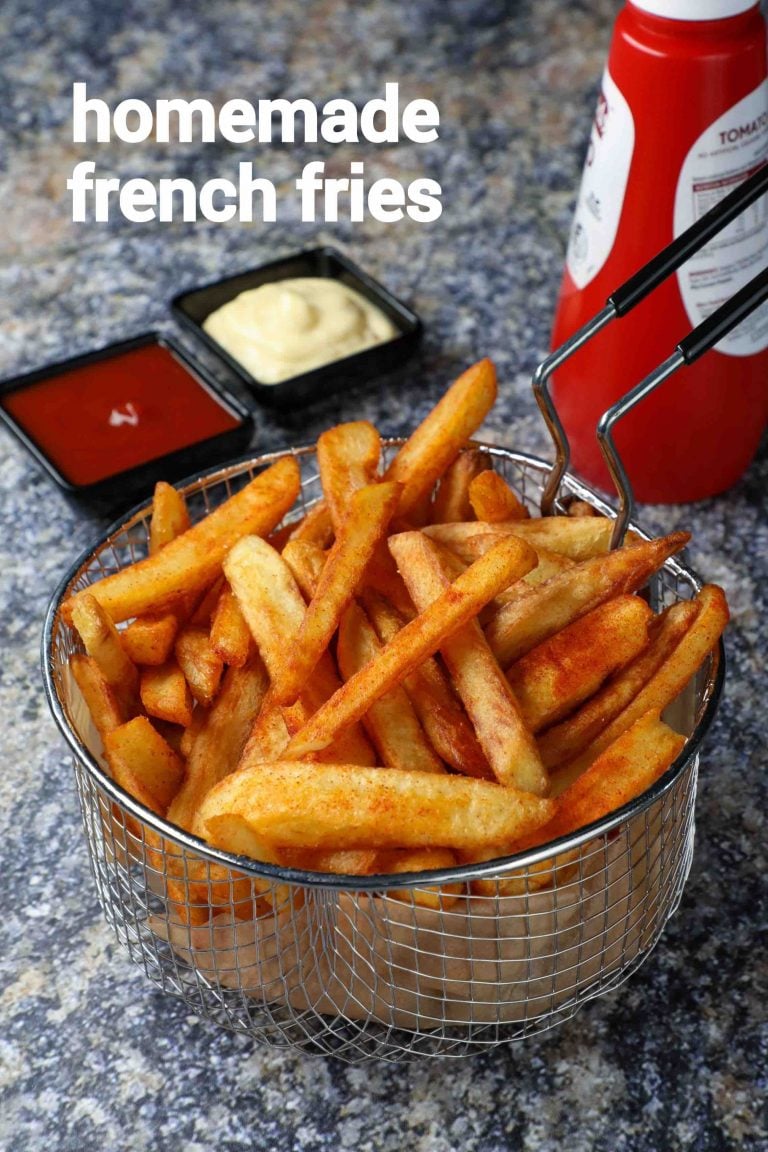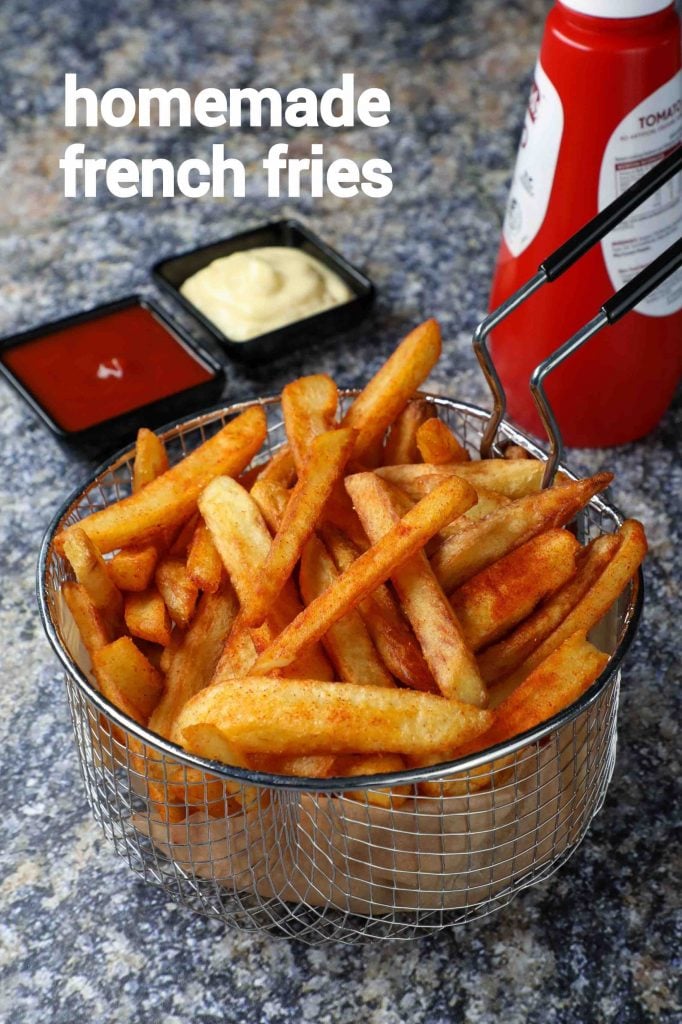 french fries recipe | finger chips | how to make homemade french fries with step by step photo and video recipe. potato-based snack recipes are very common across the globe. even in india, it is widely used to make different types of snacks including pakora, fry, bajji's and even with street food manchurians. but the popular variations is its chips and french fries offerings known for its crisp and tasty.
i have been getting a lot of requests for homemade potato chips and homemade fries recipes lately. particularly the request was more aligned towards the crisp and texture. in my previous post, i had shown how to make thin and crisp potato chips. basically i am using the same maris piper variety which has less moisture and starch in it. in other words, it has less quantity of liquid in it, which helps to keep the chips or fries crisp. yet the crispiness is no match to what we get in mcdonalds or any other fast food joint. this is because there isn't any artificial crispiness agent. you may add or dust cornflour slightly just before deep-frying, but not necessarily required.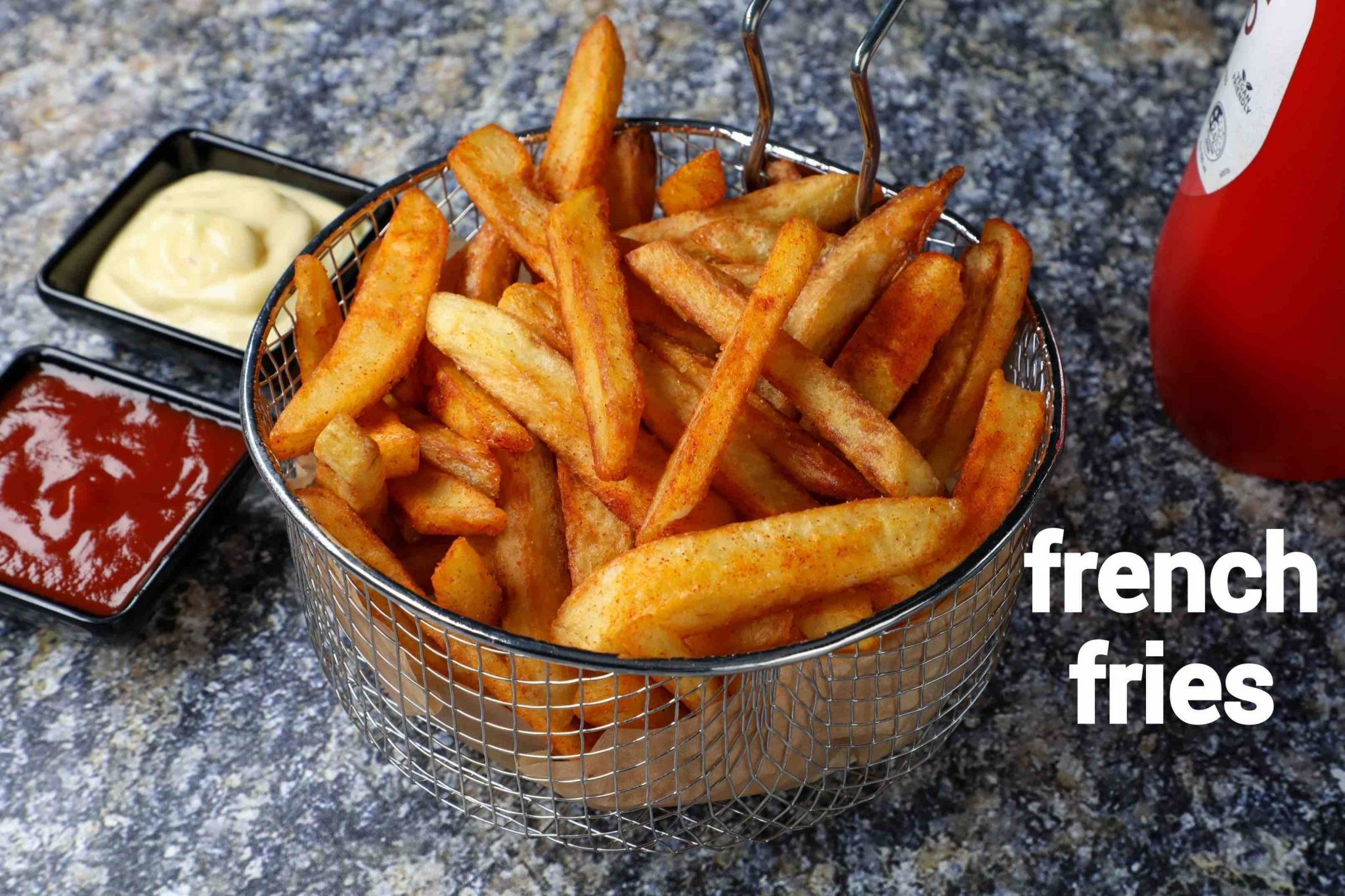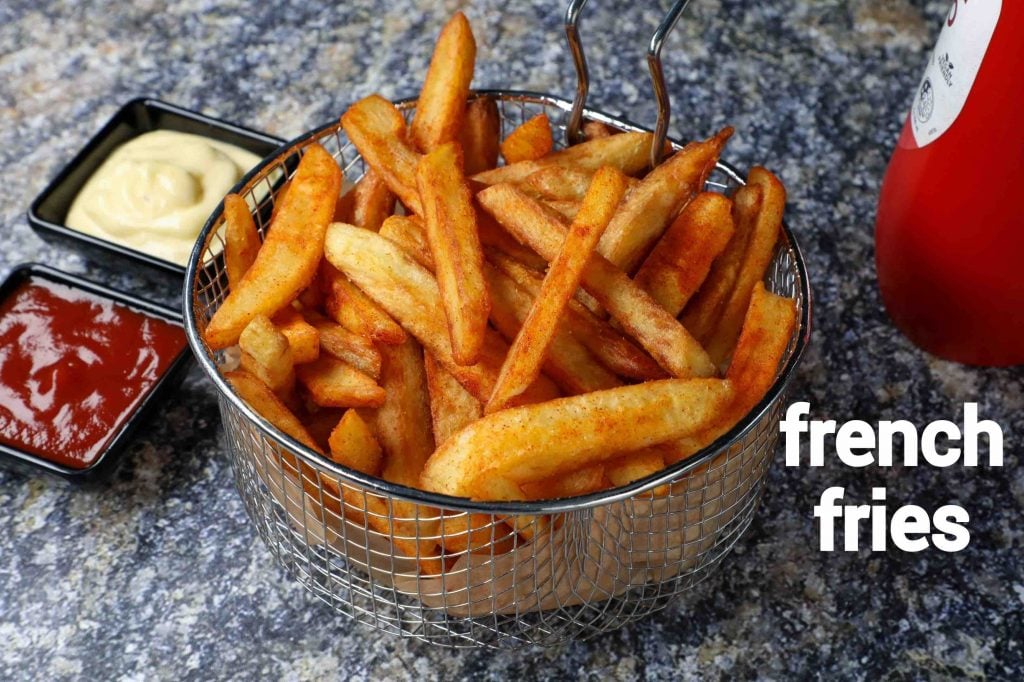 furthermore, i would like to add some more tips, suggestions and variations to homemade finger chips. firstly, i would heavily recommend choosing large and lengthy potatoes for this recipe. this because when you cut lengthwise, it would have sufficient strength to hold shape. secondly, unlike the potato chips, you need to deep fry the potatoes twice. the first batch would help to cook the potatoes inside and the next batch for the outer layer. lastly, these chips may not hold the crispiness forever and have to be served immediately. if you do not get the chips potatoes or maris piper potatoes, you may have to freeze the potatoes after the first batch of deep-frying.
finally, i request you to check my other snacks recipes collection with this post of french fries recipe. it mainly includes my other recipe variations like french fries, potato fingers, bhindi rava fry, potato chips, banana chips, karela chips, tortilla chips, corn cheese balls, dabeli, goli baje. further to these i would also like to mention my other similar recipe categories like,
french fries video recipe:
recipe card for french fries recipe:
how to make french fries with step by step phot:
firstly, peel the skin of the potato. recommend using maris piper potatoes as they have creamy white flesh and fluffy texture.

cut into 1 cm thick sticks.

rinse in ice cold water until the starch runs out clean.

pat dry in kitchen towel to remove excess moisture.


now deep fry in hot oil. make sure the oil is approximately 140 degree celcius. or preheat and bake at 200 degree celsius for 40 minutes.

deep fry for 6 minutes or until the potatoes turn tender. they will not go brown at this stage.

drain off over kitchen towel and cool completely. if you are looking to freeze the potatoes, then you can freeze the fries in zip lock bag upto 3 months.


once they are cooled completely, deep fry in hot oil. make sure the oil is approximately 180 degree celcius.

stir occasionally and fry until it turns golden brown and crisp.

drain off to remove excess oil.

now sprinkle ½ tsp chilli powder and ½ tsp salt. mix well.

finally, enjoy homemade french fries with eggless mayonnaise as an evening snack.

notes:
firstly, make sure not to over stir the potatoes as they may break.
also, chop the potatoes in uniform thickness else, the cooking time will vary.
additionally, you can adjust the seasoning to your preferences.
finally, french fries recipe taste great when served hot and crispy.