khajur pak recipe | khajoor pak recipe | dates pak recipe with detailed photo and video recipe. an easy and interesting healthy dessert snack recipe made with dates, khova and dry fruits. the recipe is very similar to the dates energy bar or dates ladoo, yet it is unique with the addition mawa or khoya to it. the sweet can be served as dessert for festival or occasions, and also as an evening snack with a cup of tea or coffee.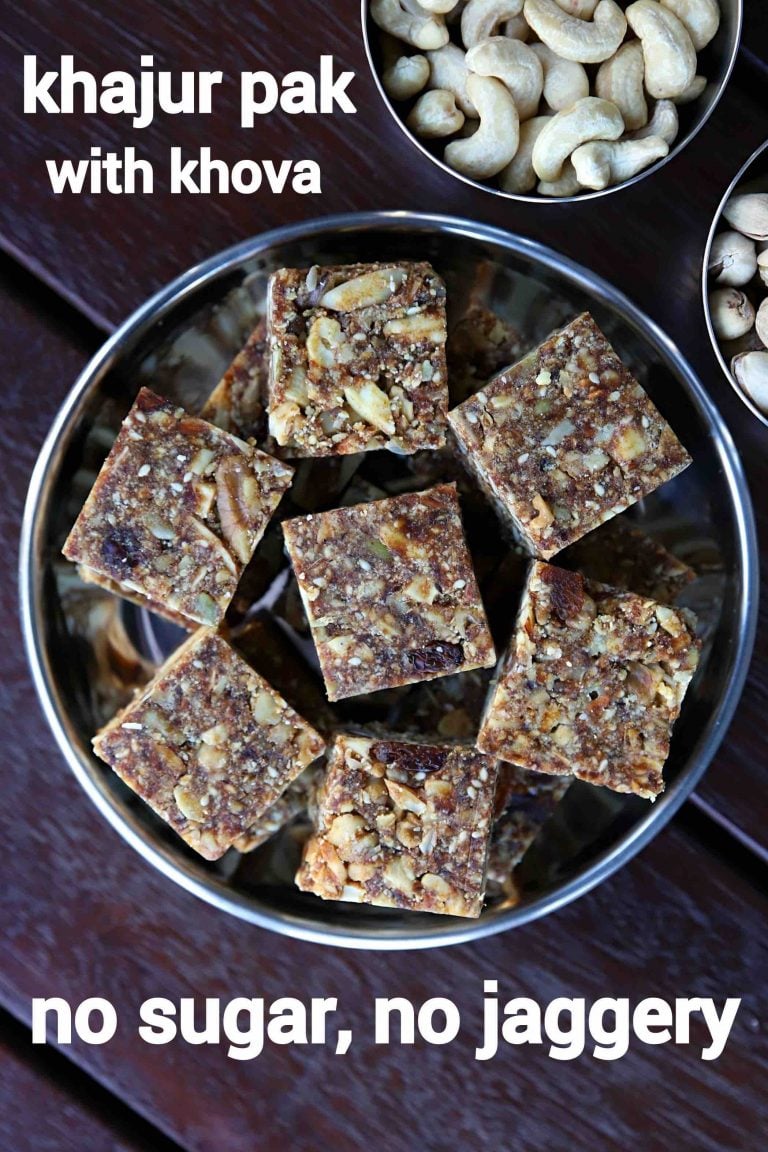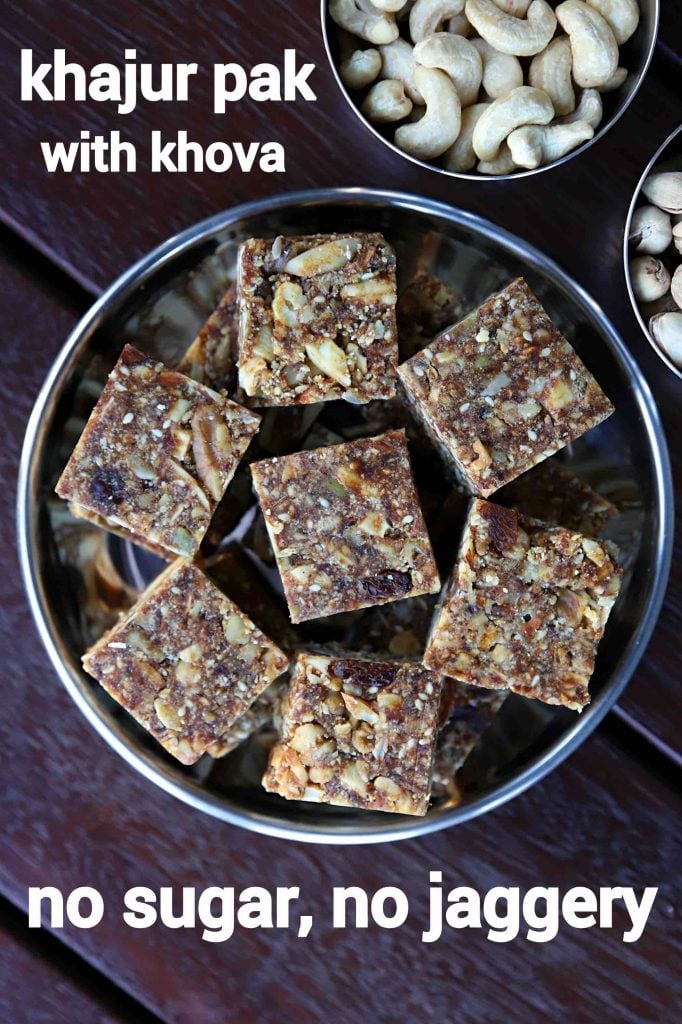 khajur pak recipe | khajoor pak recipe | dates pak recipe with step by step photo and video recipe. dates or khajur recipes are very popular recipes when it comes to no sugar recipes. there are many easy desserts derived out of dates and are mixed with other dry fruits or seeds to make ladoo, bar or barfi. one such variety is the popular middle eastern-influenced khajur pak recipe mixed with khoya/mawa with dates.
i have posted quite a few dates or khajur recipes till now, but i personally feel this recipe of khajur pak is much easier and simpler compared to all. the basic reason is the use of mawa or khoya in this recipe. mawa comes with the binding agent inbuilt and hence it makes life easier to shape and set this recipe. in all my other recipes, i have added either jaggery or rolled oats. to be honest, it is not a cumbersome process to add these yet adding mawa makes it more comfortable. in addition to that adding mawa makes it moist and also flavourful compared to other dates dessert recipe.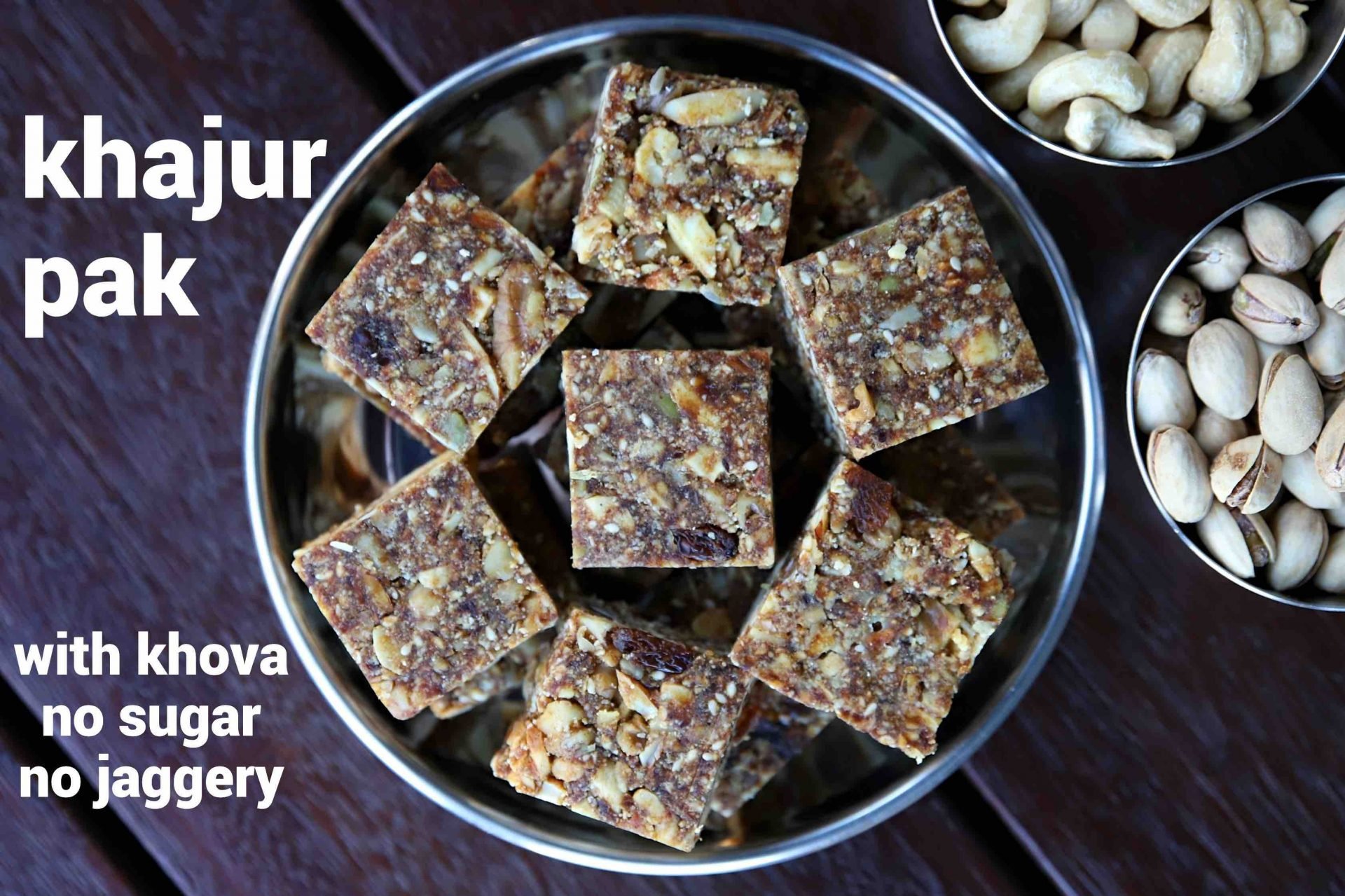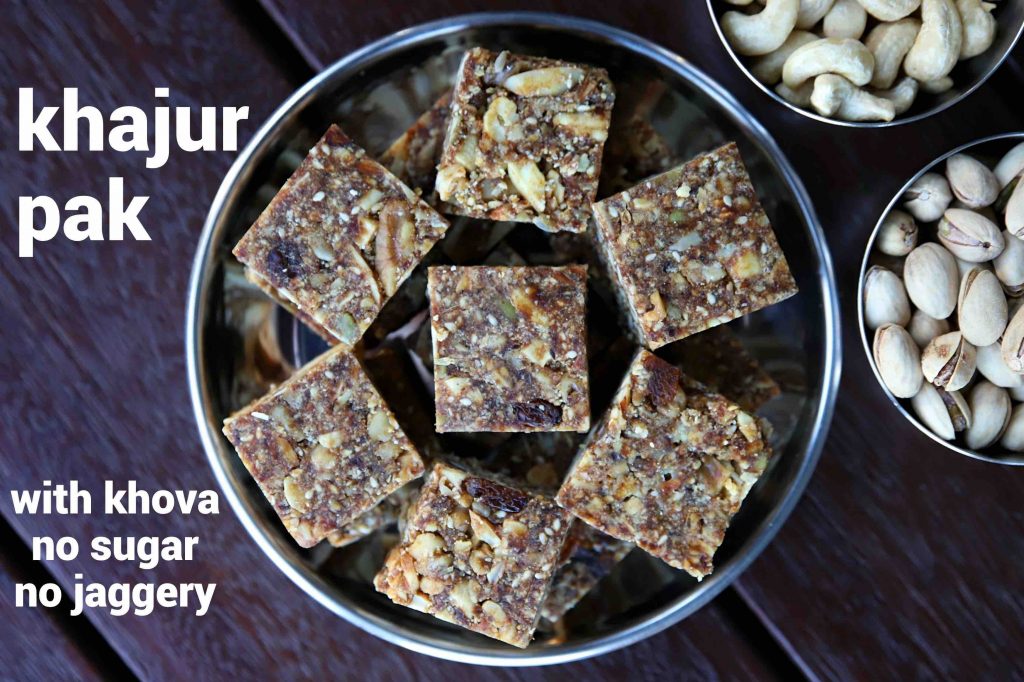 furthermore, i would like to add some more tips, suggestions and variations to the khajur pak recipe. firstly, i have used moist and seedless dates which are perfect for this pak recipe. avoid using the dry dates as it might be difficult to mix it with mawa or khoya and eventually shaping it. secondly, adding mawa adds the desired amount of sweetness to this khajoor pak recipe. but you may add the desired amount of sugar to make it, even more, sweeter as per the taste. lastly, adding mawa would reduce the shelf life as it may attract moisture and spoil soon. but storing it in the airtight container would improve the shelf life drastically.
finally, i request you to check my other detailed sweets recipes collection with this post of khajur pak recipe. it mainly includes recipes like aate ki barfi, mango burfi, kesar burfi, kaju katli, coconut burfi, pista badam barfi, coconut barfi with milkmaid, carrot burfi, milk powder burfi, besan burfi. further, to these, i also request you to check my other recipes collection like,
khajur pak video recipe:
recipe card for khajoor pak recipe:
how to make khajur pak with step by step photo:
firstly, in a large kadai heat 1 tbsp ghee and roast ½ cup almonds, ½ cup cashew, ½ cup walnuts and ¼ cup raisins.

roast on low flame until the dry fruits turn golden and crunchy.

now add 2 tbsp sesame, 2 tbsp pumpkin seeds and 2 tbsp sunflower seeds.

continue to roast until they turn crunchy.


keeping the flame on low add ¼ cup dry coconut and roast until the coconut turns golden brown.

in a blender take 1½ cup pitted dates and blend without adding water. pulse and blend to prevent from mixi getting stuck.

now add in dates paste to the roasted nuts.


continue to roast until the dates are well combined with nuts.

to prepare khova, heat 1 tsp ghee and add ¼ cup milk.

now add ½ cup full cream milk powder.

keeping the flame on low, stir continuously.

the mixture starts to thicken.

after 5 minutes, the mixture starts to separate from the pan.

keep mixing until it forms a lump. finally, instant khoya is ready.

transfer the khova over the dry fruit mixture. you can alternatively use 100 grams of store brough khova.

also, add ½ tsp cardamom powder and mix well.

break the lumps and continue to cook on low flame until everything is well combined.

transfer the prepared mixture into a greased plate lined with baking paper. set well forming a block.

allow setting for 30 minutes in the refrigerator.

now unmould and cut into pieces.

finally, serve khajur pak or store in an airtight container for a month in the refrigerator.

notes:
firstly, add nuts of your choice to make pak healthy and tasty.
also, roast the nuts on low flame to prevent from burning.
additionally, you can use store brought khova instead of instant homemade mawa.
finally, khajur pak recipe tastes great when prepared with a variety of nuts.