pista badam barfi recipe | pista badam burfi | badam pista barfi with detailed photo and video recipe. a classic indian dessert recipe prepared with the combination of almonds and pistachio dry fruit powders. the recipe is very much inspired by the other popular barfi recipes like kaju katli or badam barfi recipe. an ideal indian sweet recipe perfect for any occasions and festival seasons like diwali and navaratri.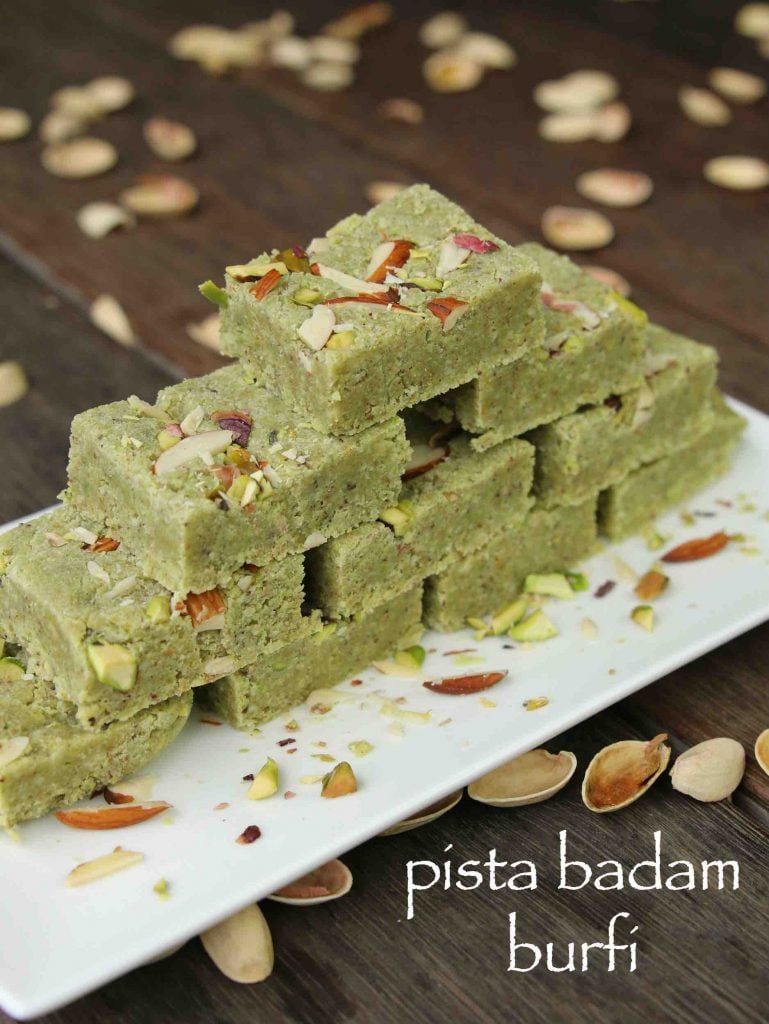 pista badam barfi recipe | pista badam burfi | badam pista barfi with step by step photo and video recipe. the barfi recipes are usually easy to prepare but this recipe of pista badam barfi is exceptionally easy. the combination of almonds and pistachio's gels perfectly together to form a rich and flavoured dry fruit fudge. moreover these burfi's can be prepared within minutes and can be stored for months.
in this recipe i have used an equal proportion of badam and pista which should balance the taste and flavour of each other. having said that the combination of these can be easily altered for some cool innovation of pista badam barfi recipe. i personally recommend to you to increase the badam quantity which makes it more rich and tasty. but note that, adding more badam means more stirring till its forms a thick lump. also i have added milk powder which not only helps to set the burfi, but it also makes the barfi more creamy and rich. but the main reason it is added is to help and set the pista and badam mixture and it would be easy to shape it later.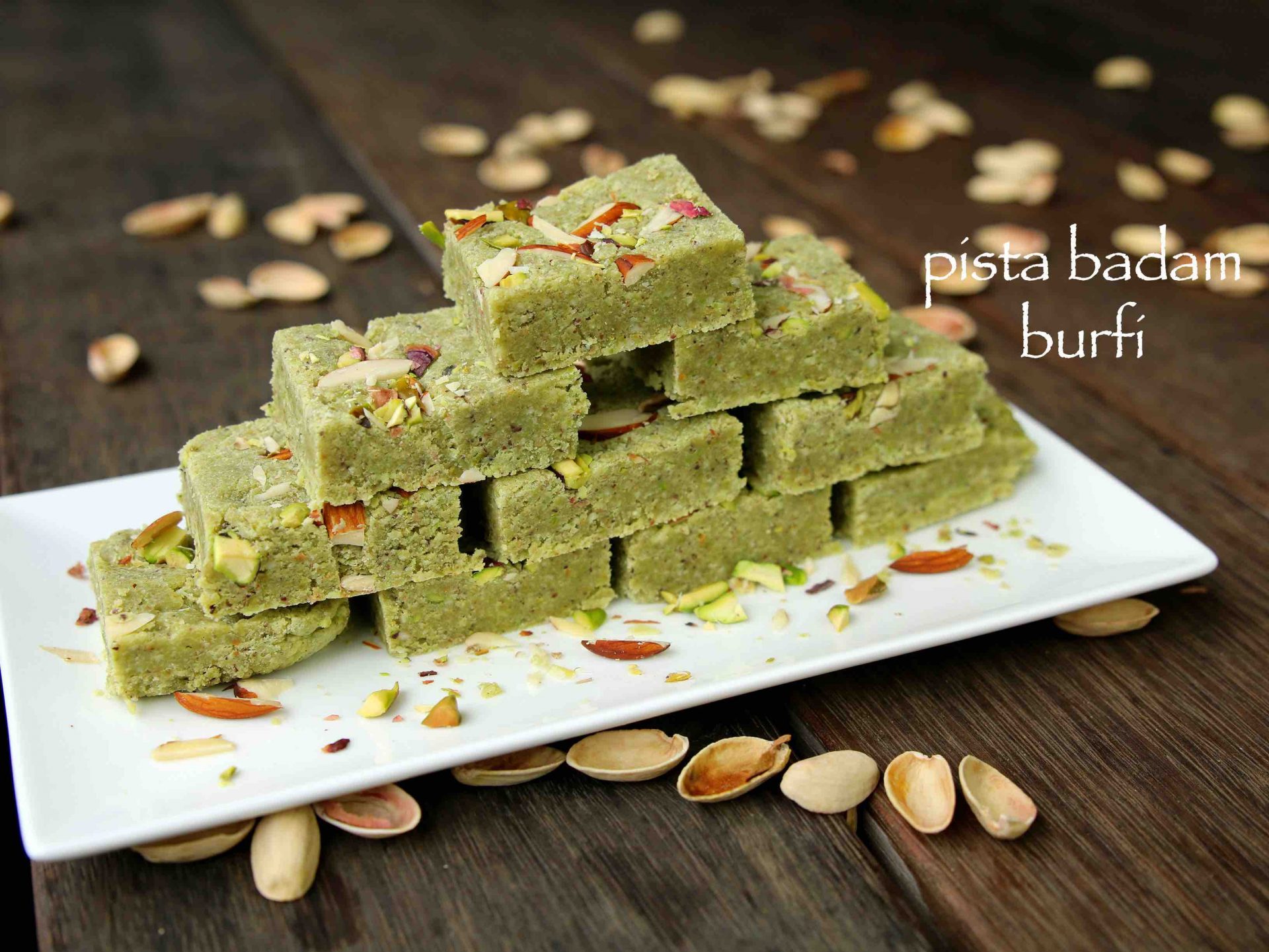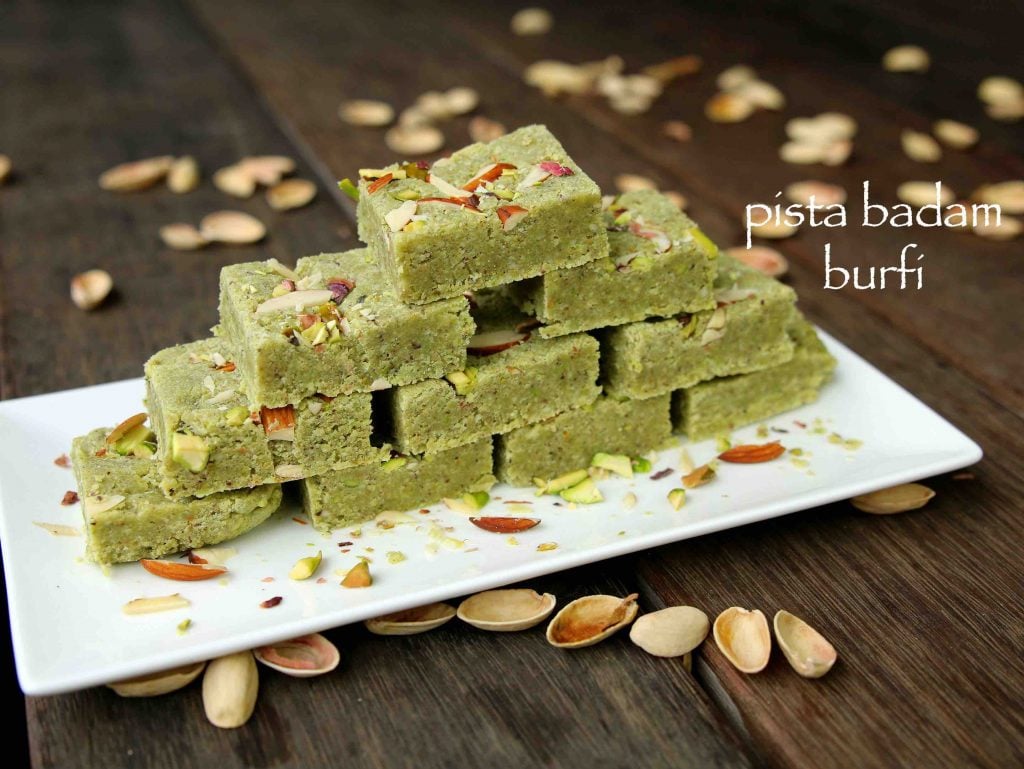 the recipe for pista badam barfi recipe is extremely simple, yet some tips and suggestions for a rich and cream burfi recipe. firstly, as i mentioned previously i have used milk powder in this recipe. this can be easily replaced with condensed milk with no sugar. but i heavily recommend the sugar and milk powder combination any time. secondly, you can add green food color to make it more dark green in color. alternatively you can also add more pistachio's for dark green color. but this would make it more brittle. lastly, make to stir the nut mixture continuously after sugar is added. ensure that it does not stick to bottom.
finally i would like to highlight my other indian sweet recipes collection with this recipe post of pista badam barfi recipe. it includes recipes like, milk powder barfi, besan barfi, carrot burfi, kaju barfi, coconut barfi, malpua, balushahi, rava ladoo and dry gulab jamun recipe. in addition i would request you to check my other similar recipes collection like,
pista badam barfi video recipe:
recipe card for pista badam barfi recipe:
how to make pista badam barfi with step by step photo:
firstly, soak ½ cup badam in hot water for 30 minutes.

peel the skin and pat dry making sure there is no moisture.

transfer the badam into a small blender and add ½ cup pistachios.

blend to fine powder and keep aside.


prepare the sugar syrup by adding 1 cup sugar and ¼ cup water. keeping the flame on low, stir continuously.

boil the sugar syrup for 8 minutes or till it forms one string consistency.

now add the prepared badam pista powder and 2 tbsp milk powder and  mix well.


further add 2 drops of green food colour for more bright green colour.

mix continuously keeping flame on low to medium till it forms thick paste.

once the mixture begins to boil, add a tsp of ghee and ¼ tsp cardamom powder. however, it is optional, but do add more flavour to burfi.

continue to mix continuously till the mixture starts to leave the pan. if you prefer slightly hard burfi then continue to stir for longer time.

transfer the mixture onto the greased tray lined with baking paper.

set a block of desired thickness. tap and level the dough.

now top with few chopped almonds, pistachios and press slightly.

allow the dough to rest for 30 minutes, or till it cools slightly.

now when the dough is still slightly warm, cut into pieces.

finally, serve pista badam barfi recipe once cooled completely or store in airtight container and consume for a month.

notes:
firstly, use fresh badam and pista, else the burfi will not last long.
also soak the badam well, or blanch the badam for easy removal of skin.
also, make sure to get just 1 string consistency of sugar syrup. else it turns burfi hard and brittle.
most noteworthy, use nonstick pan for easy and efficient burfi.
finally, instead of butter paper you can also use plastic sheet or greased plate to prepare pista badam barfi recipe.