palak paratha recipe | spinach paratha recipe | palak ka paratha with detailed photo and video recipe. a healthy and flavourful palak recipe which is prepared from spinach puree and other spices. this green coloured indian flat bread paratha recipe is ideally served with curd / yoghurt and pickle for a full course lunch and dinner.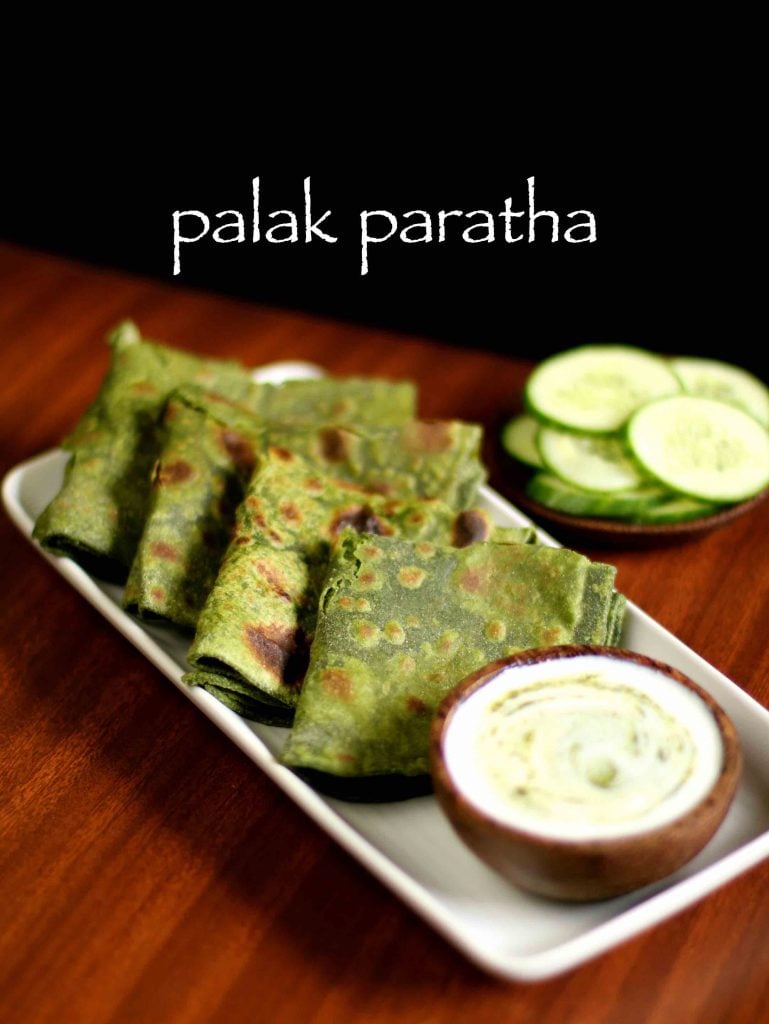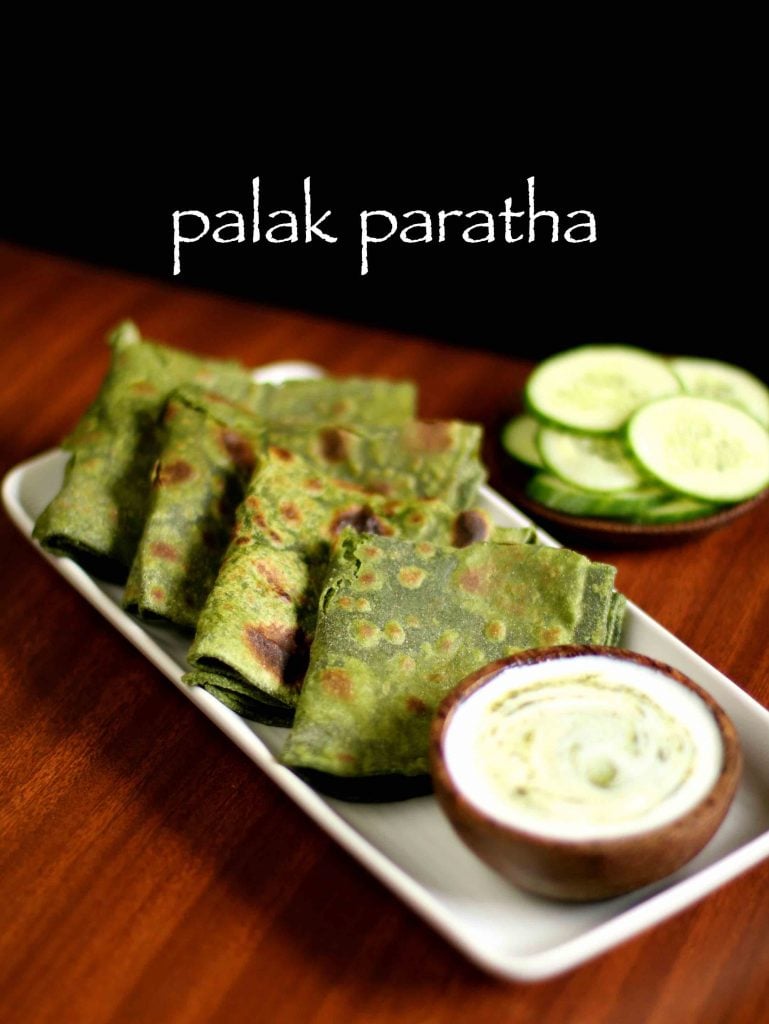 palak paratha recipe | spinach paratha recipe | palak ka paratha with step by step photo and video. it is always challenging to prepare something healthy and yet which matches our taste buds. especially during early busy mornings when it comes to pack for lunch boxes. but here is simple, tasty and full of rich nutrients paratha recipe is which is purely prepared from green palak or spinach.
i have shared quite a few paratha recipes till now but out of all palak paratha is my new favourite recipe. there are 2 main reasons for it. firstly, out of all the other paratha recipes, this is a simple and hassle free paratha recipes. blanch and create a puree from palak and mix it with the dough and the spinach paratha is ready. secondly, i just love the green color of all palak recipes. hence i always make sure there is a bunch of palak in my fridge every time.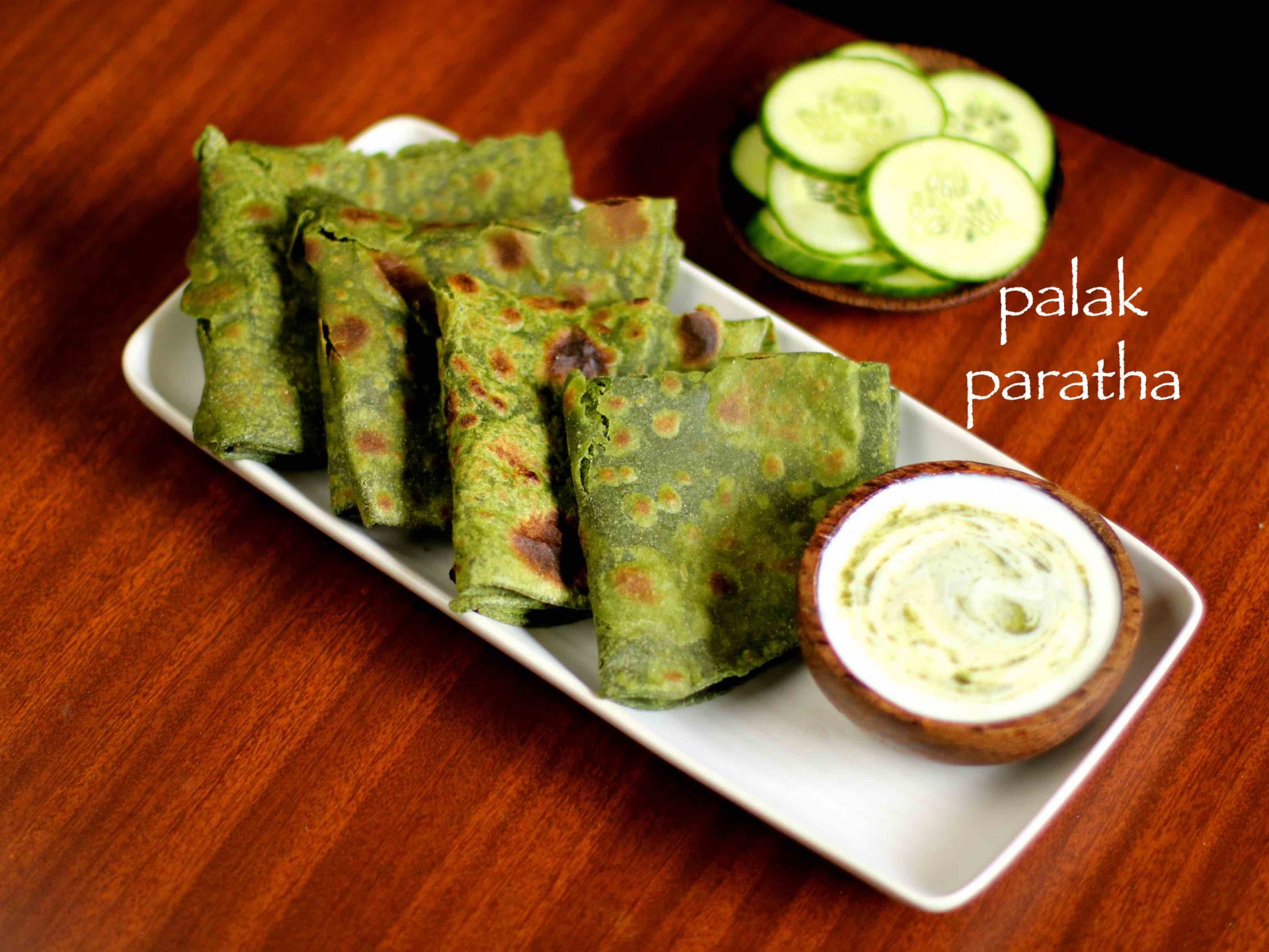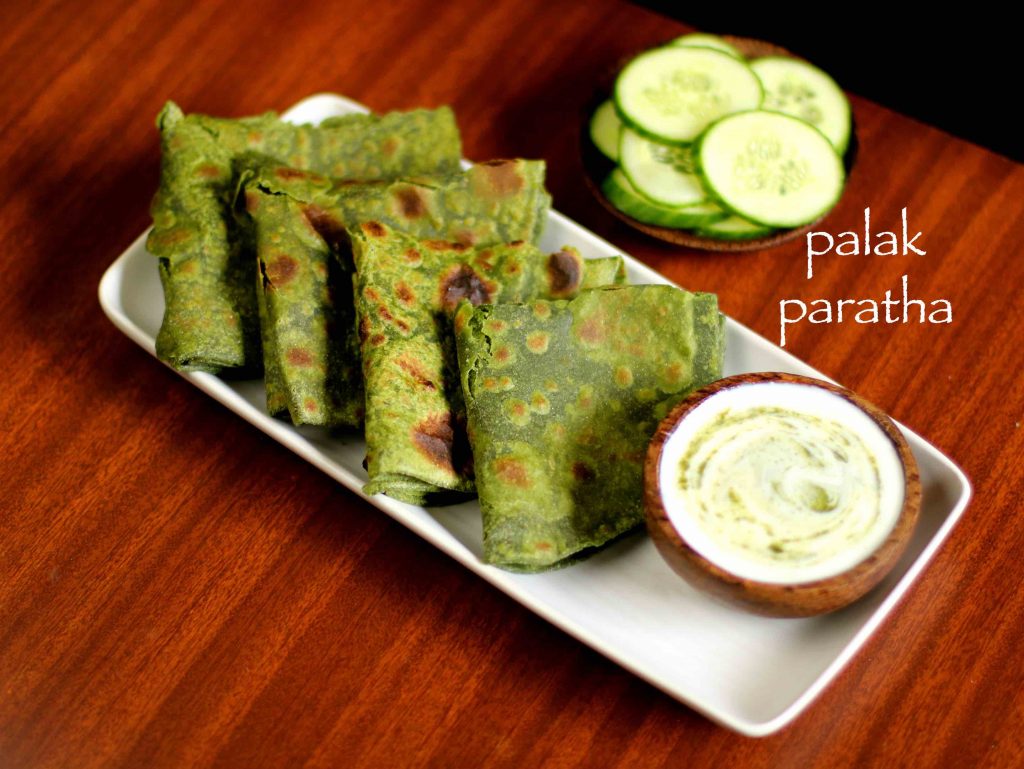 while the recipe is extremely simple, but still there are several ways to prepare this amazing palak paratha. the other most common way is to prepare it by mixing finely chopped palak or spinach leaves directly to wheat dough. this is the easiest way of preparing spinach paratha, but you may feel raw smell of palak leaves. the other way is to simply prepare the puree of spinach without blanching it. even this looks simple, but you may have a raw smell of palak while consuming.
finally i would like to highlight my other paratha recipes collection with this post. especially, paneer paratha, aloo paratha, aloo cheese paratha, gobi paratha, mooli paratha, methi thepla, lachha paratha, kerala parota and aloo kulcha recipe. in addition do visit my other recipes collection like,
palak paratha or spinach paratha video recipe:
recipe card for palak paratha or spinach paratha recipe:
how to make palak paratha with step by step photo:
palak puree recipe:
firstly, in a large vessel add enough water and get to boil.

further add washed palak leaves.

get the water to boil. do not over boil as palak will loose its nutritious.

transfer the blanched palak into blender without adding water.


also add in ginger and chilli. cool completely.

further blend to smooth puree without adding any extra water.

palak paratha dough recipe:
firstly, in a large bowl take 2 cups of wheat flour.


further add ½ tsp ajwain, salt to taste and 2 tsp oil.

also add prepared palak puree.

combine well making sure the palak gets mixed well uniformly.

furthermore, add water as required and knead for 5 minutes.

make sure to knead to smooth and soft dough.

grease the dough with little oil.

cover with moist cloth and rest for 30 minutes.

palak paratha preparation recipe:
now pinch a medium sized ball dough, roll and flatten it.

also dust with some wheat flour.

further roll it in a thin circle like chapathi or paratha.

now on a hot tawa place the rolled paratha and cook for a minute.

furthermore, when the base is partly cooked, flip the palak paratha.

also brush oil / ghee and press slightly.

further, flip again once or twice till both the sides are cooked properly.

notes:
firstly, skip the green chilli, if you are serving for kids.
also instead of blanching palak, you can also finely chop and add to dough like made for methi thepla.
furthermore, palak paratha taste great when roasted with ghee.
additionally, add coriander leaves for more flavours.
finally, to prepare palak paneer paratha, stuff the paneer stuffing into palak paratha.