masala dosa recipe | crispy masale dose | how to make masala dosa with detail photo and video recipe. an easy and popular, tasty south indian staple breakfast recipe made with rice and urad dal. basically an extension to the traditional dosa recipe, where dosa is made crisp and stuffed with potato masala. it is perhaps one of the famous dish from south india, which is can be served for morning breakfast or also as an evening snack with coconut chutney and sambar.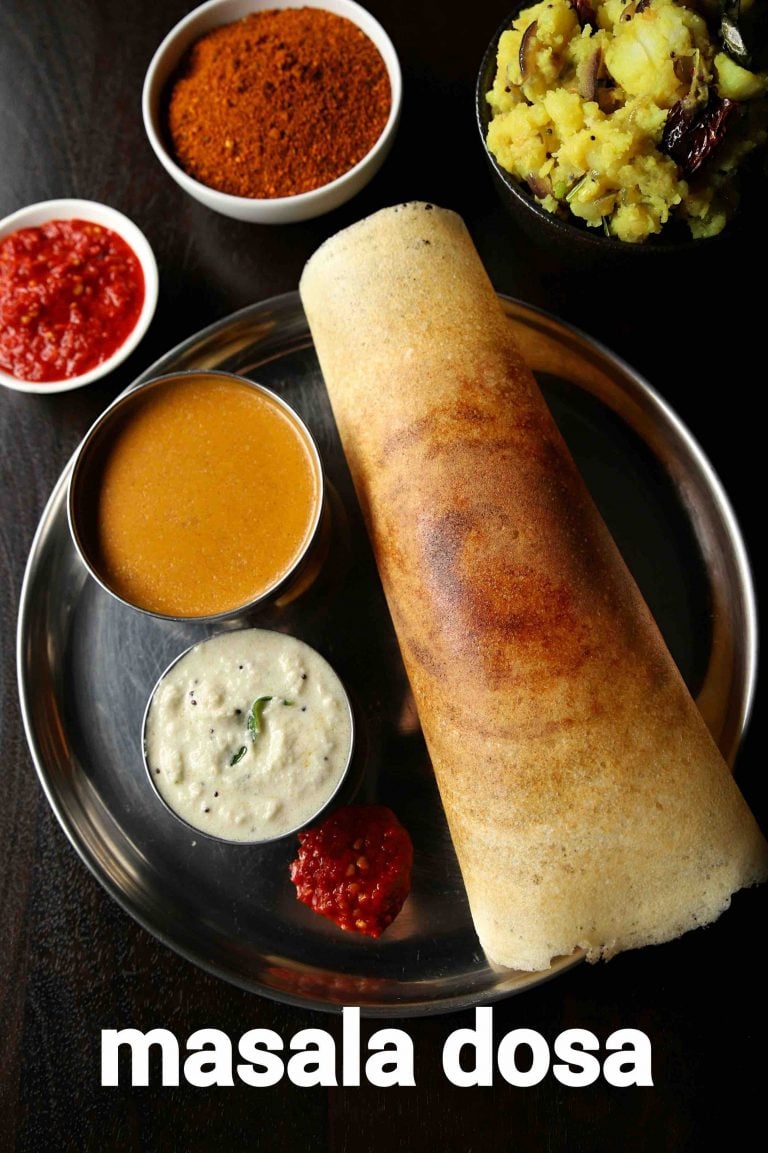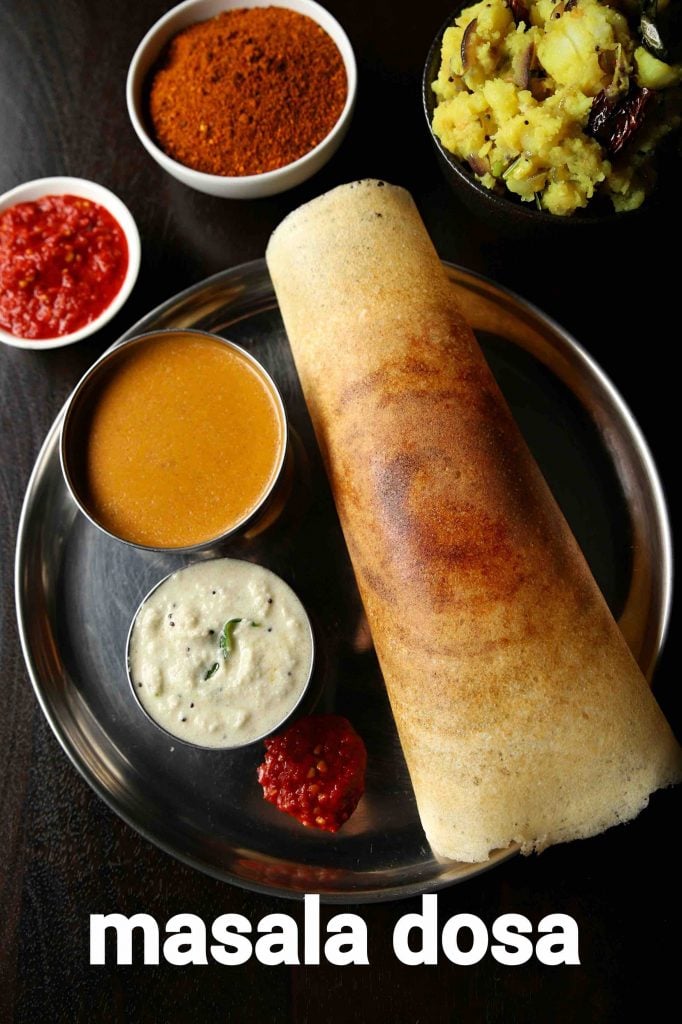 masala dosa recipe | crispy masale dose | how to make masala dosa with step by step photo and video recipe. south indian recipes are known for healthy and steamed rice-based breakfast recipes. these generally fall into either dosa or idli category which in turn has many varieties with subtle variations. under dosa category, the most popular variation is masala dosa or locally known as masale dose served with choice of coconut chutney and spicy sambar.
well, there is a great story about the origin of the famous masale dosa. there are many stories around india, but according to wiki, it originated from my hometown udupi. it was here in udupi, the dosa's were made crisp and served. one of the local restaurants in udupi started to serve potato masala stuffed dosa as a variation and also to lower the coconut chutney consumption. those days, coconut-based dishes were considered pricey and dosa's cannot be consumed without any side dish. gradually stuffed dosa became one of the norms and the migrant community took this variety to mumbai and exposed to a broader audience. it was very well received in the cosmopolitan city and that's how it became one of the popular dose variety.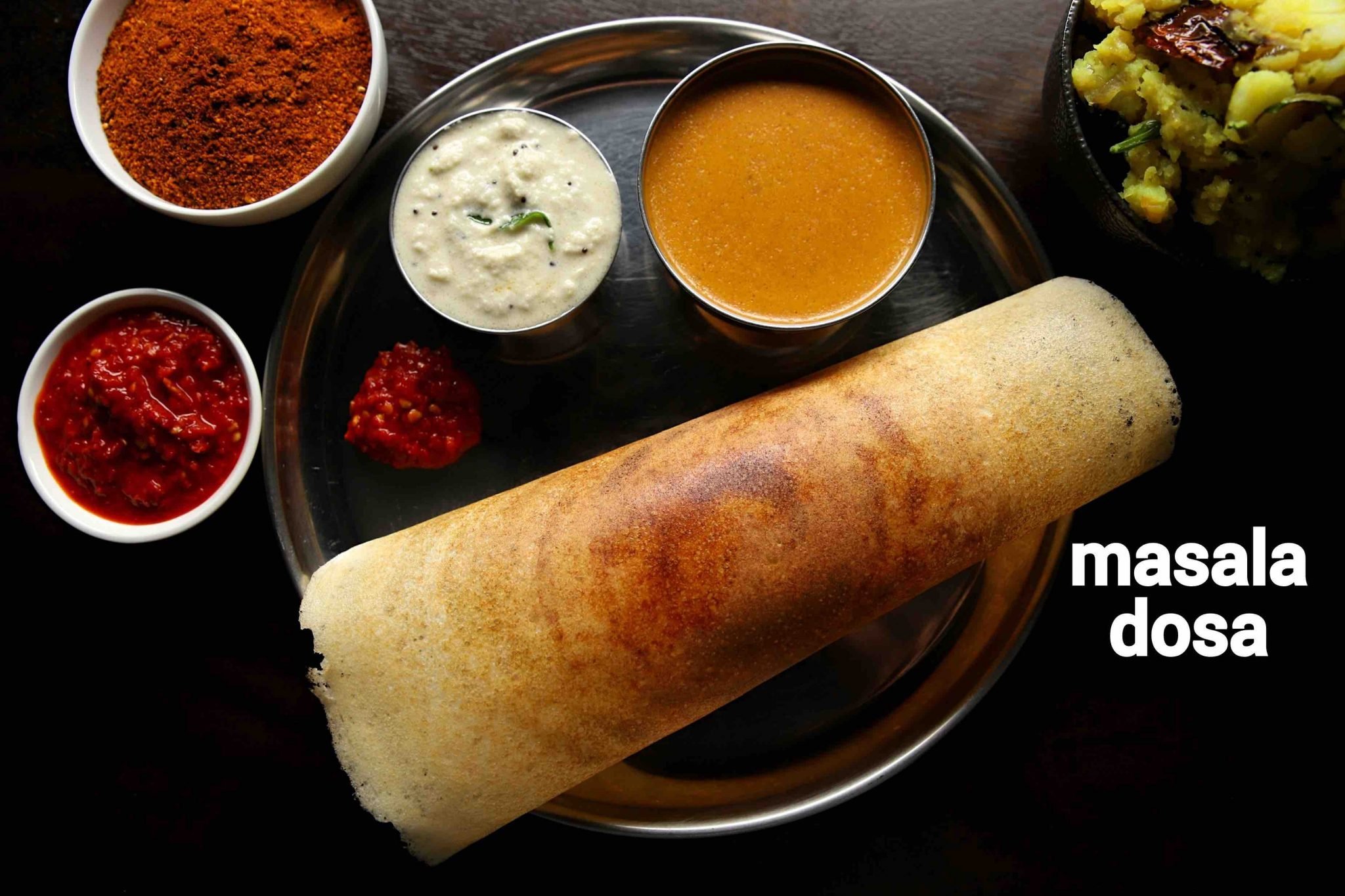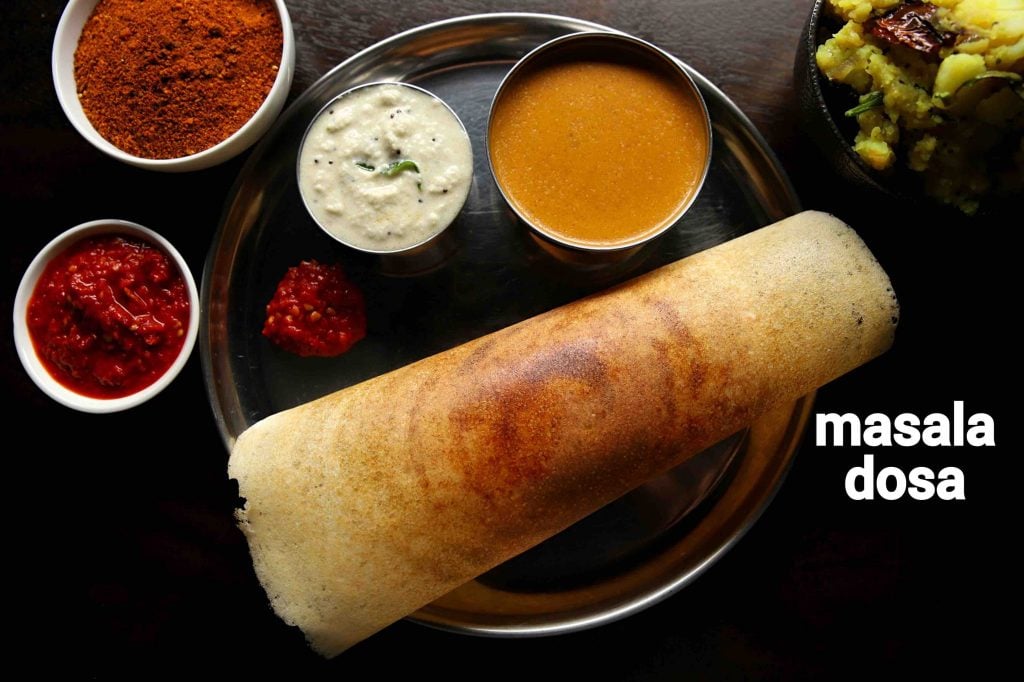 having said that, there are som many tips, suggestions and variations i would like to include in the masala dosa recipe. firstly, the fermentation is the key and significant factor for a crisp and porus dosa texture. also, the fermentation has to happen within 8-12 hours after the batter is prepared. moreover, if you stay in a cold and dry place, store the batter in preheated oven or near the gas stove to help the fermentation process. secondly, if you have noticed, i have dipped my hand in the dosa batter to mix it properly. well, hands help to mix it properly, but also the bacteria in the hands are transferred and help for fermentation. lastly, the crisp of dosa batter gradually decreases for the third and fourth day. hence it is recommended to use it the next day for masale dose and reuse it for other variations.
finally, i request you to check my dosa recipes collections with this post of masala dosa recipe. it mainly includes my other detailed dosa recipes like tuppa dosa, rava dosa, rava uttapam, vegetable uttapam, methi dosa, ghee roast dosa, poha uttapam, set dosa, oats dosa, uttapam. further to these i would also like to highlight my other related recipe categories like,
masala dosa video recipe:
recipe card for crispy masale dose recipe:
how to make masala dosa with step by step photo:
masala dosa batter preparation:
firstly, in a large bowl take 3 cup sona masuri rice and ½ tsp methi.

rinse well and soak in enough water for 4 hours.

in another bowl take 1 cup urad dal, 2 tbsp toor dal and 2 tbsp chana dal.

rinse well and soak in enough water for 2 hours.


after soaking dal for 2 hours, drain off the water and transfer to the grinder. you can also grind in mixi if you do not have access to a grinder.

add water as required and blend to smooth paste.

scrape sides. the smooth and fluffy batter will be ready after 40 minutes.


transfer the batter to a large vessel and keep aside.

in the same grinder add soaked rice and 1 cup rinsed poha.

add water slowly and scrape the sides. blend to a coarse paste.

transfer the rice batter to the same urad dal batter.

mix well making sure everything is well combined.

ferment in a warm place for at least 8 hours or until the batter doubles in volume. if you are leaving in a cold climate, then you can place the batter in the warm oven (just heat the oven until it turns slightly warm and then turn off) to ferment.

once the batter is well fermented, mix gently, without disturbing the air pockets.

transfer 4 cups of fermented batter to a small bowl and add 1 tsp salt.

mix well until the salt is well combined. masala dosa batter is ready. keep aside.

aloo bhaji preparation:
firstly, in a large kadai heat 2 tbsp oil and splutter 1 tsp mustard, 1 tsp urad dal, 1 tsp chana dal, 1 dried red chilli, few curry leaves, pinch hing.

now add 2 chilli and 1 inch ginger. saute well.

also, add 1 onion and saute until onions shrink slightly.

further, add ¼ tsp turmeric and 1 tsp salt. saute well.

now add 3 potato and mix well, mash slightly making sure everything is well combined.

turn off the flame and add 2 tbsp coriander and 2 tbsp lemon juice.

mix well and aloo bhaji for masala dosa is ready. keep aside.

masala dosa preparation:
firstly, add a ladleful of batter on hot tawa.

spread as thin as possible making a crispy dosa.

take 1 tsp of butter and spread uniformly.

also, place 2 tbsp of prepared aloo masala in the centre.

roast until the dosa turns golden brown and crisp.

scrape the sides of dosa and roll the dosa.

finally, masala dosa recipe is ready to serve with coconut chutney and sambar.

notes:
firstly, make sure the dosa batter is well fermented else dosa will not turn up good.
additionally, adjust the amount of spiciness of aloo masala to your taste.
also, recommend using cast iron tawa for crispy dosa.
finally, masala dosa recipe tastes great when prepared crispy.