curd sandwich recipe | yogurt sandwich recipe – kids lunch box recipe with detailed photo and video recipe. yogurt sandwich is an easy tiffin box recipes for kids and for adults too.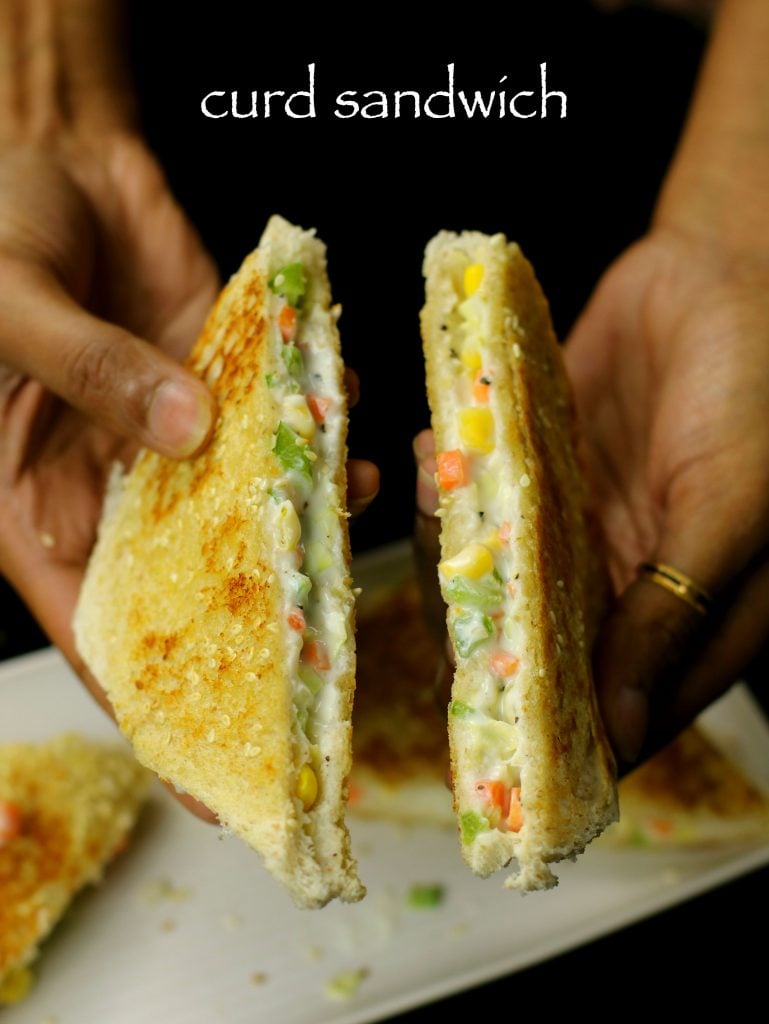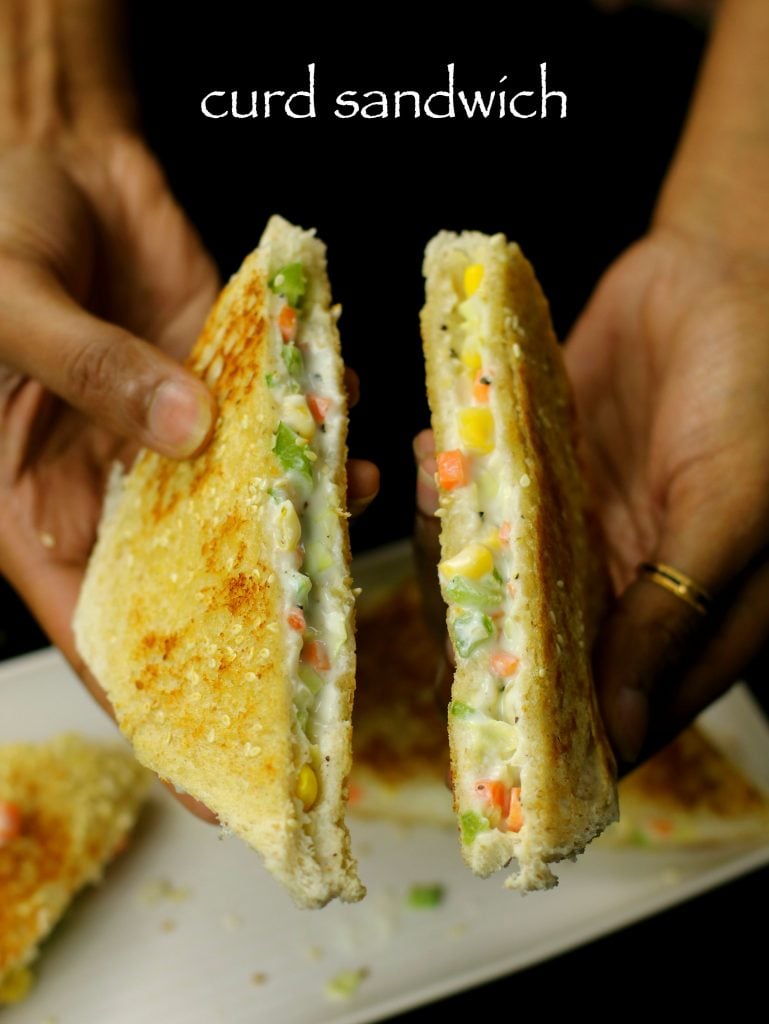 curd sandwich recipe | yogurt sandwich recipe – kids lunch box recipe with step by step photo and video recipe. curd sandwich also popularly known as raita sandwich. it is a healthy, instant lunch box / snack box recipe for kids. however, i wouldn't restrict to only kids as it can also be a very good lunch box option for adult as well. this easy sandwich can be very nifty to all those kids mother, whose kids doesn't like to eat their veggies.
yogurt sandwich is a regular lunch box option in my house. i do this quite frequently and even my husband likes this sandwich option, as it contains lot of veggies plus his favourite curd. more importantly, this sandwich is so creamy and rich that it doesn't require any extra dip along with it. optionally, you can add a slice of cheese to make it more tasty and cheesy. i try to add cheese sometimes to have different variety. however, in this recipe i have skipped and have not added cheese.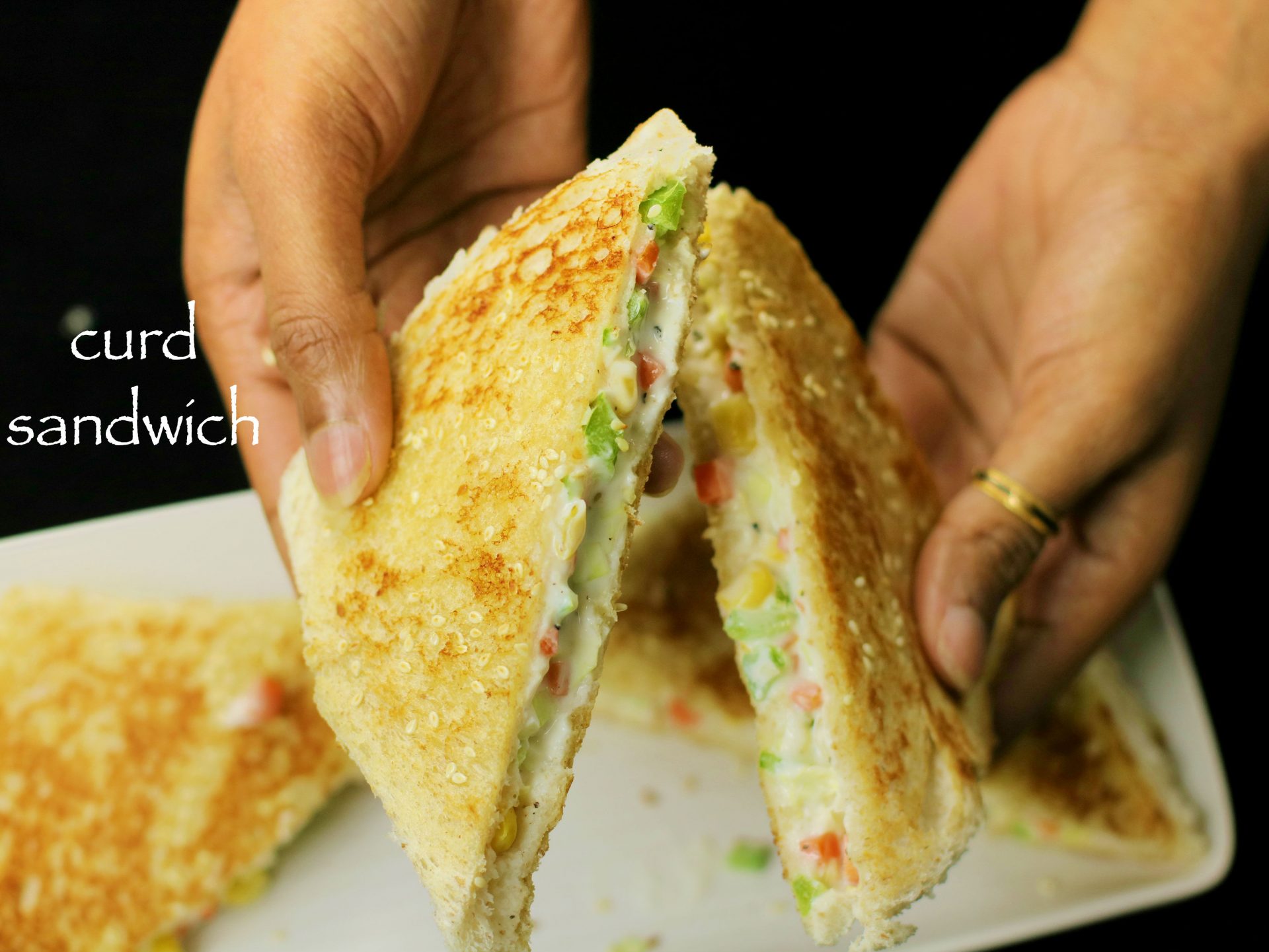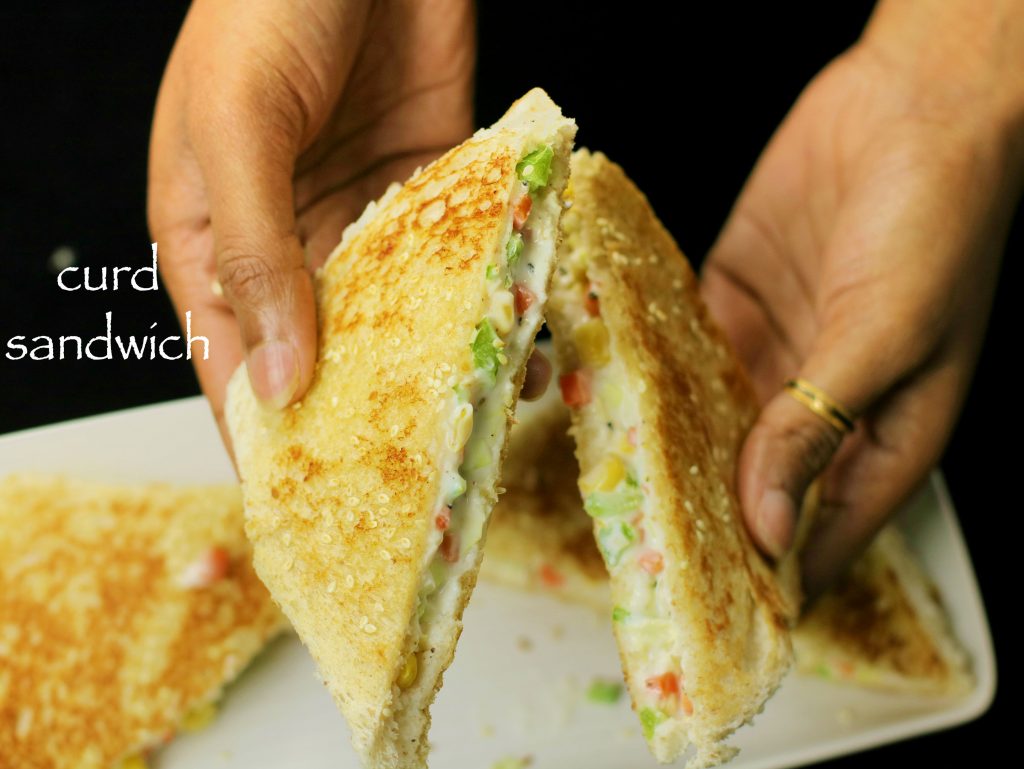 this sandwich can be prepared with any bread. i have used the normal sandwich bread, but this equally taste with brown or wheat bread too. i have added sesame seeds to fry these sandwich with butter, this gives a crispy taste to these raita sandwich. also, you can add other veggies to like onions, cucumber and even spinach to make it even more healthy. finally, add some green chillies or even chilli flakes to make it more spicy or if serving to adults.
i have already shared paneer sandwich recipe and sandwich dosa recipe. if you like dosas then have a look at my dosa collection like oats dosa rava dosa, mysore masala dosa, dosa, plain dosa, neer dosa etc. check out my other recipes prepared using bread: bread 65, bread roll, bread masala dosa, bread medu vada, aloo bread pakora, masala bread, pav bhaji, vada pav.
curd sandwich recipe | yogurt sandwich video recipe:
yogurt sandwich recipe | curd sandwich recipe card:
curd sandwich recipe | yogurt sandwich step by step photo recipe:
sandwich spread recipe:
firstly, in a large mixing bowl take thick curd. best if you use hung curd.
also add mayonnaise sauce. skip if you do not have mayonnaise. however, it does add lots of flavour.
additionally, add crushed / powdered pepper according to your spice level.
sprinkle some salt to taste. and give a good mix.
now add few finely chopped vegetables like carrot, cabbage, capsicum.
add some corn and ginger if you like.
give a good mix and keep aside.
sandwich recipe:
firstly, take any bread and cut the edges of them. this is optional. you can even do with the edges.
now take sandwich spread and spread generously over one side of bread slice.
cover and press with other bread slice over it.

also heat the tawa or use sandwich maker. add some butter.
when the butter begins to melt, sprinkle some sesame seeds over it.
now place the prepared sandwich and spread over butter. so that butter and sesame seeds coats uniformly.
once, one side of bread turn golden brown, repeat the same step of adding butter and sesame seeds. toast the other side of bread by pressing gently.
to serve, cut the sandwich in half or serve as it is.
finally, enjoy the curd sandwich. you can also pack it into your kids snack box.
notes:
firstly, hung curd can be prepared by straining homemade curd in a cloth for 3-4 hours. keep it in fridge to ensure that the curd does not turn sour.
also add any vegetables of your choice. you can also add thin sliced mushrooms, spinach leaves and also tomatoes.
to make it little spicy, add some finely chopped green chilli. you might have to be careful while serving to kids with chilies.
noteworthy, curd sandwich do turn soggy if you keep for ling time. however, if you use hung curd / thick curd then it stays crisp.
if your kid enjoys cheese, then you can even add a cheese slice. you can also add melted cheese as a spread.
finally, serve curd sandwich with tomato ketchup if you like.