ghee roast dosa recipe | dosa ghee roast | ney roast dosa recipe with detailed photo and video recipe. an interesting and unique way making the traditional crisp dosa with clarified butter toppings. when compared to the traditional plain dosa recipe, there isn't much difference apart from the ghee toppings. the recipe of ghee roast is an ideal morning breakfast recipe which can be served with any simple chutney or any chutney pudi.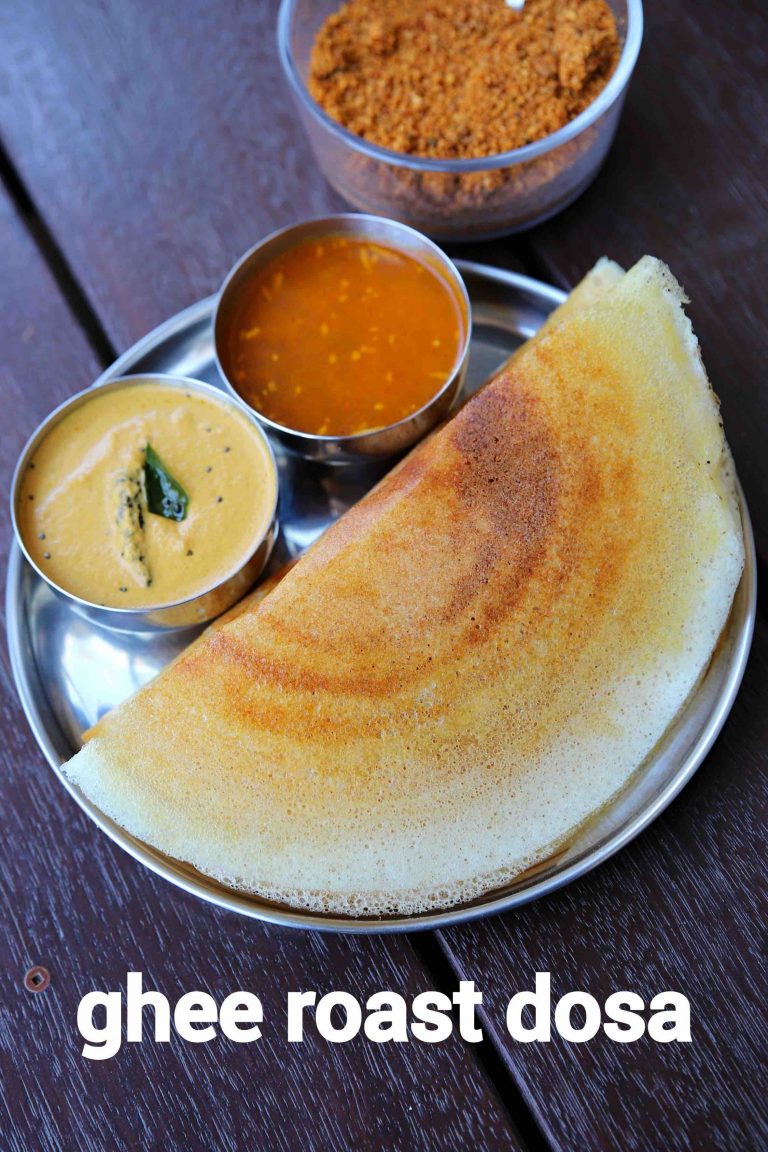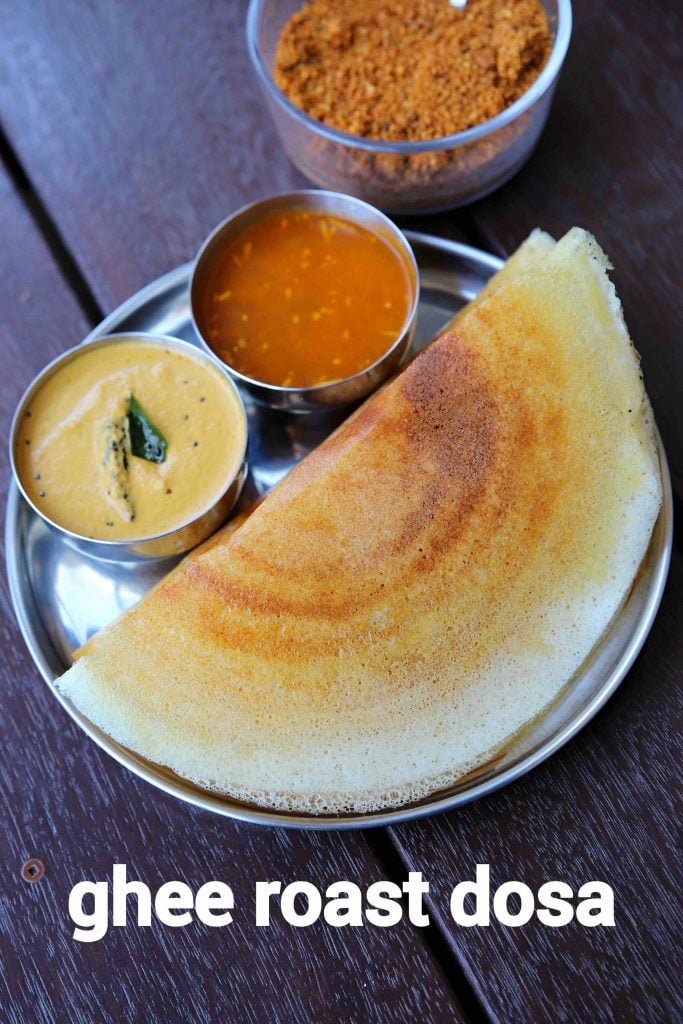 ghee roast dosa recipe | dosa ghee roast | ney roast dosa recipe with step by step photo and video recipe. dosa recipe is one such simple recipe which can be experimented to make many different variations. as a matter of fact, with just one dosa batter you can easily attempt myriad ways of dose recipes. one such simple and easy dosa variant from the generic dosa batter is the ghee roast dosa recipe made with a generous amount of ghee toppings.
well, to be honest, i am not a huge fan of alterations to the traditional dosa recipe and i like it the old school way. having said that i am not sure if the ghee roast dosa recipe can be termed as old school and it is one of the recent innovations from the dosa bouquet. yet i personally like to to have my crispy dosa with a scoop of butter or ghee. i prefer the combination of butter with potato masala inside my dosa or just the ghee topping with spicy coconut chutney. whereas my husband likes it as it is without any sides and it is the end of the story with a scoop of ghee topping on any dosa.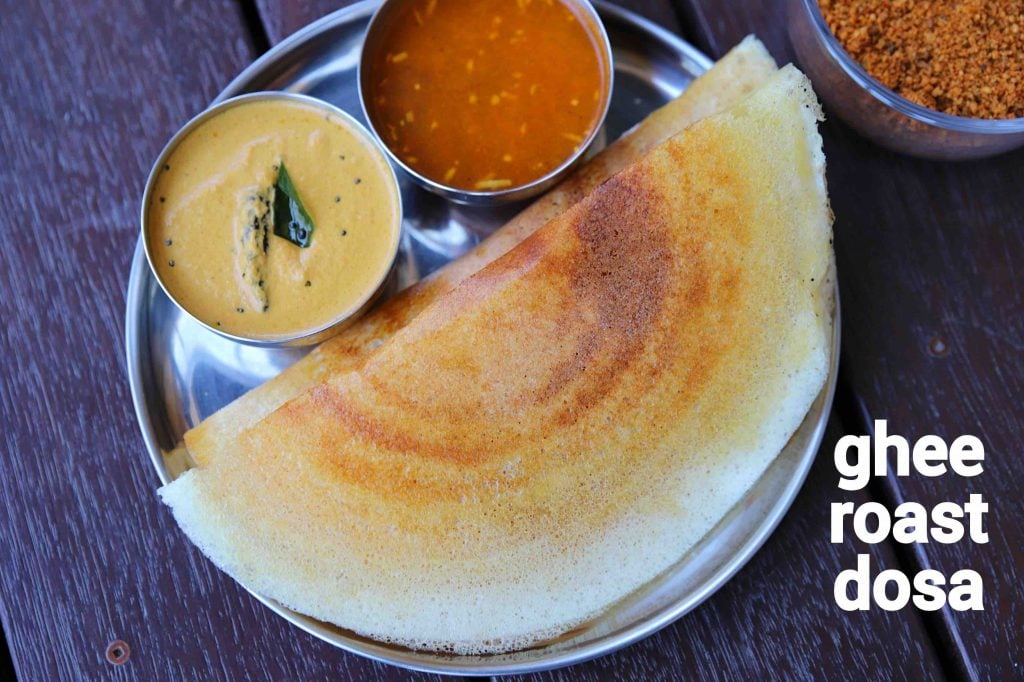 anyway, some tips, suggestions and variations for a perfect and crispy ghee roast dosa recipe. firstly, as i said earlier the dosa ghee roast recipe can be made with almost any dosa batter recipe. yet the ideal batter for this recipe is the masala dosa batter which would yield a crisp texture to dosa. secondly, you can experiment the recipe by extending it with other dosa variations. for instance, you can add red chutney on top dosa or even potato masala to make it ney roast masala dosa. lastly, like other dosa recipes which have to be served immediately once it is removed from dosa pan. hence you may need to plan it accordingly before serving it.
finally, i request you to check my other dosa recipes collection with this post of ghee roast dosa recipe. it mainly includes recipes variation like tuppa dosa, set dosa, oats dosa, kara dosa, tomato dosa, adai, onion rava dosa with aloo masala, rava dosa, jini dosa, instant neer dosa. further to these i would also like to highlight my other recipes collection like,
ghee roast dosa video recipe:
recipe card for ghee roast dosa recipe:
how to make dosa ghee roast with step by step photo:
firstly, in a large mixing bowl soak 3 cup dosa rice and ½ tsp methi for 5 hours. alternatively, use idli rice / sona masuri rice.

in another bowl soak 1 cup urad dal for 3 hours.

drain off the water from urad dal and blend to smooth paste adding water as required.

transfer the smooth and fluffy batter of urad dal into a large bowl.


in the blender take soaked rice draining off the water.

bend to a slightly coarse paste adding water as required.

transfer the rice batter to the bowl of urad dal batter.


now take 2 cups washed & squeezed puffed rice in a blender.

and blend to smooth paste. alternatively, use leftover rice or soaked sabudana.

mix well making sure everything is combined well.

now cover and rest in a warm place for 8-10 hours or till the batter ferments and doubles.

after 8 hours, batter doubles indicating well fermented with air pockets present.

add 1½ tsp salt to the batter and mix well.

mix gently without disturbing the air pockets.

also, heat the griddle and pour a ladleful of batter.

spread out in a circular motion slightly thin as of regular masala dosa.

also spread 2 tsp of ghee over dosa.

cover and roast the dosa to a golden brown.

finally, fold the ghee roast dosa into half and serve with chutney.

notes:
firstly, make sure to ferment the batter well for crispy and golden dosa.
also, roasting in ghee helps to get a vibrant golden colour to dosa.
additionally, roast on low flame to roast uniformly.
finally, ghee roast dosa recipe tastes great when served with spicy chutney.