garlic naan recipe | homemade garlic naan recipe without yeast – with detailed photo and video recipe. an extremely popular indian flatbread recipe made with plain flour and garlic. it is humungously popular across india and also all over the globe, mainly because of the flavour and taste. the bread tastes amazingly well with the choice of north indian or punjabi curries and can be easily served for lunch and dinner.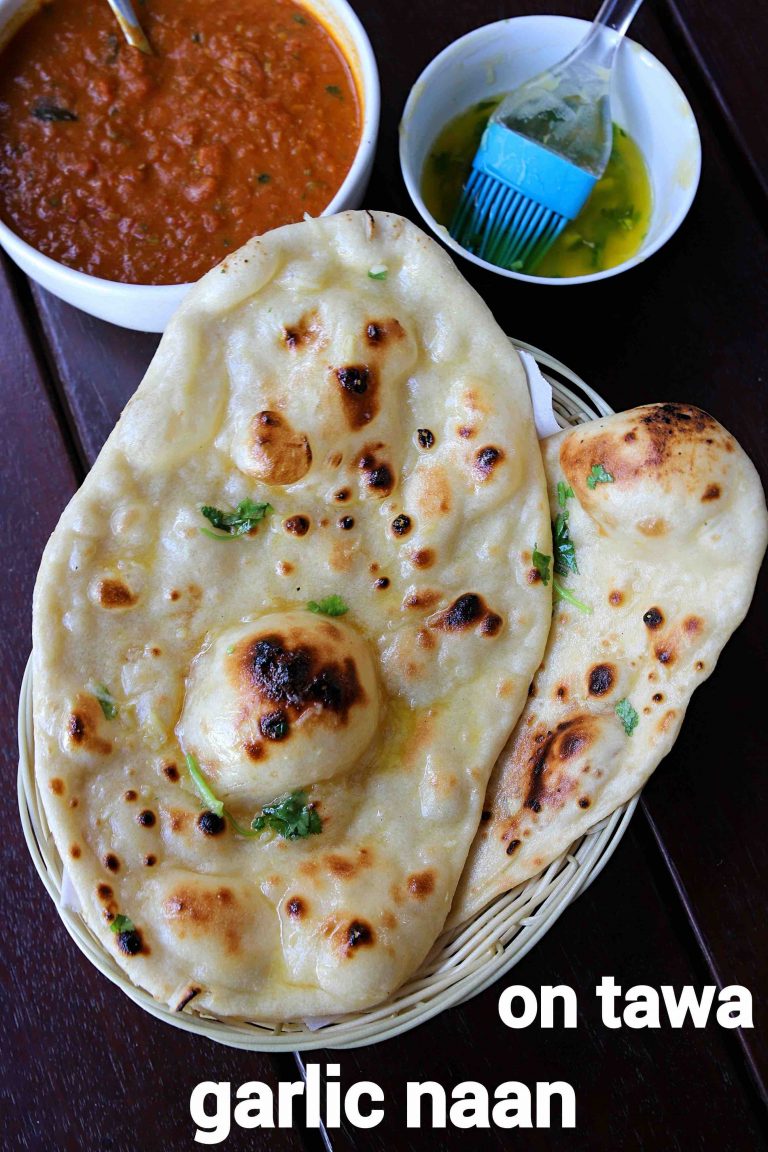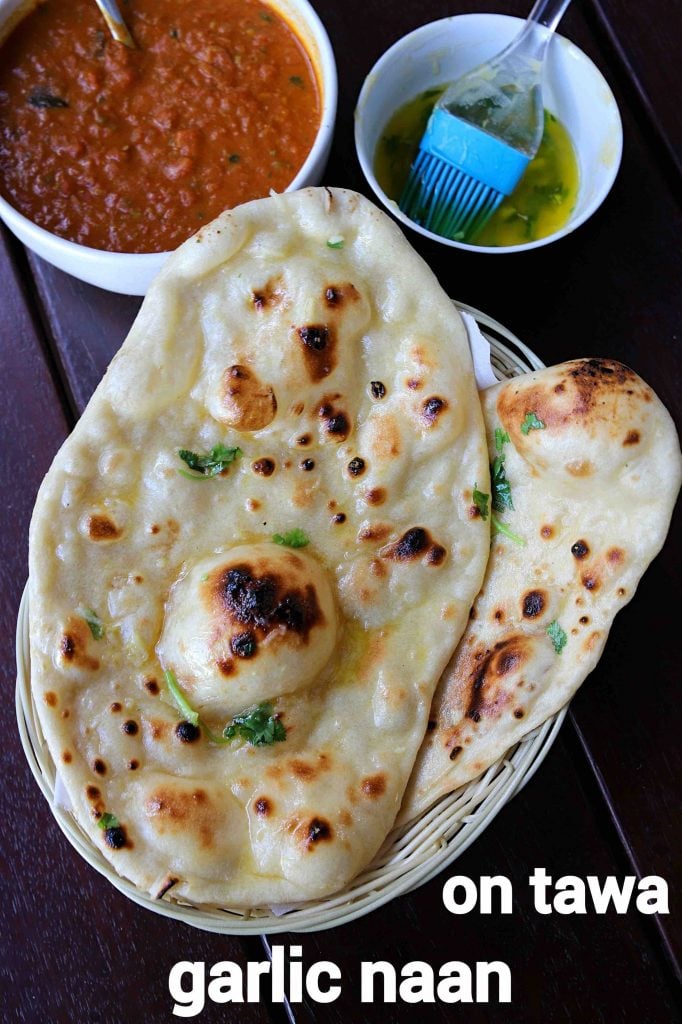 garlic naan recipe | homemade garlic naan recipe without yeast – with step by step photo and video recipe. indian flatbread recipe are an essential part of the indian day to day meal. it is generally made with wheat flour, but can also be made with plain flour or maida which is known as naan bread. one such simple and easy variation is the homemade garlic naan recipe made with tawa or pan in the cooking stove.
as you may be aware that, naan or roti are typically made in a tandoor oven at restaurants. tandoor oven is loaded with coal heat and the naan bread is stuck to the sides of tandoor till it gets baked. the charcoal would infuse the smoky flavour to the bread and thus making it an appetite bread. yet, you would have a strong craving to relish this naan bread at home. and also may think that naan bread recipes are limited to posh fine-dine restaurants. well you might be surprised that the garlic naan can also be made at home using tawa. also i haven't used yeast to make it puffy and used baking powder to have the same effect. hence this should be must try the recipe and enjoy the garlic bread naan at home.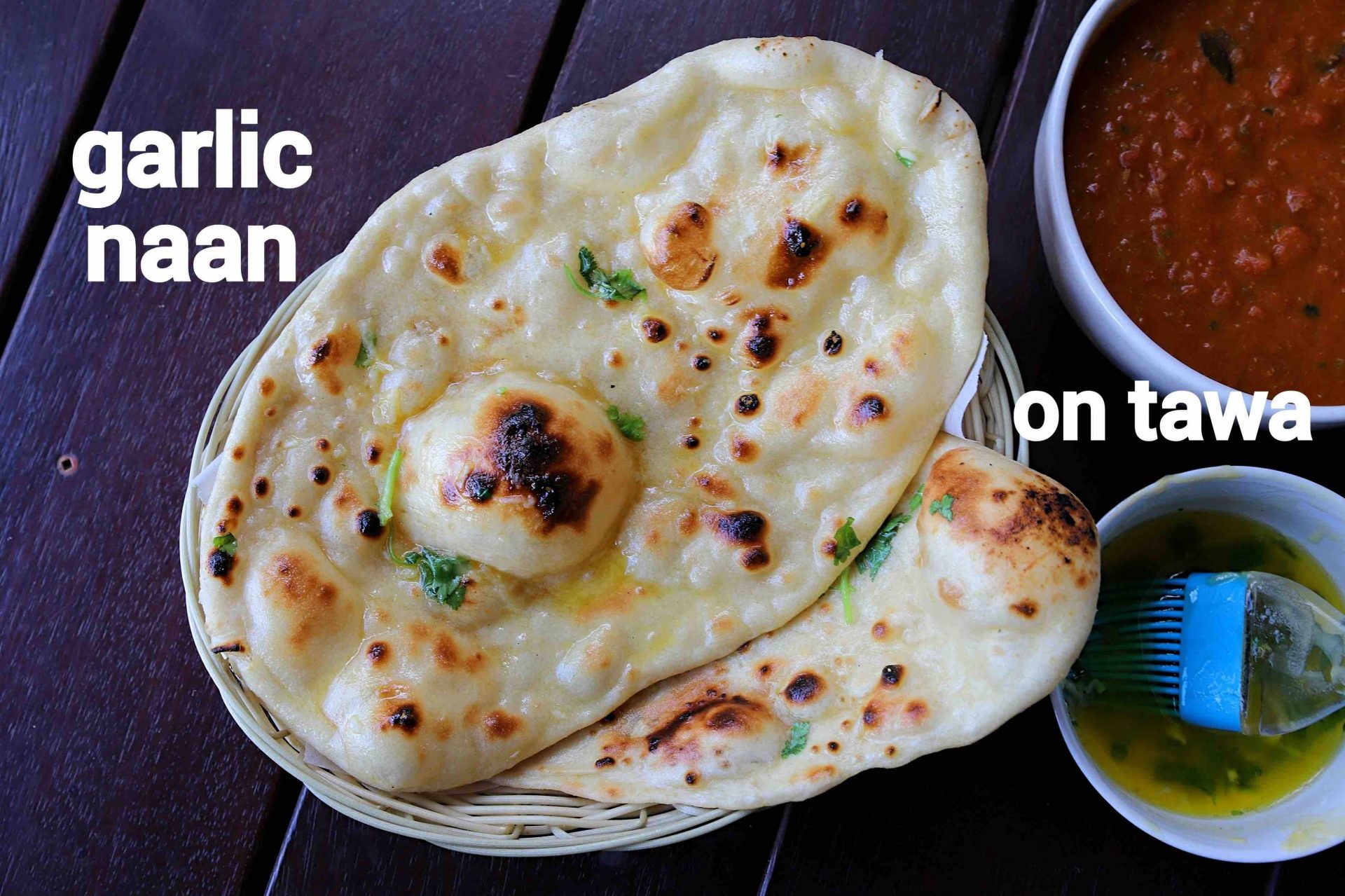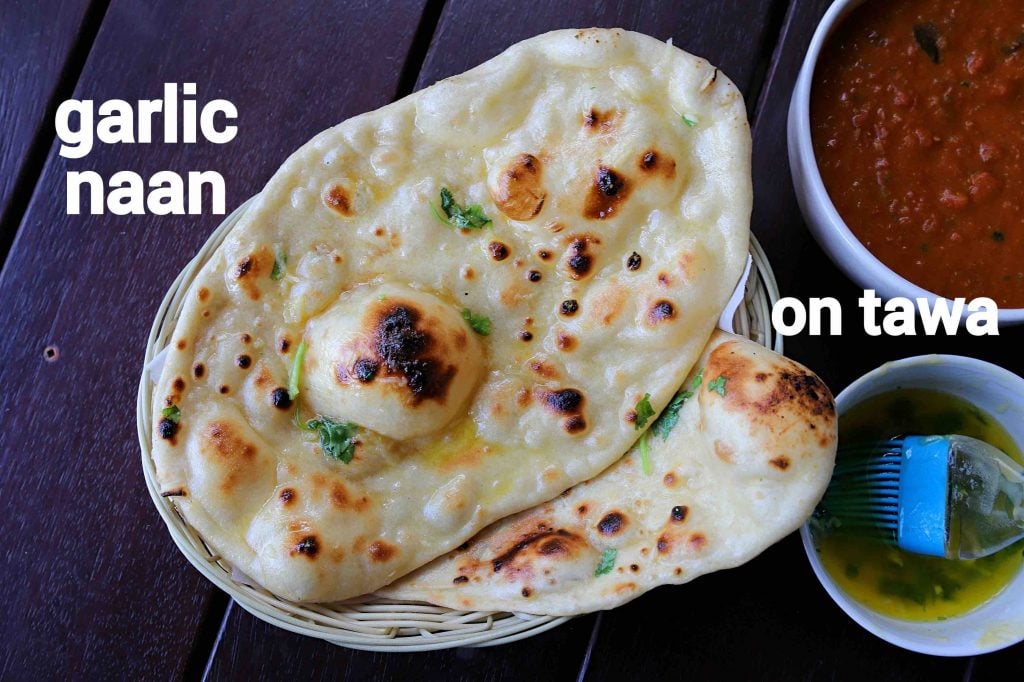 furthermore, i would like to mention some tips, suggestions and variations for a perfect garlic naan recipe. firstly, i have used baking powder for proofing the plain flour dough. well traditional recipe includes yeast for proofing and you can use it if you are comfortable using it. secondly, you can make the same naan bread using a big sized cooker. as a matter of fact, you can use cooker as tandoor and stick the bread to the sides of the cooker and heat it upside down. lastly, because it is maida, it becomes chewy if it is rested for a while. it is recommended to serve it immediately with a choice of curry.
finally, i would like to highlight my other roti and naan recipes collection with this post garlic naan recipe. it mainly includes recipes like rumali roti, akki roti, ragi rotti, bajra roti, jolada rotti, tandoori roti on tawa, sabudana thalipeeth, jowar roti, akki roti with cooked rice, missi roti. in addition, to these i would like to mention my other detailed recipes collection like,
garlic naan video recipe:
recipe card for garlic naan bread recipe:
how to make garlic naan with step by step photo:
firstly, in a large mixing bowl take 2 cup maida, ¼ tsp baking soda and 1 tsp baking powder and ¾ tsp salt. mix well.

add 2 tbsp oil, ¼ cup curd and 1 tsp garlic.

mix well making sure everything is well combined.

further, add water as required and knead to a smooth and soft dough.


grease the dough with oil, cover and rest for 2 hours.

meanwhile prepare garlic butter by mixing 3 tbsp butter, 1 tsp garlic and 2 tbsp coriander.

after 2 hours, knead the dough slightly. to remove if any air present in the dough. pinch a ball sized dough.


gently roll to oval shape using a rolling pin. make sure you do not make too thin nor thick. and also keep the size in mind. it should not be larger than your tawa size.

grease with water over naan. make sure you coat uniformly. this helps naan to stick on tawa.

furthermore, slowly flip over and put it on hot tawa. remember, be gentle and put the water coated side down to tawa. also do not use nonstick tawa.

slightly press. this helps the naan to stick on to the tawa and when you flip the tawa upside down it will be intact.

now after a minute, flip the tawa upside down and cook naan directly on flame till they turn golden brown.

also brush with some prepared garlic butter mixed with coriander leaves.

gently scrape the naan from the bottom and remove.

finally, serve garlic naan hot with your favourite curry like mattar paneer.

notes:
firstly, if you are looking naan to be made with wheat flour then replace maida with wheat flour.
also, make sure not to use a non-stick pan as it slides down while flipping over.
additionally, do not apply any oil to the pan as it prevents naan from sticking to the pan.
finally, garlic naan recipe tastes great when served hot.