panchamrit recipe | panchamrut recipe | panchamruta ingredients for puja with detailedphoto and video recipe. a traditional ayurvedic mixture of foods made with sugar, honey, curd, ghee and cows milk. it is typically made for hindu pooja particularly for abhisheka of hindu god idols and served as prasadam. generally, it is made with 5 ingredients as pancha means five in sanskrit, but there are regional variations to the above 5 ingredients.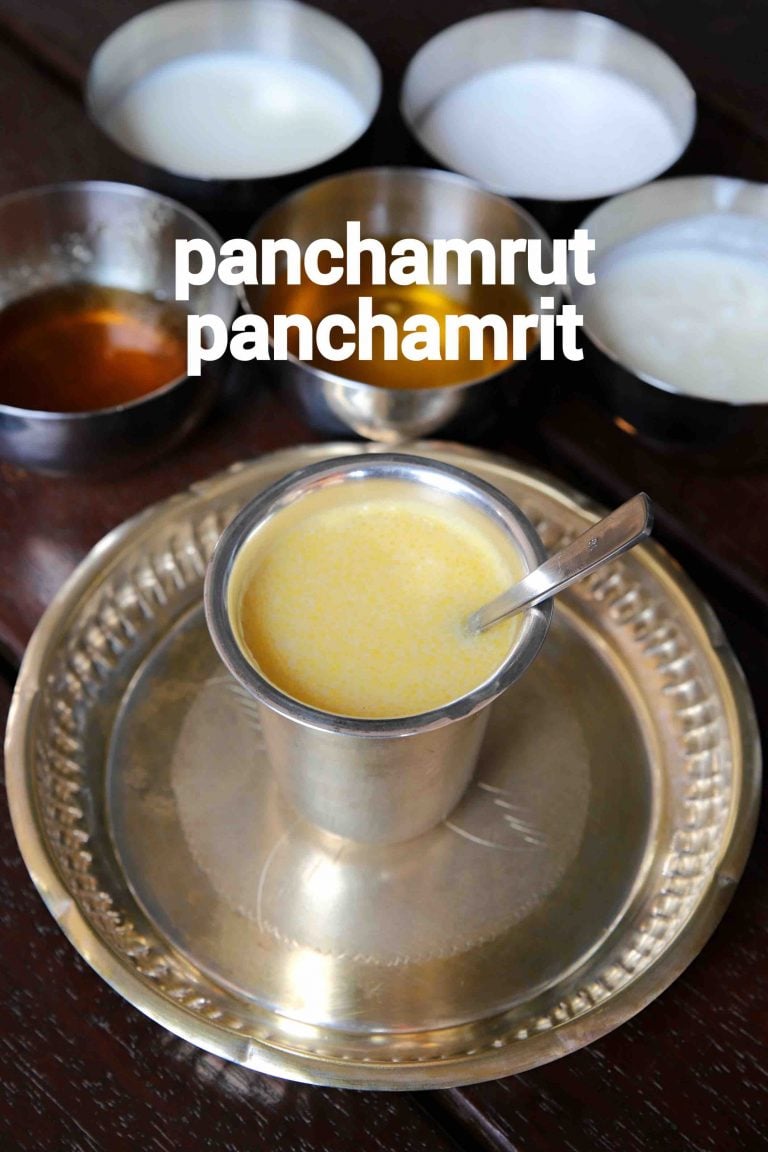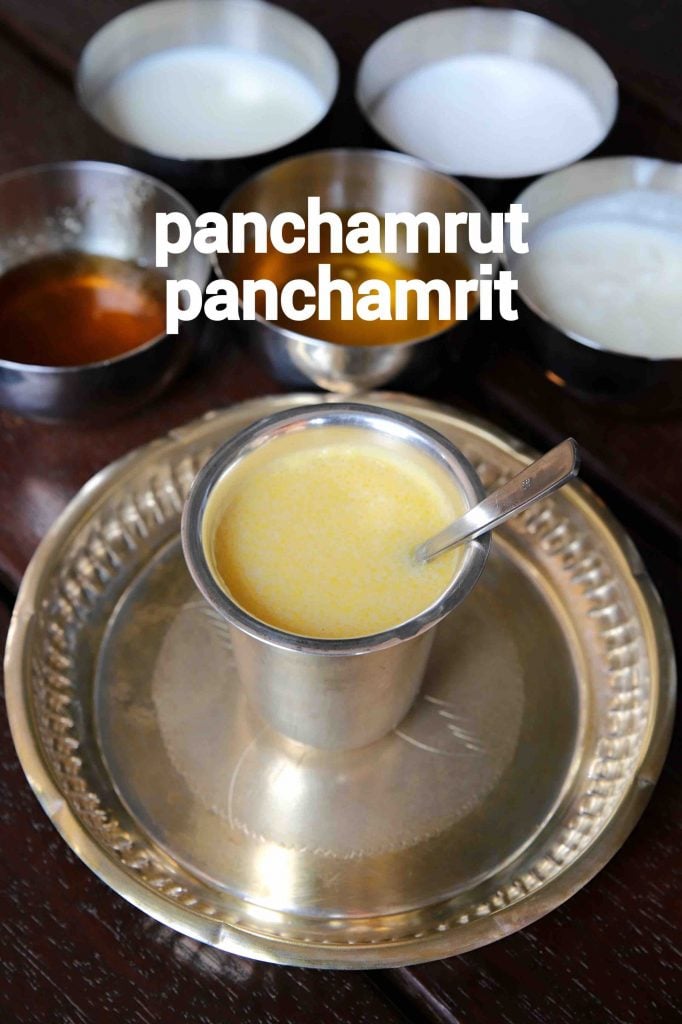 panchamrit recipe | panchamrut recipe | panchamruta ingredients for puja with step by step photo and video recipe. food ingredients place a major role in many of hindu traditions and festival celebrations. some time an single ingredient is offered as offering and some time a mixture of these is offered as prasadam. one such simple and easy ayurvedic recipe is panchamrit recipe or panchamrut recipe known for its medicinal benefits.
as i was explaining earlier, there are many regional variations to the 5 ingredient based panchamrit recipe. the first variation or perhaps the original version is to prepare with jaggery in the place of sugar. as matter of fact, many prefer to use jaggery as sugar is chemical by product and may contain bone charcoal. this is considered as impure and hence not used. the other variation is to use sliced banana with the above mentioned 5 ingredients. in addition to it, even dry fruits like cashew, dates and fig are also added to it. lastly in kerala or in even in my hometown udupi, tender coconut water is even added. we term it as panchakavya and is typically offered to lord naga devatha.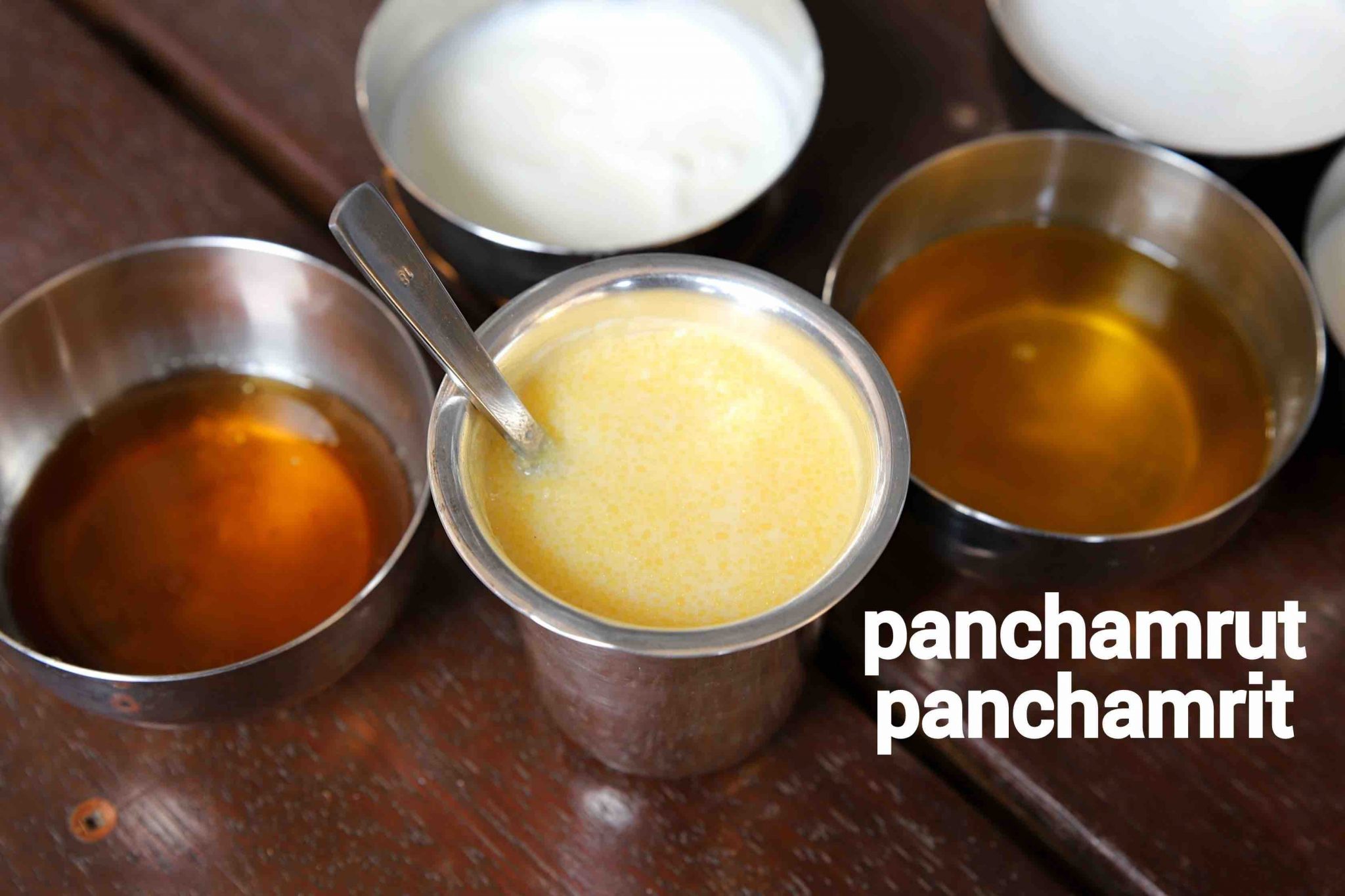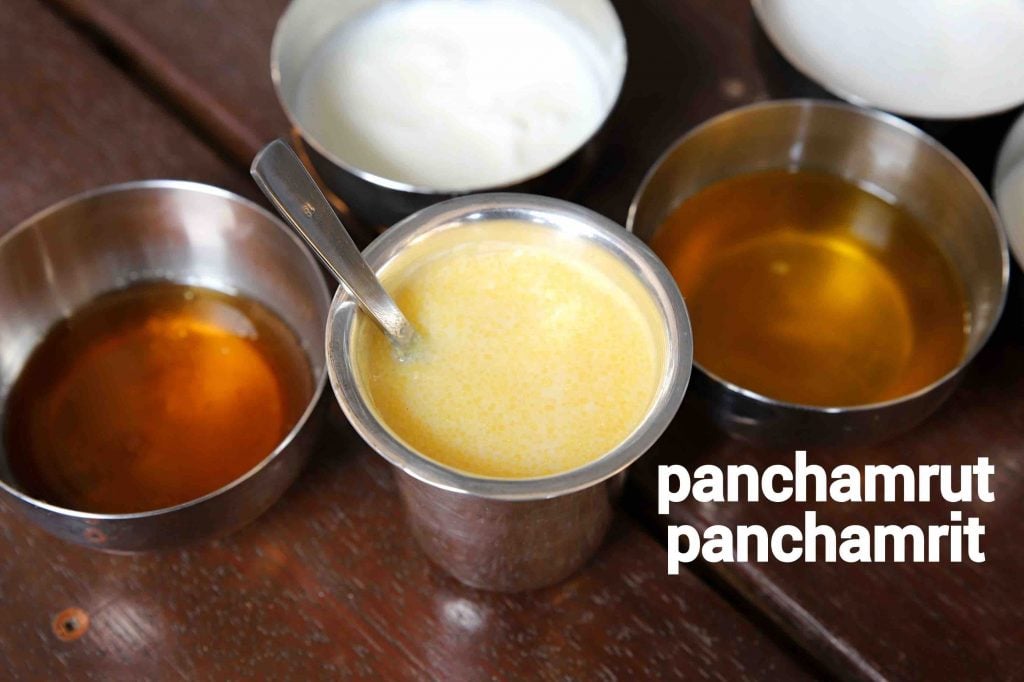 furthermore, i would like to add some tips, suggestions and variations for the panchamrit recipe. firstly, the ingredients has to be mixed and prepared either in silver or bronze metal based utensils for the best effect. out of these, silver is the best option and use bronze only if you do not it. secondly, there is a science behind the proportions used for each ingredients. hence strictly follow the same proportions for your next pooja. you should be good with the above mentioned proportion, if you need more quantity, increase each ingredient proportionally. lastly, while mixing these ingredients, you need to follow the same order as i have shown in this post/video. do not alter or mix it up with its order.
finally, i request you to check my other traditional vrat or festival recipes collections with this post of panchamrit recipe. it includes similar recipes collections like rava rotti, sabudana chilla, hariyali sabudana khichdi, namak mirch paratha, methi na gota, cabbage paratha, pesara pappu charu, masala makhana, palak cutlet, mango popsicles. further, to these i would also like to highlight my other similar and popular recipes collections like,
panchamrit video recipe:
recipe card for panchamrit recipe:
how to make panchamrut with step by step photo:
firstly, take silver bowl or glass to prepare panchamrut. silver helps to boost and maintain a healthy immune system.

now add ingredients in the following sequence. add 1 tbsp sugar, 1 tbsp honey, 1 tbsp curd, 2 tbsp ghee and 7-8 tbsp milk.

mix well making sure everything is well combined.

finally, serve panchamrut for babies and pregnant women.

notes:
firstly, its believed to be consumed before breakfast as it is extremely beneficial.
also, helps women to conceive and after delivery ensures the proper formation of breast milk.
additionally, make sure once the baby has been weaned, it can be given a spoonful every day.

finally, panchamrut or panchamrit recipe prevents diseases and increases immunity.