pineapple upside down cake recipe | pineapple cake | upside down pineapple with detailed photo and video recipe. a unique and fancy tasty eggless cake recipe made with pineapple slices topped on top of baked pineapple or vanilla flavoured plum cake. it is a popular cake recipe not just because of it is taste, but also for the fact that the pineapple slices are topped and baked. it is a perfect dessert recipe which is not only liked by kids by all the age groups.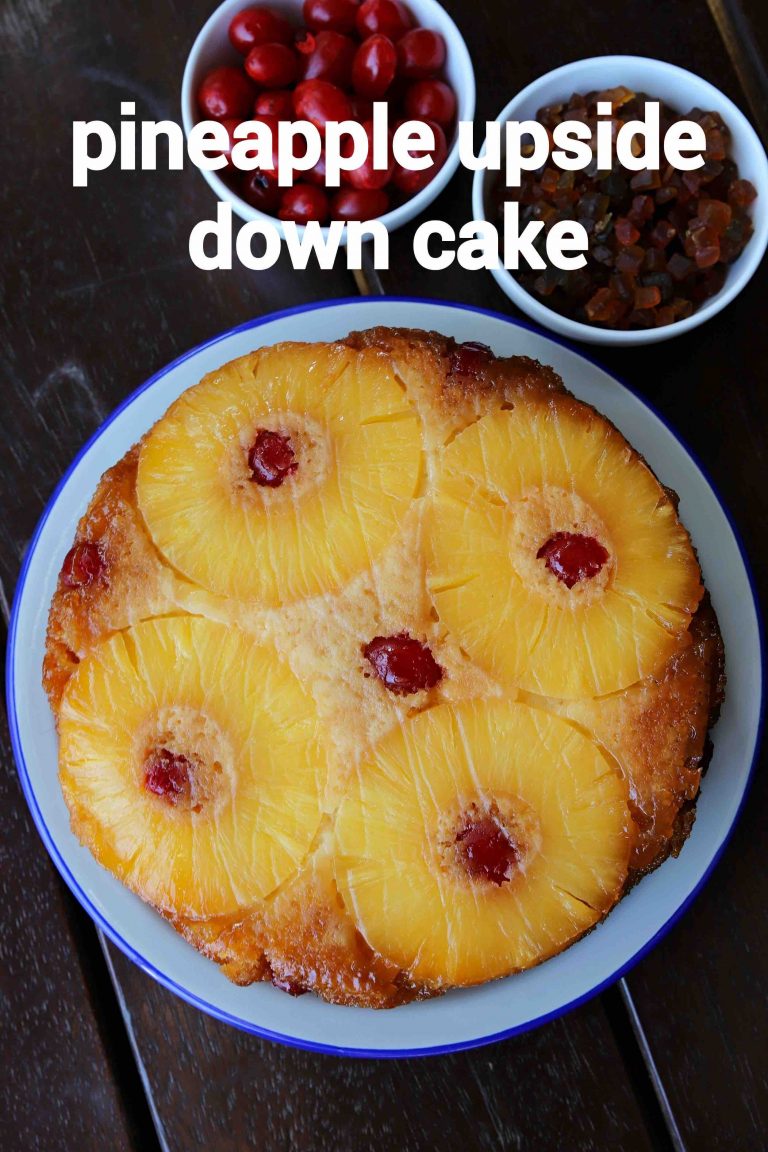 pineapple upside down cake recipe | pineapple cake | upside down pineapple with step by step photo and video recipe. eggless cakes recipes are extremely popular across india due to the fact that there are many strict vegetarian followers even without the use of egg yolk. it is typically made with baking soda and baking powder which helps to expand and also to hold the shape of cake recipe. one such easy and popular cake is pineapple upside-down cake recipe known for its pineapple flavour and taste.
if you have observed this cake recipe, the pineapple slices are topped on top this normal cake. but its not baked as its with slices on top of it. the slices are stacked to the base and side of the baking tray. once it is stacked, the cake batter is poured on top of it and baked as any cake. once the cake is baked, it is then served upside down with pineapple slices at the top of the cake. baking the pineapples slices at the bottom of the cake helps to release the juice of pineapple and also get infused to the cake. moreover, it also gets caramelized when it gets in touch with sugar syrup and thus forming an ideal and unique cake recipe. it feels like it is a simple and easy procedure, but takes extra precaution while preparing this cake recipe.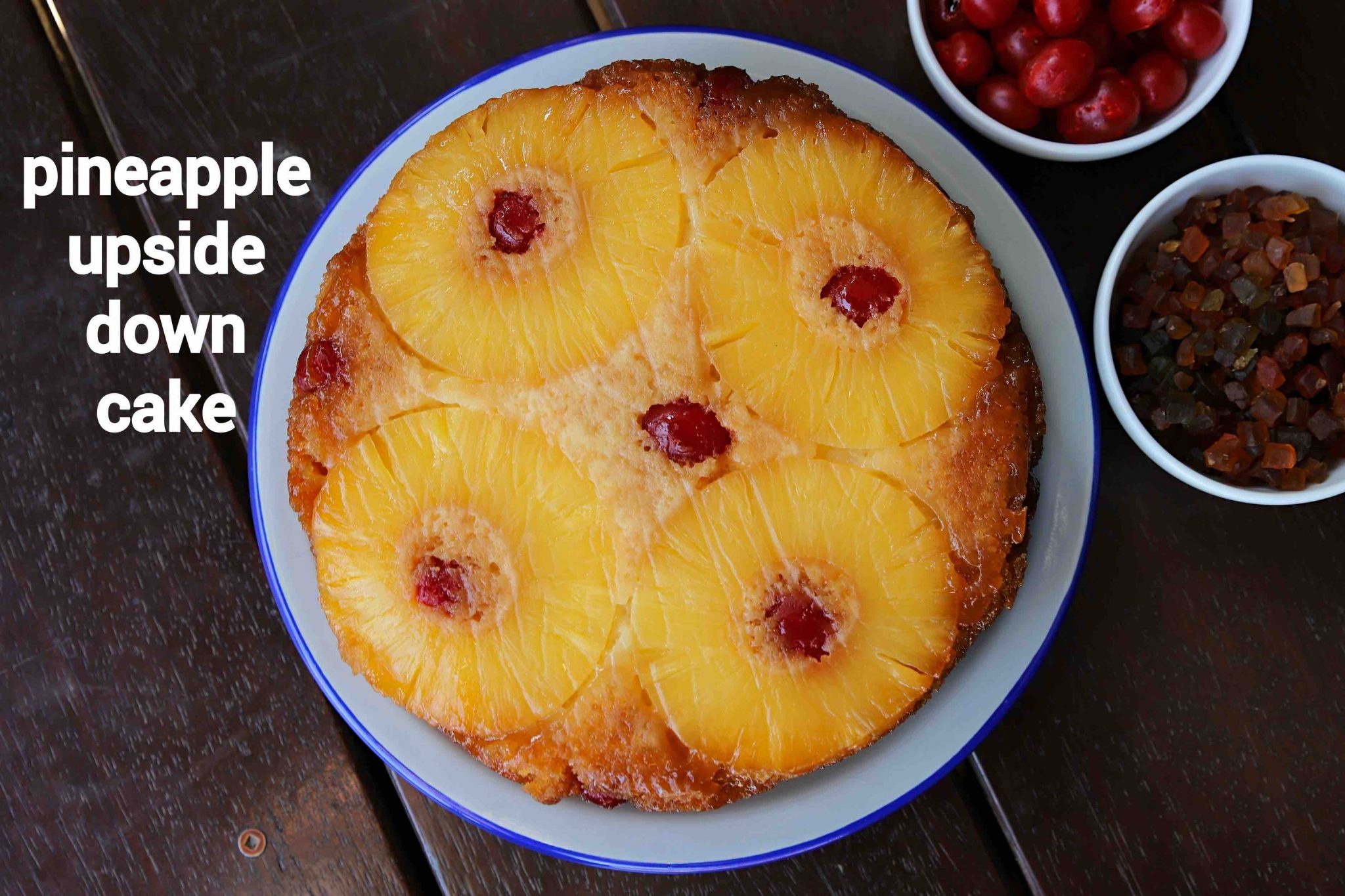 furthermore, i would also like to highlight some tips, suggestions and variations for a perfect pineapple upside down cake recipe. firstly, for this recipe, i would heavily recommend using fresh and juicy pineapple slices. yet i have used canned pineapple slices as i did not have access to the fresh one. the canned ones are sliced to the same size and hence it helps to stack and arrange in the baking tray. secondly, the most preferred cake batter for this recipe is the plain vanilla-flavoured cake or pineapple flavoured batter. do not try to attempt the cake with any other cake flavour as it may overpower the pineapple flavour. lastly, try to arrange the pineapple slices in a symmetric way so that it looks attractive. also fill in the gap with bright coloured cherry to make it even more attractive.
finally, i request you to check my other related eggless cakes recipes collection with this post of pineapple upside down cake recipe. it mainly includes recipes like chocolate swiss roll on pan, chocolate banana cake, bread cake, marble cake, cupcakes, chocolate mug cake, atta cake, banana cake, custard cake, banana bread. further to these i would also like to highlight my other related recipe categories like,
pineapple upside down cake video recipe:
recipe card for pineapple upside down cake recipe:
how to make pineapple cake with step by step photo:
caramel topping preparation:
firstly, in a pan take 2 tbsp butter and ¼ cup brown sugar.

cook on low flame until the sugar dissolves.

transfer the butter sugar mixture to butter paper lined cake pan. i have used cake pan of dia: 7 inch, height: 4 inch.

place 4 slices of pineapple over the sugar mixture. i have used canned pineapple slices, you can also use fresh pineapple slices.


also place 9 cherry in centre of pineapples. keep aside.

pineapple cake batter:
firstly, in a large bowl take ½ cup oil, 1 cup sugar, 1 cup milk, 1 tsp vinegar and 1 tsp pineapple essence.

whisk and mix well making sure the sugar is dissolved completely.


now place a sieve and add 2 cup maida, 1 tsp baking powder, ¼ tsp baking soda and pinch salt.

sieve the flour to prevent from any lumps.

mix well using cut and fold method.

mix to a thick cake batter consistency without any lumps.

transfer the cake batter to the prepared cake tin.

pat gently to remove any air incorporated.

now bake in a preheated oven at 180 degree celcius for 45 minutes.

bake until the toothpick inserted comes out clean.

cool completely and slowly unmould the cake peeling off the butter paper.

finally, enjoy pineapple upside down cake cutting into slices.

notes:
firstly, if you vegan then use water in place of milk.
also, do not over mix the cake batter as the cake turns chewy.
additionally, you can also add pineapple juice in place of milk for a deeper flavour.
finally, pineapple upside down cake recipe tastes great when prepared with lots of pineapple slices and cherry.