roti sandwich recipe | chapati sandwich | leftover roti panini with a detailed photo and video recipe. an interesting way of preparing a sandwich recipe with leftover roti or chapati bread. it is an ideal and tasty, kids friendly snack recipe which can be made in no time with basic ingredients available in any kitchen. it is typically made with leftover hard roti or chapati, but you can also use leftover naan and tandoori roti.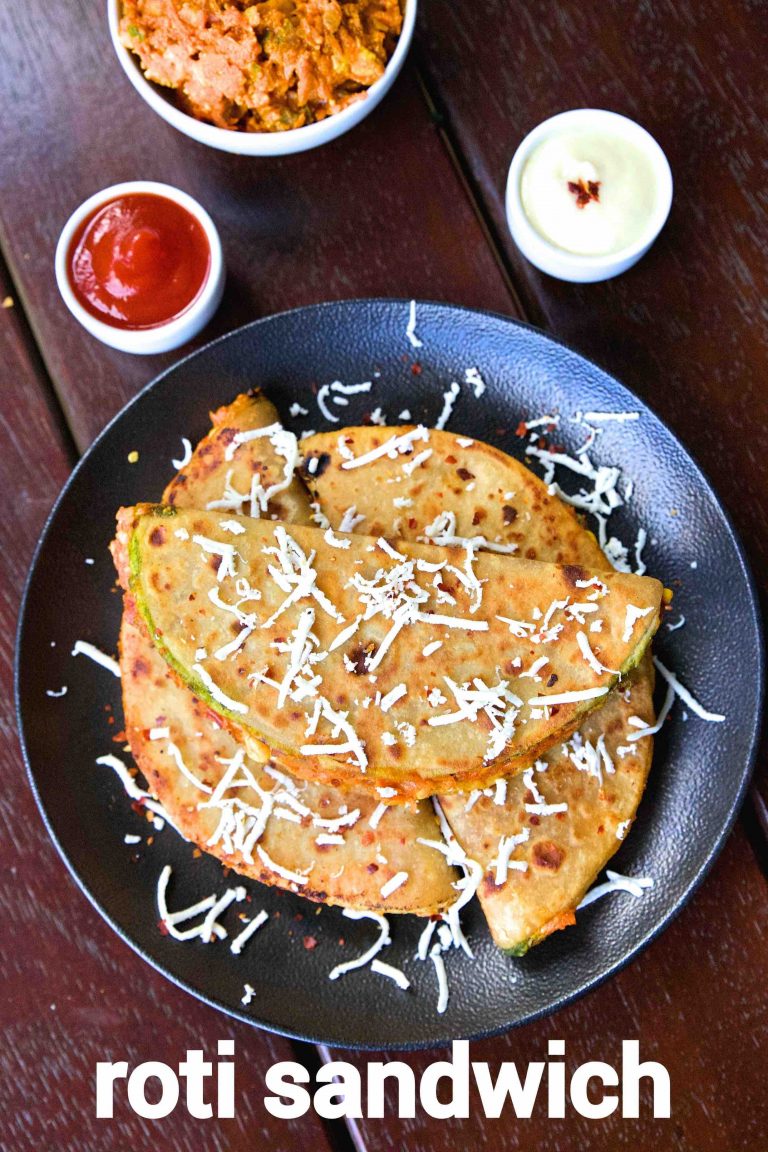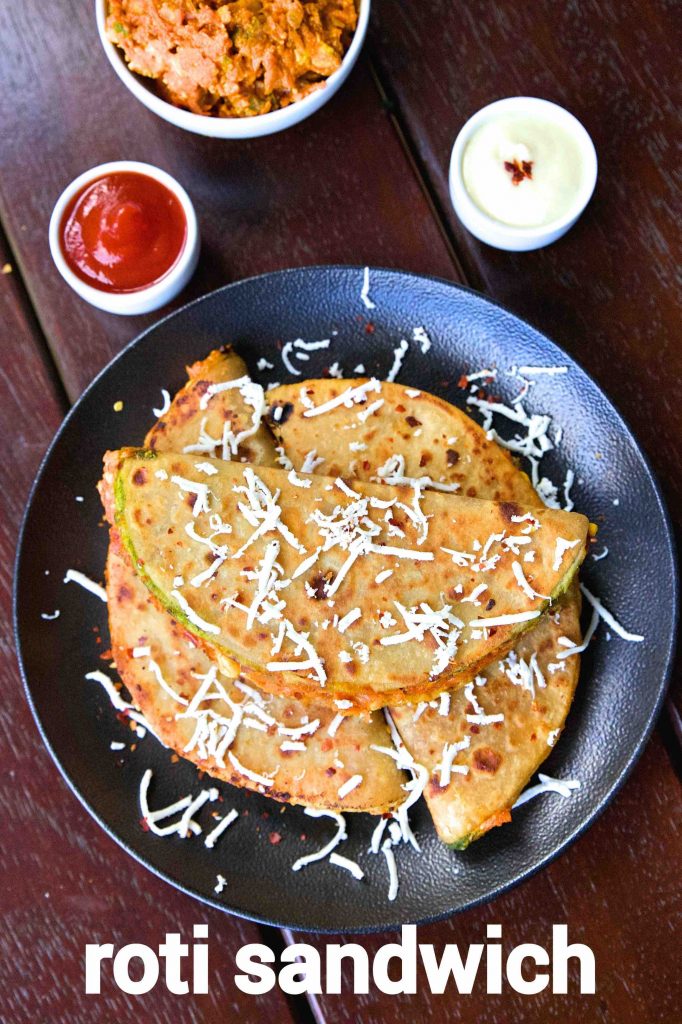 roti sandwich recipe | chapati sandwich | leftover roti panini with step by step photo and video recipe. sandwich recipes have always been one of the popular selections from all age groups. generally, it is made with sandwich bread slices, stuffed with myriad types of veggie or meat-based stuffing. having said that there are some unique fusion sandwich recipes and the roti sandwich is one such easy and simple sandwich recipe.
this recipe of the chapati sandwich is truly a leftover recipe. this is because the roti or chapati used for this recipe has to be slightly hard compared to fresh rotis. this is due to the fact that the stuffing used contains moist and when stuffed to fresh rotis it would turn soggy and mushy. most of the other leftover recipes can be made with freshly prepared hero ingredients, but this recipe truly demands leftover. moreover, the beauty of this recipe is its versatility. basically, you can make the same recipe with other leftover indian bread too. the ideal one is tandoori roti, garlic naan, and even kulcha. i have not tried with poori but may try with that too. it may not turn as crisp as roti, but worth a try to finish these deep-fried pooris.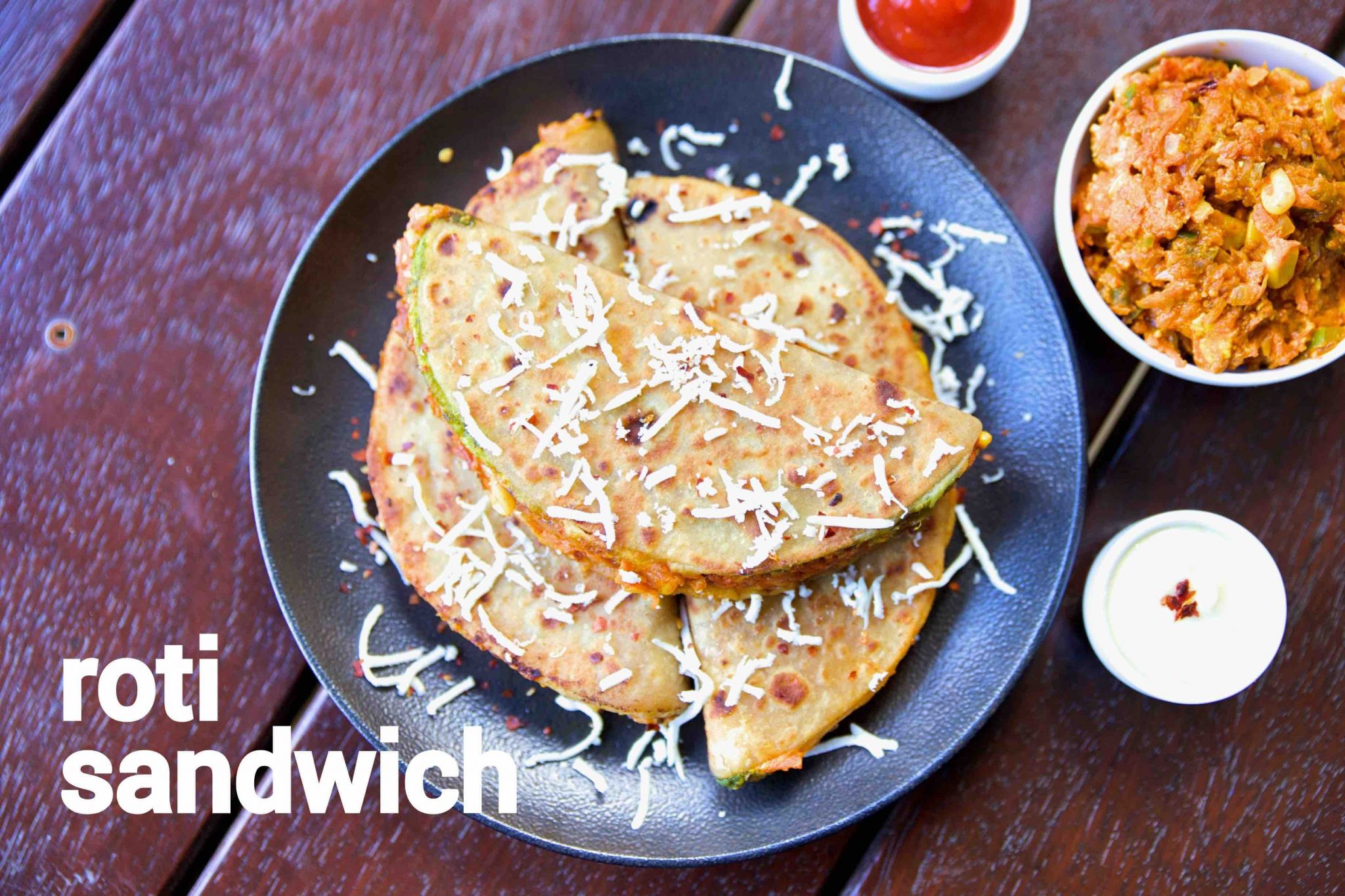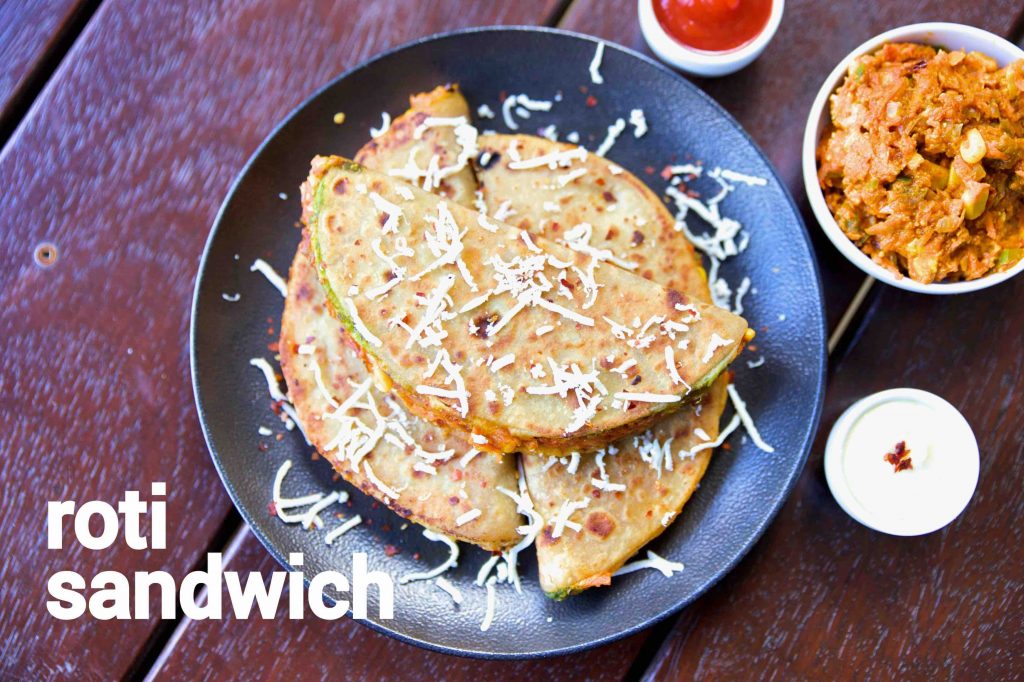 anyway, before i wrap up the recipe post, i would like to add a few more tips, suggestions, and variations to chapati sandwich recipe. firstly, the main ingredient for this recipe is roti and the selection of roti for this recipe is key for its success. you should use small to medium-sized hard rotis for a crisp sandwich. secondly, adding veggies to the stuffing is completely open-ended and you can add and experiment as per your imagination. however, you need to limit the quantity and also ensure to have finely chopped veggies. lastly, these sandwiches are ideal in taste and texture when served immediately. hence i would avoid packing it for tiffin or lunch box.
finally, i request you to check my other detailed sandwich recipes collection with this post of roti sandwich recipe. it mainly includes my other recipe variations like pin wheel sandwich, veg malai sandwich, club sandwich, veggie burger, mayonnaise cheese sandwich, aloo toast, chocolate sandwich, aloo masala grilled sandwich, chilli cheese sandwich, finger sandwiches. further to these i would also like to highlight my other recipe categories like,
roti sandwich video recipe:
recipe card for chapati sandwich recipe:
how to make roti sandwich with step by step photo:
firstly, in a large kadai or wok heat 2 tbsp oil and saute ½ onion, 1 tsp ginger garlic paste and 1 chilli. saute until onions shrink slightly.

now add 1 carrot, 4 tbsp cabbage, ½ capsicum and 3 tbsp sweet corn.

saute for a minute without overcooking vegetables.

further, add 1 tsp pav bhaji masala, ½ tsp salt, ¼ tsp turmeric and ½ tsp chilli powder.


saute for a minute or until flavours are well absorbed.

now add 3 tbsp paneer, 2 tbsp tomato sauce and 1 tsp chilli sauce.

mix well making sure everything is well combined. keep aside.


take leftover roti or chapati and spread ½ tsp green chutney on half of roti and ½ tsp of mayo on another half.

grate the cheddar cheese generously covering the roti.

now on one half spread in the prepared vegetable stuffing.

fold half and press gently without squeezing out the stuffing.

further, spread ½ tsp of butter on one side.

toast the roti sandwich on medium hot tawa.

make sure to spread butter on both sides of sandwich and toast to golden brown and crisp.

finally, enjoy roti sandwich with sauce or pack to the kids lunch box.

notes:
firstly, make sure to add vegetables of your choice to make a nutritious sandwich.
also, adding mayo makes sandwich creamy and tasty.
additionally, i have used orange coloured cheddar cheese, you can use cheese of your choice.
finally, roti sandwich recipe tastes great when served hot.