malai barfi recipe | malai burfi sweet | halwai style cream barfi with detailed photo and video recipe. a popular creamy fudge or barfi recipe made with full cream, paneer and condensed milk. it is a popular north indian dessert recipe which is typically made during the festival season to share with friends and family. there are many variations to this creamy barfi recipe, but this recipe post uses cottage cheese to get the desired texture.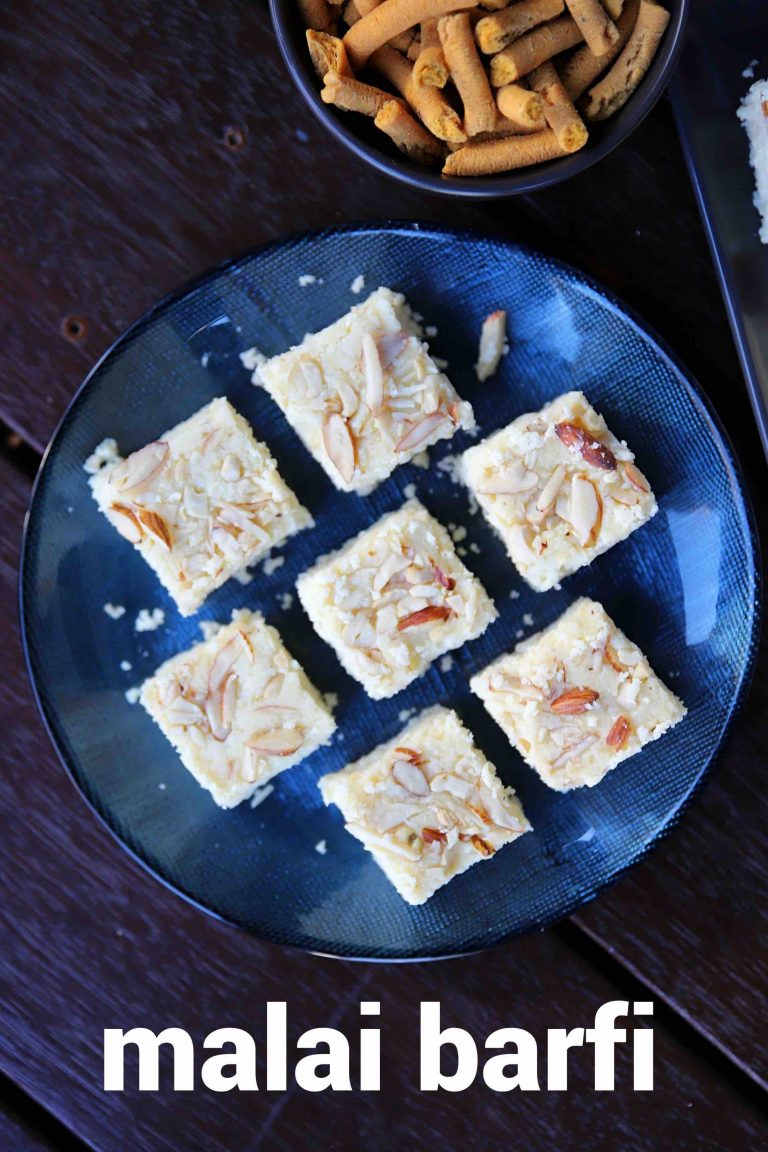 malai barfi recipe | malai burfi sweet | halwai style cream barfi with step by step photo and video recipe. barfi recipes have always been a common or a first preference when it comes to preparing any sweet. there are many ways and ingredients used to make these barfis which internally has many use cases. one such hugely popular and creamy barfi recipe is the malai barfi recipe known for its moist texture and creamy flavour.
traditionally, the malai barfi recipe is made just with cream which can be tiring and cumbersome process altogether. basically, the cream is evaporated till it reaches the semi-solid texture. the evaporation process can take a lot of time and also man-hours to mix and beat in the pan. hence in this recipe post, i have used moist and homemade paneer which makes the recipe a lot easier and achievable by any novice cook. in addition to that, i personally feel adding the paneer and khova combination makes it even creamier compared to the traditional one. i generally end up making this recipe whenever i have spoiled milk or some leftover paneer and serve it with our regular lunch or dinner.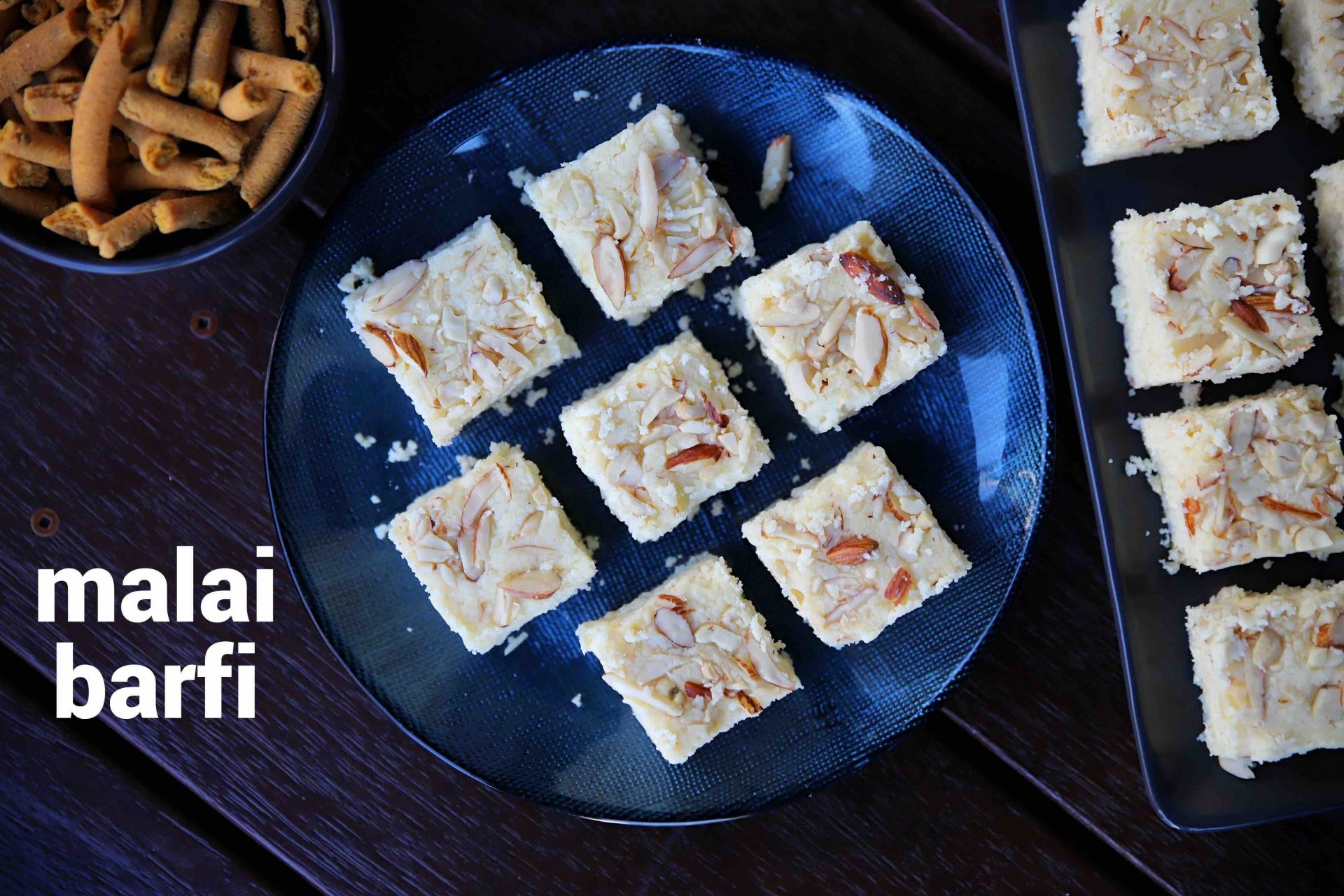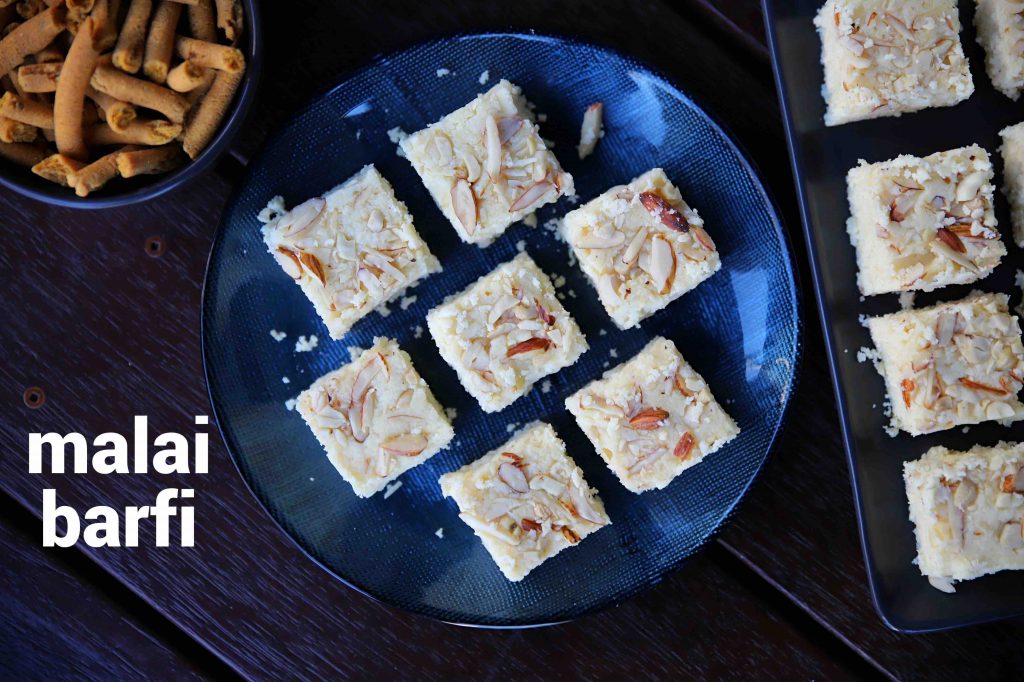 furthermore, i would like to highlight some of my tips, suggestions and variations for a creamy malai barfi recipe. firstly, in this recipe, i have added khoya or mawa with curdled milk or chenna. but you can limit yourself to cream and paneer which makes it an authentic malai burfi. the former way is more aligned to the kalakand recipe. secondly, there is a subtle difference between milk cake and malai barfi. in milk cake, you would end up having the resting time of evaporated mixture which would help to give dark colour at the centre of barfi. you do not have such process in this recipe. lastly, you can add any choice of finely chopped dry fruits as its topping. i have added a combination of cashew and badam which should be ideal.
finally, i request you to check my other detailed indian sweet recipes collection with this post of malai barfi recipe. it mainly includes recipes like rasmalai, rasmalai with milk powder, bread rasmalai, malai ladoo, aate ki barfi, mango burfi, kesar burfi, kaju katli, coconut burfi, pista badam barfi. further to these i would also like to highlight my other detailed recipes collection like,
malai barfi video recipe:
recipe card for malai burfi sweet recipe:
how to make malai barfi with step by step photo:
paneer preparation:
firstly, prepare paneer by boiling 2-litre milk.

once the milk comes to a boil, add 2 tbsp lemon juice. you can alternatively add curd or vinegar.

stir well on medium flame until the milk curdles.

drain the curdled milk over a cloth-lined over a colander. you can use the leftover water to make soup or knead the dough as they are very nutritious.


rinse off the curdled milk with fresh water to remove sourness from lemon juice.

squeeze off the water completely and rest for 10 minutes or until the water is drained off completely.

instant khova preparation:
meanwhile, prepare mava by heating 1 tsp ghee, ½ cup cream and ¼ cup milk.


now add 1 cup full cream milk powder.

keeping the flame on low, stir continuously until the mixture starts to thicken.

after 5 minutes, the mixture starts to separate from the pan. keep mixing until it forms a lump. finally, instant khoya (approx 1.5 cup) is ready.

malai barfi preparation:
now add 1 cup condensed milk and mix well. do not add any extra sugar as condensed milk contains sweetness.

mix until mawa is well combined with milkmaid.

crumble the paneer prepared. you can also grate store brought paneer.

add the crumbled paneer (1.5 cup) to the mixture mix well.

mix and mash until the mixture turns smooth.

continue stirring until the mixture thickens completely.

keep stirring until the mixture starts to separate pan and hold shape.

further, add ¼ tsp cardamom powder and mix well.

transfer the prepared mixture into a greased plate lined with baking paper. alternatively, prepare balls to prepare malai ladoo.

set well forming a block. top it with chopped cashew nuts, almonds and press gently.

allow to refrigerate for 2 hours, or till it sets completely.

now unmould and cut into pieces.

finally, serve malai burfi or store in an airtight container for a week in the refrigerator.

notes:
firstly, use fresh homemade paneer for juicy and tasty barfi.
also, cook on low flame stirring continuously to prevent from burning.
additionally, use good quality milk powder else the burfi will turn chewy.
finally, malai barfi tastes great when fresh cream is added.