aam papad recipe | mango papad | aam ka pappad recipe with detailed photo and video recipe. a traditional and authentic sun-dried mango pulp recipe served as confectionery or condiments. the recipe is very simple and easy to make as it does not contain any complicated ingredients. but can be time-consuming as the concentrated mango pulp with sugar is sun-dried with intense sun heat to form a leathery texture.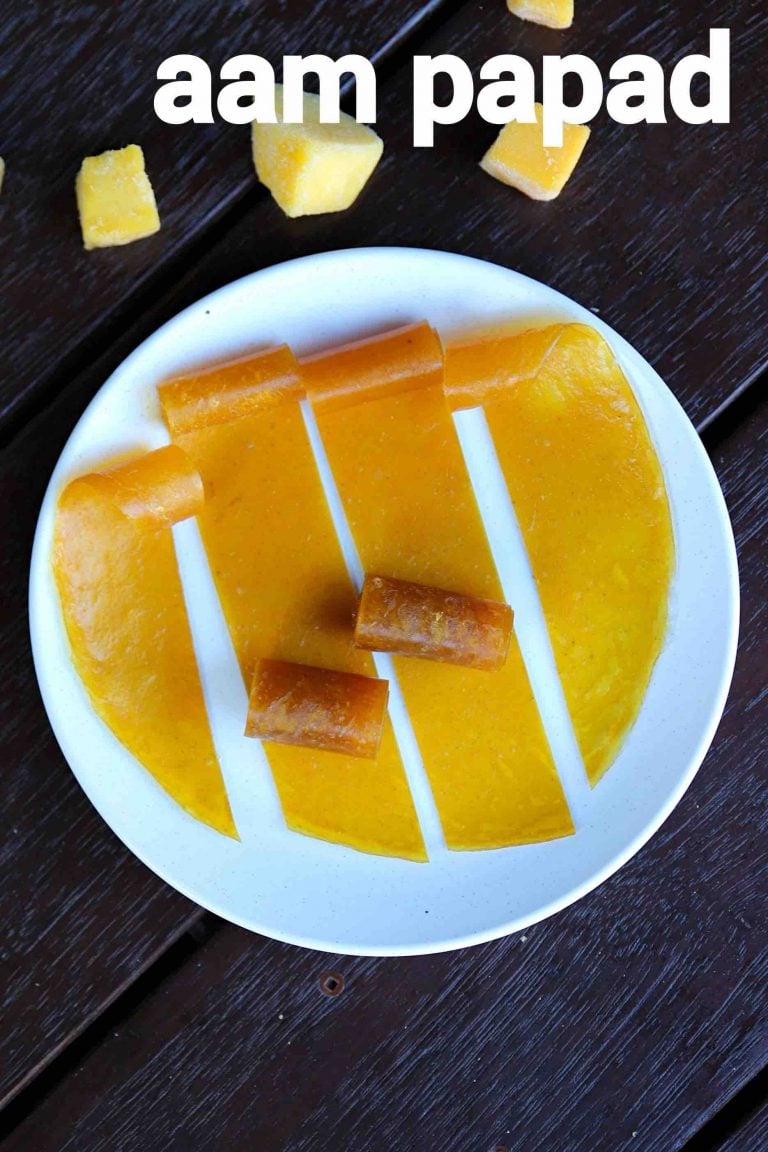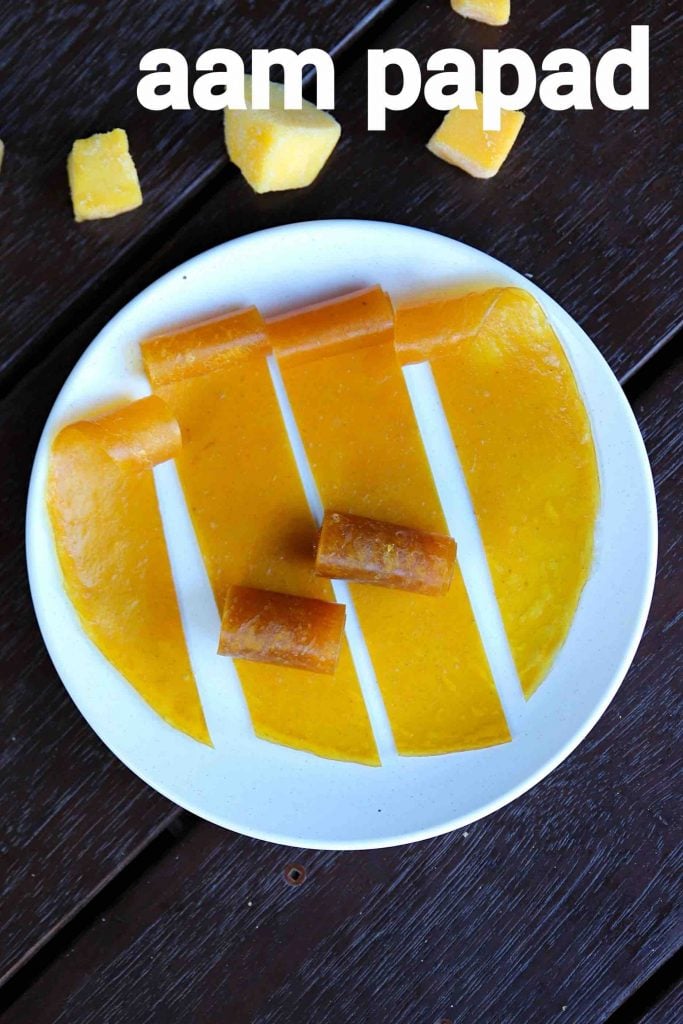 aam papad recipe | mango papad | aam ka pappad recipe with step by step photo and video recipe. indian cuisine known for its traditional recipes made with locally available fruits and vegetables. some fruits and vegetables are seasonal and hence its recipes are preserved to be used in the next upcoming season. one such hugely popular traditional recipe is aam papad or mango pappad recipe yielding a fruit leather textured condiments.
as i previously mentioned, the recipe for aam papad recipe is very simple and easy. more importantly, it does not require any complicated ingredients and can be made with almost any mangoes. in this recipe, i have used frozen sweet mangoes which is very similar to the alphonso mangoes. in addition, the only other ingredients used in this recipe is sugar or sugar syrup. basically adding sugar not only helps to sweeten the papad but also helps to shape the papad. having said that it might be time-consuming to get the end result. in other words, it requires a significant amount of solar heat to dry and transform into papad from the pulp.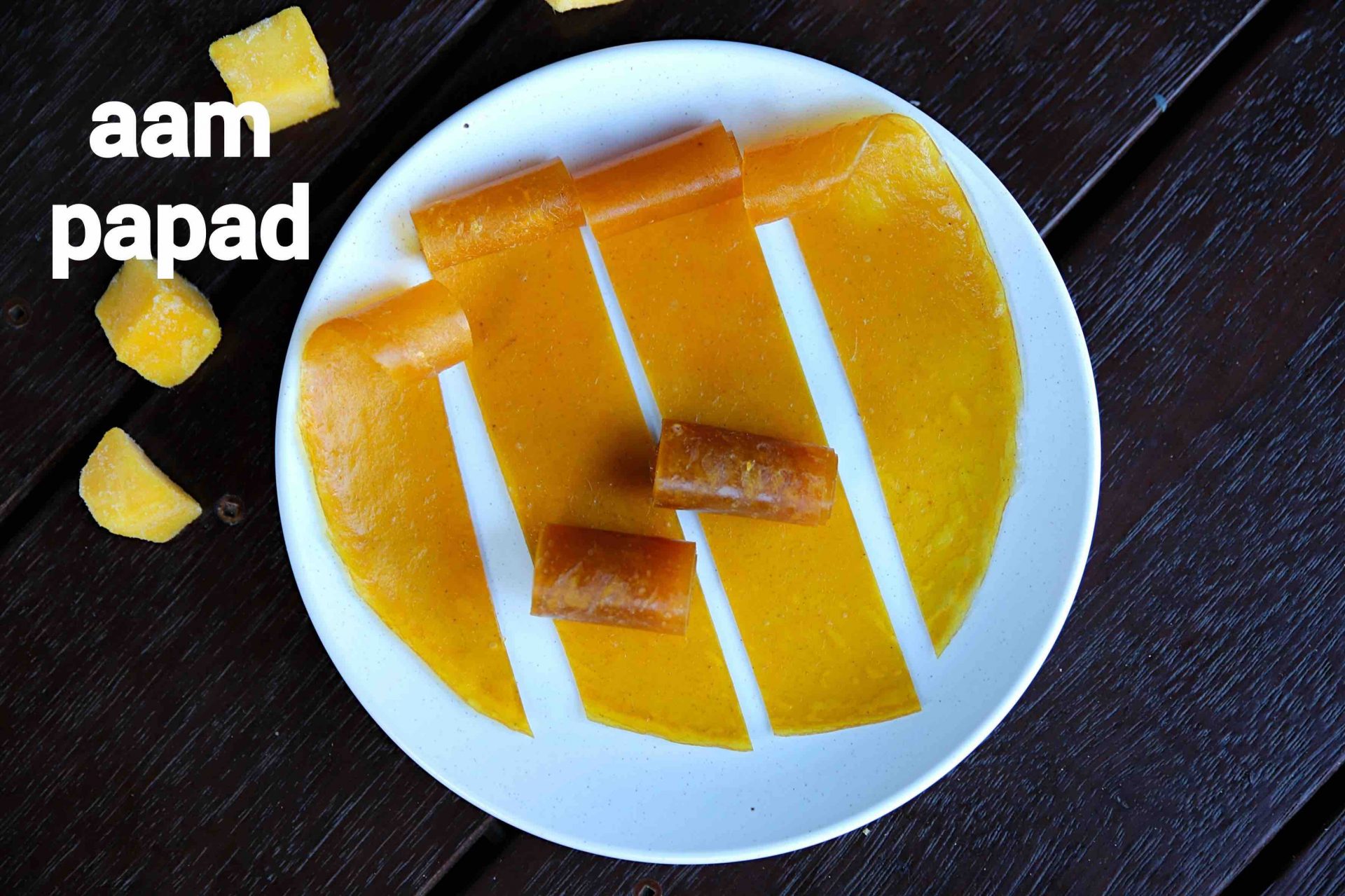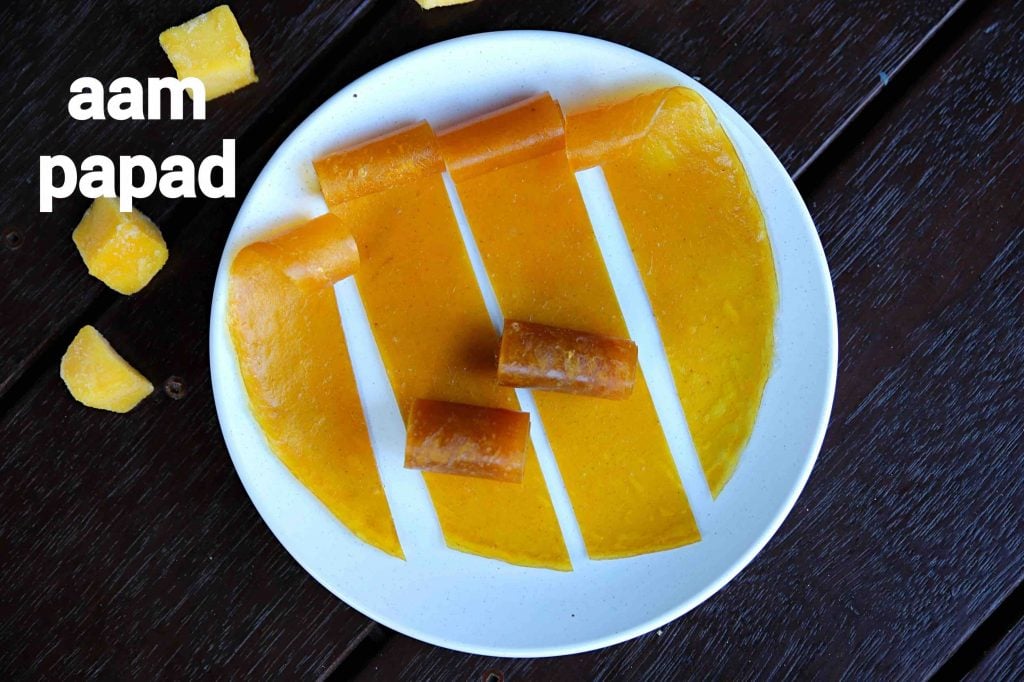 anyway, some additional tips, suggestions and variations for a perfect aam papad recipe or mango papad recipe. firstly, there isn't any shortcut for the sun drying step. having said that, you can use the baking oven to hasten the process. basically, once you have placed the papad in the sun during day time, you can place it in a preheated oven during the night. secondly, you can use any popular mangoes for this recipe and there isn't any hard and fast rule for selecting mangoes. as a matter of fact, you can also use store bought mango pulp for this recipe. lastly, the thickness of aam ka pappad entirely depends upon the quantity of mango pulp poured on the tray. but note that as thickness increases the sundry time increases too.
finally, i request you to check my other traditional cooking tips tricks methods with this post of aam papad recipe. it mainly includes recipes like how to make paneer, tutti frutti recipe, how to make thick curd, coconut cookies, nankhatai, thekua, chocolate chip cookies and peanut butter cookies. in addition, i would like to add my other related recipes collection like,
aam papad video recipe:
recipe card for aam papad recipe:
how to make mango papad with step by step photo:
firstly, in the blender take 2 cup mango and 2 tbsp sugar.

blend to smooth paste without adding any water.

transfer the mango puree to the kadai and begin to cook.

stir continuously and cook on medium flame until it thickens well.


now add ¼ tsp cardamom powder and mix well.

further, brush ½ tsp ghee on a steel plate.

transfer the puree onto the plate and spread uniformly.


sundry for 2 days or a week, until it turns translucent.

scrape the sides using the knife. peel gently without damaging the aam papad.

finally, cut into the desired shape and roll aam papad.

notes:
firstly, adding sugar is optional. adjust the sugar depending on the sweetness.
also, grease the plate else it will be difficult to peel.
additionally, sun-drying depends on the climate, so more or less time varies.
finally, aam papad recipe stays good for months when sun-dried properly.