biryani gravy recipe | biryani shorba | gravy for biryani | sherva recipe with detailed photo and video recipe. a spicy and rich gravy sauce of curry made with coconut, sesame and peanuts. the sauce is generally served as a side dish to hyderabadi style dum biryani variants where rice is cooked in layers. the biryani shorba is mixed with layered rice which would help to spread the spice evenly across the biryani rice.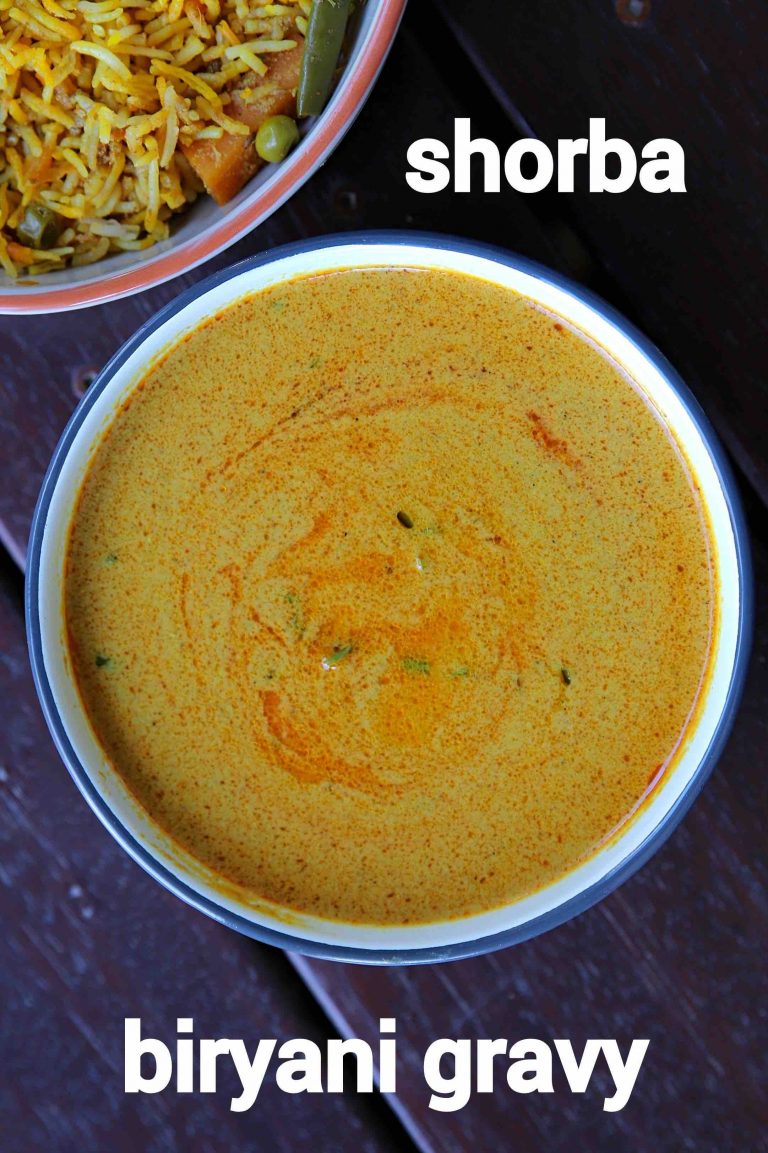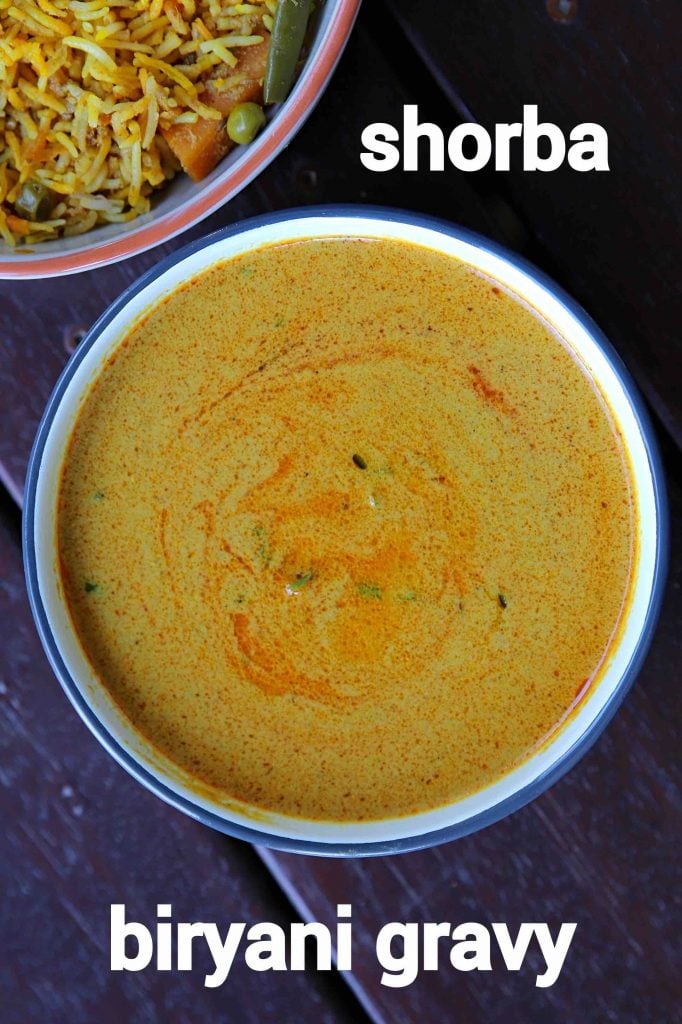 biryani gravy recipe | biryani shorba | gravy for biryani | sherva recipe with step by step photo and video recipe. biryani recipes have become one of the popular and national food lately. there are hundreds and thousands of variation to it and also the way it is served which mainly depends upon the region and demography. one such variant is dum biryani which is served with a spicy gravy sauce known as biryani gravy recipe.
i am an ardent follower of biryani recipes and as a matter of fact, it is one of the frequently prepared dishes for our lunch and dinner. we both personally like dum style cooked biryani with biryani rice and its biryani gravy are cooked in layer or dum style. having said that, i simply relish my biryani with an onion and tomato salad or raita, but my husband enjoys it when it is served with biryani gravy recipe or biryani shorba. his rationale is mainly about the dum style where there are more plain rice and the gravy for biryani helps to spread the spice and flavour evenly. to be honest, i second his argument, but after preparing the biryani itself, i feel lethargic to make extra side dish. yet, this gravy can be made well ahead in advance and can be served whenever it is required.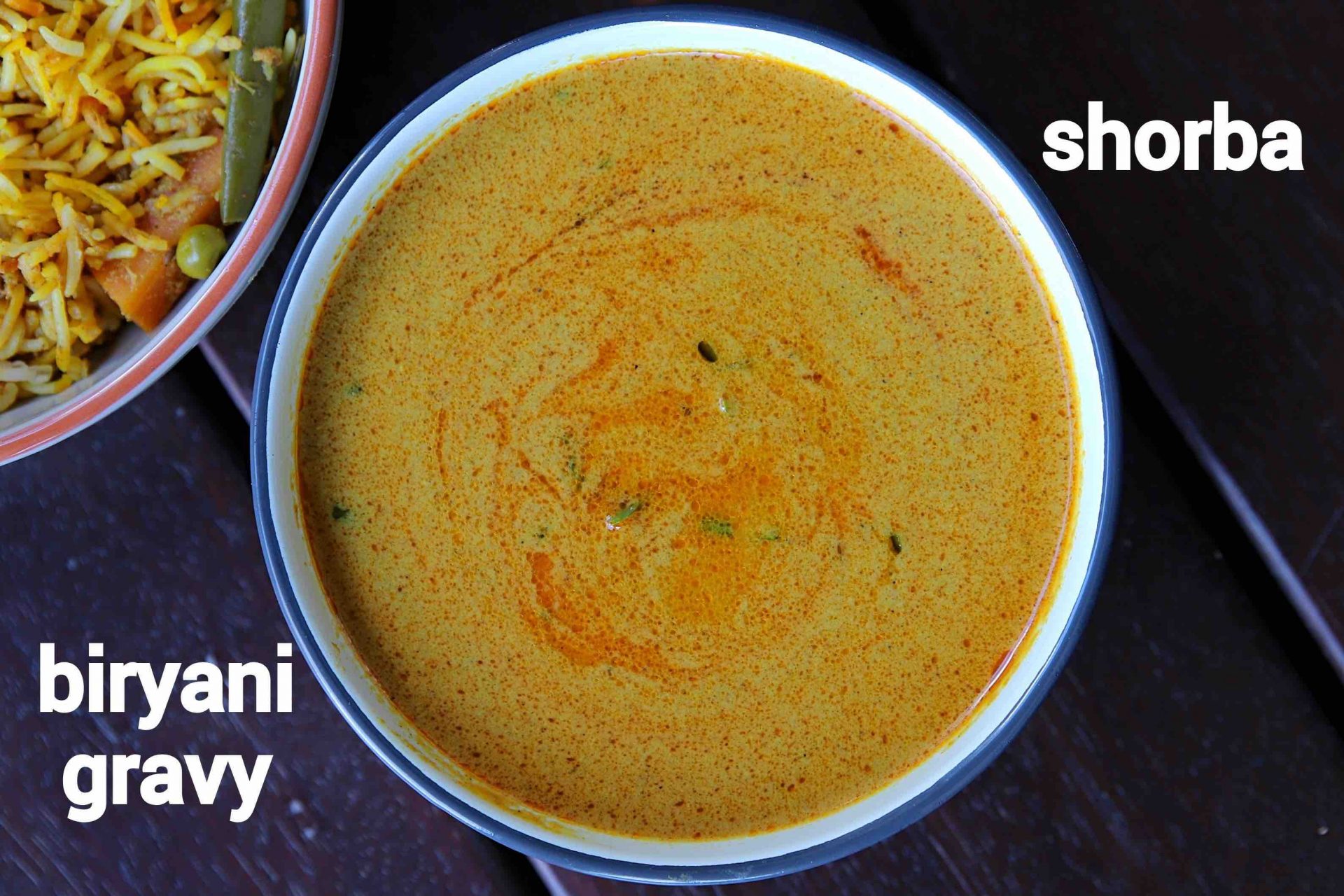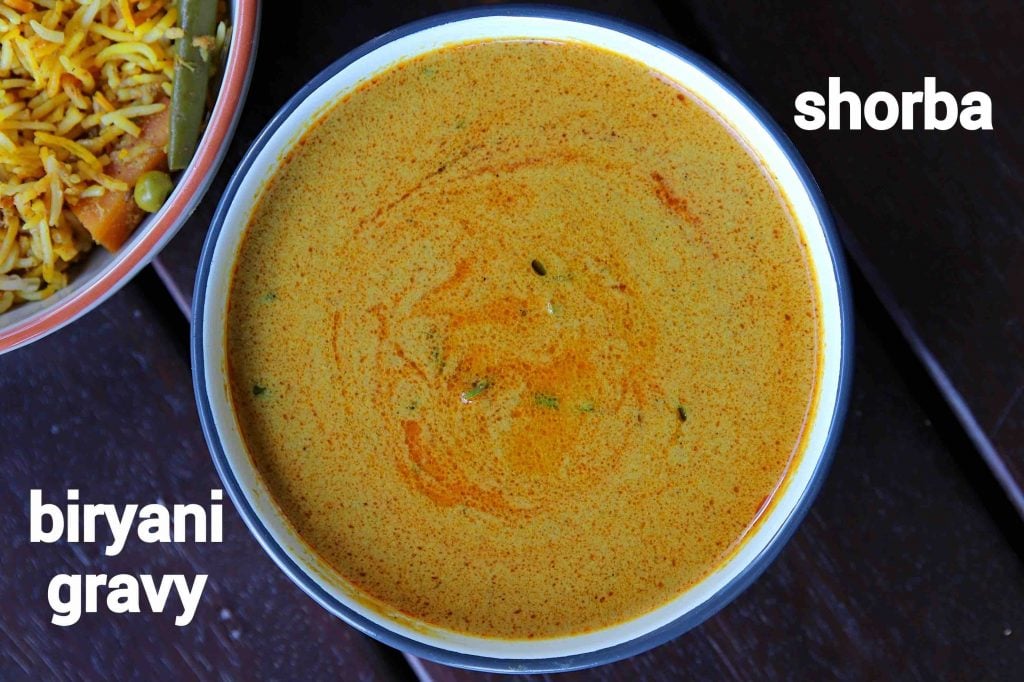 anyway, before wrapping it up, some of the tips, suggestions and variants for a perfect biryani gravy recipe. firstly, the gravy is a multipurpose curry and it is not just limited to biryani rice. as a matter of fact, you can use the gravy for malabar parotta, paratha, roti, pulao and for any rice recipes. secondly, you can extend the recipe by adding your choice of veggies. in fact, you can add veggies like mushroom, capsicum, eggplant and also jalapeno. lastly, the gravy can be made well ahead in advance and you can preserve is the refrigerator. you may have to reheat before serving it as a side dish.
finally, i request you to check my other popular curry recipes collection with this post of biryani gravy recipe. it mainly includes recipes like bhindi ka salan, aloo shimla mirch ki sabji, paneer tikka masala, paneer bhurji gravy, soya chaap, mushroom curry, paneer capsicum, dahi bhindi, bhindi masala, corn curry. further to these i would also like to highlight my other detailed recipes collection like,
biryani gravy video recipe:
recipe card for biryani shorba recipe:
how to make biryani gravy with step by step photo:
firstly, to prepare masala roast 2 tbsp peanut until the skin separates.

also roast 2 tbsp sesame, 2 tbsp dry coconut on low flame until it turns golden.

cool completely and transfer to the blender.

in a pan heat 2 tsp oil and saute ½ onion, 1 tsp ginger garlic paste.


also saute 1 tomato and 2 tbsp mint.

saute until the tomatoes turn soft and mushy.

cool completely and transfer to the same blender.


add ½ cup water and blend to smooth paste. keep aside.

in a large kadai heat 2 tbsp oil and saute 1 tsp cumin, 1 inch cinnamon, 2 pods cardamom and 1 bay leaf.

add in prepared masala paste and saute for 3-4 minutes.

now add ¼ tsp turmeric, ¾ tsp chilli powder, ½ tsp coriander powder, ¼ tsp cumin powder, ½ tsp garam masala and ¾ tsp salt.

saute until the oil is separated from masala paste.

further add 2 cup water and mix well.

cover and boil for 10 minutes or until oil starts to float.

notes:
firstly, make sure to roast the spices on low flame to prevent from burning.
also, adjust the consistency of gravy to your preference.
additionally, you can fry capsicum, bhindi or chilli and add to gravy.
finally, biryany gravy or shorba tastes great when prepared with good amount of oil.