choco lava cup cake recipe – parle-g biscuits in kadai | choco lava cake in mug with detailed photo and video recipe. an easy and simple eggless no oven lava cake recipe made with parle-g biscuits in kadai. basically an extension to the lava cake recipe made without the use of cake or plain flour. it is an ideal dessert and can be easily attempted by almost everyone as it is baked in kadai with any biscuits base.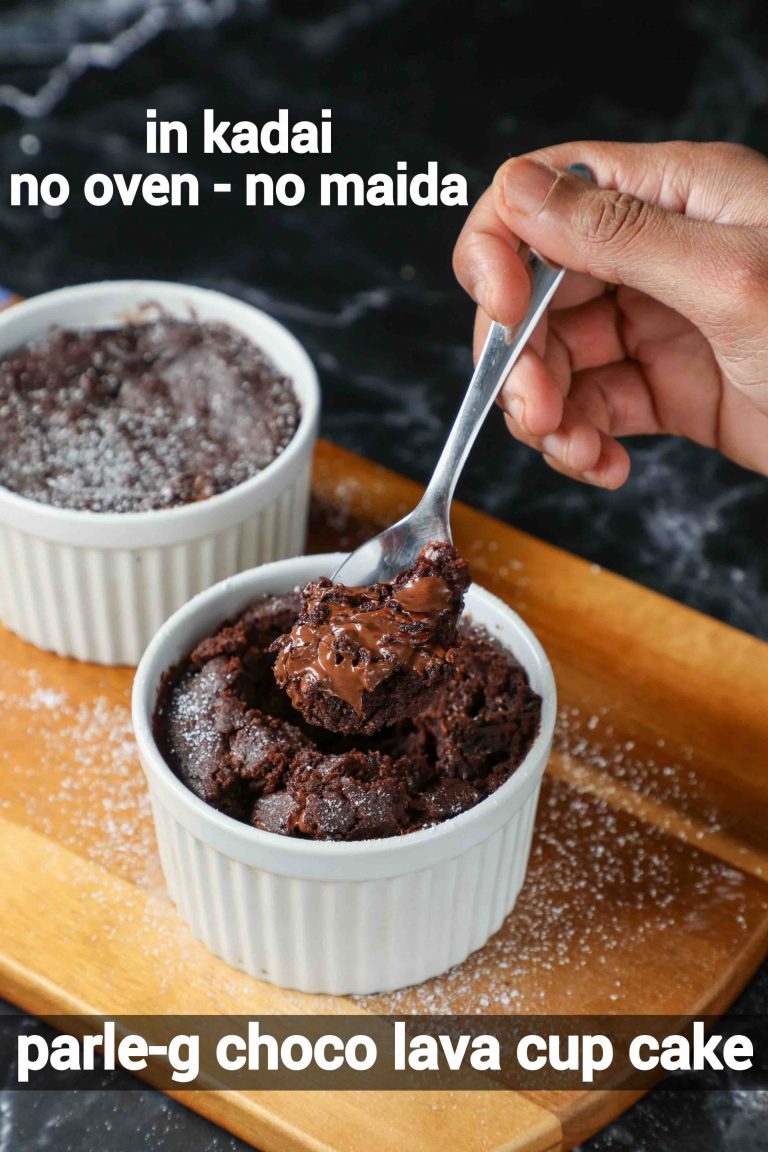 choco lava cup cake recipe – parle-g biscuits in kadai | choco lava cake in mug with step by step photo and video recipe. eggless cakes recipes are always one of the popular recipes among all age groups. there are different types of eggless cakes can be made, but the popular one among young age groups is molten lava cake. it is typically made with plain flour in an oven or microwave, but this recipe is made in stovetop kadai.
i am a huge fan of lava cake recipes and it is one of the frequent cakes i order from dominos. particularly the molten lava, which erupts when you scoop with a big spoon. however, the dominos version is not a lava cake, but it is known as souffle. it has a delicate texture and does not have cake-like soft and porous texture. also, you may need to careful with some of the souffle recipes, as they are generally made with egg. therefore i thought of sharing an eggless lava cake with a biscuit base. because i already have shared the traditional eggless choco lava cake with cake flour. also, i wanted something, simple no oven no microwave recipe. with kadai, it may take slightly more time to bake, but it is still a worth try.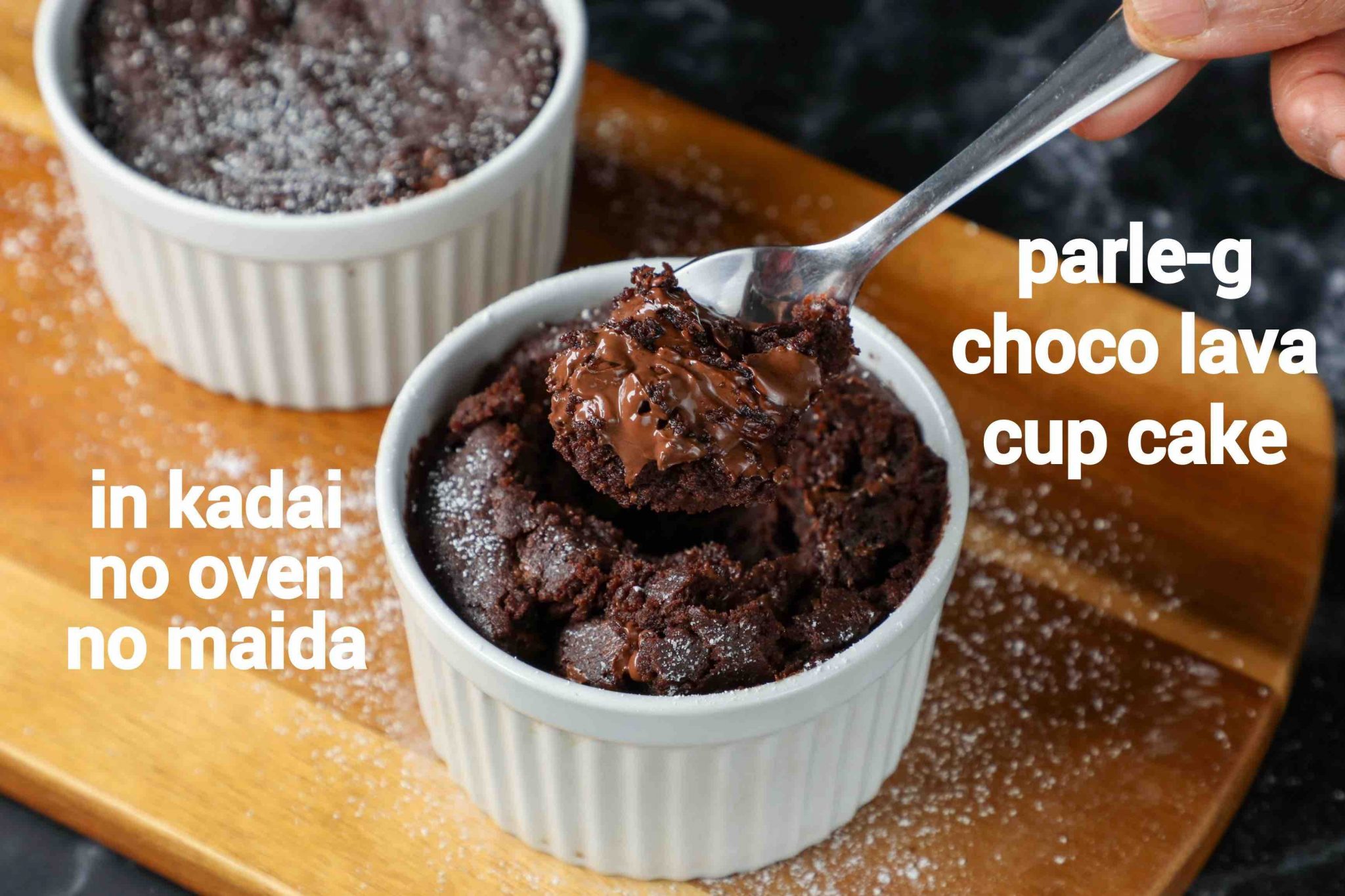 furthermore, some important and critical tips, suggestions and variations to a moist choco lava cupcake recipe. firstly, in this recipe, i have used parle-g biscuit to prepare the cake batter. you may use any biscuit base, for instance, oreo or marie biscuits are ideal. secondly, you may need to check the sugar addition as the biscuits already contain sugar in it. i have added 2 tbsp of sugar, and it should be ideal for most of the biscuit variations. lastly, it may take a while to bake with kadai. you may remove it when you see almost baked. this is because we are using a biscuit base which is already cooked and we can consume it without any issues.
finally, i request you to check my other related eggless cakes recipes collection with this post of choco lava cupcake recipe. it mainly includes my other related recipes like, no bake swiss roll, moist chocolate cake in cooker, mug cake in pressure cooker, chocolate swiss roll on pan, chocolate banana cake, marble cake, chocolate mug cake, eggless chocolate cake, brownie, chocolate cup cake. further to these i would also like to mention my other recipe categories like,
choco lava cup cake – parle-g biscuits in kadai video recipe:
recipe card for choco lava cup cake – parle-g biscuits in kadai recipe:
how to make choco lava cake in mug with step by step photo:
firstly, in a blender take 180 grams parle-g biscuit and blend to a fine powder. make sure to blend in batches to avoid any pieces of biscuit. keep aside.

in a large bowl, using double boiler method melt 1 cup dark chocolate and 1 tsp butter.

stir and melt until the chocolate melts completely. you can alternatively melt the chocolate in the microwave.

now add powdered biscuit, 2 tbsp sugar, ¼ tsp baking powder and ½ cup milk.


mix well-adding milk as required forming a smooth batter.

to bake the cake in oven or kadai, make sure to preheat for 5 to 10 minutes.

take small ramkein and add half the cup of batter.


drop 4 pieces of dark chocolate pieces into it.

cover the chocolate pieces with cake batter.

place the cups in the kadai and cover.

cook for 10 minutes, on medium flame. or you can bake at 180-degree celcius for 10 minutes. or microwave for 2 minutes.

finally, sprinkle powdered sugar and enjoy parle-g choco lava cup cake.

notes:
firstly, make sure to use slightly harder chocolate pieces, else they melt and combine with cake batter.
also, you can use biscuit of your choices like oreo, marie or any digestive biscuits.
additionally, do not over bake, else there are chances for the chocolate to dry out.
finally, parle-g choco lava cup cake recipe tastes great when prepared with good quality of chocolate.