custard milkshake recipe | custard badam milkshake | custard ice cream milkshake with detailed photo and video recipe. an easy and refreshing beverage drink recipe made with custard milk, ice cream and almond powder. it is one of the popular milk-based drink made especially during the holy month of ramadan for iftar feast. but it can also be shared as a dessert drink or beverage for any occasion.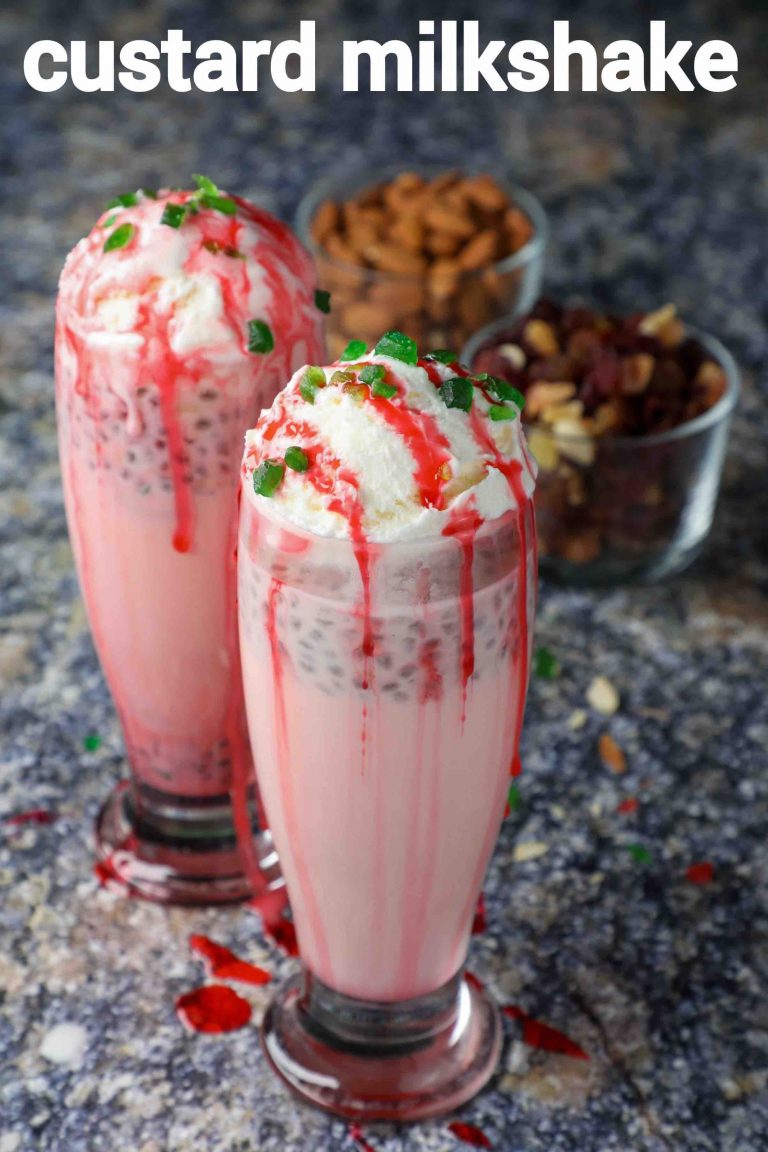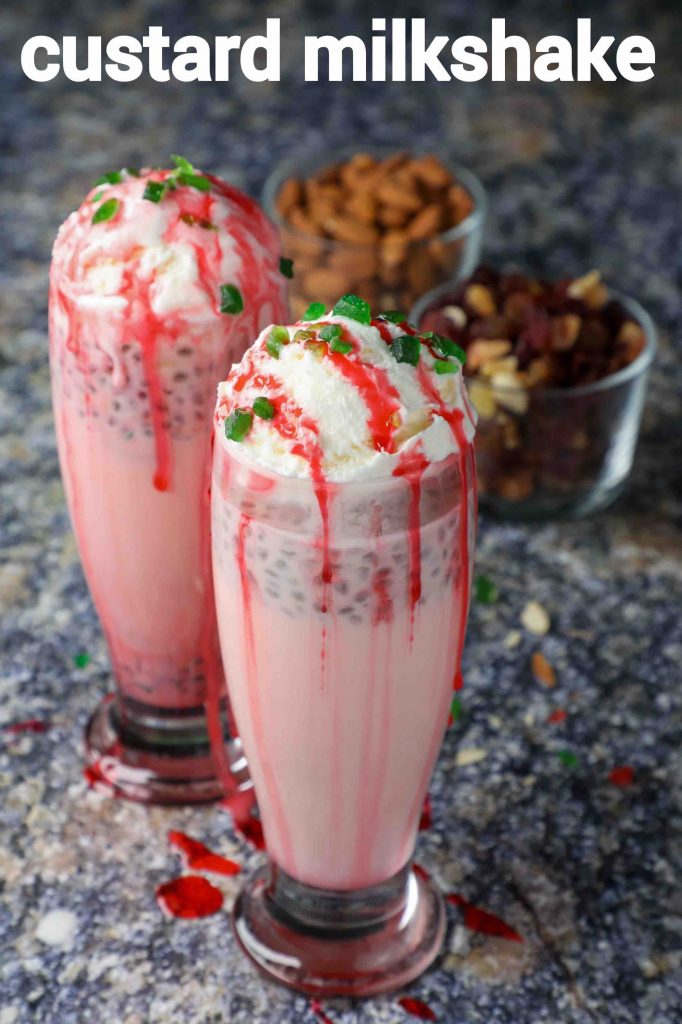 custard milkshake recipe | custard badam milkshake | custard ice cream milkshake with step by step photo and video recipe. custard-based recipes are typically served as a dessert with toppings from different fruits. it can also be used to make other types of desserts which are generally in solid-state. the less commonly known beverage recipe from custard is the custard milkshake loaded with milk, ice cream and thick custard sauce.
i always wanted to post this refreshing beverage drink. but it was always getting sidetracked with other popular custard recipes. this time, i was having some about to expire custard powder and i was desperate to prepare some recipe out of it. moreover, i did not have much quantity so experimenting was not an option and i wanted some easy and proven recipe. hence i chose a simple milkshake recipe using custard powder. whenever i make a fruit salad with custard, i finish it off with this recipe with any leftover. basically, the prepared thick custard is mixed with chill milk, ice cream and blended to a thick shake. on top of it, i have added extra toppings like sabja seed, rose water to make it more attractive and presentable.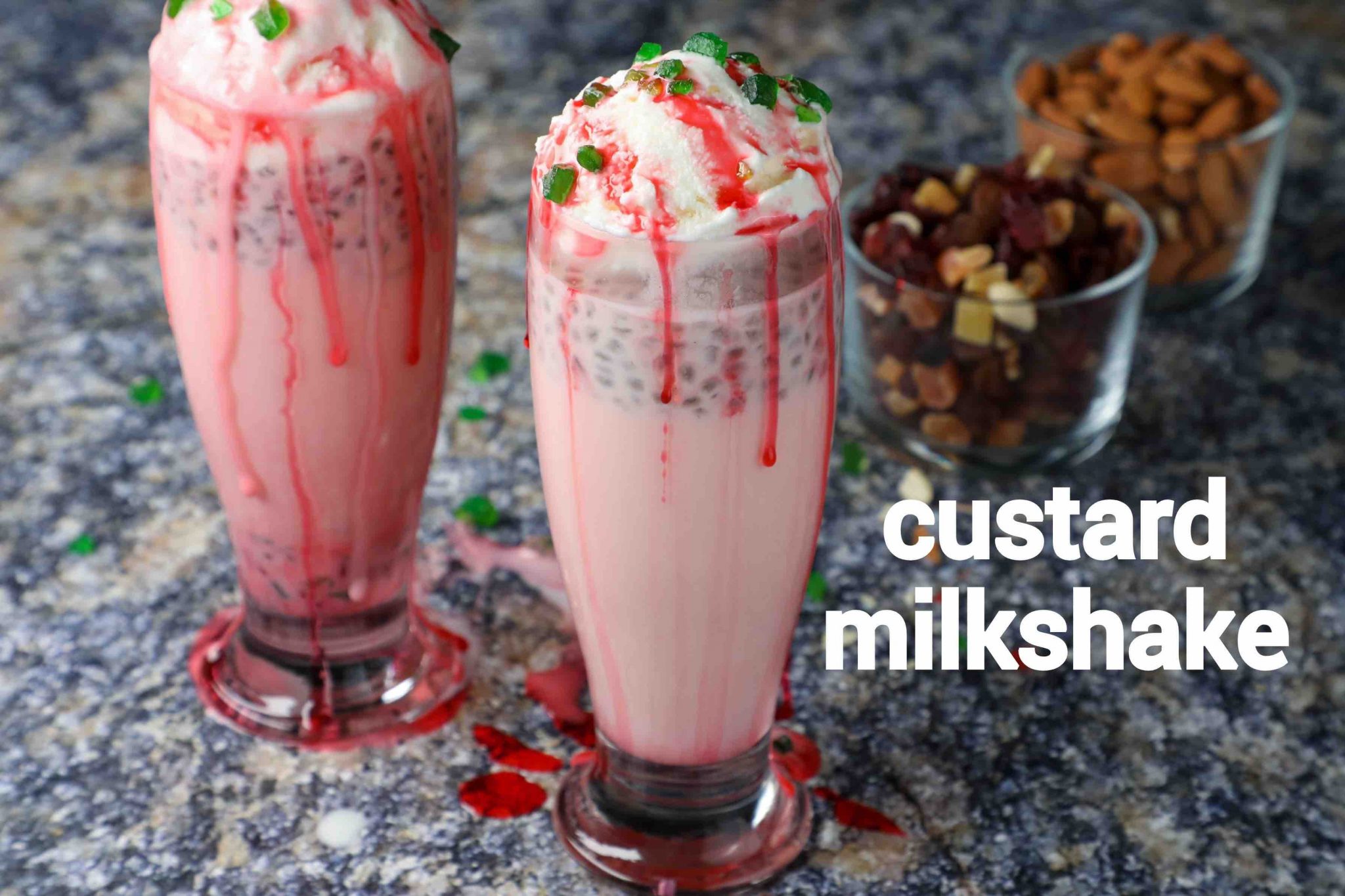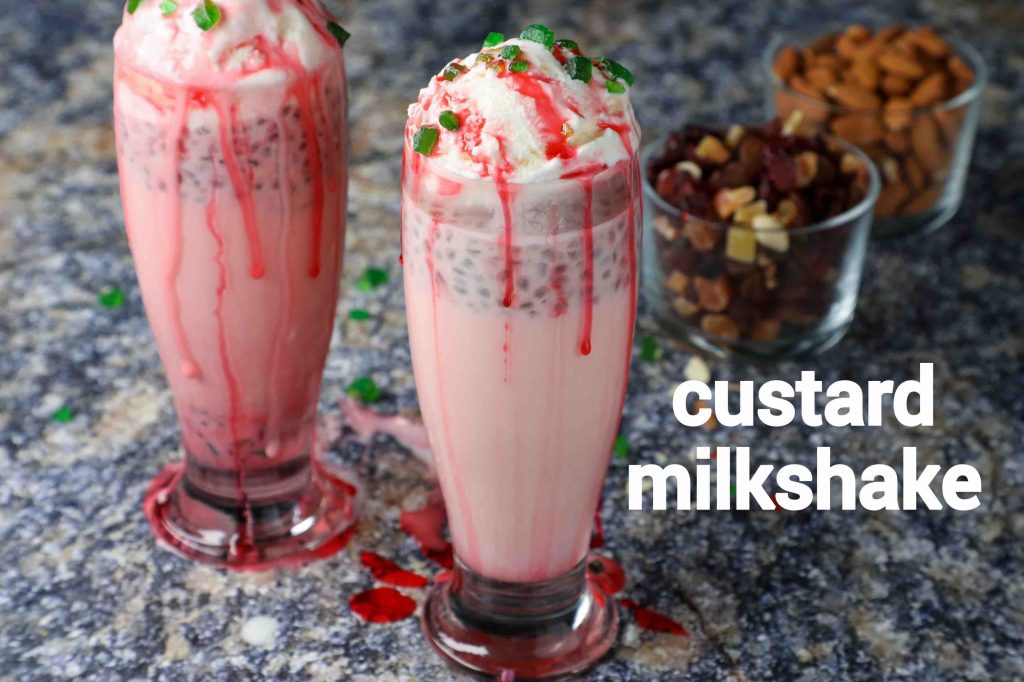 furthermore, i would like to add some more tips, suggestions and variations to custard milkshake recipe. firstly, the prepared custard has to be a thick consistency. therefore, you may need to add more custard powder mixed to the milk while preparing the custard sauce. secondly, once the custard sauce is prepared, it has to rest and chill. to chill, keep it in the refrigerator for a minimum of 30 mins. also this step helps to improve the consistency of the custard sauce. lastly, i have not added extra sugar while preparing the shake. i feel the sugar added in custard sauce and also in the ice cream is more than sufficient. however, if you feel you need to add more, add 1-2 tbsp of sugar while blending.
finally, i request you to check my other popular beverage recipes collection with this post of custard milkshake recipe. it mainly includes my other detailed recipes like custard, cold coffee, dates milkshake, oreo milkshake, chocolate milkshake, mango mastani, mango milkshake, badam powder, badam milk, avocado smoothie. further to these i would also like to mention my other recipe categories like,
custard milkshake video recipe:
recipe card for custard badam milkshake recipe:
how to make custard milkshake with step by step photo:
badam custard preparation:
firstly, in a large bowl take ¼ cup custard powder and 4 cup milk.

whisk and mix well making sure there are no lumps.

pour the mixture into large kadai.

cook on medium flame stirring continuously.


once the mixture comes to a boil add badam powder. to prepare badam powder, blend ¼ cup almond to a fine powder.

also, add ¼ cup sugar and mix well.

keep cooking until the mixture thickens. takes approximately 6 minutes.


cool completely, and transfer to a large bowl.

cover and refrigerate for 30 minutes or until the custard thickens further.

custard milkshake preparation:
in a blender take 1 cup prepared custard, 1½ cup milk and 2 scoop vanilla ice cream.

blend to a thick milkshake. you can also add ice cubes if you wish.

now take a tall glass, and add 2 tbsp sabja and 1 tbsp tutti frutti at the bottom of the glass.

further, pour 1 tbsp rooh afza covering the wall of glass. this makes the milkshake look attractive.

pour in a prepared milkshake to top of the glass.

add 2 tbsp nuts into it and scoop a vanilla ice cream.

further, garnish with rooh afza and top with few tutti frutti.

finally, enjoy badam custard milkshake chilled.

notes:
firstly, if you are not using rooh afza then increase the amount of sugar in custard.
also, adding badam powder to custard is completely optional. however, it gives a creamy texture and great flavour to custard.
additionally, you can use any flavour of custard powder.
finally, badam custard milkshake recipe tastes great when a generous amount of nuts are added