shahi tukda or shahi tukra recipe | hyderabadi double ka meetha recipe with detailed photo and video recipe. a traditional bread pudding or bread dessert from hyderabadi cuisine and is prepared during the holy month of ramadan as iftar recipes. it is popularly known as shahi tukda but it is also known as double ka meetha because it is soaked in sugar syrup and rabdi.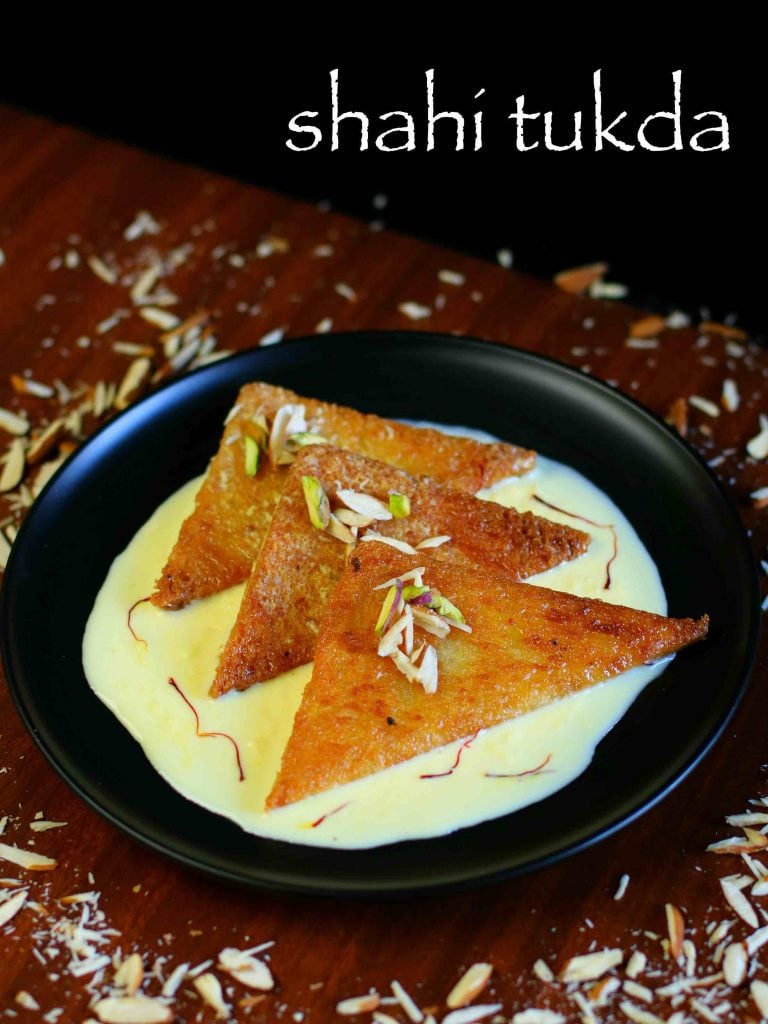 shahi tukda or shahi tukra recipe | hyderabadi double ka meetha recipe with step by step photo and video recipe. perhaps one of the most sweet dessert recipes prepared during the festive month of ramadan and on eid. there are several variations for the shahi bread pudding which can be either prepared with condensed milk or evaporate mik. however dipping in sugar syrup is optional and it can served just by soaking it in thick rabdi recipe.
i personally do not like this bread pudding or shahi tukda recipe, just because i feel it is extremely sweet. having said that, this is my husband's favourite dessert recipe and he has a strong craving for it. i even prepare it with milk rusk or even with normal rusk for him and he even enjoys it. also according to him there is difference between shahi tukra or double ka meetha recipe. typically, double ka meetha involves dipping of bread slices in sugar syrup before soaking it thick rabdi recipe he prefers only soaking it with rabdi and does not like the extreme sweet it has to offer.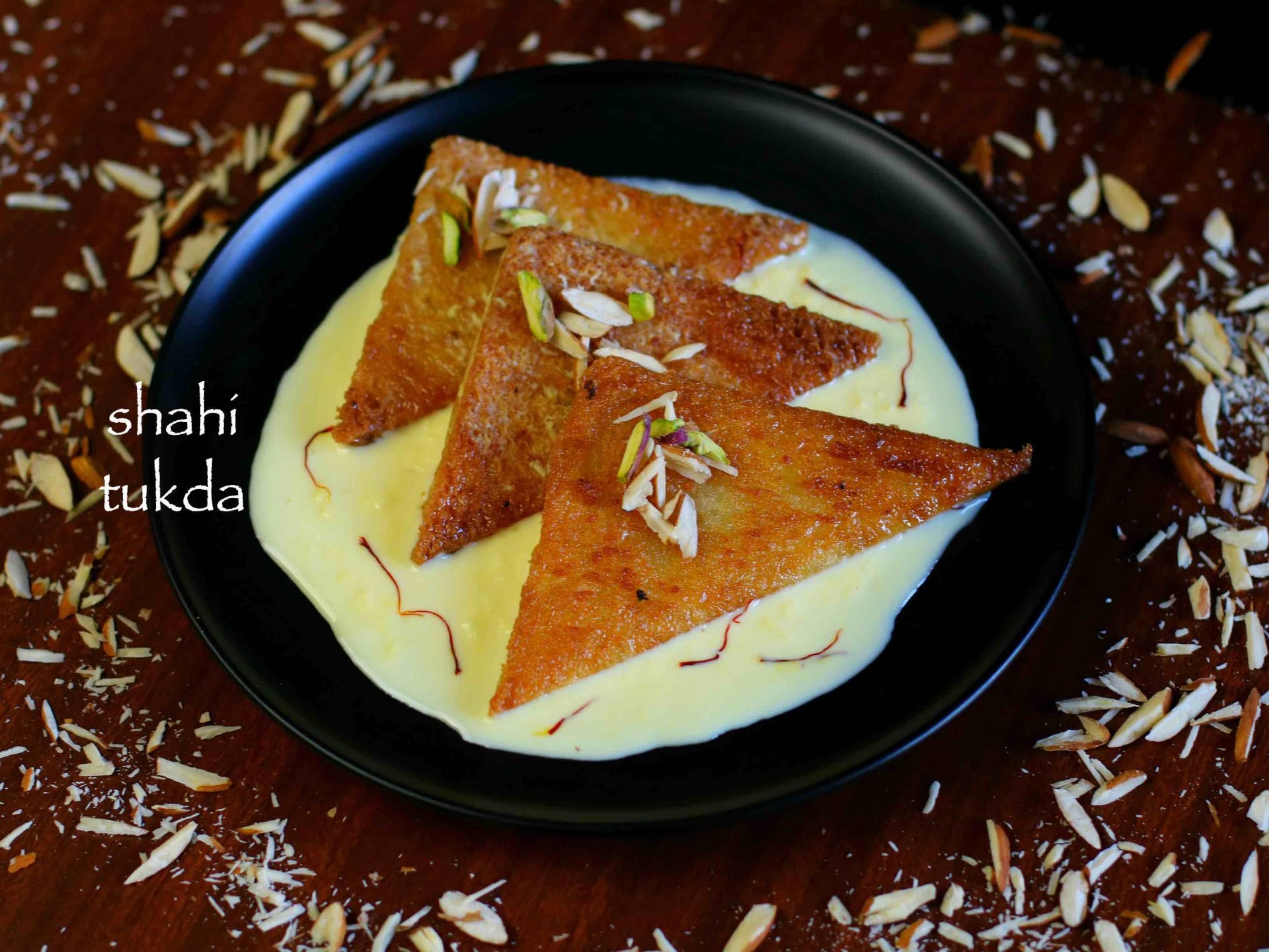 furthermore, some important tips and suggestions for a perfect crisp shahi tukda recipe or shahi tukra recipe. firstly, i have deep fried the bread slices in ghee before soaking it in sugar syrup and rabdi. however it can also be deep fried in normal cooking oil or even simply toasted with toaster. secondly, make sure you always soak the bread slices in warm sugar syrup and in rabdi so that the bread slices absorb it evenly. lastly, serve it immediately after soaking it or otherwise the bread slices may turn soggy. serve it with some finely chopped dry fruits.
finally, i would like to request you to check my other dessert recipes collection from my blog. this includes, rasmali, chum chum, rasgulla, gulab jamun, kala jamun, shrikhand, mango shrikhand, bread gulab jamun and malpua recipe. in addition i request you to check my other recipes collection from my blog like,
shahi tukda or hyderabadi double ka meetha video recipe:
recipe card for hyderabadi double ka meetha:
how to make shahi tukda or shahi tukra with step by step photo:
rabdi / rabri recipe:
firstly, in a large nonstick pan heat thick cows or buffaloes milk.

stir occasionally making sure the milk doesn't stick to bottom of vessel and get to a boil.

furthermore add 1 cup of condensed milk. add more condensed milk, if you looking for too sweet rabdi.

stir well and get the milk to boil.


also reduce the flame to medium. and once a layer of cream is formed over the milk, stick it to sides of vessel.

make sure to stir from bottom of vessel so that milk doesn't burn.

further, get the milk to boil again.


and repeat the gathering of cream to sides of kadai for atleast 3 -5 times or till milk reduces to one-third.

add cardamom powder and saffron milk.

give a good mix and get the milk again to boil.

also scrape off the collected cream from sides. and give a good stir.

furthermore, simmer for 2 minutes and rabdi / rabri is ready.

sugar syrup recipe:
firstly, in a kadai add in ½ cup sugar and ½ cup water.

also add in few saffron threads.

stir and dissolve the sugar completely.

further boil for 3 minutes or till sugar syrup thickens.

shahi tukda recipe:
firstly, cut the sides of bread and cut them into triangle.

fry the bread slices in hot ghee till the bread turns golden brown.

fry the bread both the sides till they turn golden brown.

and dip both sides of bread in prepared sugar syrup.

furthermore, in a plate, pour in ½ cup of prepared rabri.

and place in fried bread slices.

finally, garnish with few chopped nuts and serve shahi tukda.

notes:
firstly, to reduce the calories, toast the bread with little ghee instead of shallow frying.
also, add top with dry fruits of your choice to make it more tasty.
additionally, use full cream milk and condensed milk to prepare instant rabri.
finally, shahi tukda recipe taste great when roasted bread slices are dipped in sugar syrup and served with rabri.