manchow soup recipe | veg manchow soup | vegetable manchow recipe with a detailed photo and video recipe. an easy and tasty indo chinese recipe made with finely chopped vegetables and chinese sauces. it is perhaps one of the sought after appetizer recipe, which is typically served just before the meal but can be served as a light meal for lunch and dinner. the manchow recipe can be made with different ingredients and sauces, but this recipe sticks to the basic healthy vegetable-based soup recipe.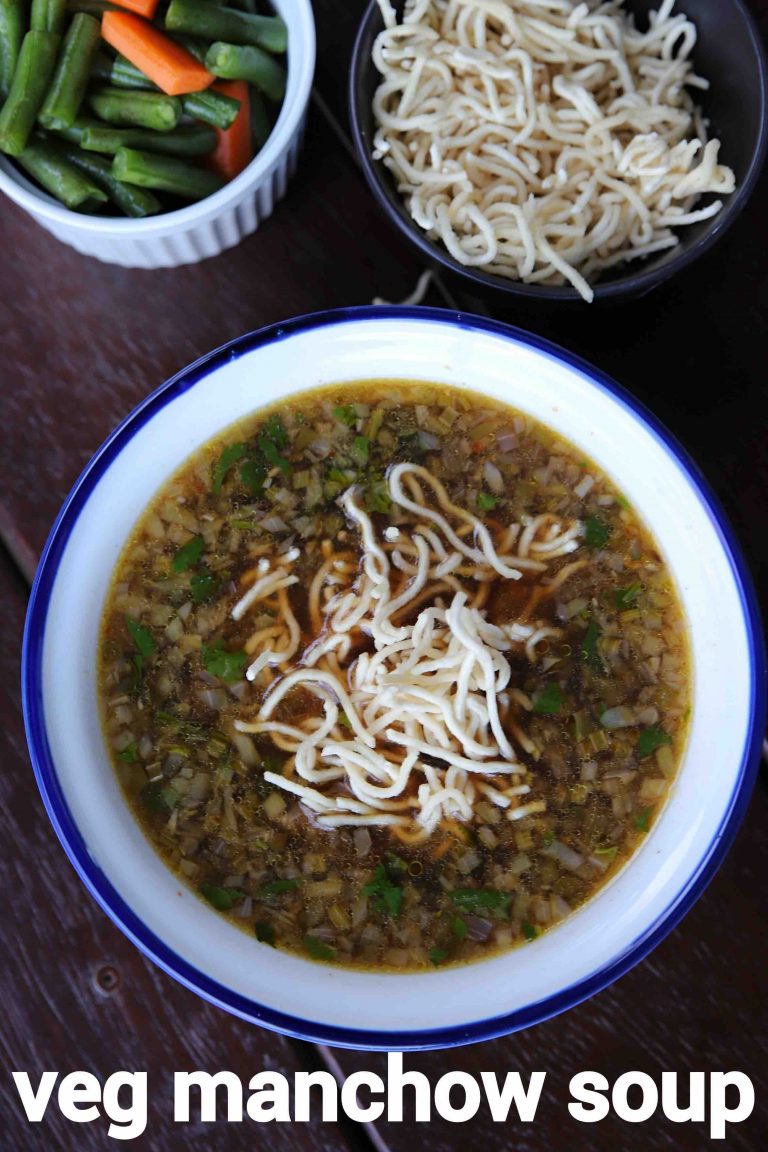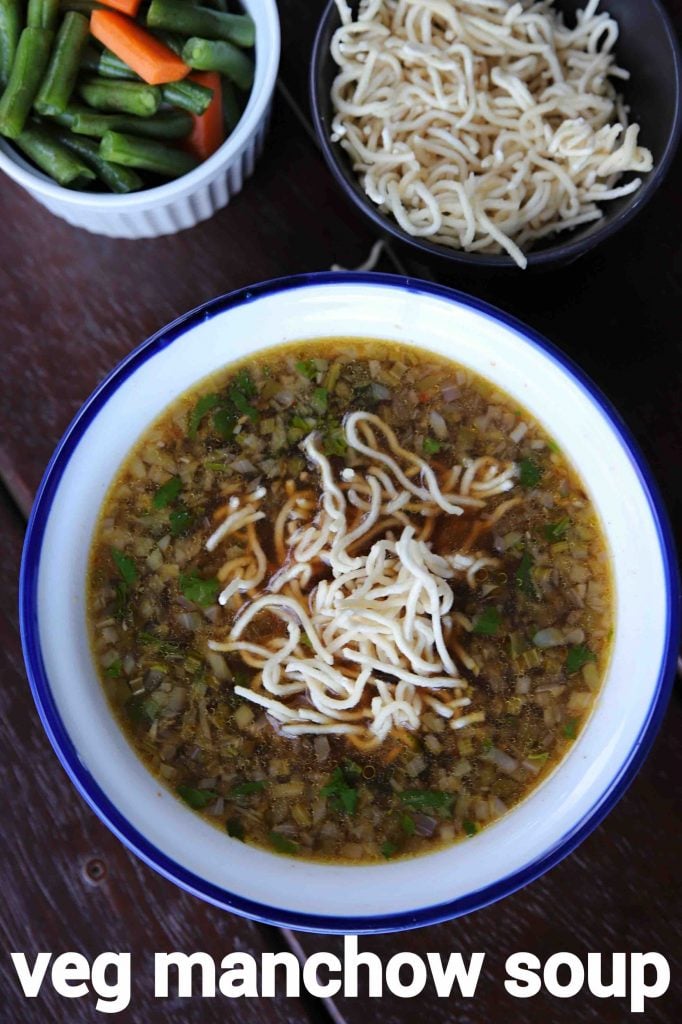 manchow soup recipe | veg manchow soup | vegetable manchow recipe with step by step photo and video recipe. traditionally, soup recipes were not part of the indian meal and cuisine and were always considered as non-native. having said that there was a similar appetizer recipe which was served with rice or served as a beverage. having said that some recipes have become an integral part of indian recipes and veg manchow soup recipe is one such easy and simple recipe known for a sour and spicy taste.
well, to be honest, i am not a huge fan of indo chinese recipes and i stick to simple south indian meals most of the time. however some days i get a strong craving to have some lite meal or a liquid diet with a combination of flavours in it. during those days, i always end up making vegetable-based soup recipes. out of those veg manchow soup and hot and sour soup recipes are most common. this is due to the fact that it does not involve any complicated steps and procedures in it. basically, if you have the finely chopped vegetables ready, it would take only minutes to make these soup recipes. moreover, you may add or experiment with different types of vegetables or as per your preference.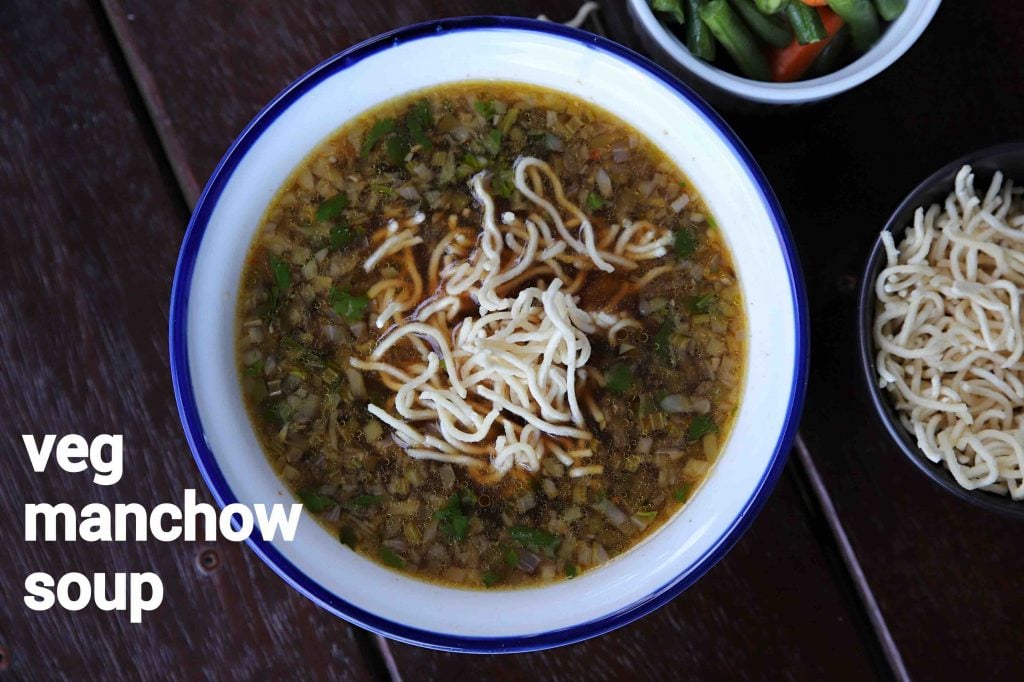 anyway, before wrapping up the recipe, i would like to add some more tips, suggestions, and variations to the veg manchow soup recipe. firstly, i would heavily recommend chopping the vegetables finely so that it can be cooked easily. also, the vegetables should be partially cooked and should be tender and crisp in taste and shape. secondly, you may add other ingredients apart from veggies like meat, fish and also tofu, mushroom, and even paneer grate. the same rule applies for additional ingredients and makes sure to chop them finely. lastly, for the fried noodles, i have used stored bought noodles and deep-fried them to have a crisp one. you may do the same or buy the crisp noodles to top the soup. but you may need to check the freshness of the noodles as it may have pungent oil smell.
finally, i request you to check my other healthy soup recipes collection with this post of veg manchow soup recipe. it includes my other healthy and tasty soup recipes like cabbage soup, carrot ginger soup, hot and sour soup, vegetable soup, lemon coriander soup, bonda soup, sweet corn soup, beetroot soup, lemon rasam, punarpuli saaru. further to these i would also like to mention my other related recipes categories like,
manchow soup video recipe:
recipe card for veg manchow soup recipe:
how to make manchow soup with step by step photo:
fried noodles preparation:
firstly, in a large vessel take 4 cup water, 1 tsp salt and 1 tsp oil.

once the water comes to a boil, break in 1 pack hakka noodles.

boil for 5 minutes or refer package instructions to know the cooking time.

cook until the noodles turn al dente without overcooking.


drain off the noodles and rinse with cold water to stop the cooking process.

now add 1 tsp cornflour and mix gently.

deep fry in hot oil by spreading noodles uniformly.


stir occasionally, keeping the flame on medium.

flip over and fry both sides until the noodles turn crisp.

finally, drain off the crispy noodles and keep aside.

manchow soup preparation:
firstly, in a large kadai heat 2 tbsp oil, saute 1 inch ginger, 2 clove garlic and 2 chilli.

also, saute ½ onion until it shrinks slightly.

now add ½ carrot, 3 tbsp cabbage, ½ capsicum, 5 beans and 2 tbsp coriander stem.

stir fry for a minute without overcooking them.

now pour 4 cup water and add ¾ tsp salt. mix well.

boil until all the flavours are well absorbed.

now add 2 tbsp soy sauce, 2 tbsp vinegar, ½ tsp pepper powder and 1 tsp chilli sauce. mix well.

in a small bowl take 1 tsp cornflour and mix with ¼ cup water.

pour the cornflour slurry and stir well.

stir and boil until the soup thickens slightly and turns glossy.

now add 2 tbsp coriander and give a good mix.

finally, enjoy veg manchow soup recipe topped with fried noodles.

notes:
firstly, you can add veg stock in place of water for a richer flavour.
also, add crispy noodles just before serving.
additionally, the soup tastes great when prepared spicy.
finally, manchow soup recipe can be made with veggies of your choice.