bombay biryani recipe | mumbai biryani | bombay veg biriyani with detailed photo and video recipe. a simple and easy dum style cooked biryani recipe made with unique blend of spices. as such, there isn't any significant difference with the way it is made apart from the addition of plum prunes and the dry spices. it is a popular alternative to the hyderabadi pudina based green biryani and can be served with raita and salan.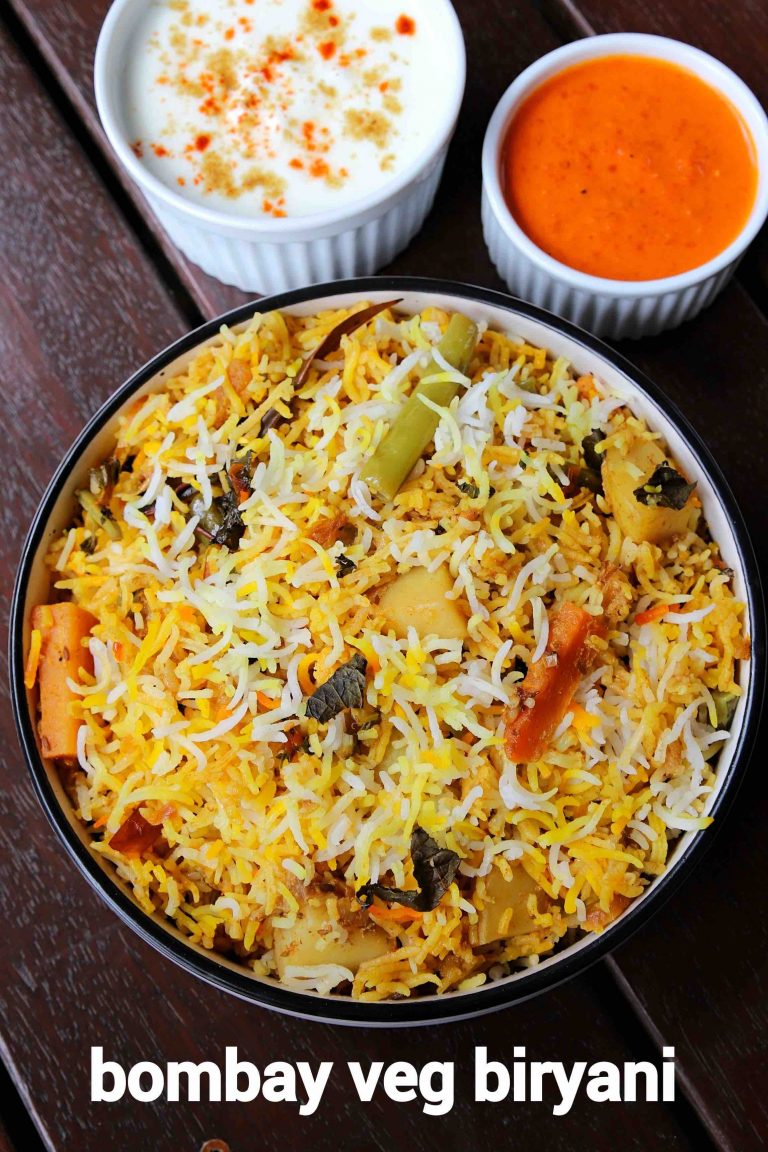 bombay biryani recipe | mumbai biryani | bombay veg biriyani with step by step photo and video recipe. biryani recipes are national pride of india and are made in myriad ways with different ingredients. the popular way is to make it via dum style where the rice and gravy cooked in layers which makes it more flavourful. one such popular urban variant is the mumbai style bombay biryani recipe known for its long grain rice and full of spice.
as i mentioned earlier, there isn't much any significant difference between its cousin biryani recipes. having said that there would be certainly some differences with each other. one such simple difference is the usage of plum prune in this recipe. generally, you would not have add prunes in any popular biryani. in addition to it, the spices have some differences too. as matter of fact, i have added all combination of dry spice powder as compared to one biryani masala spice powder. well, to be honest, you can use the biryani masala by itself but using a combination of spice powder gives you more control on the spice level for this biryani recipe.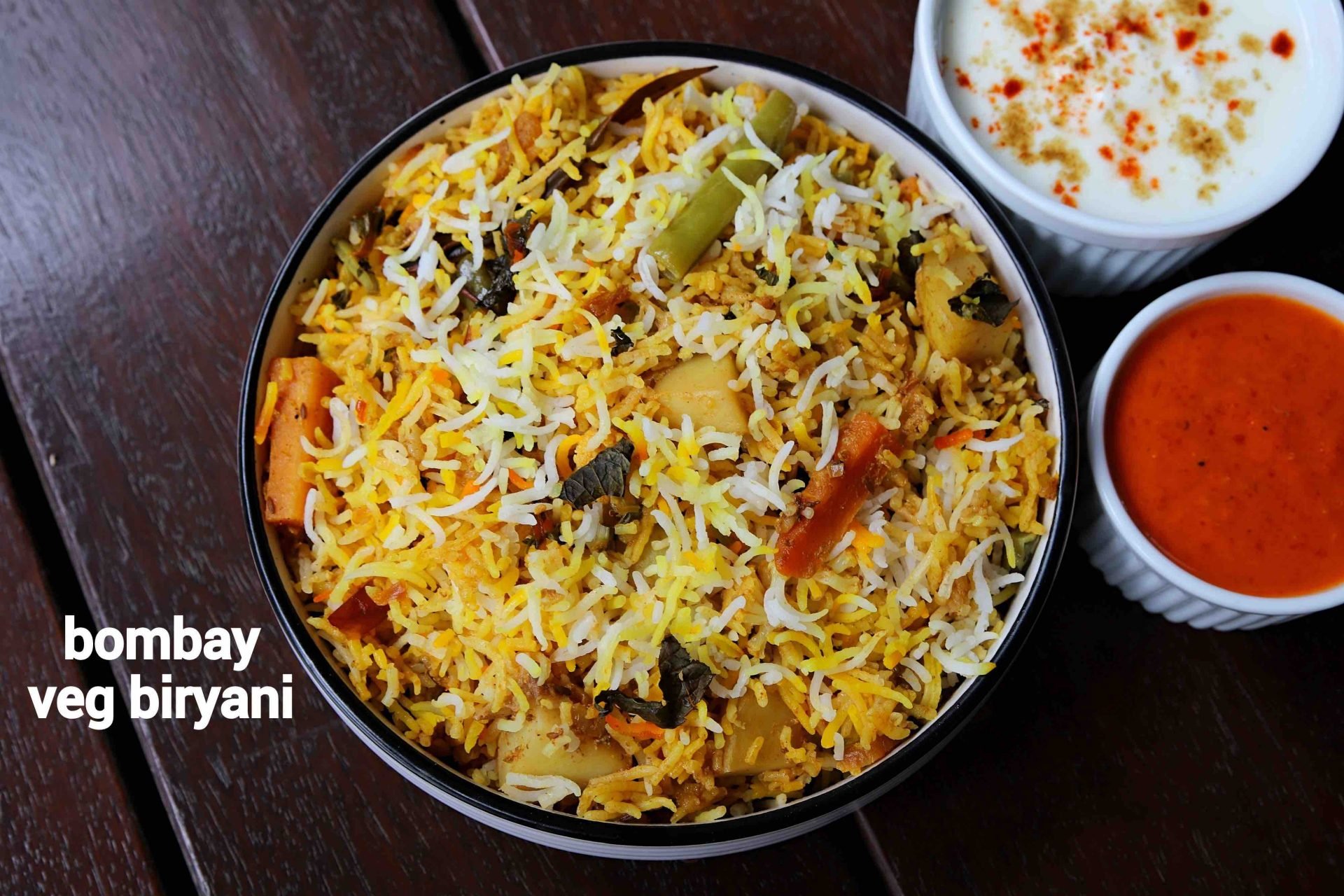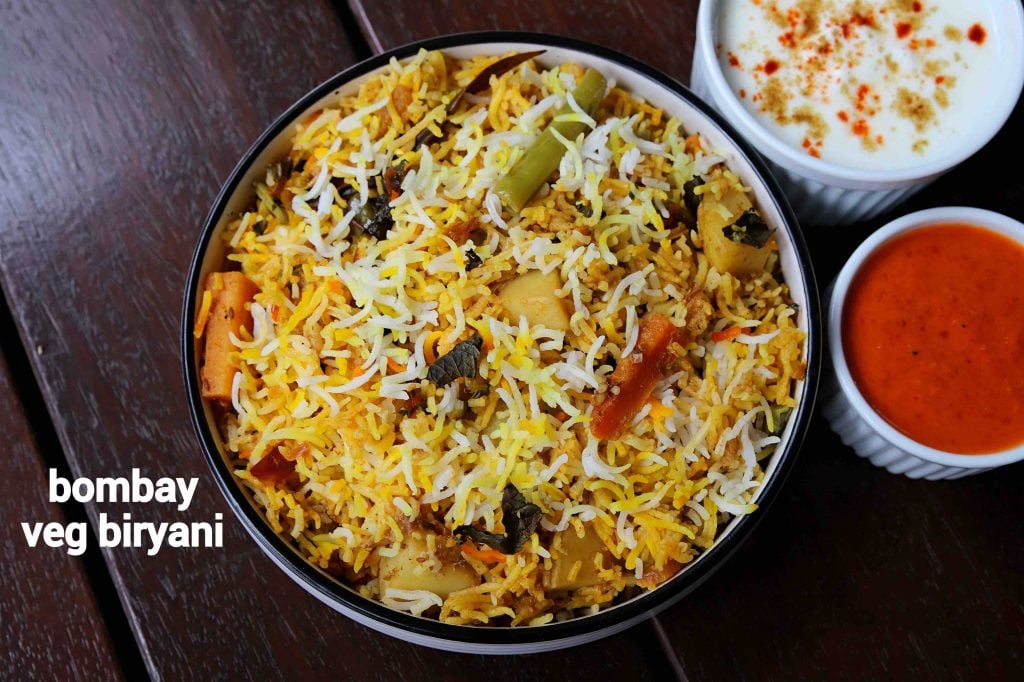 anyway, i would like to conclude the recipe with some tips, suggestions and variations for bombay biryani recipe. firstly, i would heavily recommend using long grain basmati rice for this biryani recipe. yet you can experiment with sona masuri which may not have the same look but it should do the trick. secondly, the recipe tastes great when made overnight and served the next day. the spice, flavour and aroma would infuse into the rice and make it best. hence i would again recommend to plan it well ahead in advance. lastly, you do not need any extra side with this recipe but taste great when served with raita and salan biryani gravy.
finally, i request you to check my other biryani recipes collection with this recipe of bombay biryani recipe. it mainly includes recipes like paneer biryani, matka biryani, aloo dum biryani, biryani masala, kofta biryani, semiya biryani, veg dum biryani, instant biryani, veg biryani in cooker, student biryani. further to these i would also like to highlight my other related recipes collection like,
bombay biryani video recipe:
recipe card for bombay biryani recipe:
how to make mumbai biryani with step by step photo:
biryani rice preparation:
firstly, in a large vessel take 6 cup water.

add spices like 2 pods cardamom, 4 cloves, 1 inch cinnamon, 2 bay leaf, ½ tsp pepper.

also add 1 tsp salt, 2 tsp oil and 1 chilli.

boil for 2 minutes or until flavours is in the water.


add in 1 cup basmati rice and stir well. make sure to soak rice for at least 20 minutes.

boil for 3 minutes or until rice is half cooked. do not cook fully.

drain off the rice and keep aside.

bombay biryani preparation:
firstly, in a large kadai heat 2 tbsp oil and 1 tsp ghee.

saute 1 bay leaf, 1 mace, 1 inch cinnamon, 1 star anise, 1 back cardamom, 3 cloves, 2 pods cardamom, 1 tsp cumin and ½ tsp fennel.

add 1 onion followed by 1 tsp ginger garlic paste.

saute until onions turn golden brown.

further, add 1 tomato and saute until tomatoes turn soft and mushy.

now add 1 potato, ½ carrot and ½ tsp salt.

cover and cook until potatoes are half cooked.

further add ¼ tsp turmeric, 1 tsp chilli powder, ½ tsp cumin powder, 1 tsp garam masala, 1 tsp coriander powder, 4 prunes and ½ tsp salt.

saute until spices turn aromatic.

additionally, add ¾ cup curd and saute until oil is released.

furthermore add 5 beans, 7 florets cauliflower, 2 tbsp peas and 5 cubes capsicum.

saute for a minute or until its combined well.

add 1 cup water and mix well.

cover and cook for 5 minutes or until vegetables are half cooked.

take 1 cup of gravy and keep aside.

now layer up with 2 tbsp coriander and 2 tbsp fried onion.

spread half of the cooked rice over the biryani gravy.

top with reserved gravy uniformly.

further spread remaining cooked rice and level up.

top with 2 tbsp coriander, 2 tbsp mint and 2 tbsp fried onion.

sprinkle ¼ tsp saffron food colour, ¼ cup water and 1 tsp ghee.

cover with aluminium foil and close the lid. you can also use the dough to seal.

simmer for 20 minutes or until rice is cooked fully.

finally, enjoy bombay biryani with raita and slices of onion.

notes:
firstly, add vegetables of your choice to make biryani nutritious.
also, do not forget to add prunes as it enhances the flavour.
additionally, you can pressure cook for 2 whistles if you are using raw basmati rice.
finally, bombay biryani recipe tastes great when prepared slightly spicy.