rava shankarpali recipe | sweet sooji shakarpara recipe | sweet suji shakkar para with detailed photo and video recipe. a unique and tasty variation to the flour-based diamond biscuits made with semolina. shakarpara recipes are a popular deep-fried sweet snack for most of the indian festival, but this recipe is a unique twist to it. generally, the shankarpali is made with wheat or plain flour with a small quantity of rava in it for the extra crispiness, but this recipe is entirely made with rava with a small quantity of wheat flour.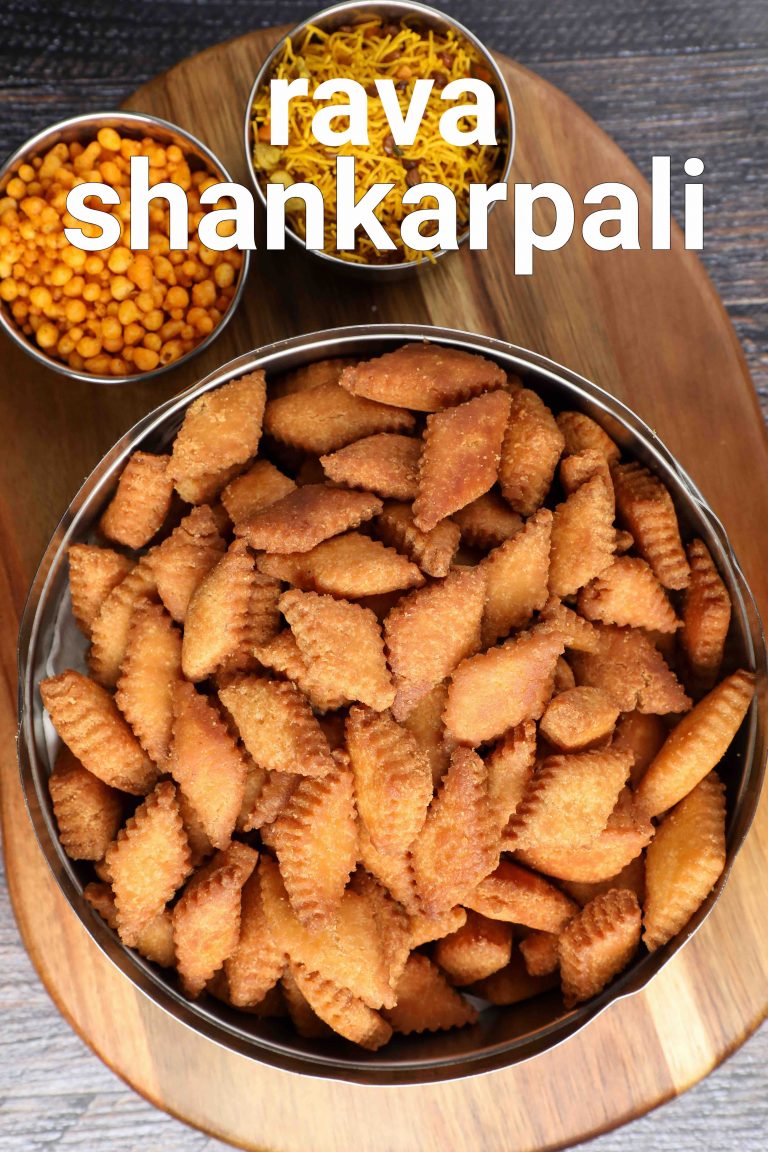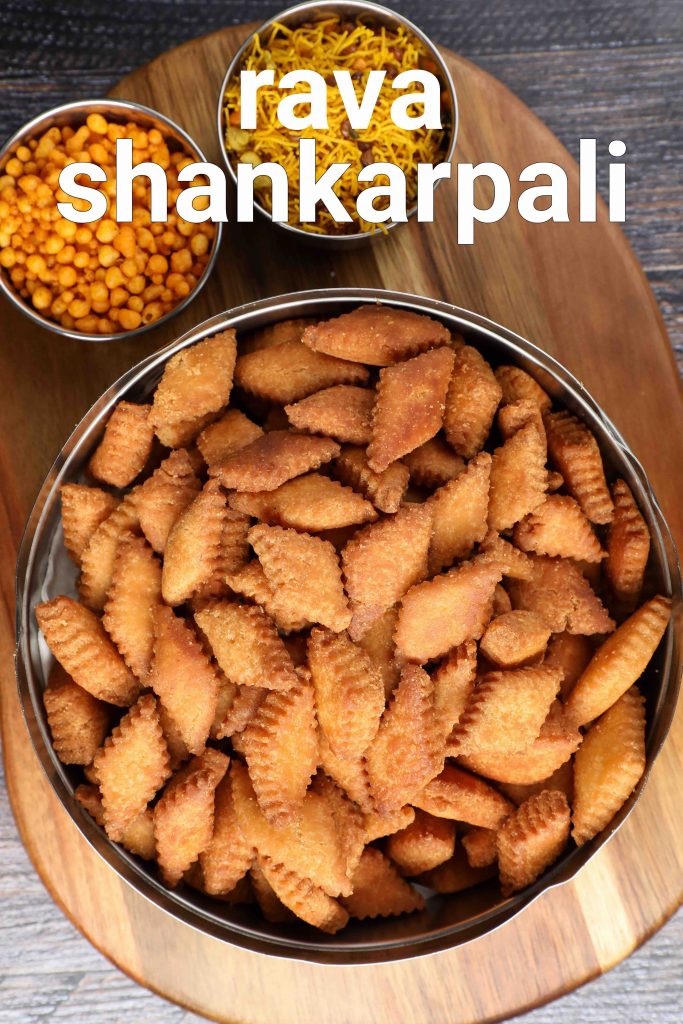 rava shankarpali recipe | sweet sooji shakarpara recipe | sweet suji shakkar para with step by step photo and video recipe. festival in indian is incomplete without mentioning the food and recipes involved in it. the most in-demand recipes are the sugar-based sweets and dessert recipes, but there is an ample room for savoury snacks too. one such sweet and savoury snack combo recipe is semolina based rava shankarpali recipe, known for its crispy texture.
as i was explaining earlier, the recipe is made with rava but it has a small amount of wheat flour in it (you may also use maida or plain flour too). initially, i tried this recipe without adding any flour, but it wasn't forming the proper shape and moreover, it was disintegrating while it was deep-fried. hence i went ahead to add the wheat flour which would eventually help in binding and to hold the shape. you may follow the same procedure to prepare the savoury version of this recipe. further, the major advantage of this recipe compared to the traditional one is the extra crispiness it has to offer. also, the crispiness holds for a longer time compared to the flour ones. hence i would easily recommend for this snack for this festival season.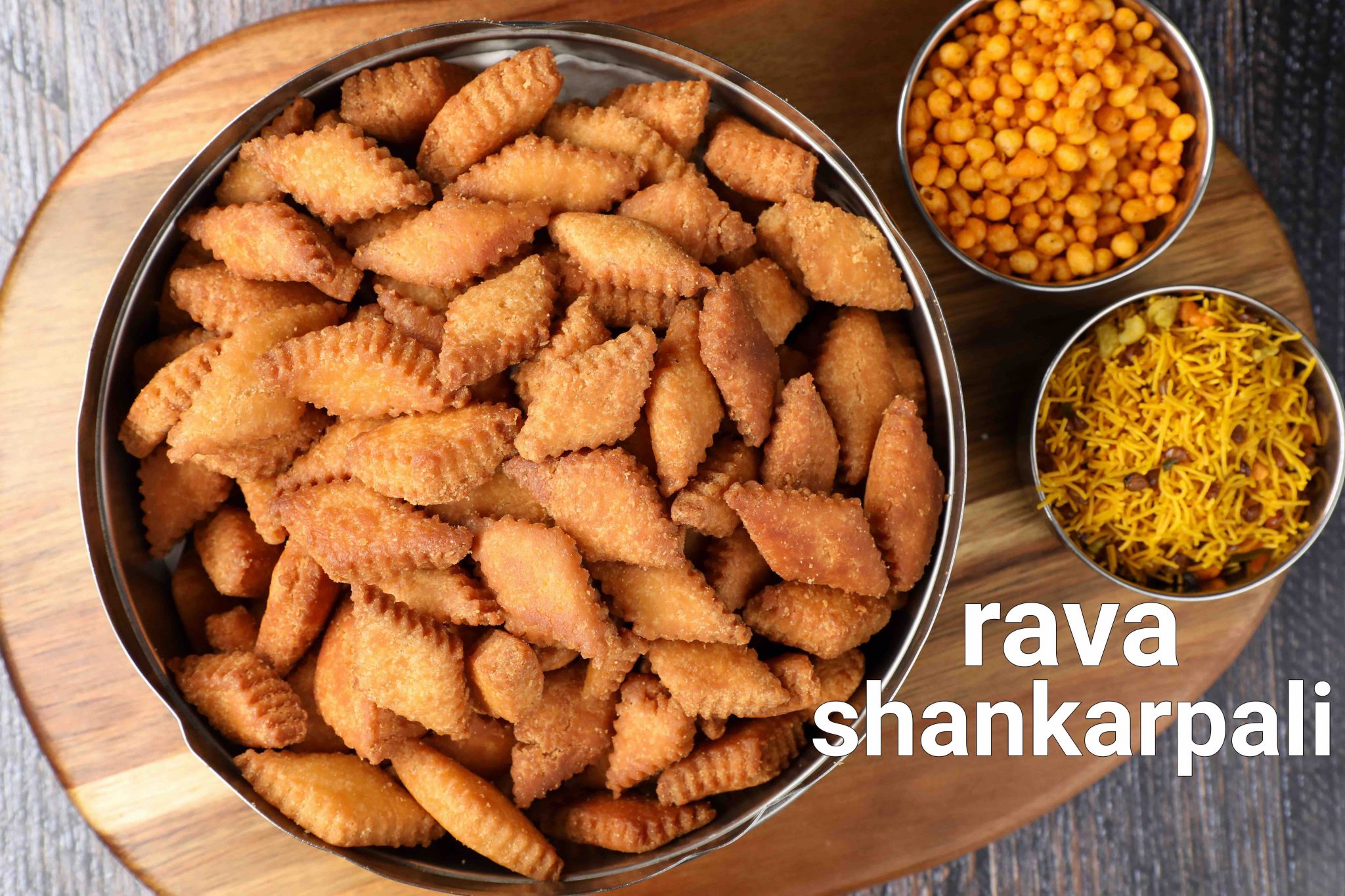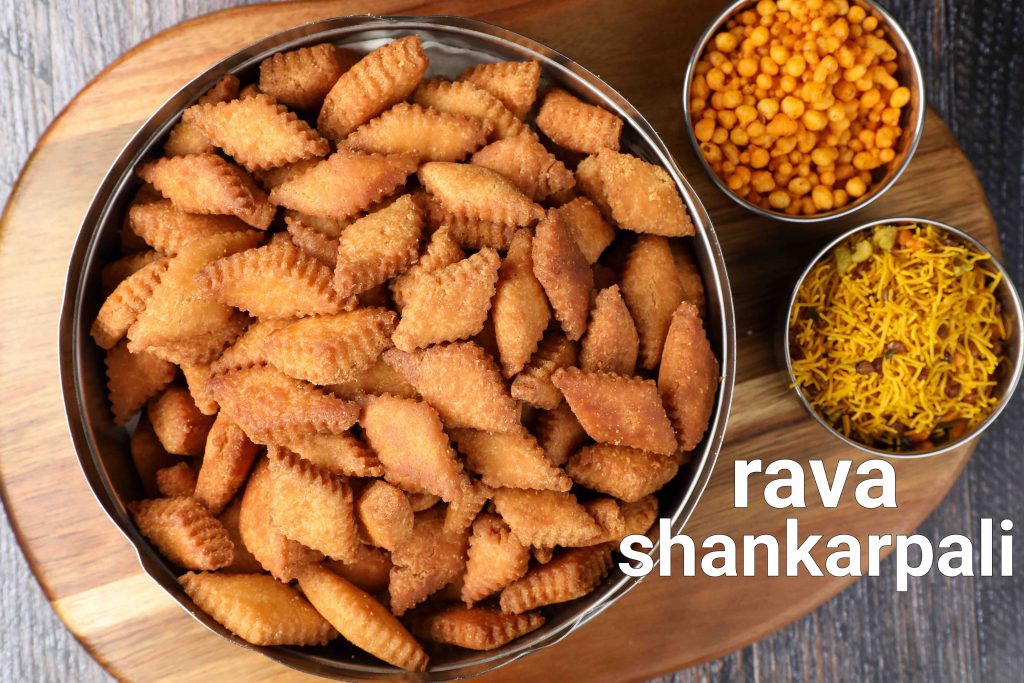 furthermore, i would also like to add some more tips, suggestions and variations to the rava shankarpali recipe. firstly, i would heavily recommend using chiroti rava or upma rava for this recipe. avoid using other types of semolina, especially the bansi rava which may not be fit for the purpose. secondly, the shankarpali can be shaped to any particular shape and not limited to the diamond shape. you can shape it to square or even triangle as compared to the diamond shape. lastly, store these in an airtight container for longer shelf life. if you need you can also store these in zip lock bag for its freshness and crispiness.
finally, i request you to check my other snacks recipes collection with this post of rava shankarpali recipe. it mainly includes my other related recipes like ulundu murukku, papaya s, kurkure, vermicelli cutlet, poha fingers, masala mirchi bajji, french fries, pav bhaji, cajun potato, cabbage paatra. further to these i would also like to mention my other popular recipe categories like,
rava shankarpali video recipe:
recipe card for sweet sooji shakarpara recipe:
how to make rava shankarpali with step by step photo:
firstly, in a mixi take 1½ cup rava and ¾ cup sugar.

blend to a fine powder and transfer to a large bowl.

add ½ cup wheat flour, ½ tsp cardamom powder and ¼ tsp salt.

mix well combining all the ingredients well.


now add ¼ cup ghee, crumble and mix well until the flour is moist enough.

now add 2 tbsp of milk and start to knead the dough.

knead the dough for at least 5 minutes, adding more milk if required.


knead to a soft dough, cover and rest for 20 minutes.

after 20 minutes, knead the dough again to have a smooth and soft dough.

now pinch a large ball sized dough.

using a rolling pin, roll to slightly thick thickness.

using a cutter, cut to a diamond shape or shape of your choice. you can also cut to a square shape if you wish for.

deep fry in hot oil, keeping the flame on low.

stir carefully, without breaking the sooji shakarpara.

fry on low flame, until they turn golden and crisp.

drain off the suji shankarpale over kitchen paper to remove excess oil.

finally, enjoy rava shankarpali recipe with a cup of masala chai.

notes:
firstly, make sure to finely powder the rava else it will be difficult to knead.
also, adding wheat flour is mandatory as it helps in binding. you can alternatively replace it with maida.
additionally, adjust the amount of sugar to the sweetness you are looking for.
finally, rava shankarpali recipe stays good for a month when stored in an airtight container.