spring onion paratha recipe | hare pyaz ka paratha | green onion paratha with detailed photo and video recipe. a unique and flavoured paratha recipe made with spring onion and wheat flour. it is an ideal alternative recipe to the traditional paratha recipe which are generally made with vegetable-based stuffing. unlike other paratha's, the spring onion puree is directly added to the wheat flour dough before it is rolled.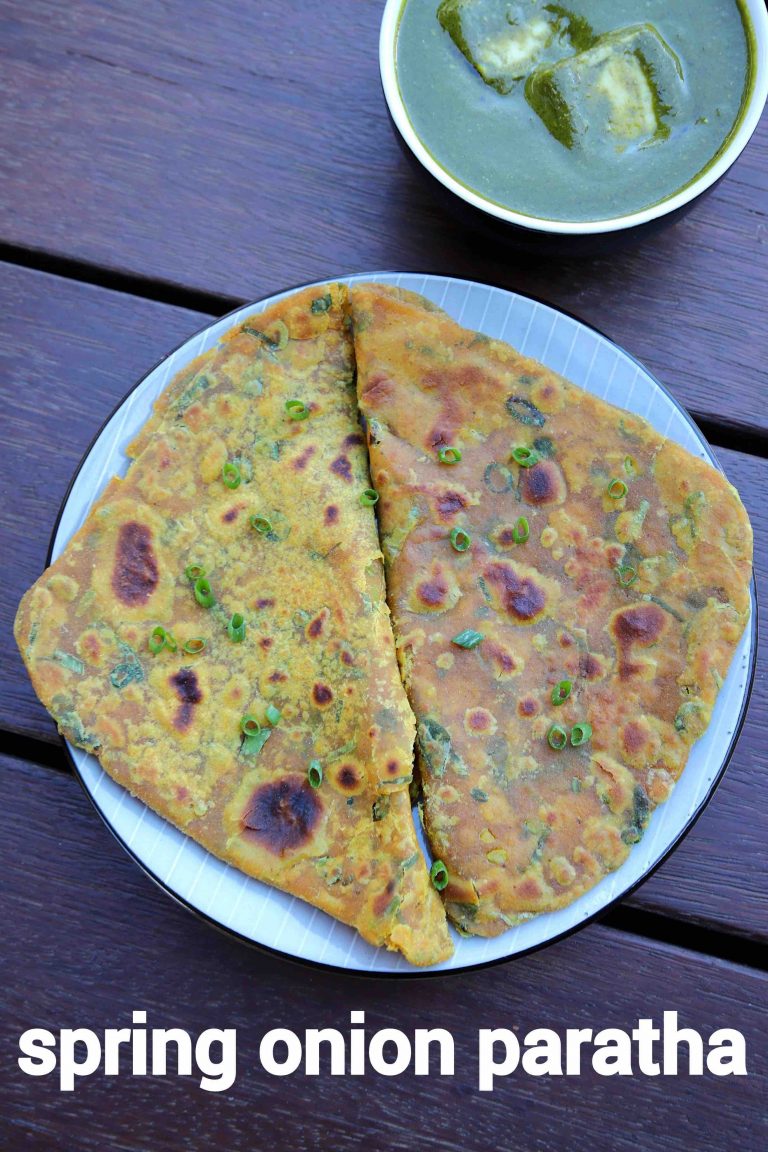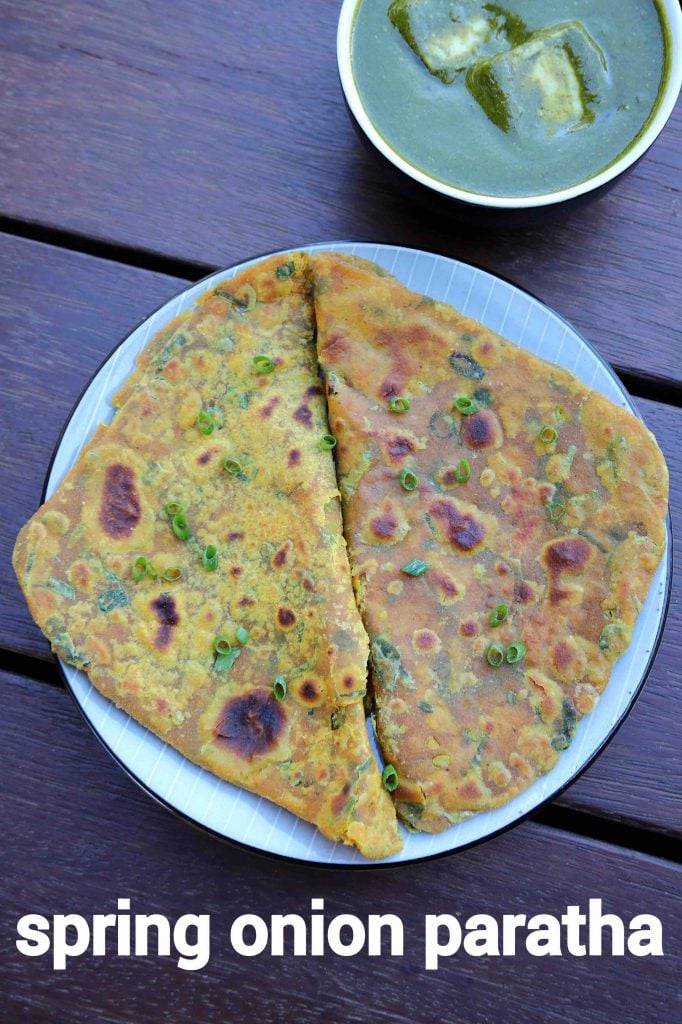 spring onion paratha recipe | hare pyaz ka paratha | green onion paratha with step by step photo and video recipe. paratha or flatbread recipes are very common across all indian regions. it is generally made and served with a hint of raita and pickle for lunch and dinner, but also can be served as a snack. one such multipurpose snack paratha recipe is spring onion paratha recipe, known for its simplicity and flavour.
as i mentioned earlier, the traditional paratha recipes are stuffing based paratha where boiled and spiced vegetables are stuffed inside the dough. for instance, in aloo paratha, boiled and spiced potatoes are stuffed inside wheat-based dough and rolled to thin flatbread. whereas, in this recipe, the spring onion based puree is directly mixed to the wheat flour so that it completely skips the stuffing process. in addition, it also makes the rolling process very easy. as such you when you roll it, you can roll it similar to roti or chapathi. having said that you can serve it simple yoghurt or even pickle. whereas, you cannot consume the simple roti with raita or curd similar to this paratha.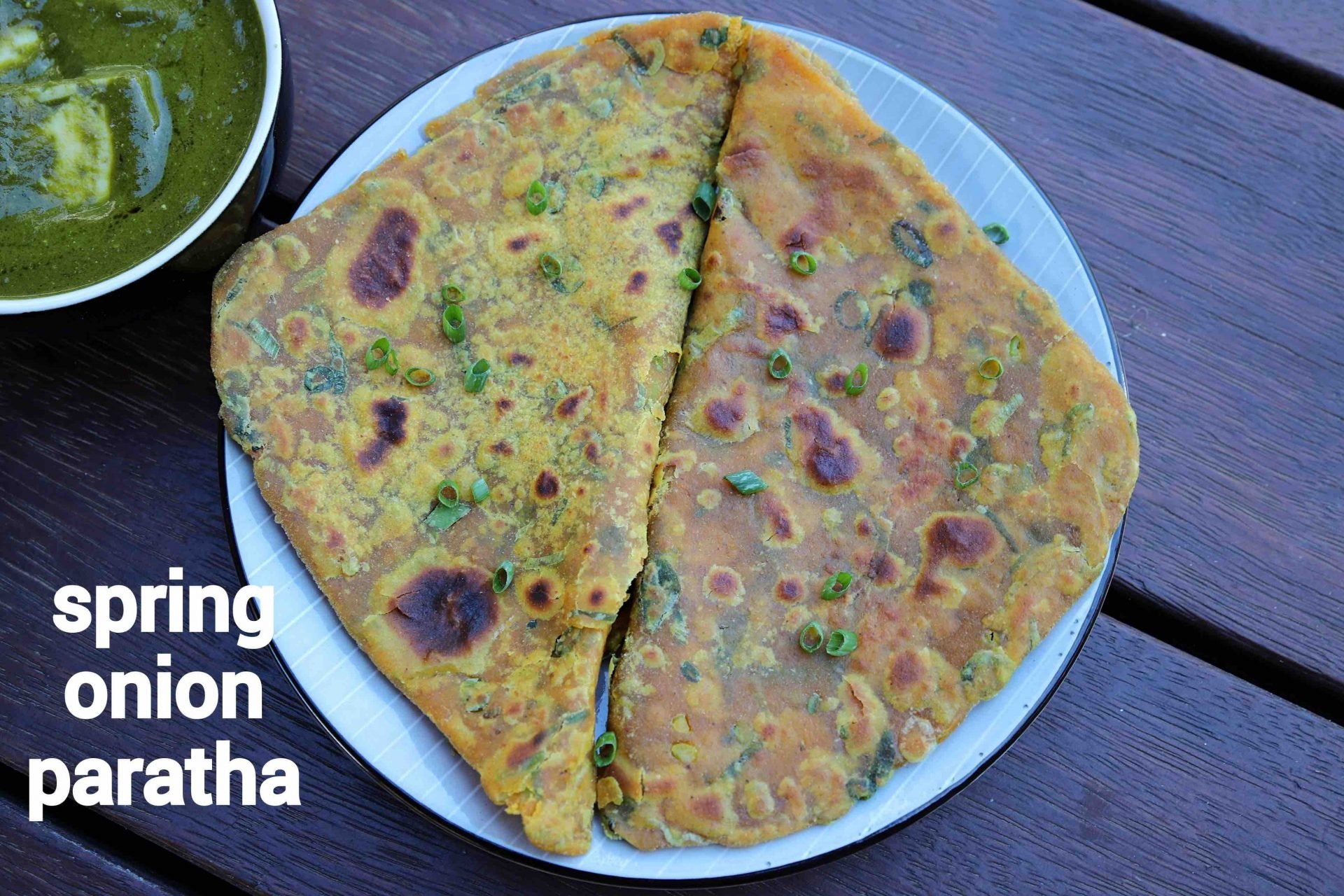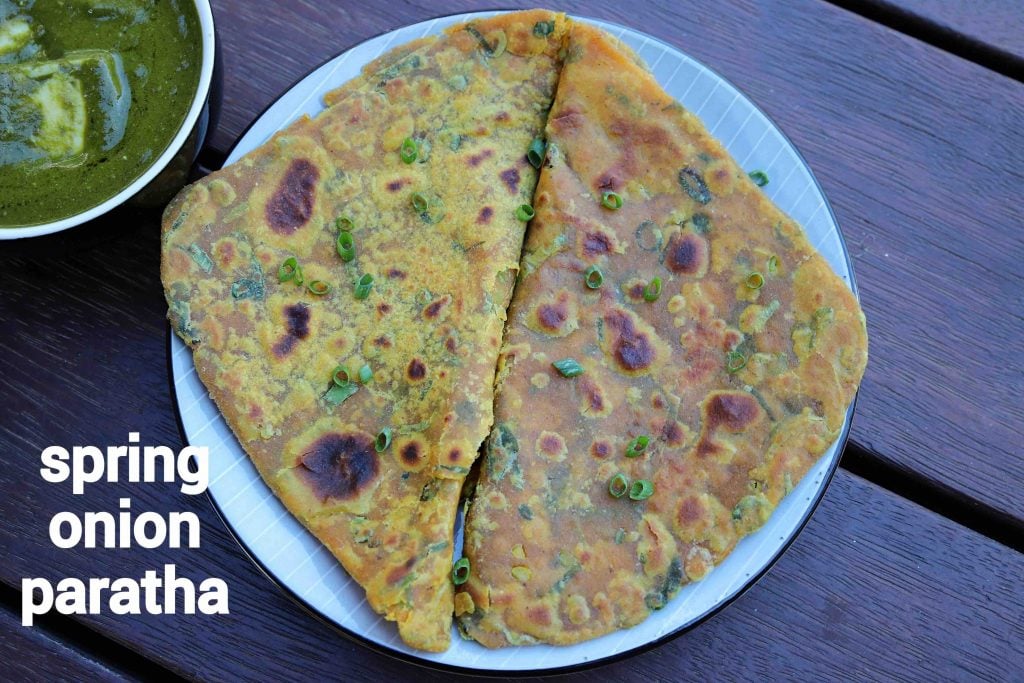 anyway, i would like to conclude the post with some tips, suggestions and variations for spring onion paratha recipe. firstly, in this, i have added only spring onions as the bread is based out of it. having said that you can extend it by adding brown onions, tomatoes and even other leafy vegetables. secondly, apply oil to paratha, only when both sides of paratha are dry roasted. this isn't specific to this paratha recipe and hence can be applied to most of the paratha recipe. finally, you can easily make it and pack it as a meal for your next travel. you can roll it very similar to thepla recipe and relish it with a hint of pickle.
finally, i request you to check my other paratha recipes collection with this post of spring onion paratha recipe. it mainly includes recipes variations like tomato paratha, onion paratha, sweet potato paratha, bread paratha, namak mirch paratha, cabbage paratha, masala paratha, garlic paratha, aloo paratha, parotta. further, to these you can check my other detailed recipes collection like,
spring onion paratha video recipe:
recipe card for spring onion paratha recipe:
how to make hare pyaz ka paratha with step by step photo:
firstly, in a large bowl take 2 cup wheat flour, ¼ tsp turmeric, ¾ tsp chilli powder, ¼ tsp cumin powder and ½ tsp garam masala.

also add ½ tsp aamchur, ¼ tsp ajwain, 1 tsp ginger paste, 1 cup spring onion and ½ tsp salt.

mix well making sure all the spices are well combined.

further, add 2 tbsp oil and mix well.


now add water as required and knead the dough.

knead to a smooth and soft dough adding water as required.

cover and rest for 20 minutes.


now pinch a small ball sized dough.

dust with wheat flour and flatten slightly.

grease oil in centre and fold to a square.

dust with wheat flour as required and roll square.

roll gently making sure the layers are not pressed completely.

now on a hot tawa place the rolled paratha and cook for a minute.

furthermore, when the base is partly cooked, flip the masala paratha.

also, spread ½ tsp olive oil / ghee and press slightly both the sides.

flip again once or twice till both the sides are cooked properly.

notes:
firstly, adjust the spices accordingly to make it spicy.
also, roast the paratha on medium flame else it may not get cooked from inside.
additionally, you can also add finely chopped onions along with spring onions.
finally, spring onion paratha tastes great when prepared like layered paratha.