upvas dosa recipe | farali dosa | upvasache dose & upvas green chutney with detailed photo and video recipe. an easy and healthy dosa recipe made with a combination of sama rice and sabudana or sago pearls. it is an ideal breakfast recipe which is made without rice and urad dal which is not considered for fasting. the post also includes a healthy and tasty upvas chutney recipe made with coconut and coriander leaves.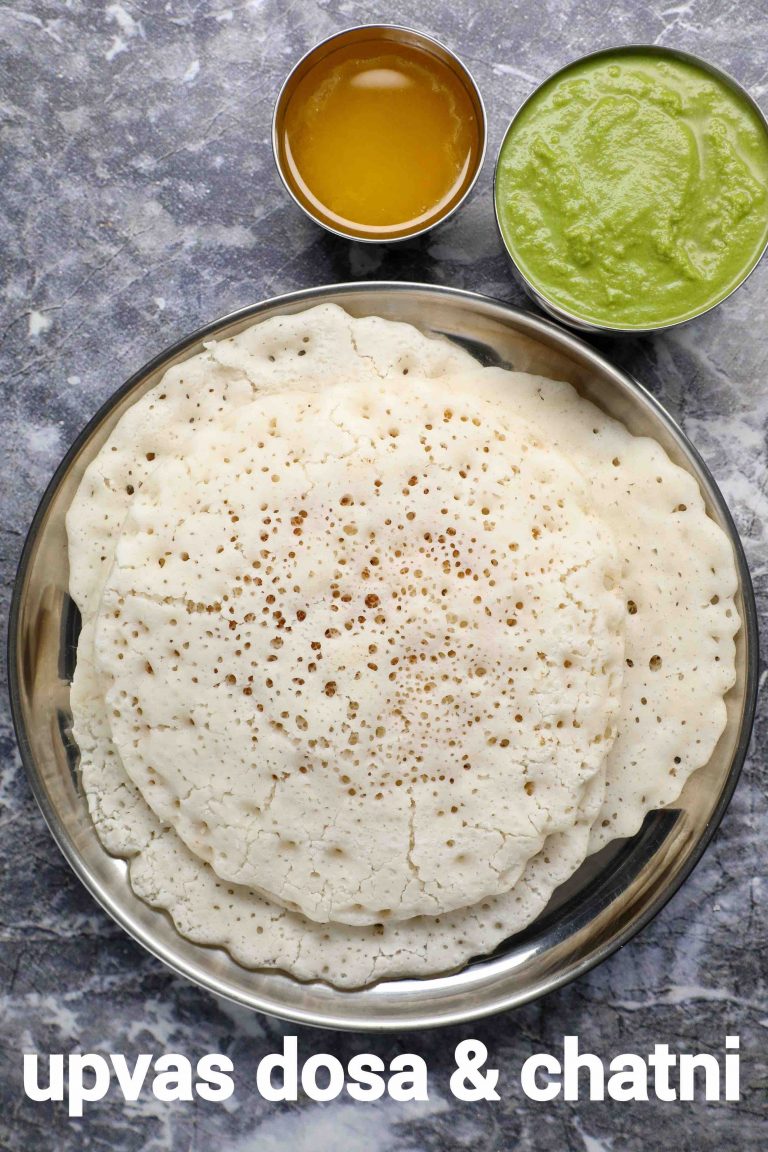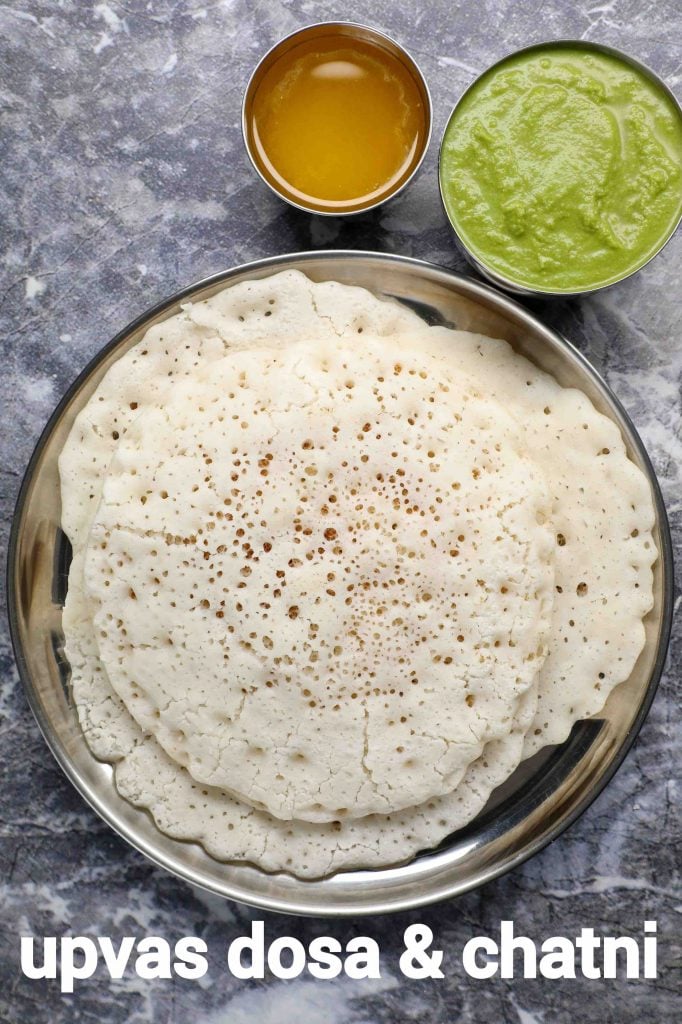 upvas dosa recipe | falahari dosa | upvasache dose & upvas green chutney with step by step photo and video recipe. there are many fasting options and recipes for afternoon lunch and night dinner. these are generally made with sabudana or wheat which are loaded with essential nutrients during fasting. but this recipe post is dedicated to the breakfast category and made with the combination of sama rice and sabudana pearls.
i have been getting a lot of requests lately to post an easy and healthy upvas recipe. particularly a recipe which can be used primarily for breakfast and also lunch and dinner. the first choice was dosa recipe using sabudana. but i have already posted sabudana dosa recipe with rice, which is not considered for fasting. hence i thought of using sama rice or also known as varai, moriyo, kodri, samvat or samak chawal. it is used as an alternate to the rice and sabudana pearls to get the soft texture to the dosa. in this recipe, i have gone with the traditional way of soaking and fermentation to avoid chemicals like baking soda and eno fruit salt. i personally like the soft version but you can also make a crispier version with thin dosa batter. it would be very similar to the rava dosa batter.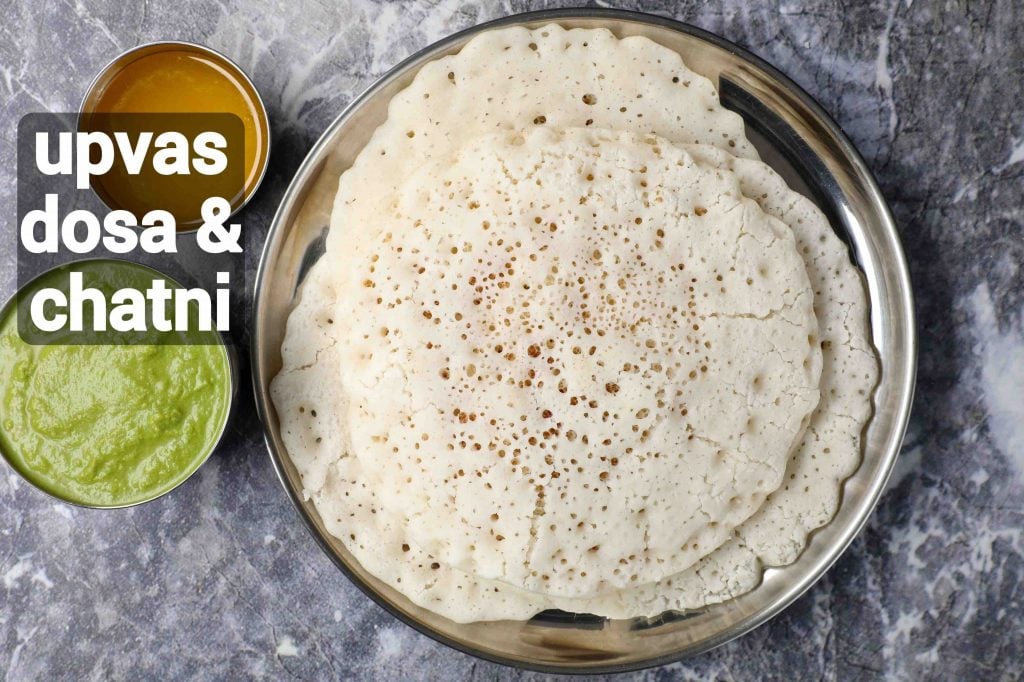 furthermore, i would like to add some more variations, tips and suggestions to upvas dosa recipe. firstly, the combination of sama rice and sabudana pearls for a balanced diet. however, you can also prepare just sabudana dosa or sama rice dosa by following the same procedure. secondly, i would heavily recommend adding sour curd to the dosa batter so that it gets easily fermented. you may keep it in a warm place to hasten the fermentation process. lastly, i have poured the dosa batter on a non-stick tawa pan similar to appam. you may also make a thin and crisp dosa like plain dosa with the same batter.
finally, i request you to check my other vrat or fasting recipes collection with this post of upvas dosa recipe. it mainly includes my other related recipes like sabudana thalipeeth, peanut sundal, panchamrit, rava rotti, sabudana chilla, hariyali sabudana khichdi, namak mirch paratha, methi na gota, cabbage paratha, pesara pappu charu. further to these i would also like to include my other related recipe categories like,
upvas dosa video recipe:
recipe card for farali dosa recipe:
how to make upvas dosa with step by step photo:
how to make spicy chutney for upvas or vrat:
firstly, in a small mixi jar take ½ cup coconut, 1 chilli, 1 inch ginger, ½ cup coriander, 1 tbsp lemon juice and ½ tsp salt.

blend to smooth paste adding ½ cup water.

finally, upvas or vrat ka spicy chutney is ready.

how to make upvas dosa:
firstly, in a large bowl take 1 cup samo rice, ½ cup sabudana and soak in water for 5 hours.


now drain off the water and transfer to the mixi.

add water as required and blend to a smooth paste.

transfer the samo sago batter to a large bowl.


add 2 tbsp curd, ½ tsp salt and mix well.

cover and rest for 4 hours or until the batter is fermented.

now heat the non-stick pan and pour a ladleful of batter, spreading slightly.

cook on medium flame until the dosa is cooked completely. you can over and cook if your dosa is not cooking uniformly.

finally, enjoy upvas ka dosa or vrat ka dosa with spicy chutney.

notes:
firstly, make sure to ferment the batter well else you may not have soft and pours dosa.
additionally, adding curd will trigger the fermentation process.
also, recommend using non-stick pan to prevent dosa from sticking.
finally, upvas ke dosa or vrat ka dosa tastes great when served with spicy chutney and ghee.