buttermilk vada recipe | instant mor vadai | crispy chaas vada recipe with detailed photo and video recipe. an ideal and unique deep-fried snack recipe made with semolina, beaten rice, fresh herbs and sour buttermilk. it is known for its similarities with most famous south indian medu vada, especially the doughnut shape, but has totally different taste and flavour. it is generally served as a side dish to lunch/dinner or as an evening snack with a choice of tomato sauce toppings or any spicy dip.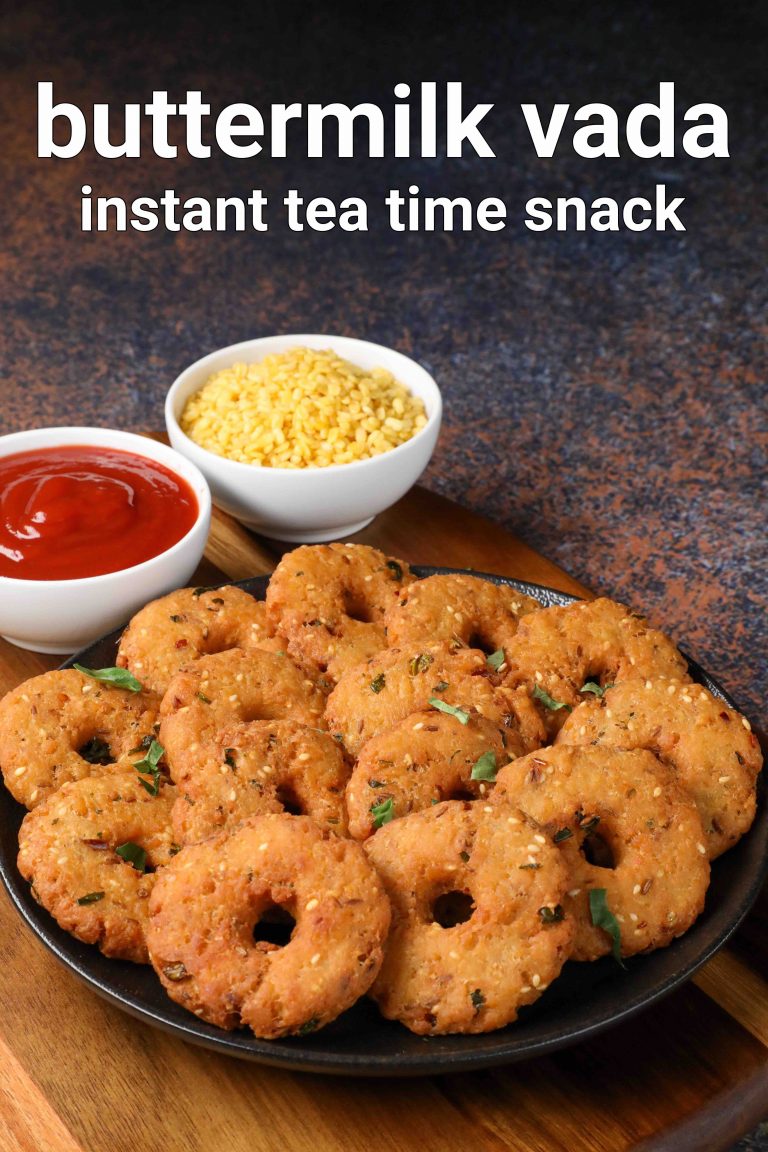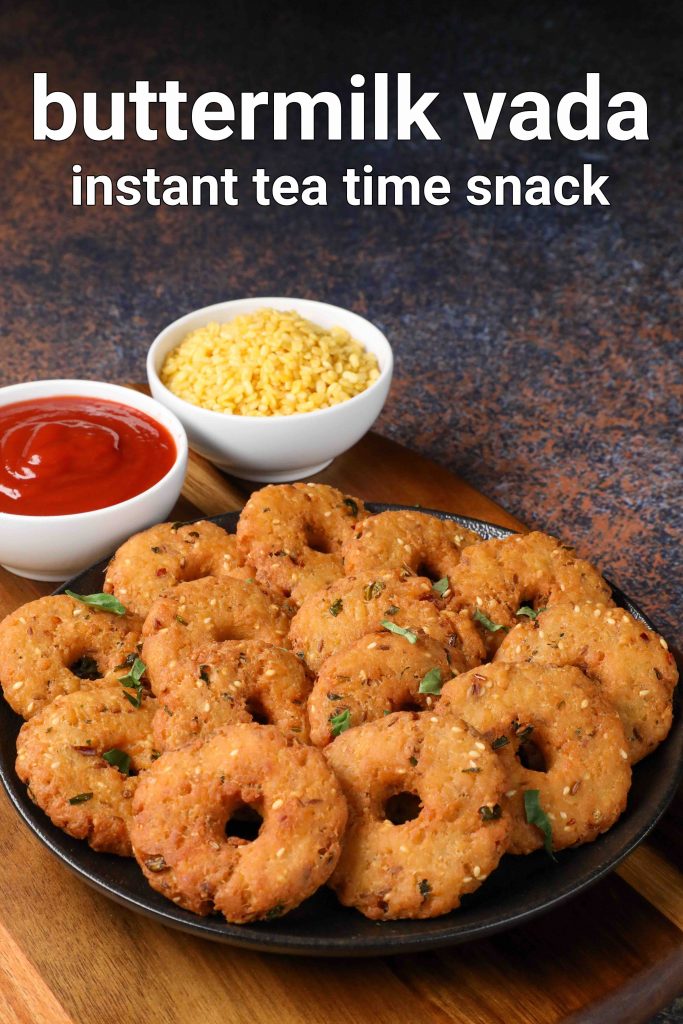 buttermilk vada recipe | instant mor vadai | crispy chaas vada recipe with step by step photo and video recipe. vada recipes are very common across south india and are mainly made for morning breakfast or for any particular occasions. these are generally made with a choice of lentils either ground or crushed, but can also be made with other ingredients. one such easy and simple instant vada recipe is the buttermilk vada known for its taste, flavour and ease of preparing it.
as i was explaining earlier, it has strong similarities between the soft and crisp medu vada recipe. however, there are many visible differences too. to begin with, the texture of the recipe is totally different. this recipe has to offer more hard and crisp texture whereas the medu vada is on the soft and crisp in texture. in addition, the ingredients used in both the recipes are completely different. i have used the combination of poha and rava soaked in sour buttermilk. rava helps to give the crispiness, poha helps to bind and the buttermilk helps to give the flavour, taste and character to this recipe. moreover, the shape looks very similar to each other, yet there are some minor differences. this recipe is flat in shape whereas the medu vada is puffier in shape and texture.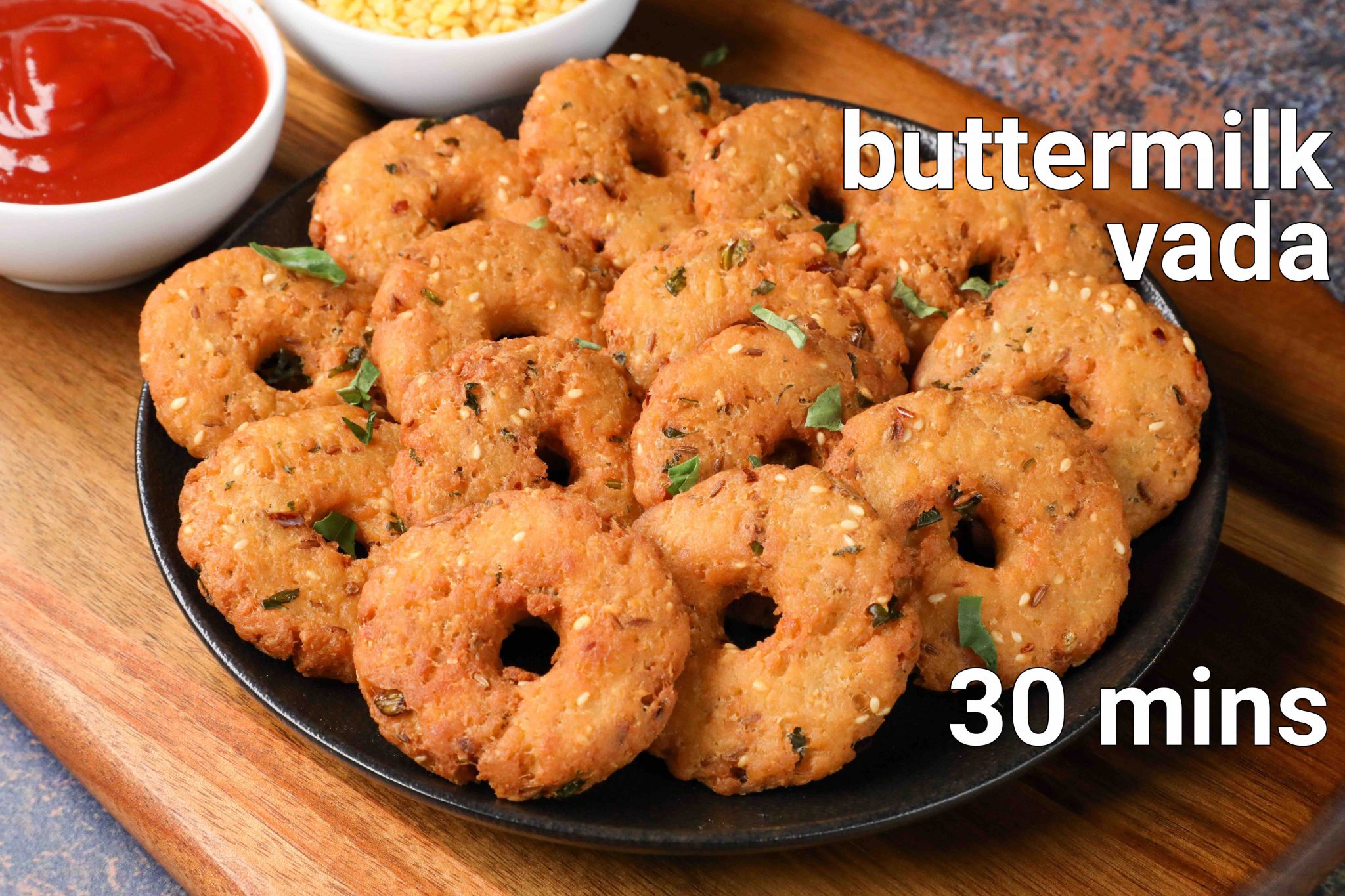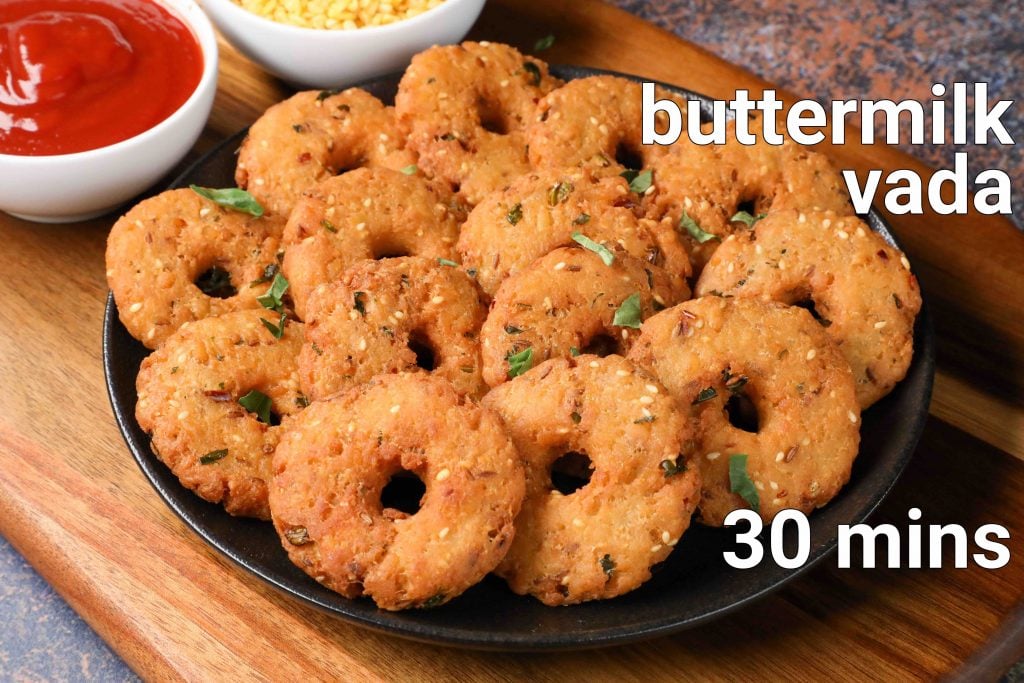 furthermore, i would also like to highlight some more additional tips, suggestions and variations to the instant mor vadai. firstly, with respect to shape, you do not have to necessarily shape it like a doughnut. you can shape it like a disk or to any other shape as per your preferences. the doughnut-like shape makes it more attractive and appealing. secondly, try to use sour curd or yoghurt to prepare the buttermilk. if you use sour curd, the sourness taste goes into the vada to have a combination of flavour and taste. lastly, avoid overcrowding while deep frying. deep fry them in small batches and use low to medium hot oil. low heat helps to achieve crisp texture. you can use an airtight container to improve the shelf life.
finally, i request you to check my other detailed snacks recipes collection with this post of instant buttermilk vada recipe. it mainly includes my other related recipes collection like tamarind candy, rava shankarpali, ulundu murukku, papaya s, kurkure, vermicelli cutlet, poha fingers, masala mirchi bajji, french fries, pav bhaji. further to these i would also like to mention my other related recipe categories like,
buttermilk vada video recipe:
recipe card for instant mor vadai recipe:
how to make buttermilk vada with step by step photo:
firstly, in a large bowl place a sieve and rinse 1 cup poha.

transfer the rinsed poha to a large bowl and add ½ cup rava.

also, add ½ tsp salt, 1 cup buttermilk and mix well.

rest for 20 minutes or until the poha and rava absorbs buttermilk.


after 20 minutes, the poha and rava have softened well.

now add 1 chilli, 1 tsp ginger paste, ½ tsp chilli flakes, 1 tbsp sesame, few curry leaves, 2 tbsp coriander, 2 tbsp coconut and 1 tsp cumin.

squeeze and mix well making sure everything is well combined.


further, add ¼ cup rice flour and mix forming a soft dough.

grease hands with oil and pinch a ball sized dough.

flatten slightly and make a hole in the centre.

deep fry in hot oil, keeping the flame on medium.

stir occasionally, and fry on medium flame until the vada turns golden and crisp.

drain off the vada on kitchen paper to remove excess oil.

finally, enjoy buttermilk vada with chutney or tomato sauce.

notes:
firstly, make sure to take sour buttermilk for rich flavour.
also, add onion or vegetables of your choice to make it nutritious.
additionally, make sure to soak the poha and rava well, else the vada will not be good.
finally, buttermilk vada recipe tastes great when served hot and crispy.