tamarind candy recipe | imli candy | imli ki goli | imli toffee with detailed photo and video recipe. a unique and tasty candy or toffee recipe made with tamarind or imli with a strong dosage of spice in it. it is one of the popular tangy and sour condiment confectionery which is generally served as a lite snack after a meal or as a mouth refresher. there are different types to these tangy candies, but this is condiment is a combination of spicy and tangy tamarind candies.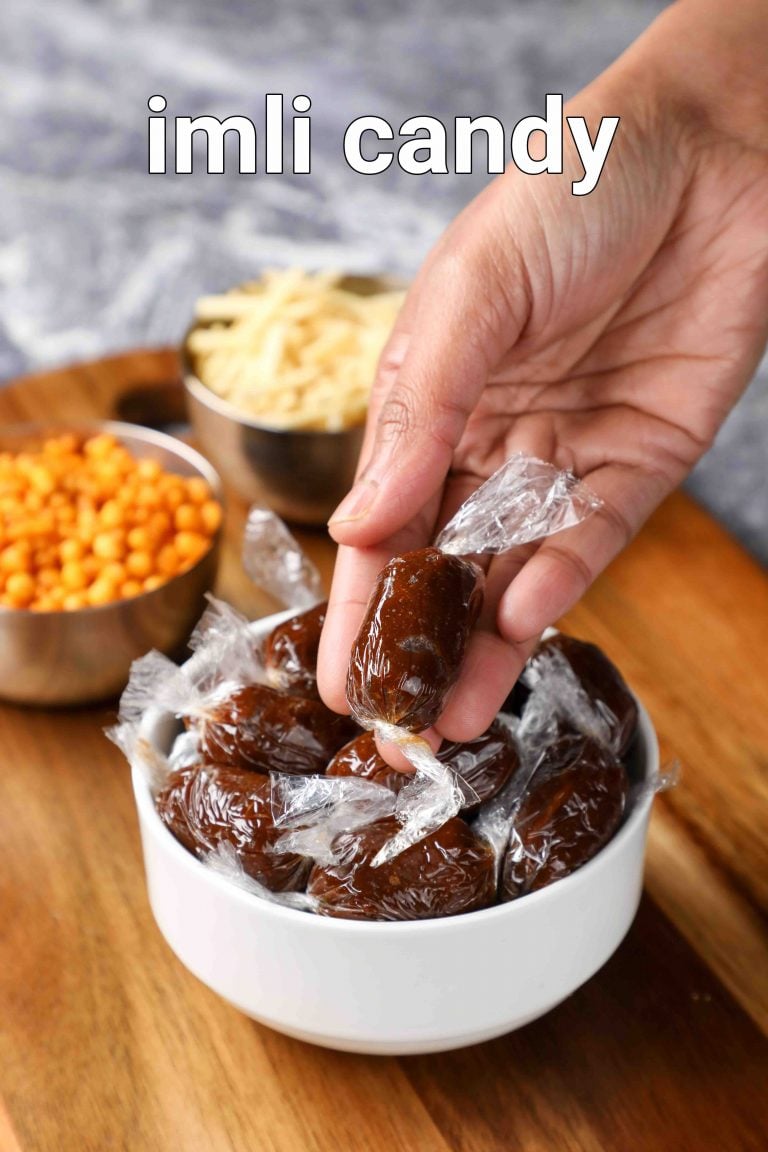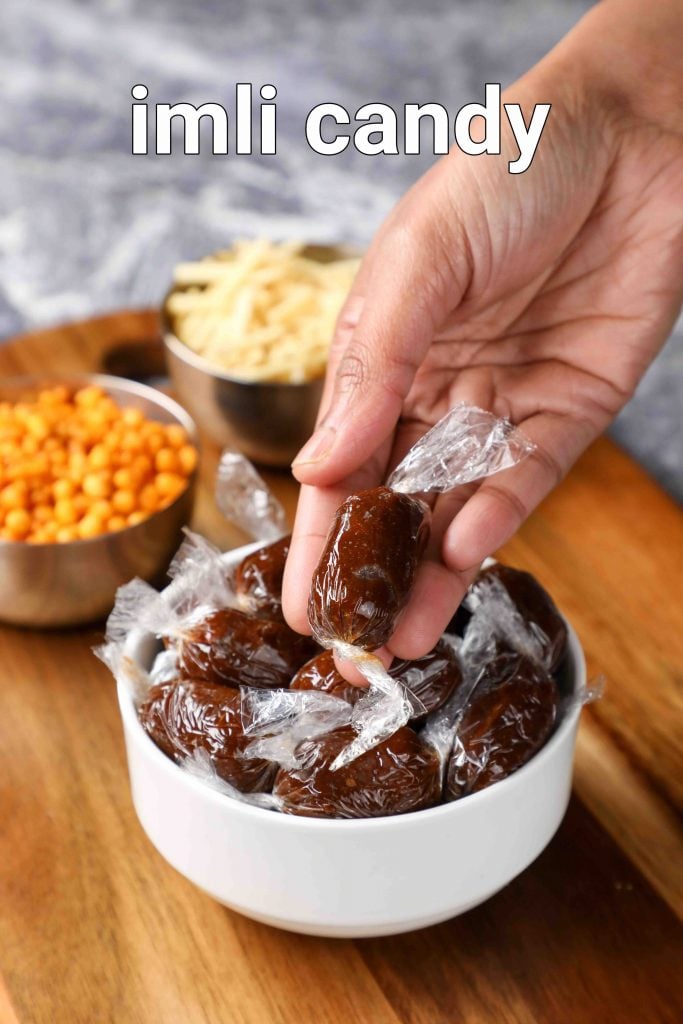 tamarind candy recipe | imli candy | imli ki goli | imli toffee with step by step photo and video recipe. candy or toffee recipes are primarily a combination of sweet or creamy taste in flavour. however, there are some tangy or sour taste candies too which are majorly made using citrus and tropical fruit. but it can also be made with other ingredients and tamarind is one such popular choice and can be mixed with dates and spice to make a lip-smacking toffee recipe.
i come from a tropical place with lots of tropical and citrus fruits in supply. most of them are seasonal, but each season has to offer something unique. especially after the winter season, in summer you get so many options. mostly the sweet taste fruit, but one particular fruit was of my interest is the tamarind. it's because of the shape and the combination of mild sweetness and a strong punch of sourness. especially when the fresh and ripe tamarind is mixed with jaggery and some pepper toppings, it makes an ideal snack. this was a homemade condiment, but simultaneously there were local brands producing these lip-smacking snack. i still remember the taste. it was a mixture of sweetness, sourness with a unique blend of spice for the heat. with this post, i am trying to recreate the same taste and look and served with a plastic wrapper for the same feeling.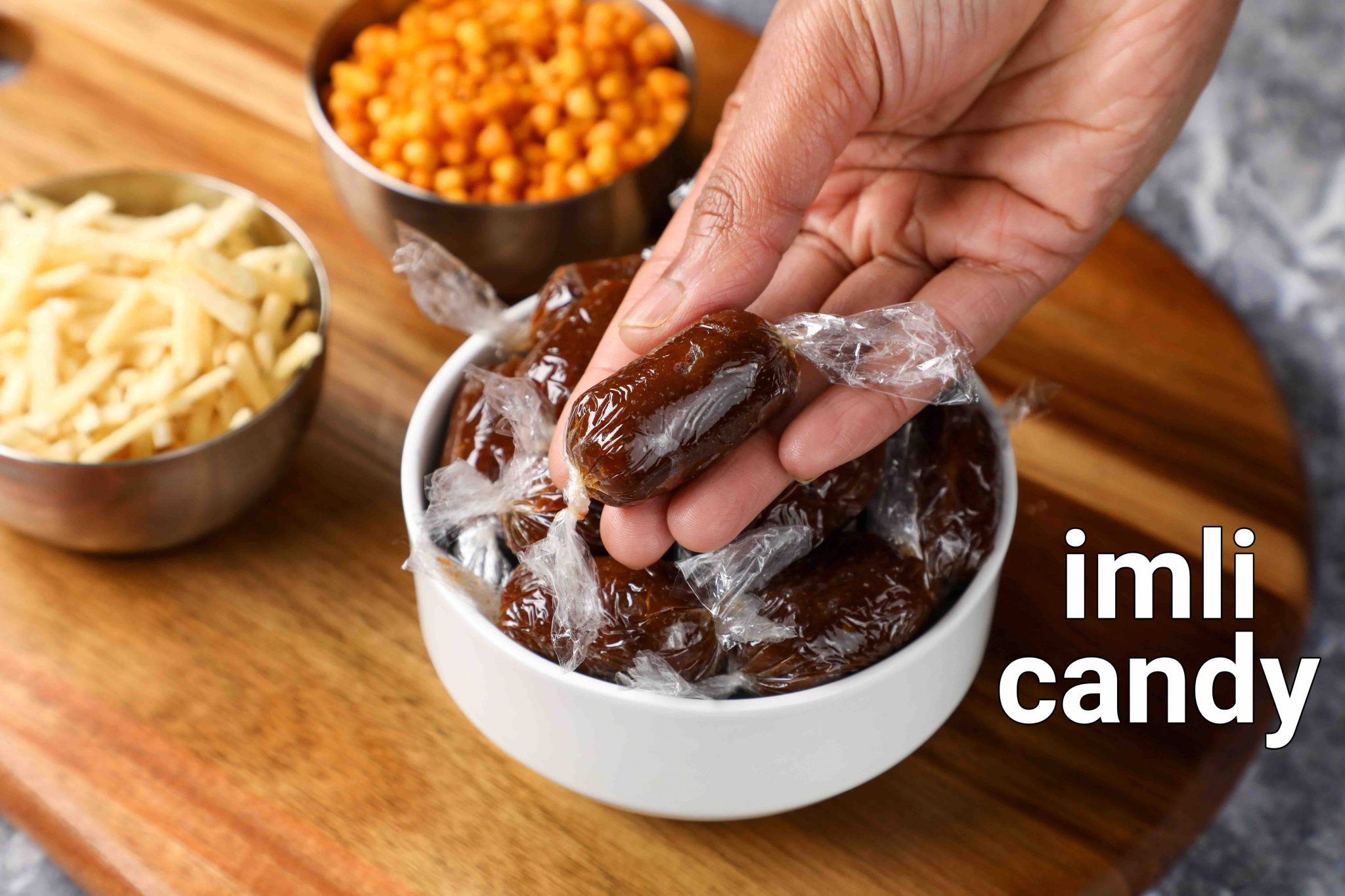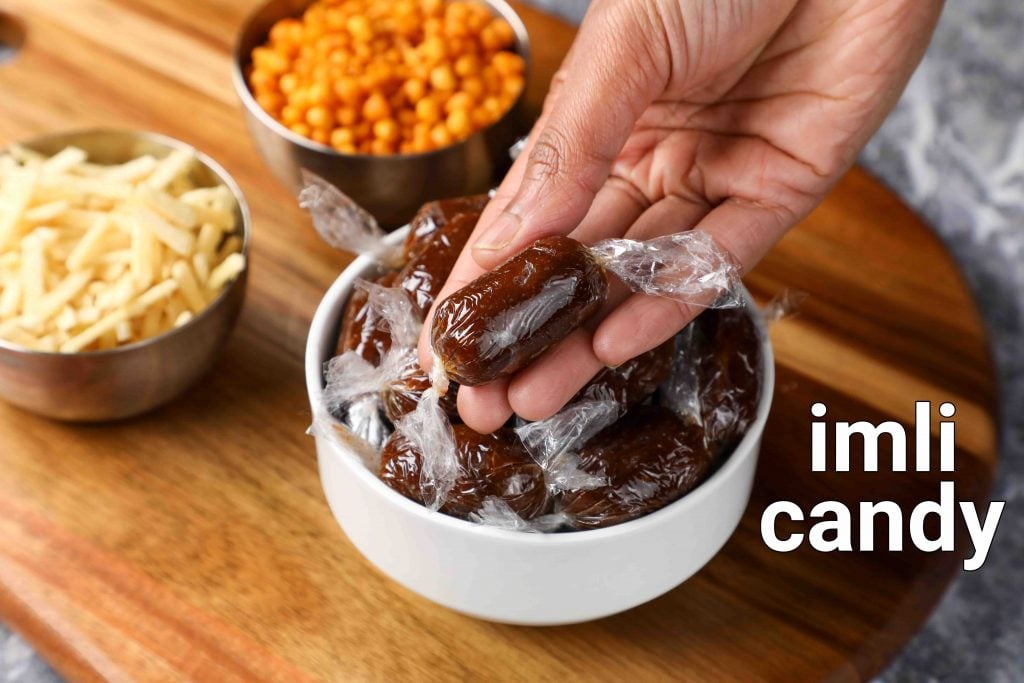 furthermore, i would like to add some more tips, suggestions and variations to the lip-smacking tamarind candy recipe. firstly, in this recipe, i have added dates and jaggery for the sweet taste and makes it an ideal combo with tamarind. but as an alternative to it, you can also use sugar for the same purpose. but i prefer dates for its subtle sweet taste. secondly, the dates and tamarind mixture must be cooked thoroughly till it forms a lump and starts leaving the pan. having said that, you need to be careful so that you do not overcook it. lastly, if you feel that the candy does not get shaped, you can keep it in the fridge for 30 mins or so. it should help to solidify and also to hold the shape.
finally, i request you to check my other snacks recipes collection with this post of tamarind candy recipe. it mainly includes my other related variations like, rava shankarpali, ulundu murukku, papaya s, kurkure, vermicelli cutlet, poha fingers, masala mirchi bajji, french fries, pav bhaji, cajun potato. further to these i would also like to mention my other recipe categories like,
tamarind candy video recipe:
recipe card for tamarind candy recipe:
how to make imli candy with step by step photo:
firstly, in a large bowl take 100 gram tamarind and 80 gram dates.

add 2 cup hot water and soak for 30 minutes.

transfer the dates and tamarind into mixi jar and blend to smooth paste.

strain the mixture making sure the mixture is smooth and creamy.


transfer the tamarind dates mixture to a large kadai. add 100 gram jaggery and continue to cook.

cook on medium flame until the mixture starts to thicken.

now add 1 tsp chilli powder, 1 tsp chaat masala, ½ tsp cumin powder, ½ tsp salt and 1 tsp ghee.


mix well and cook on medium flame until the mixture starts to thicken and leaves the pan.

cool the mixture completely, and now you can see the mixture has thickened forming a dough.

take a tsp of mixture and wrap in cling wrap.

finally, enjoy imli candy as a mouth fresher after your meals or as a toffee.

notes:
finally, make sure to soak the tamarind and dates well, else it will be difficult to blend.
also, adjust the amount of chilli powder based on the live level you are looking for.
additionally, make sure to cook the mixture until it separates the pan else it will turn sticky.
finally, imli candy recipe tastes great when tanginess, sweetness and spiciness are balanced.