luchi recipe | puffed bengali luchai bread | luchai puri recipe with a detailed photo and video recipe. a traditional and authentic bengali deep fried puffed bread recipe made with plain flour. the recipe is very similar to a traditional poori recipe but just that this recipe is made with maida and ghee. the striking feature of this recipe is its texture and white bright colour which makes it attractive and appealing.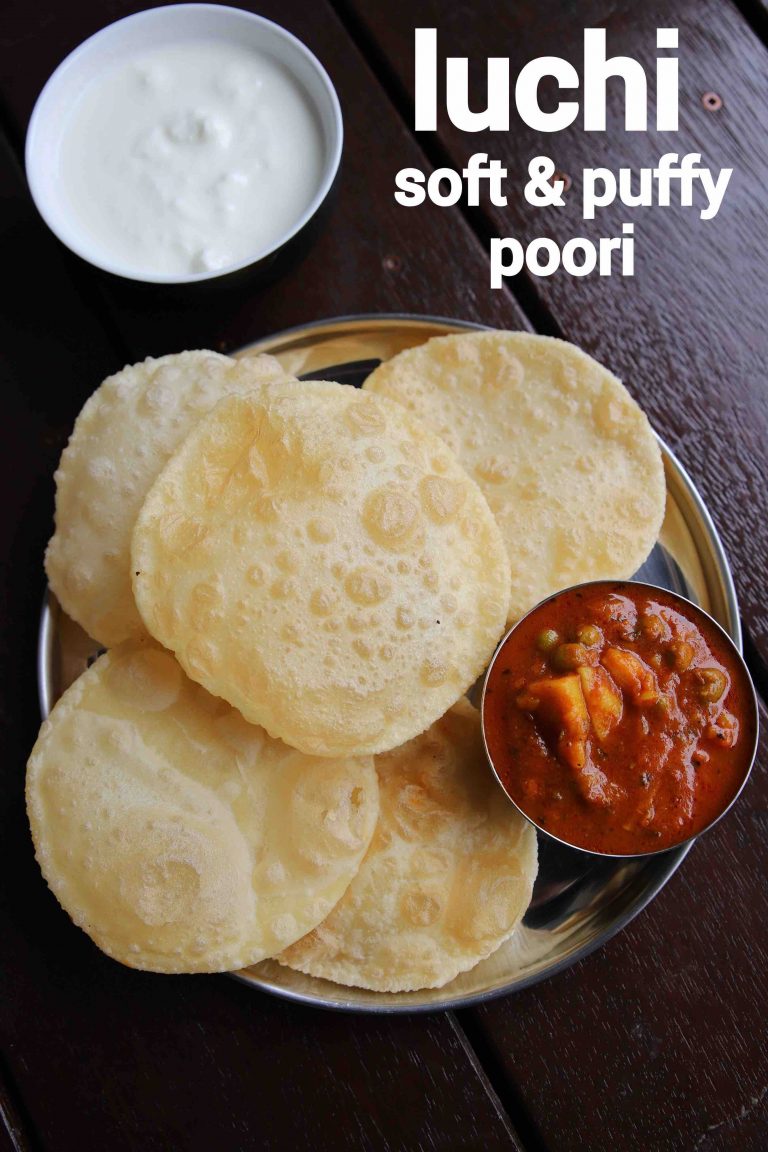 luchi recipe | puffed bengali luchai bread | luchai puri recipe with step by step photo and video recipe. indian flatbread recipes are very common across india and are made with different ingredients. as a matter of fact, each state has its own flavour and way of making these bread which is served with local delicacy. one such hugely popular bengali cuisine delicacy is luchi or luchai recipe made via deep frying.
well, i guess many non-bengali's may have a question by now on how it is different from normal poori's. to answer this question, the main difference is the usage of flour. in this luchai puri recipe, the main ingredient is plain flour which actually helps to get the bright glossy colour. the other key ingredient for this recipe is ghee or clarified butter which is mixed with the maida dough. hence when you have this bread with any curry you would get the ghee flavour in each bite. i personally do not like to have ghee in my luchai and i would avoid while my making it for personal use. but to get the traditional and authentic taste, i would heavily recommend sticking to spoon full of ghee.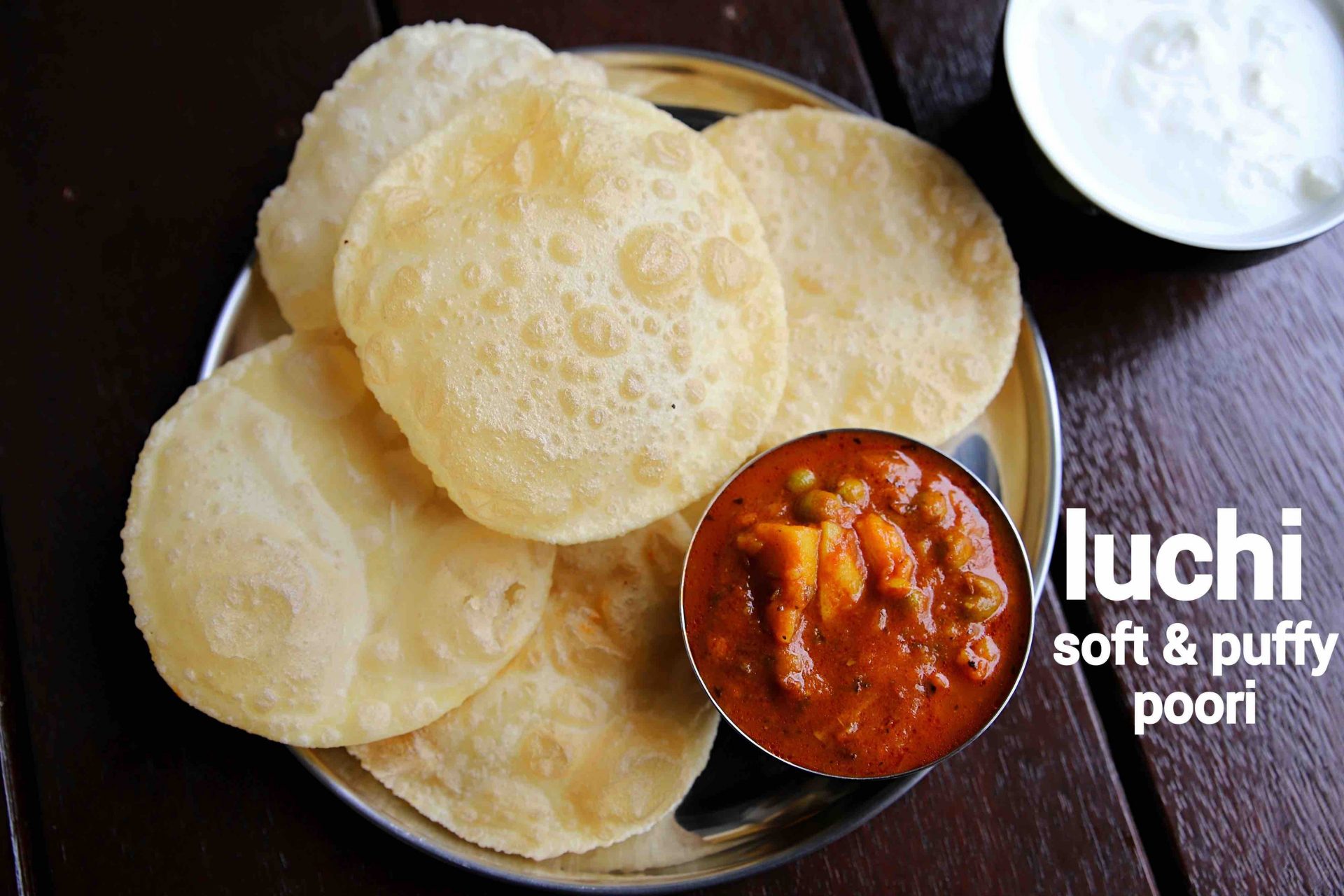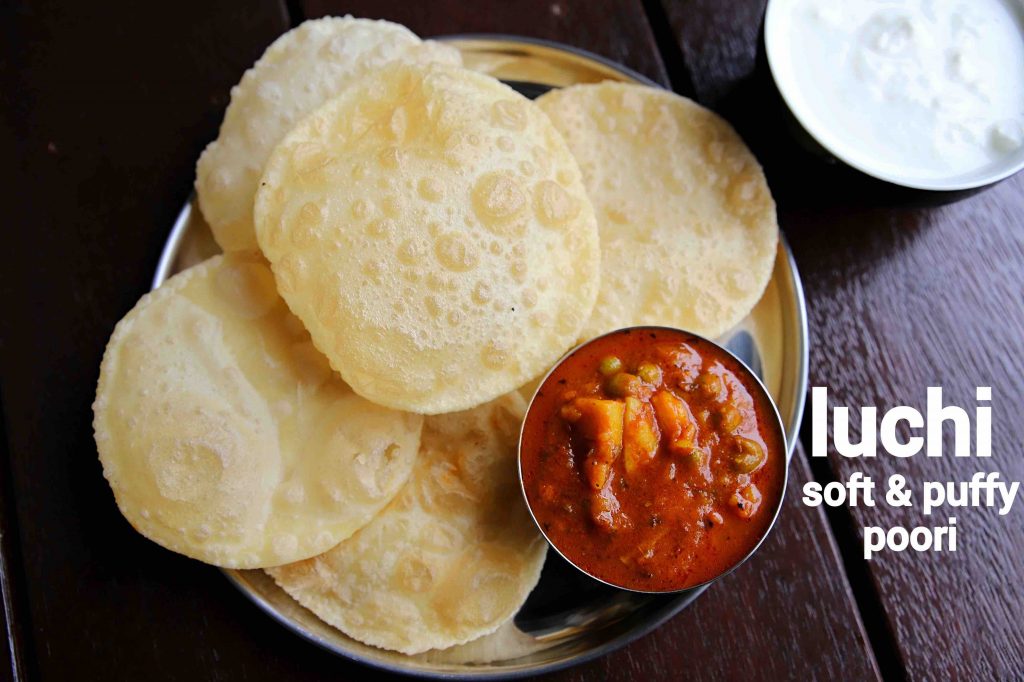 furthermore, i would like to highlight some tips, suggestions and variations for a perfect bengali luchi recipe. firstly, the recipe has to be made with plain flour or maida and there is no option to avoid it. if you fall back to wheat flour, you would end up making the normal pooris otherwise. secondly, ensure to make the dough very tight by adding a small quantity of water in regular interval. also once the dough is prepared, rest it for 30-60 mins for a perfect texture. lastly, deep fry these in small batch or even better deep fry them individually. also once the luchi disc is submerged in hot oil or ghee, start splashing oil on top of it so that it puffs fully.
finally, i would like to highlight my other detailed roti and naan recipes collection with this recipe of luchi recipe. it mainly includes recipes like poori with milk, garlic naan, tandoori roti, garlic paratha, malabar parotta, aloo kulcha, paneer kulcha and aloo paratha. in addition, do visit my other detailed recipes collection like,
luchi video recipe:
recipe card for puffed bengali luchai:
how to make luchi recipe with step by step photo:
firstly, in a large mixing bowl take 3 cup maida, ½ tsp salt and 1 tbsp ghee.

crumble and mix well making sure the flour holds the shape when pressed with the fist.

now slowly add water as required and prepare a smooth dough.

grease the dough with oil and rest for 15 minutes.


pinch a small lemon sized balls and grease with oil.

roll the dough evenly into circles using a rolling pin. roll neither too thin nor thick.

heat oil in a deep frying pan or kadai. when the oil is sufficiently hot, add one poori.


and, press with the spoon to puff up.

once they puff, it will automatically turn over. if not, once the bottom side is golden brown, turn over the poori.

do not allow the poori to turn golden brown. then drain the poori into tissue paper to remove excess oil.

finally, serve luchi with curries of your choice.

notes:
firstly, make a smooth and tight dough adding water as required.
also, adding ghee makes luchi flavourful and tasty.
additionally, fry on hot oil else the poori will not puff.
finally, luchi recipe tastes great when it's puffy and crispy.