masala kulcha recipe | aloo paneer kulcha | stuffed kulcha recipe with detailed photo and video recipe. a popular indian flat bread recipe prepared mainly with spiced potatoes and paneer stuffing. it is an ideal bread recipe from the north indian cuisine or punjabi cuisine served in both fine dine restaurants and street food vendors. these spiced breads taste great by itself but taste amazing when served with choice of paneer gravies.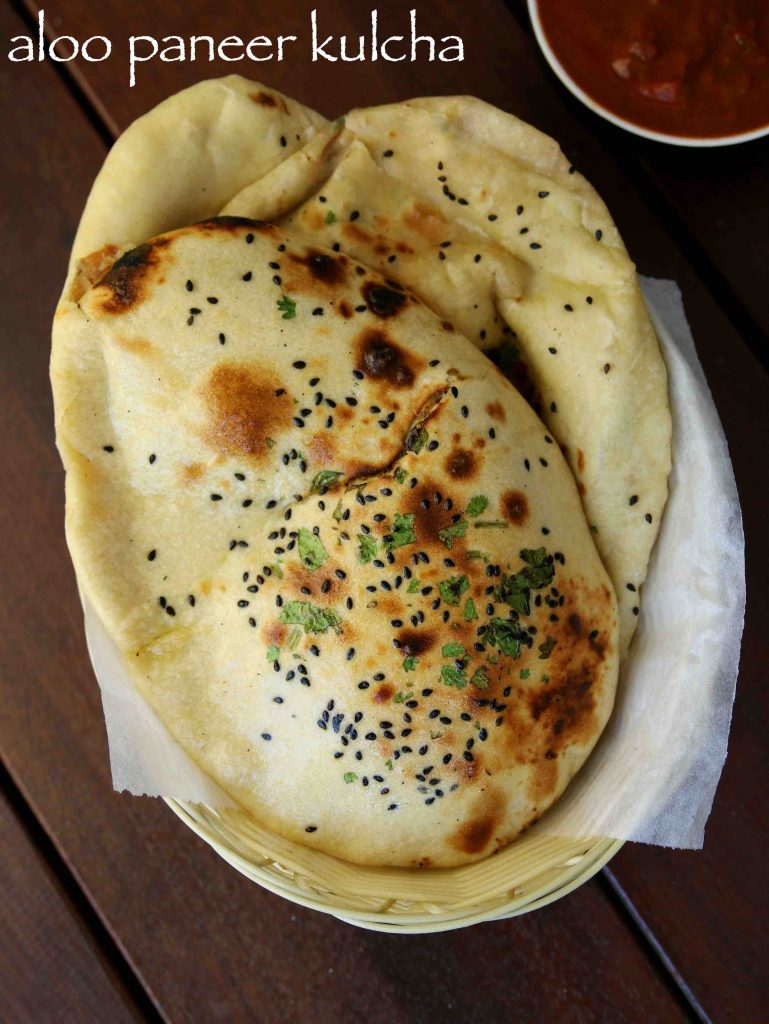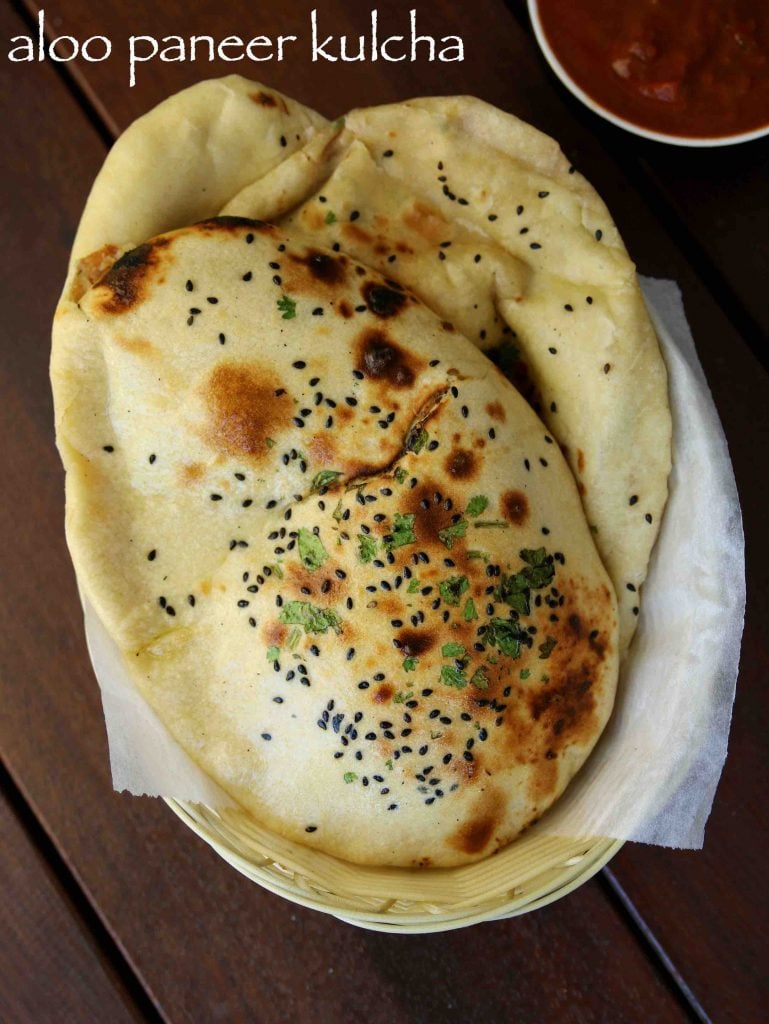 masala kulcha recipe | aloo paneer kulcha | stuffed kulcha recipe with step by step photo and video recipe. there are many variants with the kulcha naan bread recipe ranging from plain to vegetable-based kulcha recipe. however this is a unique combination of spiced and mashed aloo with paneer, stuffed inside kulcha bread. traditionally, it is prepared in tandoor oven but i have used tawa to prepare the same.
i have already shared couple of variants within the kulcha family but i wanted to share masala kulcha recipe or aka popularly known as aloo paneer kulcha. while technically the bread or naan bread has no difference from its successors but it differs in its stuffing. in this recipe i have added the combination of spiced potatoes and grated paneer which is stuffed inside the kulcha. so basically it is the combination of paneer kulcha and aloo kulcha. further the same recipe can also be extended by adding finely chopped capsicum, onions and even spinach leaves to make it vegetable masala kulcha recipe. perhaps i would share it as a separate post in near future.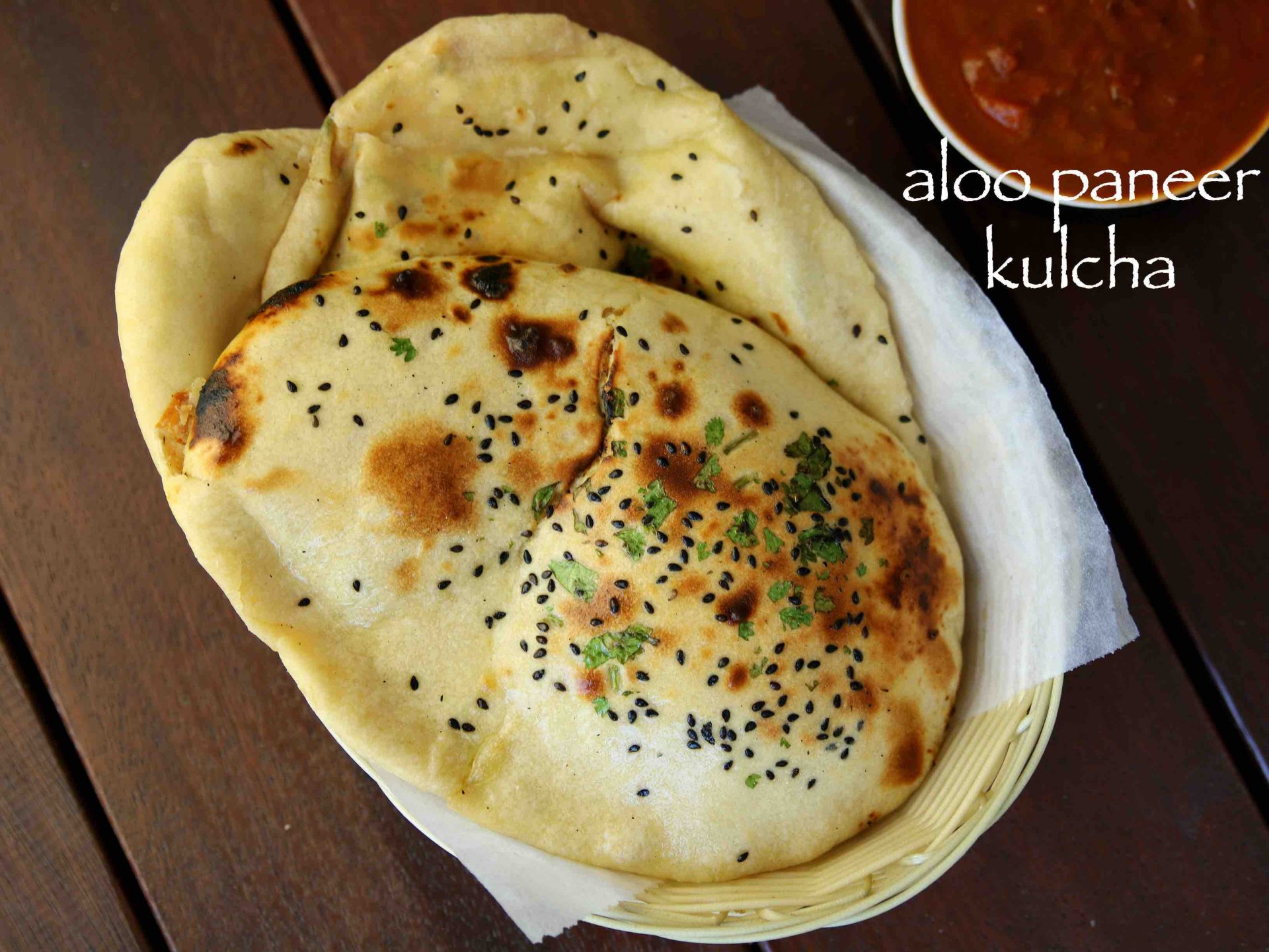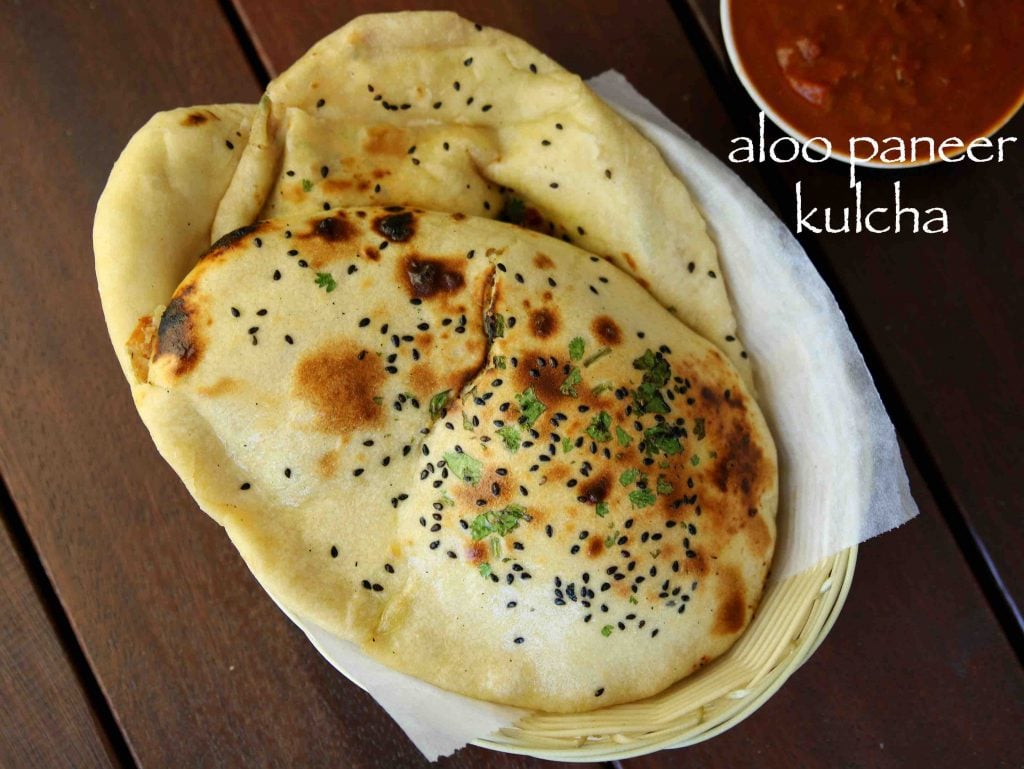 furthermore some important tips and suggestions while preparing masala kulcha or aloo paneer kulcha. firstly and importantly the dough for kulcha has to be kneaded properly with proper resting. as a thumb rule knead it for minimum of 10 minutes with 2 hours of resting. secondly, i have used hard anodised tawa in this recipe, but i do not recommend non stick tawa for the same. you would not be able to stick it to the bottom and it may slip while roasting it upside down. moreover, you can also bake it in the conventional oven at 180 degrees for 10-12 mins or till it reaches golden brown. lastly, make sure to have prepare the stuffing with less moist. it should not be dry but at the same time should not contain more moisture.
finally i would like to highlight my other roti and naan bread recipes collection with this masala kulcha recipe. it includes recipes like, garlic naan, tandoori roti, rumali roti, butter naan, rice roti, jowar roti, chole bhature, methi thepla, palak roti and sabudana thalipeeth recipe. in addition to visit my other similar recipes collection like,
masala kulcha video recipe:
recipe card for masala kulcha recipe:
kulcha dough recipe:
firstly, in a large mixing bowl add 2 cup maida, 1 tsp sugar, ¼ tsp baking soda, 1 tsp baking powder, ½ tsp salt, 2 tsp oil and ¼ cup curd.

mix well making sure everything is combined well.

further, add ¾ cup lukewarm water and knead the dough for 10 minutes.

add more water if required and knead to a smooth and soft dough.


grease the dough with oil. cover and rest for 2 hours in warm place.

masala kulcha stuffing recipe:
firstly, in a large mixing bowl take 2 cup potato and ¾ cup crumbled paneer.

also add ½ tsp chilli powder, ½ tsp garam masala, 1 tsp aamchur, 1 tsp ginger garlic paste, 1 tsp kasuri methi, 2 tbsp coriander and ¼ tsp salt.


combine well and the stuffing is ready. keep aside.

preparing aloo paneer kulcha recipe:
after 2 hours, knead the dough slightly. to remove if any air present in the dough.

pinch a ball sized dough and dust with maida.

further roll to 5-inch circular disk.

place a ball sized prepared aloo paneer stuffing in the centre.

bring the edge to centre and start pleating.

also join the pleats together and secure tight.

reverse the ball and sprinkle some black sesame seeds and coriander leaves.

flip it over, making sure the coriander leaves and sesame seeds facing down.

gently roll to oval shape using a rolling pin. make sure you do not make too thin nor thick. and also keep the size in mind. it should not be larger than your tawa size.

brush with water over kulcha. make sure you coat uniformly. this helps kulcha to stick on tawa.

furthermore, slowly flip the kulcha and put it on hot tawa. remember, be gentle and put the water coated side down to tawa. also, do not use nonstick tawa.

gently press the kulcha. this helps the kulcha to stick on to the tawa and when you can flip the tawa upside down it will be intact.
now after a minute, flip the tawa upside down and cook kulcha directly on flame till they turn golden brown and puffs up.

gently scrape the kulcha from the bottom and remove.

also brush some butter (this is optional, however, helps to make your kulcha stays soft for a longer time)

finally, serve masala kulcha or aloo paneer kulcha hot with your favourite curry like paneer butter masala.

notes:
firstly, knead to smooth a soft dough else kulcha will be chewy.
in addition, you can also use oven or tandoor to bake the kulcha instead of tawa. but never use nonstick tawa as it slips while reversing.
applying water is mandatory. this helps naan or kulcha to stick to tawa and can reverse the tawa and cook directly on flame.
finally, masala kulcha or aloo paneer kulcha taste great when served hot.