khara bun recipe | masala bun iyengar bakery | iyengar bakery khara bun with detailed photo and video recipe. an easy and popular south indian version of pav bun recipe made with plain flour, spices and onions. the recipe was mainly made and served in the south indian iyengar bakery's but is widely known across india. it is generally served as an evening snack with a cup of tea or coffee but can also be served for morning breakfast.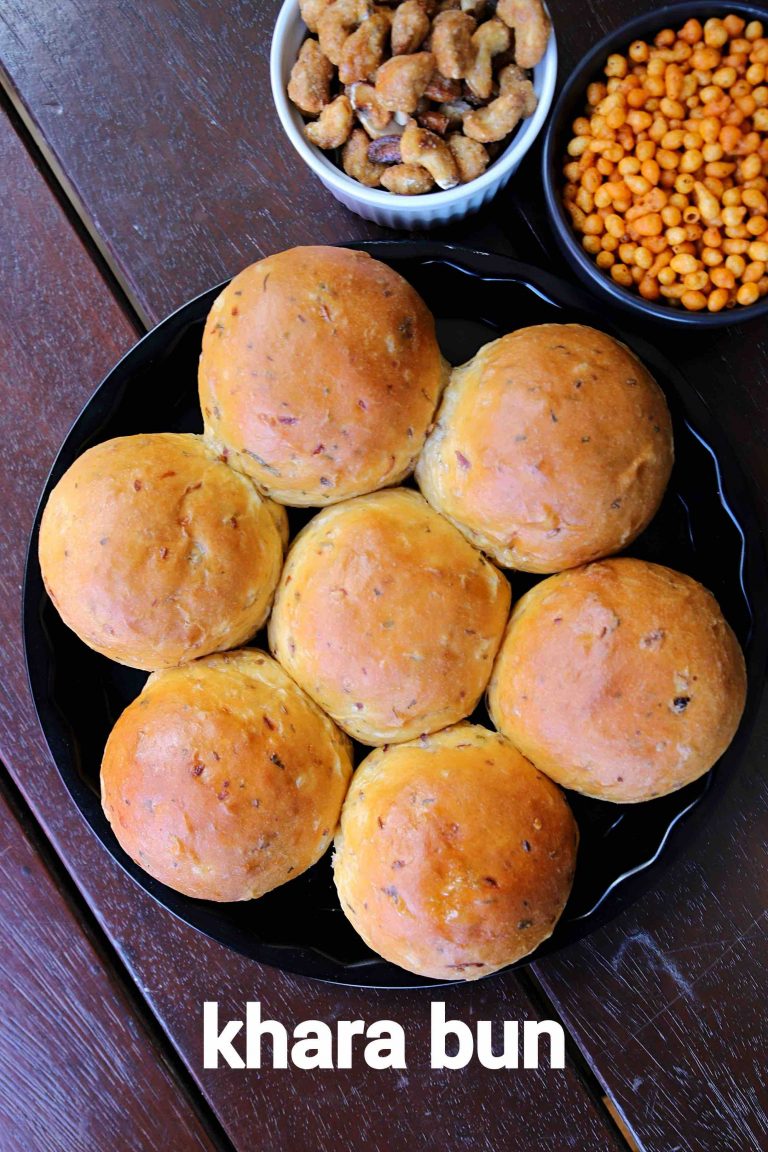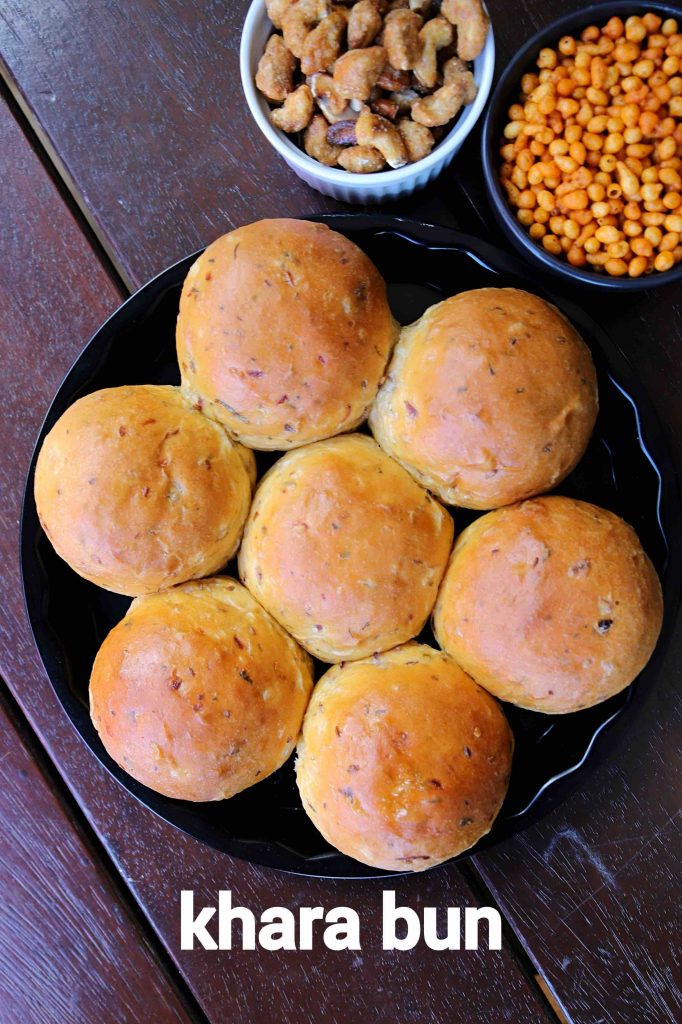 khara bun recipe | masala bun iyengar bakery | iyengar bakery khara bun with step by step photo and video recipe. bun or pav recipe are extremely popular recipe across india and are known for its various types. in north and western india it is known as pav but in south it is referred to as bun. one such bun recipe is masala bun or khara bun, from the popular iyengar bakery chain known for its extra flavour and spices in each bite.
iyengar bakery's in south india are known for its unique snacks, desserts or cake recipes. even though the iyengar community hails from tamilnadu, but these bakery chains are extremely popular in bangalore and hyderabad. they are known for their fusion recipes or to experiment with the traditional recipes. i have already shared the other popular honey cake recipe from the iyengar franchise. now with this post, i am attempting to recreate the other popular spicy pav or masala bun. the best part of this snack is spice and savoury taste within the bun. the traditional pav or bun does require an additional side dish or curry recipe with it, but this bun is self-sufficient as herbs, spices and even finely chopped onion is added.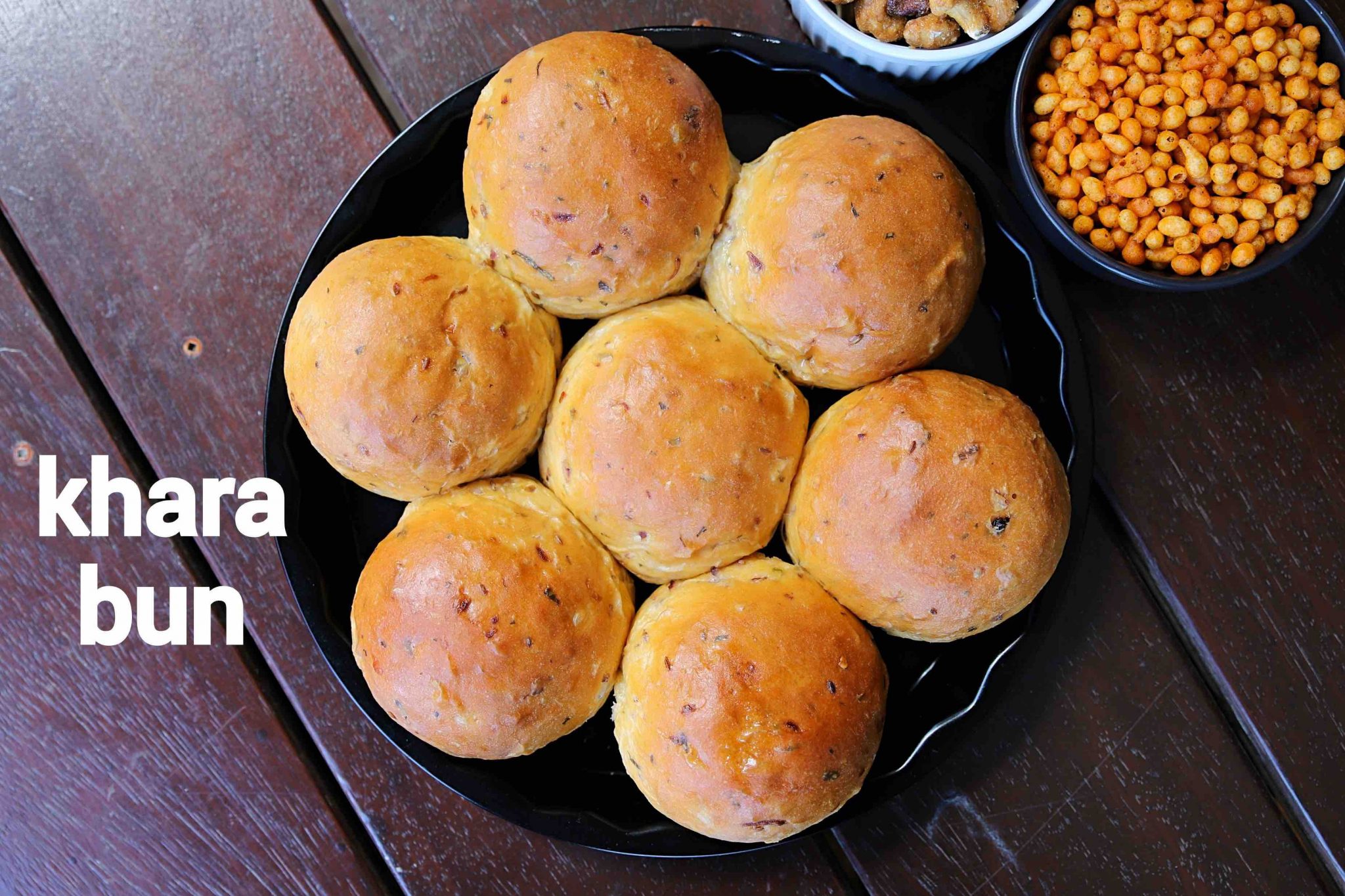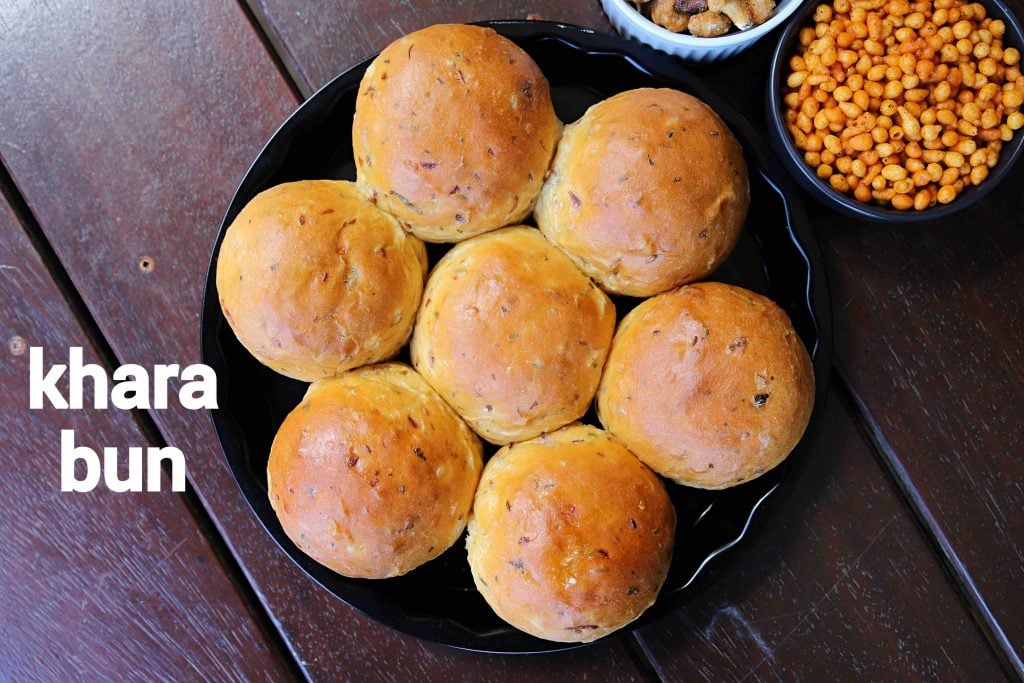 furthermore, i would like to add a few more tips, suggestions and variations to khara bun recipe. firstly, the recipe is generally made with plain flour or maida atta for the extra softness. you may attempt the same recipe with wheat flour to avoid the maida, but you may not get the same texture. secondly, i have used the baking oven to bake these pav or bun recipe to get the bigger size bun. you may attempt the same recipe in a pressure cooker if you do not have access to a traditional oven. you may refer my previous post of ladi pav in a pressure cooker for more details. lastly, there isn't any additional preservatives added to this recipe and hence the shelf life is 1-2 days. hence you may need to plan it accordingly.
finally, i request you to check my other detailed bakery recipes collection with this post of khara bun recipe. it mainly includes recipes like nankhatai, pav, chegodilu, chocolate cookies, pineapple upside-down cake, dry fruit chikki, suji snacks, chocolate banana cake, mullu murukku, banana chips. further to these i would also like to mention my other recipes categories like,
khara bun video recipe:
recipe card for masala bun iyengar bakery recipe:
how to make khara bun with step by step photo:
firstly, in a large bowl take ¾ cup warm milk, 1 tsp sugar and 1 tsp dry yeast.

mix well and rest for 5 minutes, so that yeast activates.

now add 2 cup maida, ¾ tsp salt and mix well.

further, add 1 onion, 1 tsp cumin, ½ tsp chilli powder, 1 tsp chilli flakes, 3 chilli, few curry leaves and 2 tbsp coriander.


squeeze and mix well making sure everything is well combined.

continue to knead for 5 minutes adding milk as required.

knead to a smooth and soft dough.


further, add 2 tbsp butter and continue to knead the dough.

the dough needs to turn non-sticky and yet remain super soft.

once the dough turns soft, tuck the dough well.

cover and rest for 1 hour in a warm place to rise.

after 1 hour, the dough rises indicating it is well poofed.

now knead the dough again slightly removing air incorporated.

pinch a small ball sized dough and tuck the dough forming small balls. make sure to tuck the dough to prevent from any scars appearing.

place the balls over the tray lined with butter paper.

now cover with a moist cloth and allow to rest for 20 minutes or until the dough doubles.

further, brush the dough with milk without damaging the balls.

place the tray into the preheated oven and bake at 180 degree celcius for 30 minutes, or until the pav turns golden brown from top.

once the bun is out of the oven, rub with butter to get a shiny look.

cool the bun completely, by placing on a cooling tray.

finally, enjoy khara bun as an evening snack.

notes:
firstly, to bake the bun in the cooker, check my cooker pav recipe.
also, increase the amount of green chilli to make it spicier.
additionally, as a healthy alternative replace maida with wheat flour.
finally, khara bun recipe tastes great when prepared spicy.