eggless bread omelette recipe | vegetarian omelette | no egg omelette with detailed photo and video recipe. a fusion or an extension recipe to the classical egg-based omelette but without egg. as an alternative to the popular chicken egg-based omelette, this recipe is based out of chickpea flour-based batter or besan based batter. the crepe made from besan has a similar texture and taste to the traditional and also can be consumed by vegetarians.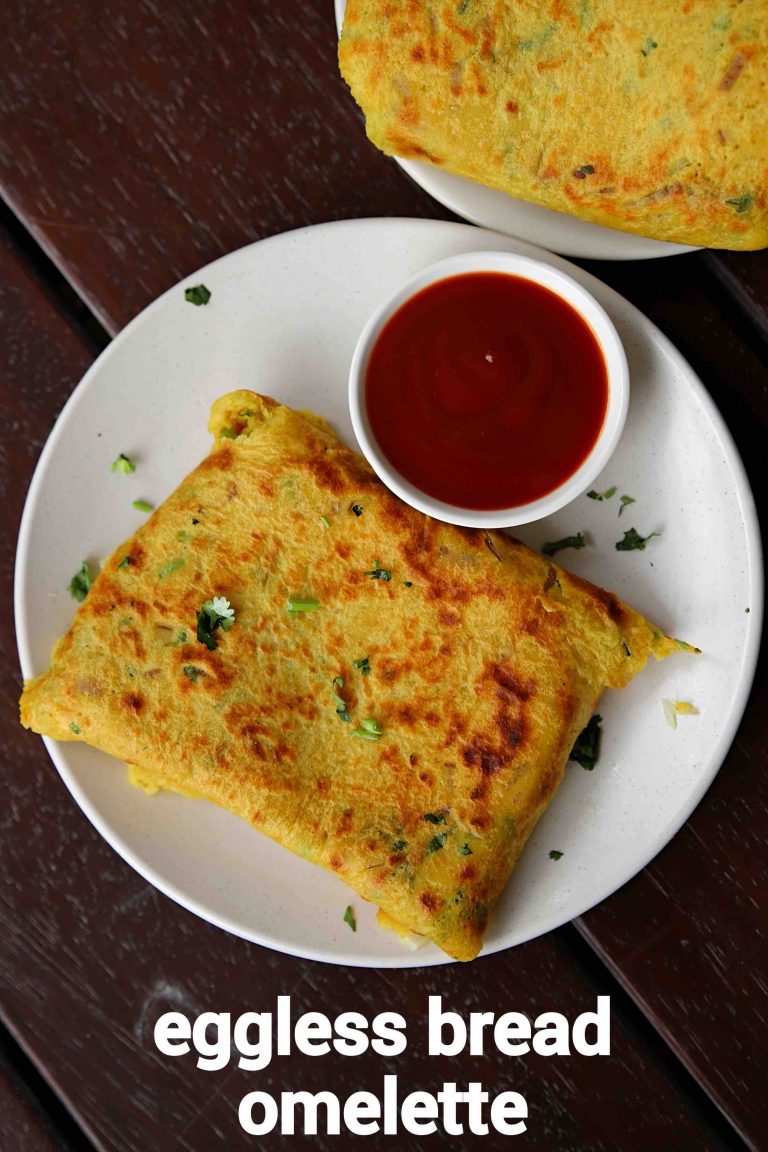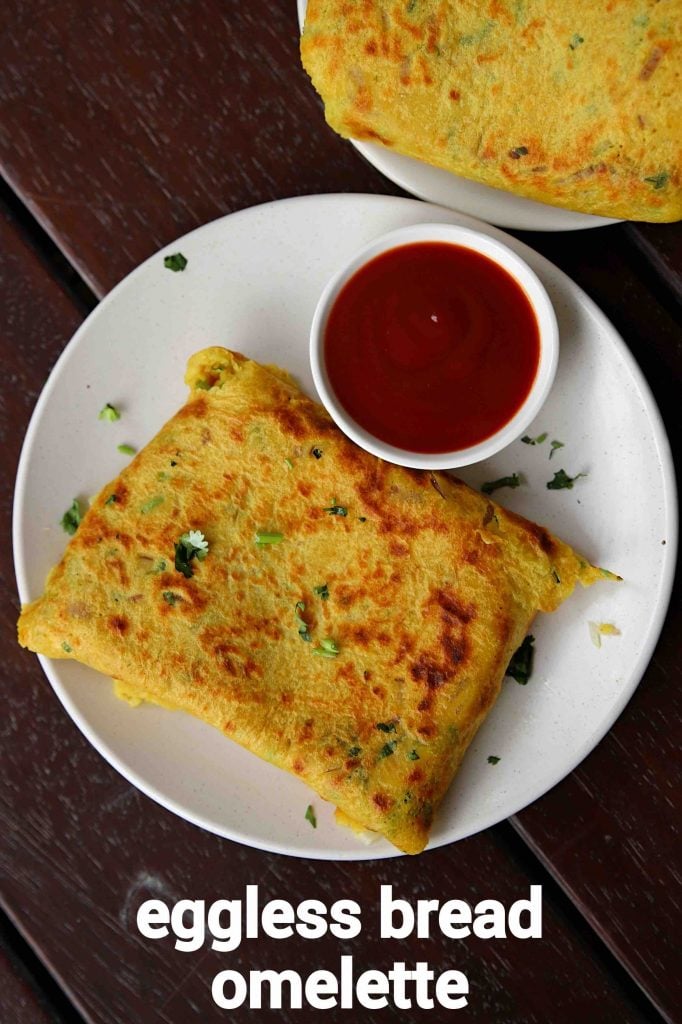 eggless bread omelette recipe | vegetarian omelette | no egg omelette with step by step photo and video recipe. besan or the chickpea flour has become one of an integral part of inidian cuisine. it is not only used to make most of the dishes but also used to make some mock dishes and replicate the traditional ones. one such simple and the easy mock recipe is the eggless bread omelette recipe known for its similarity with the traditional one.
as i mentioned earlier, there are myriad mock recipes within indian cuisine which basically mocks meat-based recipes. either it is based out of soya nuggets or with the combination of chickpea and lentils. these typically form a meat replica which is either stuffed in between bread or used as the hero ingredient in a curry. yet there are other mock recipes and eggless bread omelette recipes are one such mock recipe based out of chickpea flour. so basically the flour is mixed with baking powder which gives the same texture as the egg-based omelette. once the batter is prepared, it is poured into a hot pan, till it forms the shape and rolled within the bread which is similar to an egg-based omelette.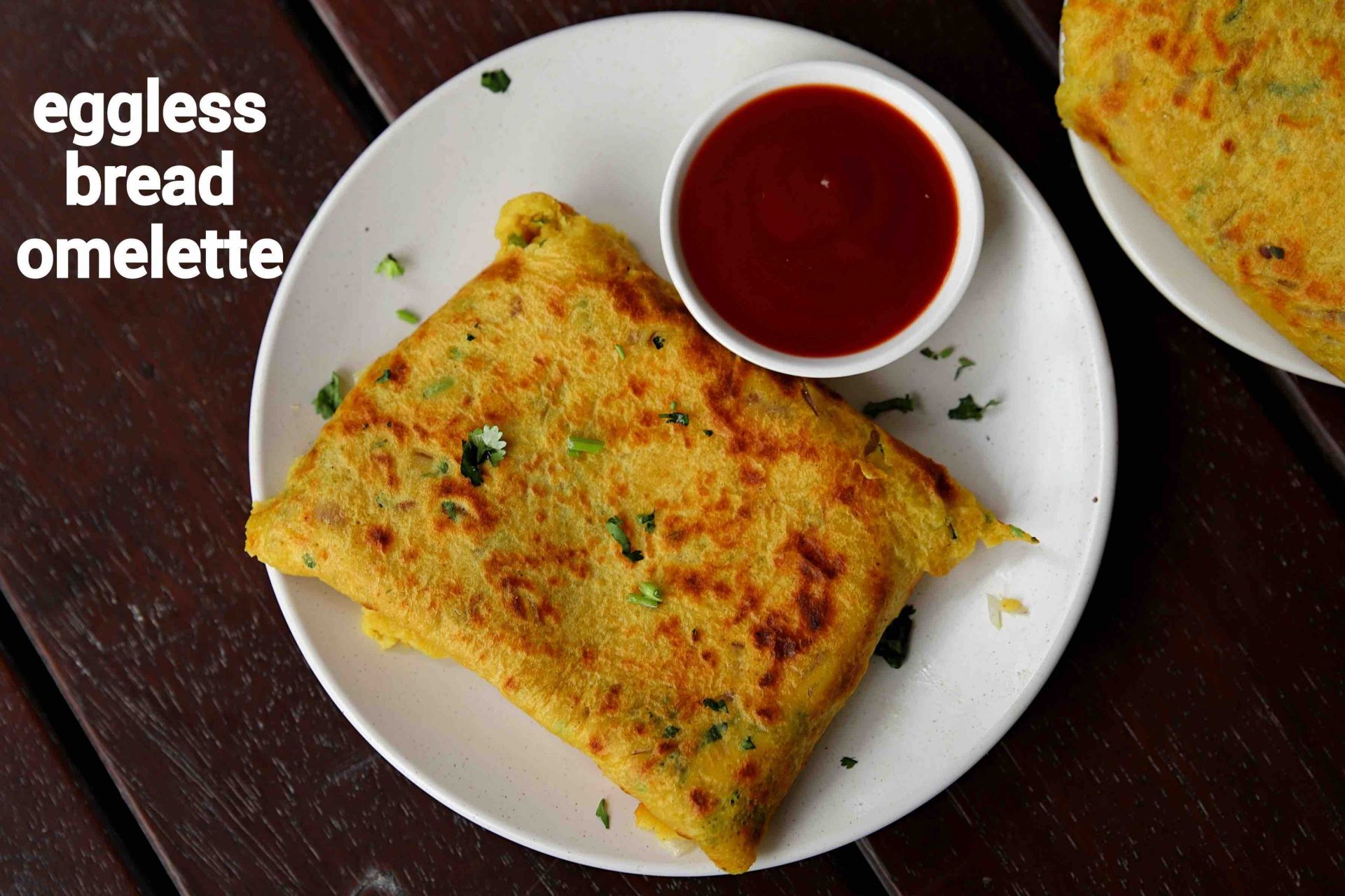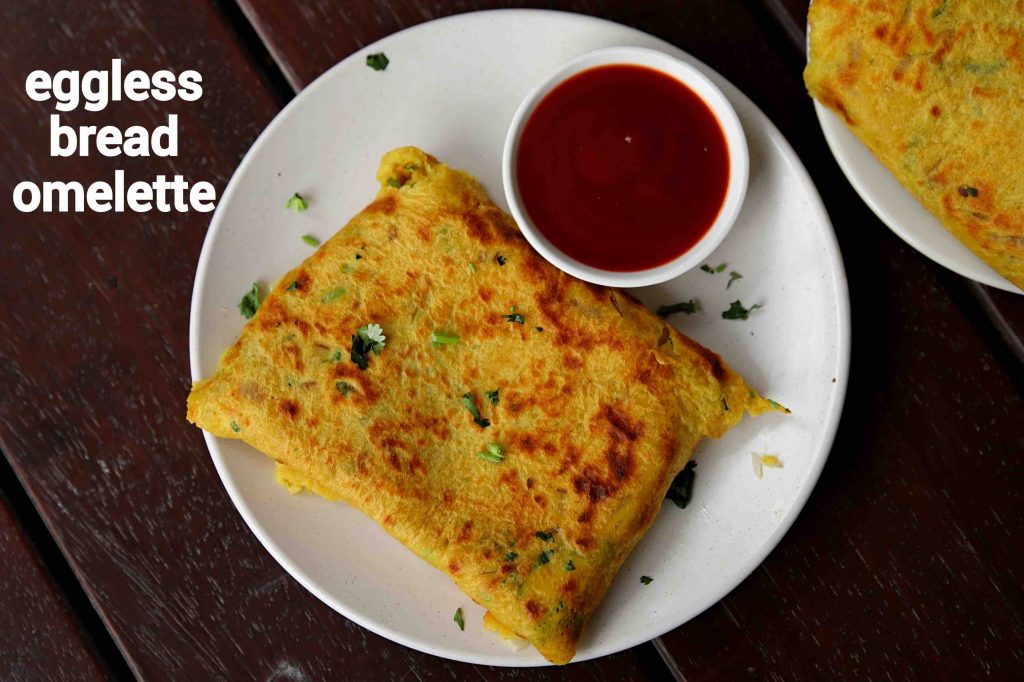 anyway, i would like to conclude with some tips, suggestions and variations to eggless bread omelette recipe. firstly, the recipe in this post is about bread and omelette rolled together and served for breakfast. this does not mean you cannot have the omelette by itself. you can serve the eggless omelette by itself. secondly, never rest the eggless omelette with bread and serve it immediately once it is prepared. once rested, it would turn chewy and also makes the bread soggy and hence not recommended. lastly, you can extend the recipe by adding other veggies on top the list i have mentioned in this recipe. for instance, grated carrot, capsicums should be an ideal choice.
finally, i request you to check my other breakfast recipes collection with this post of eggless bread omelette recipe. it mainly includes other related recipes like, ghee roast dosa, poha uttapam, tomato chitranna, bread paratha, set dosa, sabudana chilla, hariyali sabudana khichdi, khara bath, gluten free bread, raisin bread. further to these i would also like to highlight my other related recipes collection like,
eggless bread omelette video recipe:
recipe card for eggless bread omelette recipe:
how to make vegetarian omelette with step by step photo:
firstly, in a large bowl sieve 1 cup besan, ¼ cup maida, ¾ tsp baking powder, ¼ tsp turmeric and ½ tsp salt.

add 1¼ cup water and mix well.

whisk and mix until the batter is formed.

now add 2 tbsp onion, 1 chilli, 2 tbsp coriander, ¼ tsp chilli powder and ¼ tsp pepper powder.


mix well making sure everything is well combined.

heat a pan, add a tsp of butter and 1 tsp coriander. brush well making sure to spread uniformly.

pour a ladleful of omelette batter, swirl and spread uniformly.


after a min, the batter will get cooked from the bottom.

place a bread slice and continue to cook until the base is cooked well.

flip over and roast for a minute or until the bread turns crisp.

tuck the omelette making sure to cover all sides.

finally, enjoy eggless bread omelette with tomato sauce.

notes:
firstly, make sure to prepare thin batter as it will turn fluffy once cooked.
also, cook on low to medium flame to prevent from burning and uniform cooking.
additionally, you can also add tomato to the batter.
finally, eggless bread omelette recipe tastes great when served hot.